Audun Hage
Published

2020-11-27 - 9:00 am
The Sony screen serves colorful and natural images, combined with ample brightness from the HDR effects.
The direct LED backlight has relatively few zones, which puts a damper on the contrast and black level.
Specifications
Size / type: 55 "4K LCD
Resolution: 3840×2160 (4K Ultra HD)
Operating system: Android 9.0
Inputs: 4 HDMI (2.1), 3 USB
Outputs: Optical digital audio output, HDMI eARC
HDR: Dolby Vision, HDR10, HLG
Other: X1 video processor
The Bravia XH9005 is one of the few 2020 models from Sony, which the manufacturer itself has stamped compatible with the PS5. In fact, only this and the 8K flagship ZH8 have received the official "Ready for Playstation 5" stamp. Sony monitor uses a 4K LCD panel, which is equipped with direct LED backlight for the best possible contrast.
The XH9005 is available in a wide range of sizes, from 55 and up to 85 inches: We have already tested the XH9005 in 65 ": Here it will only be about the 55" model and how well it works for gaming!
Gaming TV
Sony even claims that the XH9005 is tailored for modern gaming consoles. This model boasts two HDMI 2.1 compatible inputs and low latency, all to provide a seamless gaming experience. The XH9005 also supports advanced image modes such as 4K / 120fps, but lacks any updates for VRR (Variable Refresh Rate) and ALLM (Auto Low Latency Mode) to be in place.
We experienced some minor startup issues with the editor's Xbox Series X: it initially did not recognize the Sony screen as a 4K / 120 fps compatible TV, and therefore disabled this mode. This can be solved by selecting another HDMI setting, which was well hidden in one of the submenus. Unfortunately, this setting means that you have to let go of Dolby Vision, which is a shame as the Xbox Series X does support this. However, the Sony screen does not have enough bandwidth to handle both at once.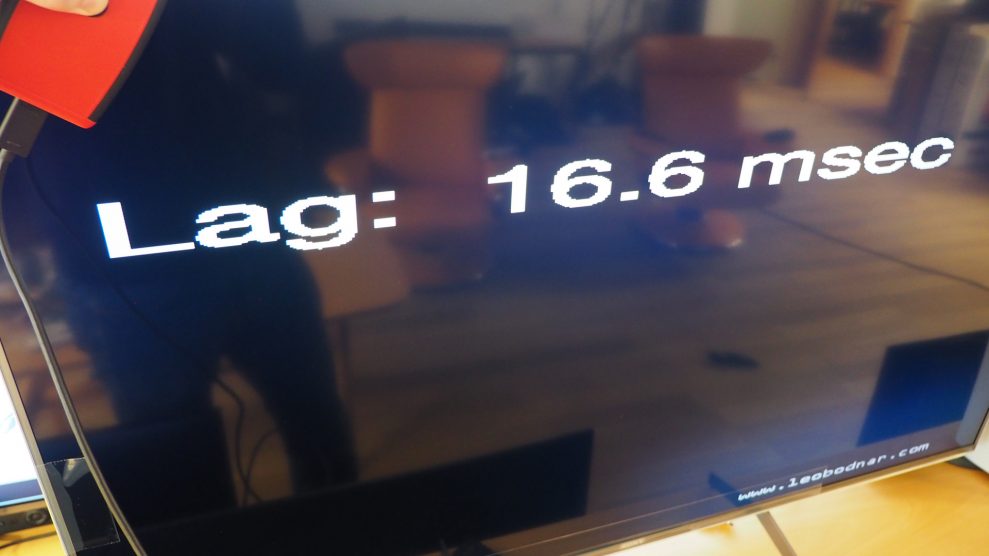 The Sony screen also hits well when it comes to delay. We measured input for about 16 milliseconds in game mode. It's not as fast as the Samsung Q80T and LG, but close.
Image quality
Although the initial setup could have gone a little smoother, we experienced the XH9005 as an excellent gaming screen when everything was in order. Firstly, the Sony screen has a very smooth and natural color reproduction, which makes the games look really gorgeous and lively. The good brightness and contrast manage to bring out a lot of details, and although the Sony screen is not quite as bright as Samsung, it has enough fun to play in bright day without having to dim the lighting. Not only that: the movements are also fast and seamless when we test games like Dirt 5 and Gears 5 in 120 fps mode.
However, the XH9005 has to make do with fewer individual LED zones than the Samsung Q80T is equipped with: Only 32 versus 48 with the South Korean. This means that the taillight is divided into larger and more visible "blocks". Just like with the test of the 65 "version of the XH9005, we experienced that the taillight could behave a little more unevenly than we ideally would have wanted. Small light objects on a dark background get the characteristic "halo effect" around them. This unevenness is less prominent on the Samsung screen, and naturally absent on LG's OLED.
The slightly rougher light control means that contrast-rich games like Spiderman: Miles Morales look a little flatter at Sony than they do at Samsung and LG at their best. It does not glow as much in the sun and street lights, and powerful light sources tend to "bleed over" and affect the dark areas around. The difference is not huge, but enough that we preferred the image reproduction from Samsung and LG in many cases.
Conclusion
The Sony XH9005 has several great features when it comes to gaming. The good brightness gives lots of bangs and life in the game graphics, which also have very even and natural colors. The Sony screen also has excellent smooth movements. However, it does not quite measure up to the Samsung Q80T or LG OLED CX when it comes to contrast, which results in a slightly flatter picture experience at times. All in all, this is an affordable TV with good performance – it only needs a little to climb all the way to the top!
Also in this test
LG OLED CX (OLED55CX)
Gamers' wet dream?
This OLED screen from LG has everything you need to provide a cracking good gaming experience.
The OLED screen from LG serves the game graphics with sparkling good contrast and superb black level. In addition, it boasts wide format support, and the test's best connectivity options.
The OLED screen must cope with a slightly lower brightness than the LCD screens. In addition, there is a certain (though very small) risk of burning.
Samsung Q80T (QE55Q80T)
Record low delay
Samsung Q80T is packed with features to ensure a great gaming experience.
The Samsung screen has both good contrast, beautiful color reproduction and lightning-fast response, which results in a "smooth" gaming experience.
The Q80T has to do with just one fully compatible HDMI 2.1 input.