Audun Hage
Published

2020-11-27 - 9:00 am
The Samsung screen has both good contrast, beautiful color reproduction and lightning-fast response, which results in a "smooth" gaming experience.
The Q80T has to do with just one fully compatible HDMI 2.1 input.
Specifications
Size / type: 55 "4K QLED-LCD
Resolution: 3840×2160 (4K Ultra HD)
Operating system: Tizen
Inputs: 4 HDMI (1 x 2.1), 3 USB
Outputs: HDMI eARC
HDR: HDR10 +
Other: OTS speaker system
Web: samsung.com
Samsung Q80T belongs to the middle class among this year's models from Samsung, but when it comes to features, it is actually close to the top models. This is a model with great picture quality, which we already have good experience with from previous tests, and even named the best TV of the year in the premium class. But now it is in the gaming discipline that it is going to compete!
Supports HDMI 2.1 – but only on one input
Samsung's graphical user interface (Tizen) is one of our favorites in smart TV. This year's version has sharper graphics and better organized menus. The TV is very easy to set up, and automatically recognizes which devices you have connected to the HDMI input: For example, we found that the TV correctly identified the Xbox Series X and added it as a separate icon in the menu bar.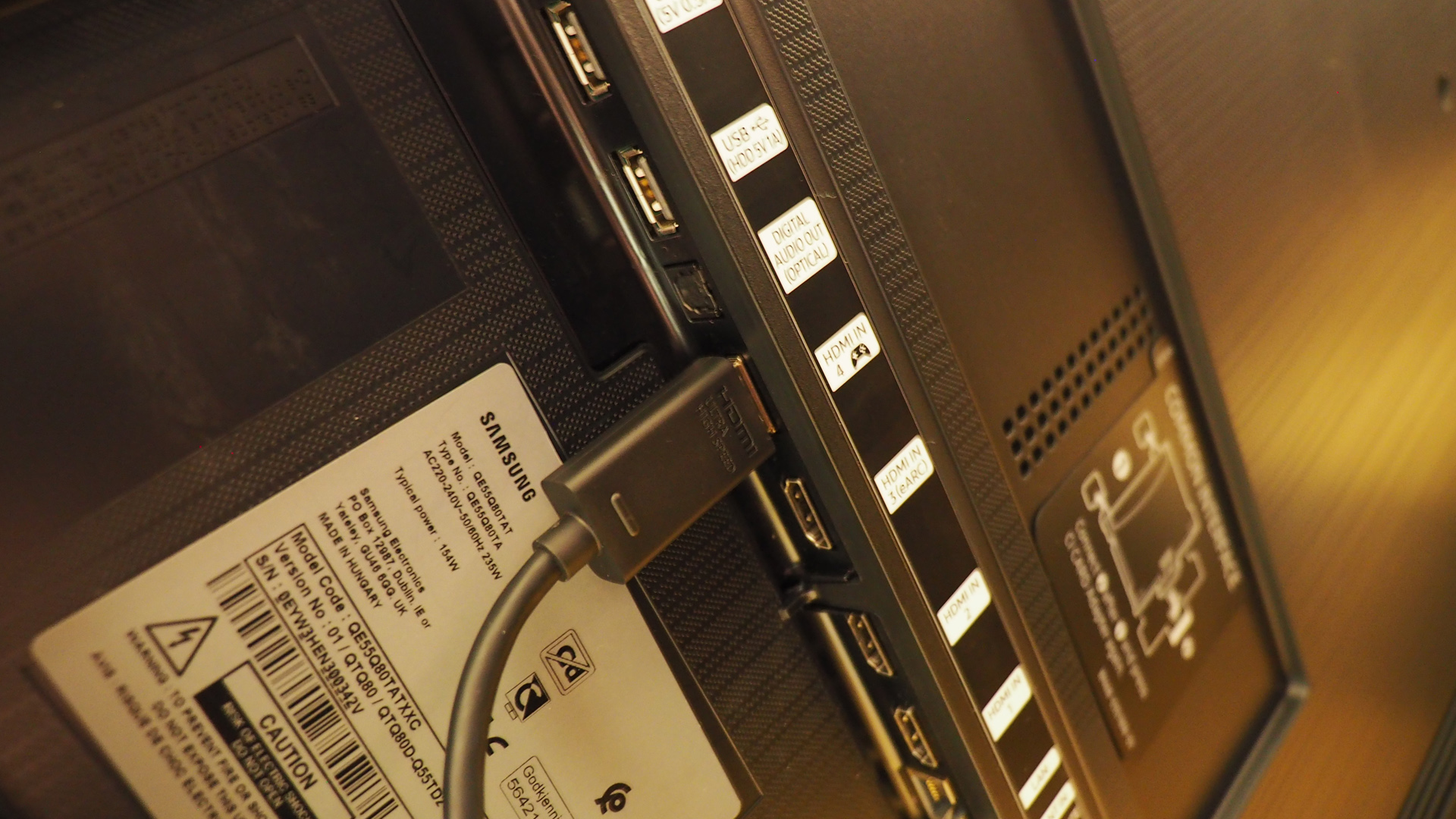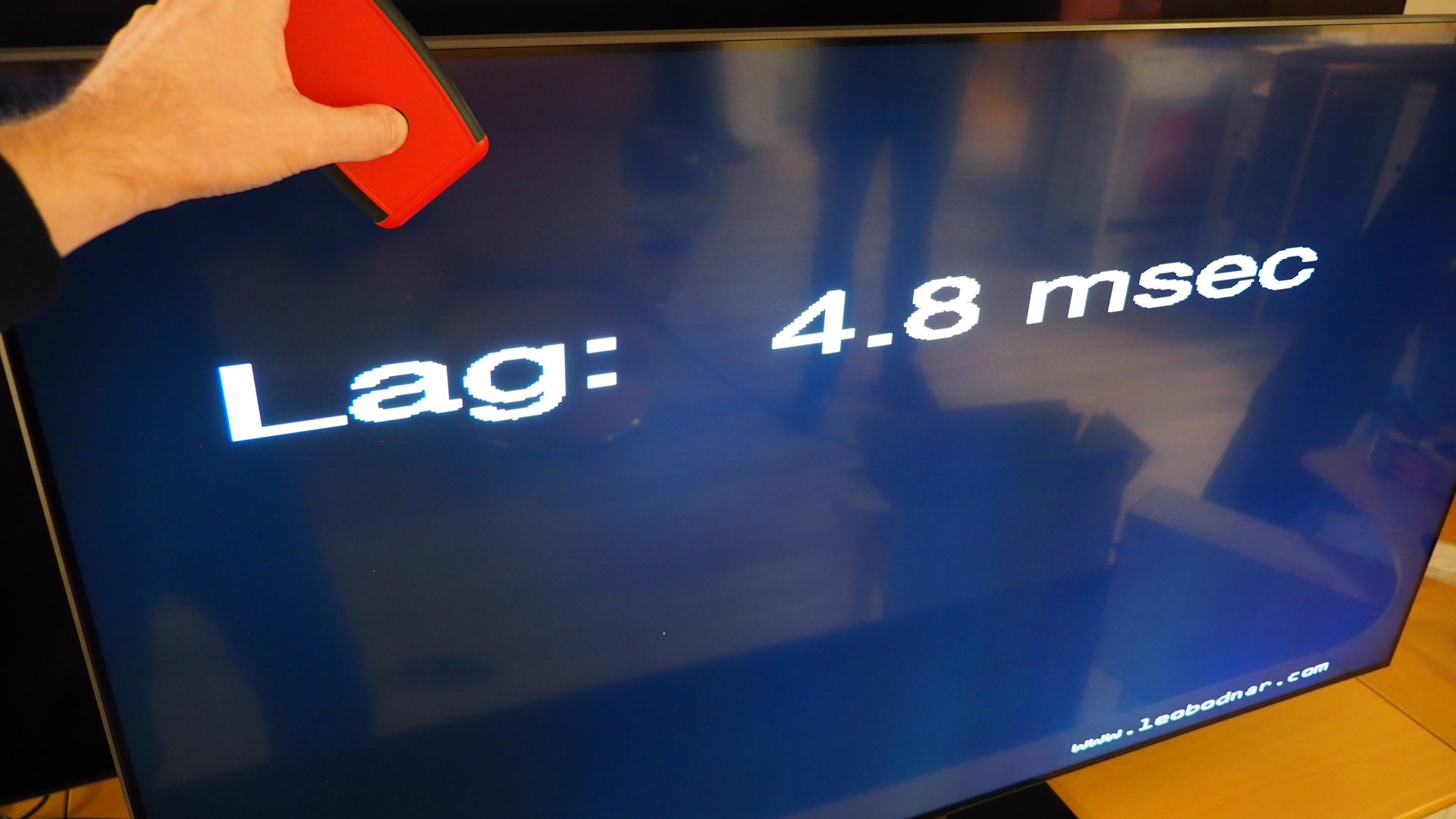 Samsung has been far-sighted enough to equip the Q80T with a gaming-friendly HDMI-2.1 connector, which also includes support for VRR and ALLM. Unfortunately, we only get one of them, and not two or more as the competitors from Sony and LG can boast.
After an update to the latest firmware version (1403), we found that the Samsung screen was very easy to set up: it automatically switches to the correct image mode and correct game settings. The delay is also very low: We measured input layers down to 5 milliseconds, and about 22 ms with motion equalization activated. Both are very good!
Picture quality, gaming
Samsung Q80T uses a VA LCD panel with QLED color filter and direct LED backlight, which can control the brightness of individual parts of the screen (so-called local dimming). In other words, there is potential for both a wide range of colors and good contrast!
The picture quality also looks very impressive when we test it with PS5 and Spiderman: Miles Morales. This game offers stunning colors and a wealth of contrasting details, and the Samsung screen does not hold anything back: the feeling of depth, sharpness and not least the glow from light sources (sun in the sky, headlights etc) feels very realistic.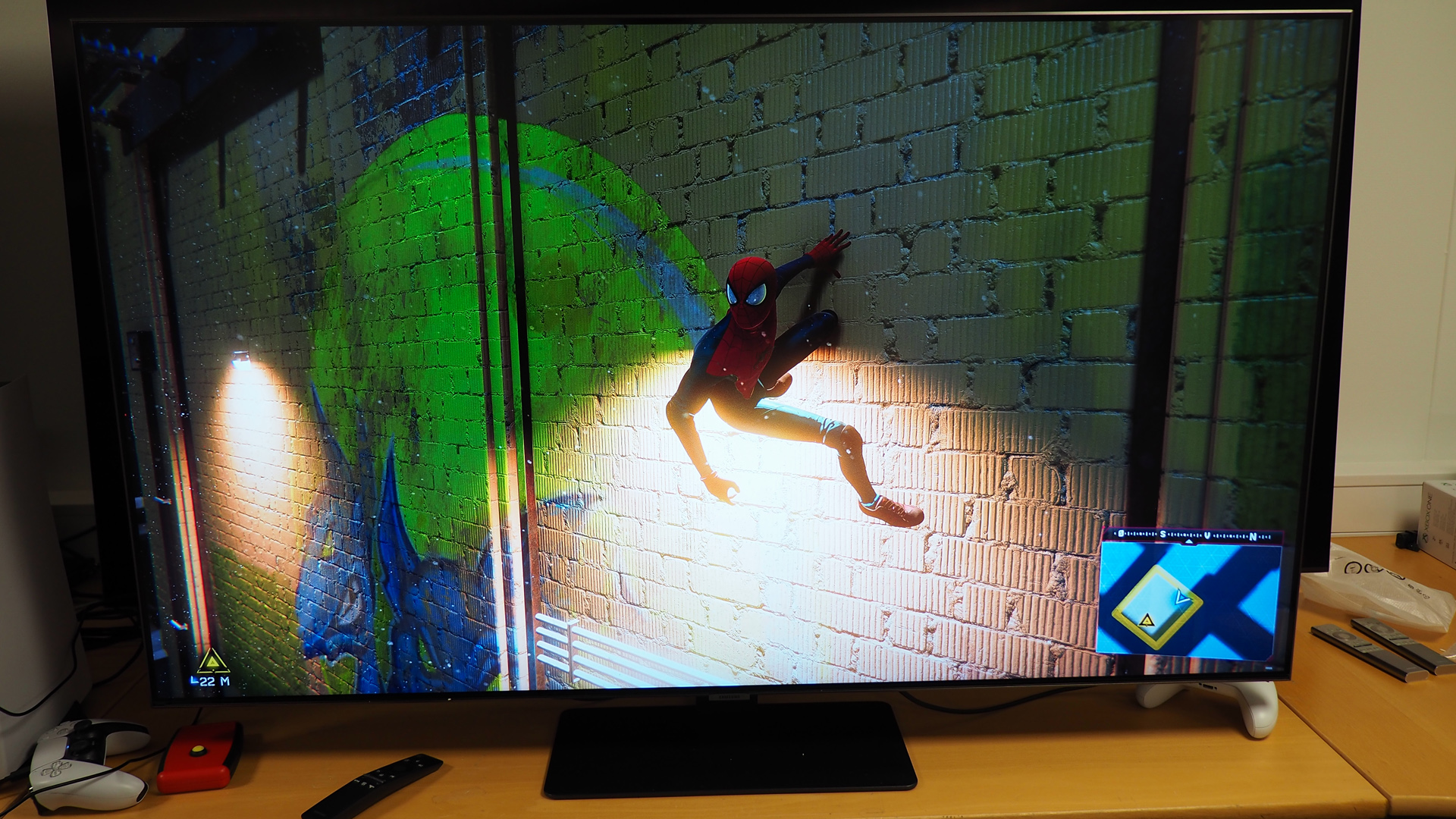 Although the Spiderman game can be run in 4K / 30 fps with gorgeous graphic effects (ray-tracing), there is no doubt that we prefer the smoother graphics in 4K / 60fps mode. The Samsung screen has no problem following Spiderman's acrobatic maneuvers, and the response to game control feels good. We are immediately drawn into the action, and there are no annoying effects that break the focus here.
The Samsung Q80T also catches up well when we challenge it with demanding 4K 120 fps material. The car game Dirt 5 on the Xbox Series X may have a tendency to break up on less capable screens without VRR (variable refresh rate), but here we experienced that Samsung kept up well in the turns. It retains good motion sharpness without tendencies to "screen tear". The response from the game control is also experienced here very well, corresponding to low input layers.
Compared to the contrast-rich OLED screen from LG, it is as expected that the Samsung Q80T is not quite able to measure itself on black level and light distribution / contrast. Some of the darker scenes undoubtedly appear flatter and less deep. Samsung, on the other hand, always has plenty of brightness, which actually contributes to a good kick in the HDR effects. You can also use the function to pull up details in gray, and thus have a greater chance of spotting opponents hiding in the dark. Which of the two screens is best suited actually depends most on the environment: The classic notion that QLED has the advantage in bright rooms, OLED in dark rooms, seems to apply also in gaming contexts.
Conclusion
We have already ranked the Samsung Q80T as the best all-round screen in its class, so it is gratifying to note that the 55 "edition also delivers the goods in combination with the latest game consoles. The Samsung screen supports both HDMI 2.1, 4K / 120 fps and VRR / ALMM, in addition to rendering the game graphics with excellent contrast, brightness and color reproduction. The only thing we miss are several compatible HDMI 2.1 inputs! The Samsung screen is not necessarily the best choice exclusively for gaming – but if you are looking for an "omnivorous" TV for varied use, this is an excellent choice.
Also in this test
Sony XH9005 (KD-55XH9005)
Close to the best
Sony's gaming-friendly XH9005 works well for both Playstation and Xbox, but lacks some contrast compared to the competition.
The Sony screen serves colorful and natural images, combined with ample brightness from the HDR effects.
The direct LED backlight has relatively few zones, which puts a damper on the contrast and black level.
LG OLED CX (OLED55CX)
Gamers' wet dream?
This OLED screen from LG has everything you need to provide a cracking good gaming experience.
The OLED screen from LG serves the game graphics with sparkling good contrast and superb black level. In addition, it boasts wide format support, and the test's best connectivity options.
The OLED screen must cope with a slightly lower brightness than the LCD screens. In addition, there is a certain (though very small) risk of burning.