Audun Hage
Published

2020-08-10 - 12:25 pm
The TCL screen supports the most important HDR formats, and provides good contrast and color reproduction at an attractive price.
The QLED800 lacks the latest HDMI 2.1 features. The remote control is IR-based.
Specifications
Size / type: 65 "4K LCD
Resolution: 3840×2160 (4K Ultra HD)
Operating System: Android
Inputs: 4 HDMI (2.0b), 3 USB
Outputs: Optical digital audio output, HDMI ARC
HDR: Dolby Vision, HDR10 +, HLG
A full 65 "QLED TV with direct LED backlight, HDR and Dolby for a whopping £ 1,200?  Yes, you read that right! Chinese TCL has long been an "underdog" compared to well-known TV manufacturers such as LG and Samsung, but they are constantly creeping in and capturing larger market shares of global TV sales. A characteristic of TCL is that they offer TVs with high performance and good specifications, often at a significantly lower price than the competition.
The new QLED800 is a separate model series for the Nordic market, and is scheduled to be sold only at Elkjøp. Available screen sizes are 50 ", 55" and 65 ", and we have taken a closer look at the 65-inch!
Design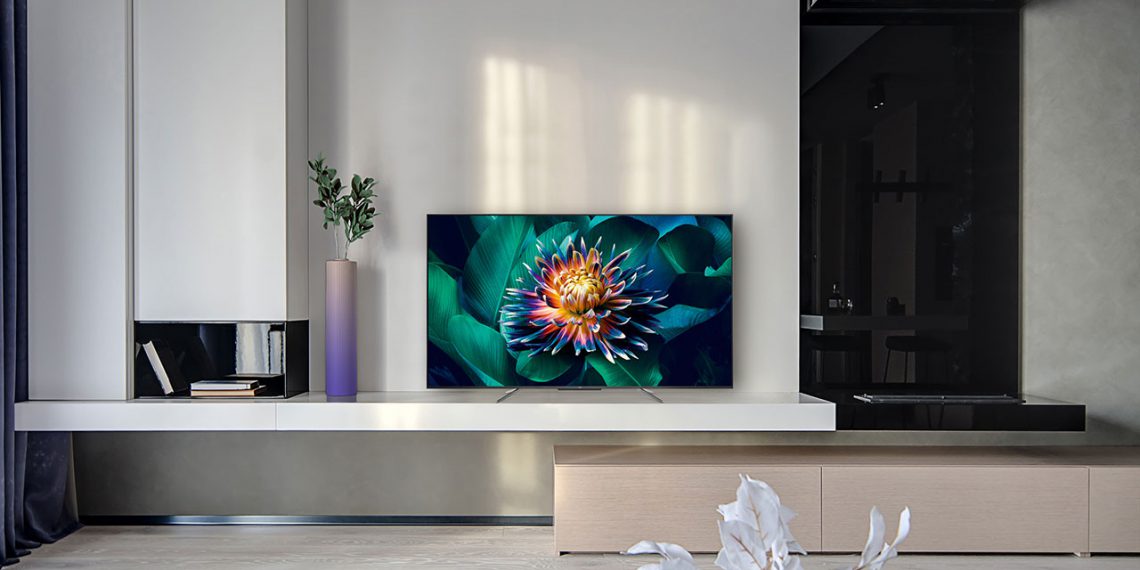 The TCL screen has a simple and discreet design, without any particularly prominent details. The image extends almost completely to the edges of the thin, metallic gray frame. The back is a little thinner at the very top, and thicker down towards the part where the speakers and power supply are mounted. The QLED800 comes with two V-shaped feet that can be mounted in two different widths to fit your TV rack. Smart and practical!
Ease of use and features
TCL has since the beginning focused on Android as an operating system, and this year's model uses version 9.0 (an upgrade to version 10 has been announced towards the end of 2020). The user interface has become simple and clear, but we note that the QLED800 lags a bit behind the fastest Android screens we have tested lately. Apps like YouTube load a little slower, and the TV does not switch as quickly between different apps as the lightning-fast Sony XH9005, for example.
The TCL screen also responds a little slower to remote control commands than we would ideally like: The remote control is IR-based, and relatively directional. You must point the remote control directly at the TV to pick up the signals. No crisis, but a bit old-fashioned compared to competitors who have Bluetooth.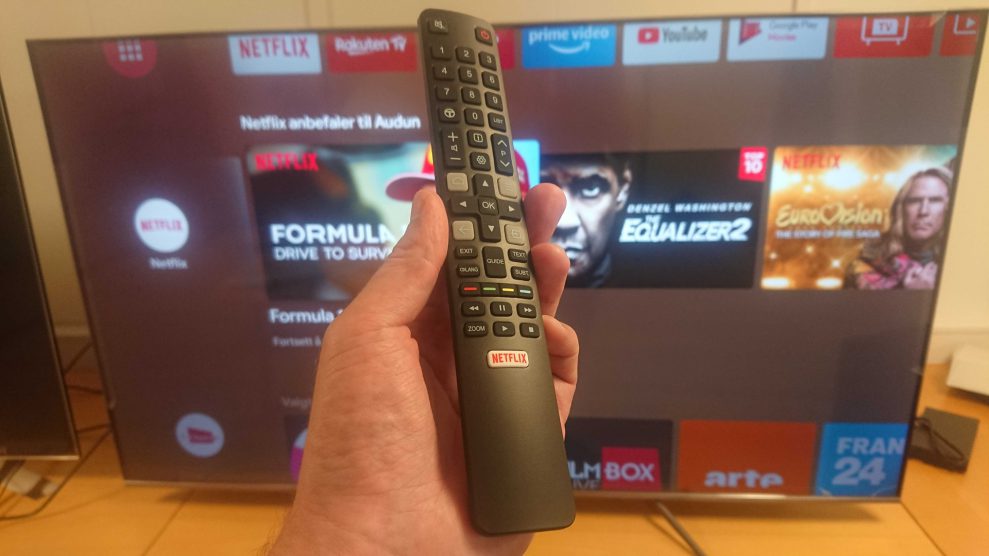 The TCL QLED800 supports a variety of key video formats, including Dolby Vision and HDR10 +. This ensures that modern movies and series from Netflix, Amazon Prime and Rakuten are viewed optimally. However, the TCL monitor does not appear to support Atmos audio processing internally: We failed to enable Atmos audio signals from the built-in Netflix app, only standard Dolby 5.1.
The TCL monitor also has no HDMI 2.1 compatible inputs, only 2.0b. It must thus do without the latest gaming-friendly features such as ALLM and VRR. However, TCL offers its own game mode.
Image Quality
TCL, like Samsung, has gone for so-called QLED technology on its latest TV models. In practice, this is a color filter with so-called quantum dots, which gives stronger and wider color ranges than traditional LCDs. The QLED800 also boasts direct LED taillights, in a price range where competitors have to settle for edge LEDs. This of course creates certain expectations for contrast and black level!
That said, we probably have to adjust our expectations a bit: there is no full-blooded "Full Array" LED TV we are dealing with. QLED800 has no advanced local dimming with individual LED zones as found on the high-end models. In addition, TCL has gone for a 50Hz image panel, rather than the more expensive 100 Hz variant. Among other things, it places restrictions on image material with a high frame rate (HFR).
With this in mind, we still have to say that the TCL screen performs surprisingly well in practice. The first impression is that the QLED800 delivers a very nice and nuanced color reproduction, and very good sharpness. The color reproduction in "Cinema" mode provides a good, neutral color balance.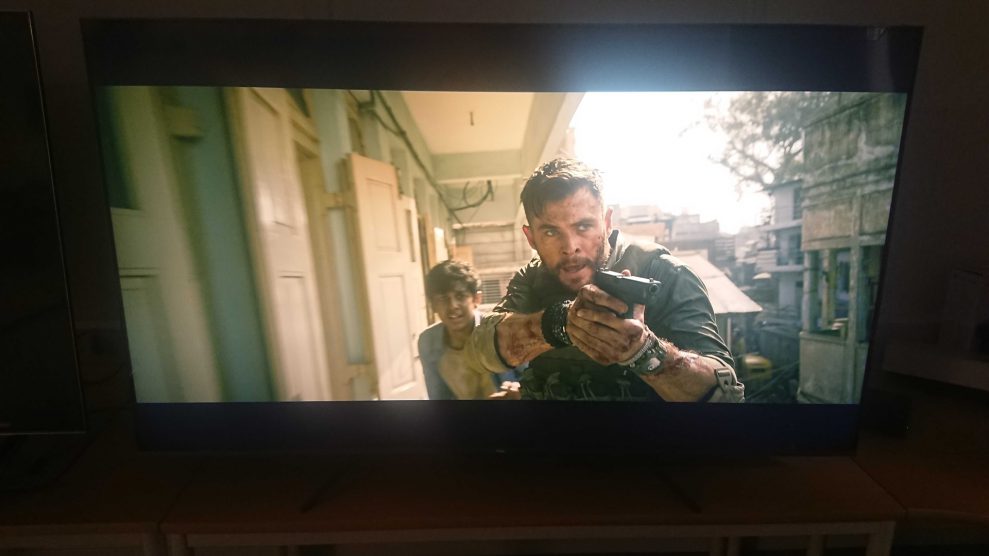 When it comes to contrast and brightness, the QLED800 is not quite on par with the Samsung Q80T or Sony XH9005 that we have recently tested. Both of these premium models boast higher brightness and deeper contrast, which is especially noticeable on movies in HDR format. Chris Hemsworth's flashlight in the Netflix movie Extraction undeniably shines a little stronger from Sony, and TCL does not have the same depth that Samsung manages to reproduce, in the darkest parts of Dhaka's underground. But the difference is not night and day, especially when we take into account that the competitors cost 5-6 thousand kroner more than TCL.
However, TCL is not the best we have seen when it comes to motion. Although TCL has added a motion smoothing (so-called Black Frame Insertion) to compensate for the 50Hz panel, there is no doubt that the image goes more unevenly and "stutters" more than we like nowadays. Fast camera pans and movements mean that the image can break up and chop a little at regular intervals. Here there is a real class difference between TCL and a super smooth TV like Sony XH9005.
Sound quality
Compared to other TCL models that often have their own "soundboard" from Onkyo or JBL mounted under the screen, the QLED800 has to do with more ordinary, built-in stereo speakers that are facing down. The sound reproduction is perfectly fine for the price range, with relatively clear voice reproduction, but not without dedicated subwoofers it will not be particularly rich. Many will probably prefer a separate soundboard for the QLED800, and here TCL has got an interesting candidate with its new Ray-Danz soundboard which we have also received for testing. The QLED800 has its own HDMI ARC (Audio Return Channel) audio return channel, and supports Dolby Atmos – albeit only via so-called pass-through, which means that you need an external video source (streamer or Blu-ray player) to enjoy it.
Conclusion
TCL is in the game with another affordable LCD TV: the QLED800 provides very contrast and colorful images with a quality that is comparable to far more expensive competitors. That said, the QLED800 is not the "price killer" we might have expected: Contrast and brightness are a long way from the best, and the TCL monitor lacks some modern features (including HDMI 2.1) to hang with the best in the premium class. The movements could also have been smoother. If you have a tight budget, the TCL QLED800 can be a good alternative, but sometimes it pays to put a little extra money on the table!