Audun Hage
Published

2021-03-14 - 8:00 am
TCL P815 offers good image quality, wide format support and lots of Android features at a reasonable price.
The sound quality does not completely match the image quality, so you will need the help of an external soundbar.
Specifications
Size/type: 55″ 4K LED LCD
Resolution: 3840 x 2160 (4K Ultra HD)
Operating system: Android
Inputs: 3 HDMI (2 x 2.0b + 1 x 2.1), 2 x USB
Outputs: Optical digital audio output, HDMI eARC
HDR: Dolby Vision, HDR10+, HLG
Other: USB 3.0
TCL is a manufacturer that not everyone may have heard of yet, but on the global TV scene, the they are breathing down the necks of the big players like Samsung and LG! The Chinese manufacturer has become the world's third biggest TV producer, well helped by the domestic market and USA of course – but also in the Nordic market they have become a strong challenger, known for affordable TVs with an Android-based operating system.
For the 2021 lineup, TCL has introduced a number of exciting news, including new 8K and 4K top models with modern MiniLED technology. The model we are looking at here, P815, is, however, a traditional LCD TV of the more affordable kind: For less that GBP 700, you get a 55-inch Android TV with support for, among others, Dolby Vision and Dolby Atmos audio format – alternatively 65 inches for a few hundred quid more. Could this be an interesting TV for the price conscious?
Design
TCL's TVs are known for having a fairly vibrant and modern design, and the P815 looks quite nice in our eyes. It has a slim, dark gray metal frame, with a strip of brushed metal on the underside of the screen, finished by a base with round shapes. The frame around the image panel is thin and fine, but we notice that the image does not go all the way to the edges, as it can do on some high-end models.
Since the base is mounted in the middle of the screen, it will be relatively easy to fit on a shelf. However, it can get in the way a bit if you want to put a soundboard just below of the screen. In such cases, wall mounting may be worth considering.
Ease of use and features
TCL P815 comes with the well-known Android 9.0 operating system on board. Google has also announced that a newer version 10 will be on the way, and according to TCL, the P815 will also benefit from this when the time comes.
Today's Android version is quite easy to deal with, too: We found that the P815 was both fast and responsive when it came to loading apps and services. It also responds quickly to remote control commands from the included IR remote control, which is comfortable in the hand.
Like other TCL monitors, the 55P815 boasts excellent format support. Support for both Dolby Vision and HDR10 + HDR formats is in place. both via the HDMI inputs and the built-in apps. Here also a wide range of streaming services available via the Android platform.
Netflix, Amazon Prime and Rakuten are of course in place, and most recently also Disney+. The latter also has a lot of content in 4K Dolby Vision HDR format, which can thus be enjoyed in the best quality on the TCL screen. (Photo: Audun Hage)
The TCL monitor has 3 HDMI inputs, which are basically HDMI 2.0 compatible, but also boast selected HDMI 2.1 features, including the high-resolution audio return channel eARC and ALLM (Auto Low Latency Mode). If you want to connect an Atmos-compatible soundbar to the TV, this is the one to use.
TCL P815 uses an LCD panel with 60 Hz frame rate. It is therefore unable to reproduce 4K signals at 120 frames per second, which has become more relevant in the gaming context in recent times. This can be a limitation if you plan to use the TV with a modern one like the PS5 or Xbox Series X / S. That said, the TCL screen has a low delay: We measured the input layer to about 5 milliseconds in game mode.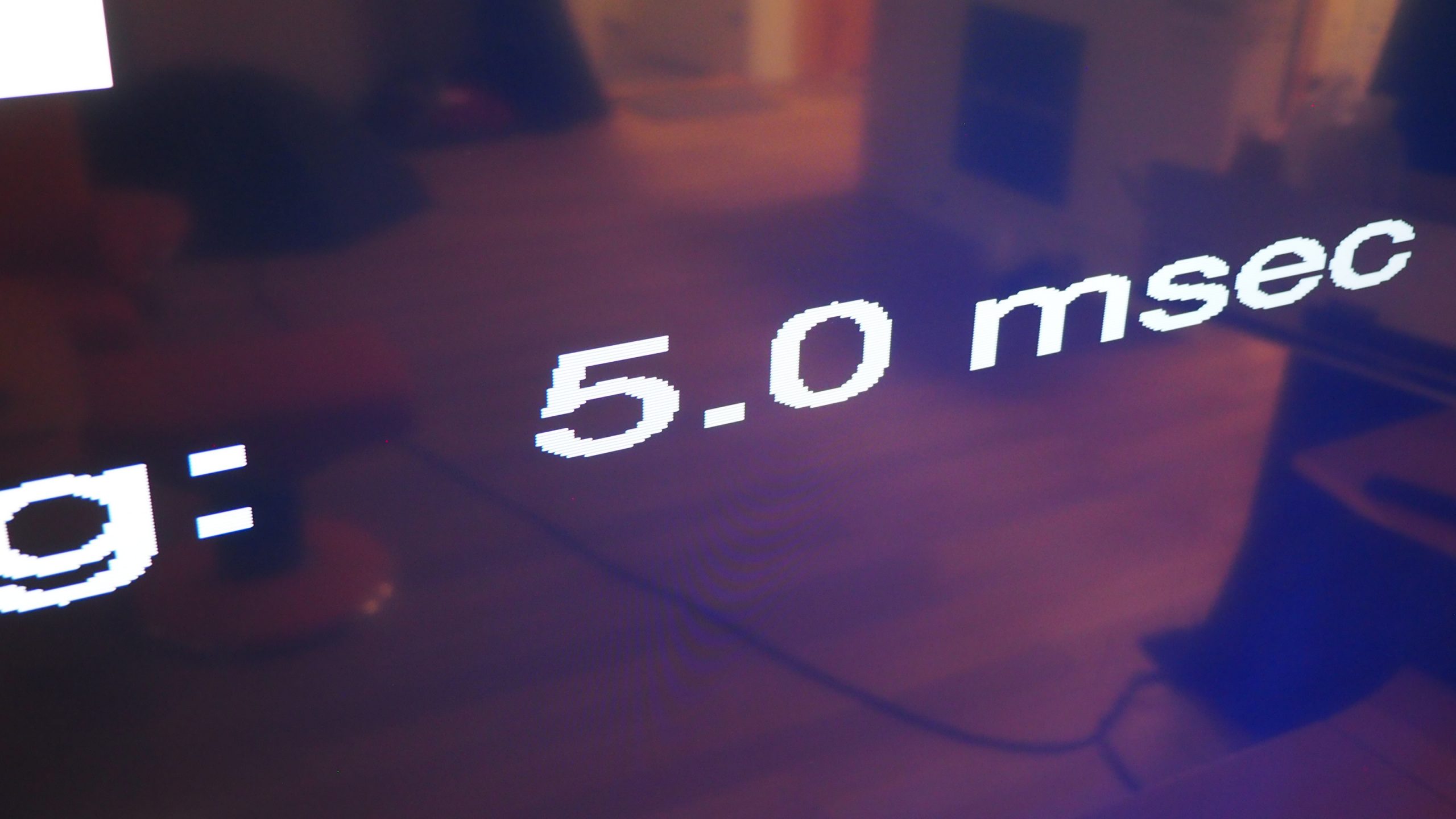 Image quality
TCL P815 uses a 4K LCD image panel of the type VA (Vertically Aligned), which is known for delivering good black level and contrast. However, this model has to do without the so-called QLED color filter, which we find on the slightly more expensive big brother C815. The backlight is of the direct LED type, but without any form of local dimming or light control: Here it is clear that a couple of "premium features" shine with their absence. The question is how noticeable will it be?
In practice, we found that the TCL P815 has quite good image quality. The first thing that makes an impression is the good image sharpness: We tested with our usual 4K clips from Netflix and YouTube, and were immediately quite impressed with the sharpness and the absence of noise. In this area, the TCL screen can actually compete well with much more expensive models: the TCL P815 seems to have an effective noise reduction that brings out the details in the image without fumbling it.
The color reproduction from the P815 is not the most vibrant we have seen. Without a QLED filter or other tricks to expand the color space, the image looks quite ordinary, without the colorful details you experience with, for example, the C815, or Samsung's popular QLED models. We especially noticed that the big brother TCL C815 manages to reproduce much deeper shades of red. That said, the color palette is nice and neutral in Movie mode.
TCL P815 serves a sharp and relatively high-contrast image. Here from Exit season 2 (NRK). (Photo: Audun Hage)
Furthermore, we found that the contrast on this LCD screen is surprisingly good: the P815 does not have local dimming as found on the more expensive models, but on the positive side you avoid annoying halo effects, as we have experienced with Sony XH9005 before. .
The black level can of course not be compared with OLED, nor with the top QLED screens with direct LED backlight and local dimming, but is still clearly approved. However, you should make sure to sit directly in front of the screen: on the side, the contrast becomes paler, and black gets a more bluish feel. However, this is a typical weakness for VA panels, and not something unique for TCL's part.
When it comes to motion, the TCL P815 has got an interpolation function (MEMC) that adds extra half-images and ensures generally smoother transitions. We found that the P815 handled both 24p movie sequences and 4K video at 60 frames per second without any particular problems, but it is not as smooth and seamless as for example the Sony XH9005, which is one of our favorites when it comes to motion.
To sum up, we think the TCL P815 gives a perfectly ok image for the price, but it also pushes no limits: Those who are extra picky about image quality, can advantageously consider one of TCL's more expensive models.
Sound quality
Unlike the TCL C815, which has a more expensive speaker solution from Onkyo, the P815 model has to make do with a more standardized sound system with built-in speakers, and also no dedicated subwoofer. You can immediately hear that too: the sound is quite slim and dull, and does not invite the great commitment.
Here we are definitely a good distance away from the sound experience we got with the C815, which has a significantly larger and fuller sound image with far more power in the bass. For us, there is no doubt that the P815 will have good help from a soundbar, preferably one that can take full advantage of Dolby Atmos via the HDMI eARC audio output.
Conclusion
Compared to an exotic high-end TV like the TCL X10, the P815 appears to be a significantly more toned down "bread and butter" model. This edition lacks some of the image-enhancing features we know from the premium and high-end models. That said, the P815 does a decent job based on the prerequisites, delivering both fine image quality and excellent usability. The sound is nothing to brag about – here the P815 differs from other TCL models with more well-developed sound – but it is possible to fix with a soundbaqr! If you are looking for an affordable Android TV, the TCL P815 is definitely worth checking out.