TCL likes to do things a little differently than the mean hop of TV producers. The Chinese manufacturer often stands out with a slightly more vibrant design and a fatter list of features than we typically find in competitors in the same price range. And that's almost how it must be, when you have to challenge well-known manufacturers like LG and Samsung on their home turf!
The newcomer C815 appears to be a fairly well-equipped TV for the price. In addition to a 4K-LCD panel and modern Android smart TV features, it also has an integrated sound system from Onkyo. The C815 comes in 55 ", 65" and 75 "screen sizes, where we have taken a closer look at the 65-inch. And we were pleasantly surprised by what TCL accomplishes for the price.
TCL C815 has a fresh and nice look with three protruding feet. The onkyo soundbar below provides speakers facing directly to the listener. (Photo: TCL)
TCL C815: Design
TCL C815 has a rather original design: the screen stands on three protruding feet which gives a rather distinctive and fresh appearance. The solution with a rear-facing, and two feet pointing forward is not necessarily the most steady we have come across, but looks nimble compared to regular plinths. Seen from the side, the screen is slender in the upper part, but thicker at the bottom to make room for speakers and electronics. All of the connections are recessed in a pocket on the right side. If there is one thing we miss, it must be that TCL could have better facilitated concealed cabling. Here, Samsung has a more elegant solution with its hidden cable tracks down through the foot. Otherwise, the TCL monitor is easy to mount on the wall with integrated VESA mounts (x x hole spacing).
Ease of use and features
TCL C815 comes with the well-known Android 9.0 operating system on board, and an upgrade to version 10 has been announced towards the end of 2020. Today's Android version has become clear and easy to deal with. The C815 loads apps and services slightly faster than the QLED800, but still not as fast as the best Sony displays (XH80 / 90). The remote control also responds a little slower to remote control commands than we would like, but there is no crisis. In addition to the long-sleeved infrared remote control, a Bluetooth remote control is also included.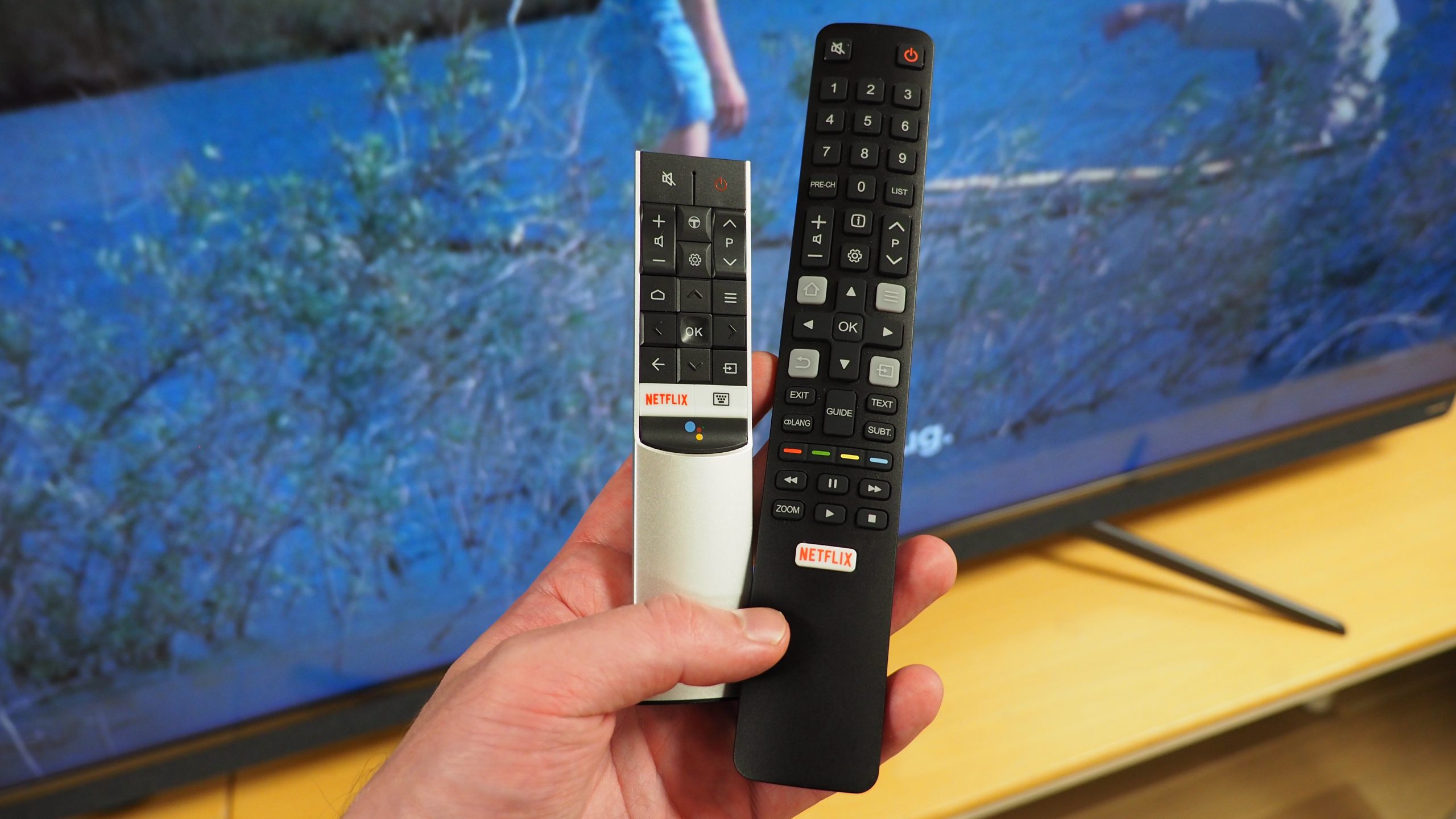 Like other TCL monitors, the C815 excels in wide format support. Here, for example, there is full support for the HDR format Dolby Vision and HDR10 +, both via the HDMI inputs and built-in apps. Thanks to the Android platform, there is also a wide range of interesting streaming services. Netflix, Amazon Prime and Rakuten are of course in place, and most recently also Disney +. The latter also has a lot of content in 4K Dolby Vision HDR format, which can thus be enjoyed in the best quality on the TCL screen.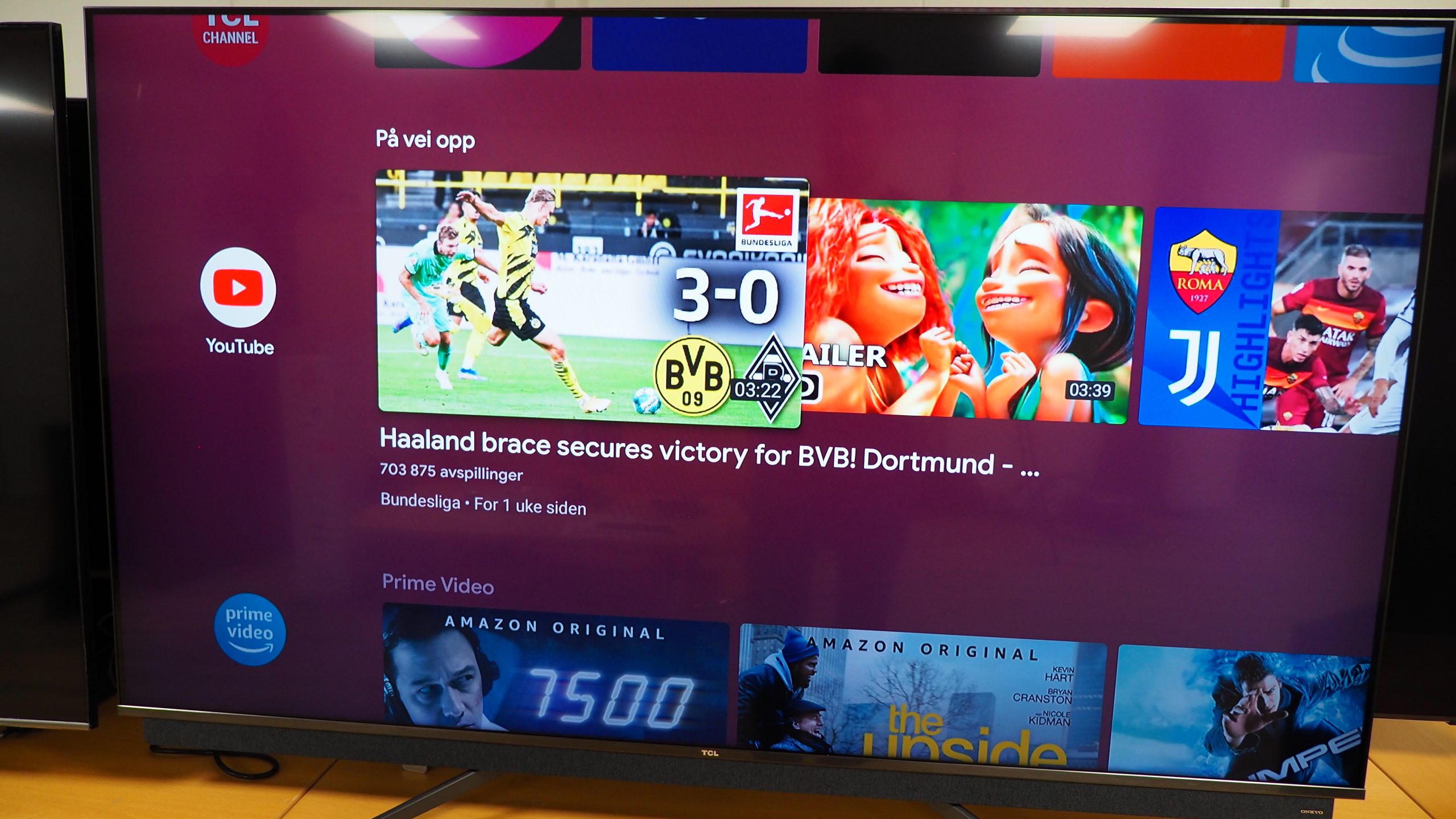 TCL C815: Image quality
TCL C815 uses a 4K LCD image panel of the type VA (Vertically Aligned) with so-called QLED technology on the inside. This technique consists of a color filter with tiny quantum dots, which helps the LCD panel to reproduce a wider color spectrum in addition to better brightness. The backlight itself is edge-mounted (Edge LED), in contrast to direct LED which we find on a number of other models. It places certain limits on what contrast and black level we can expect, but does not have to be a crisis: Direct LED is a more expensive technique that also requires many individual zones to function optimally.
Note! TCL states that the 65 "and 75" versions are equipped with a 100 / 120Hz panel frequency, while the smaller 55 "model has to settle for a 50 / 60hz panel frequency.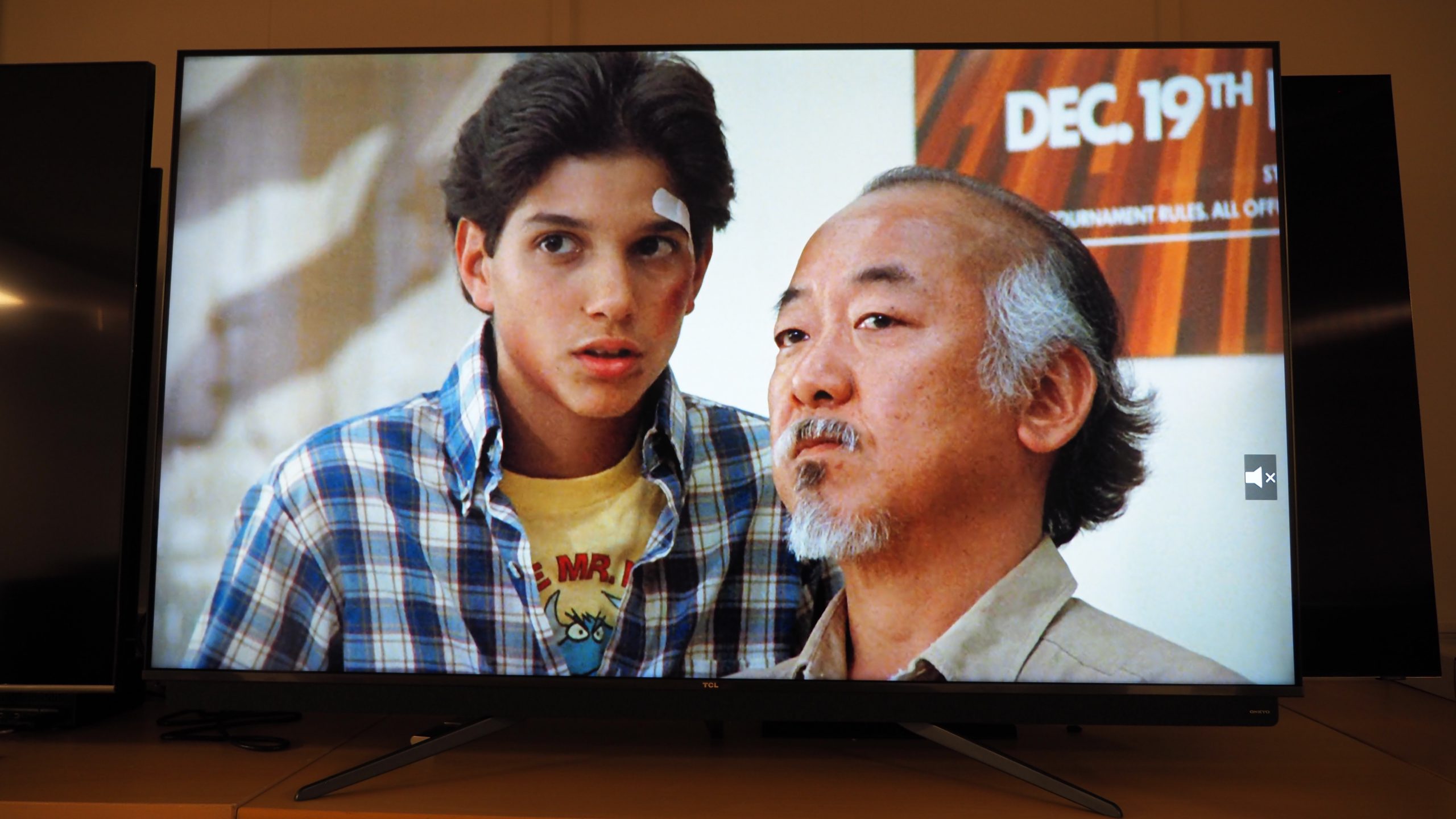 The TCL screen comes with several different image modes, where the film mode is the best for us who prefer neutral and natural images without too much spice. Here, the C815 serves a very clean, clear and contrast-rich image reproduction, which immediately impresses.
Lately we have been enjoying Karate Kid (1984) as well as the throwback series Cobra Kai from 2018 (both now available on Netflix). But be warned: After the nostalgia trip is over, you may suddenly feel very old! Fortunately, both new and old content look great on the TCL screen.
Firstly, the C815 has an effective but gentle noise reduction and well-functioning upscaling that gives a sharp picture of Daniel-San and Mr. Miyagi from 1984. The movements are smooth and flicker-free without introducing unnatural soap opera effect. Here, the C815 is noticeably better than its little brother QLED800, and in fact fully on par with far more expensive screens when it comes to movement.
The color balance in movie mode is smooth and nice. Here, nothing stands out as particularly negative. The grayscale is also relatively even, and the LCD panel on our test specimen also had an even light distribution. The LCD panel is relatively matte, with no particular problems with light reflection or reflection.
However, we noticed that the TCL screen loses some detail in dark areas (black crush). This is made visible by the fact that the darkest shades of gray simply turn completely black. Fortunately, there are settings in the image menu that can help with this, and we got good results by lowering the Gamma control a few notches. Then we achieved both good contrast and excellent black level, without drowning out any details.
All in all, we must say we are very satisfied with the image quality from the TCL C815, especially when we take the price into account. You can certainly not expect EVERYTHING at this price: Compared to more expensive premium models such as Samsung Q80T, Sony XH9005 and LG Nano90, which all boast direct LED backlighting, the TCL screen has to cope with an ordinary brightness of around 400 nits. This is not a "light cannon" for the most hair-raising HDR scenes, but it works well for most TV content, and most types of viewing conditions!
Sound quality
The picture is one thing, but the sound is known to be half the experience, and here TCL is among the most well-equipped in the price range. The C815 comes with a built-in speaker solution from the brand Onkyo, which is elegantly integrated on the underside of the screen. Exactly how involved the Japanese manufacturer has been in the design of the sound is not mentioned, but it is not so important either. The point is how it sounds in practice, and here we think TCL has achieved something good!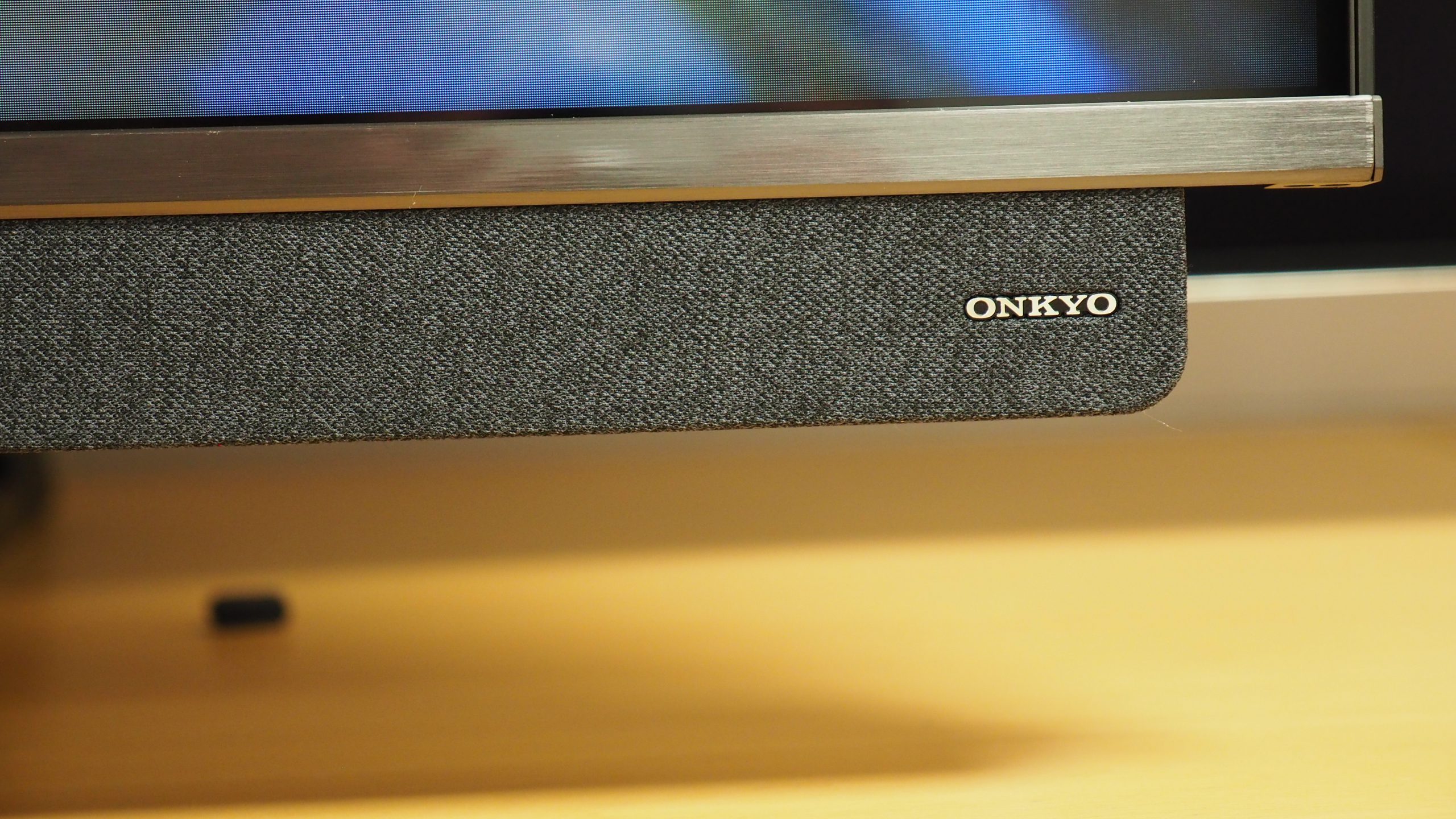 The C815 excels with a strong and clear voice reproduction, which comes out clearly to us where we sit in the easy chair. The sound balance is nice and full, with a distinct treble plus an excellent clarity in the midrange. The Netflix series about the Formula 1 circus sounds resilient and tough while the F1 engines roar out of the speakers. An extra subwoofer on the back also ensures that there is sufficient pressure and weight in music and sound effects. It sounds clear, nice and full, and the TV had no problems filling our relatively large test room with sufficient volume.
Those who want can of course upgrade the sound with an external soundbar, wireless subwoofer and all. But it can quickly cost 4-5000 kroner extra to give some meaningful quality difference.
Conclusion
TCL C815 is an affordable TV with few obvious weaknesses. With a sharp and contrast-rich image, wide format support and plenty of built-in services from the Android system, the stage is set for a great TV experience. The TCL screen also scores above average when it comes to sound: The built-in speakers are solid enough to do without a separate soundbar. All this helps to make the TCL C815 a very good buy, and well worth a recommendation!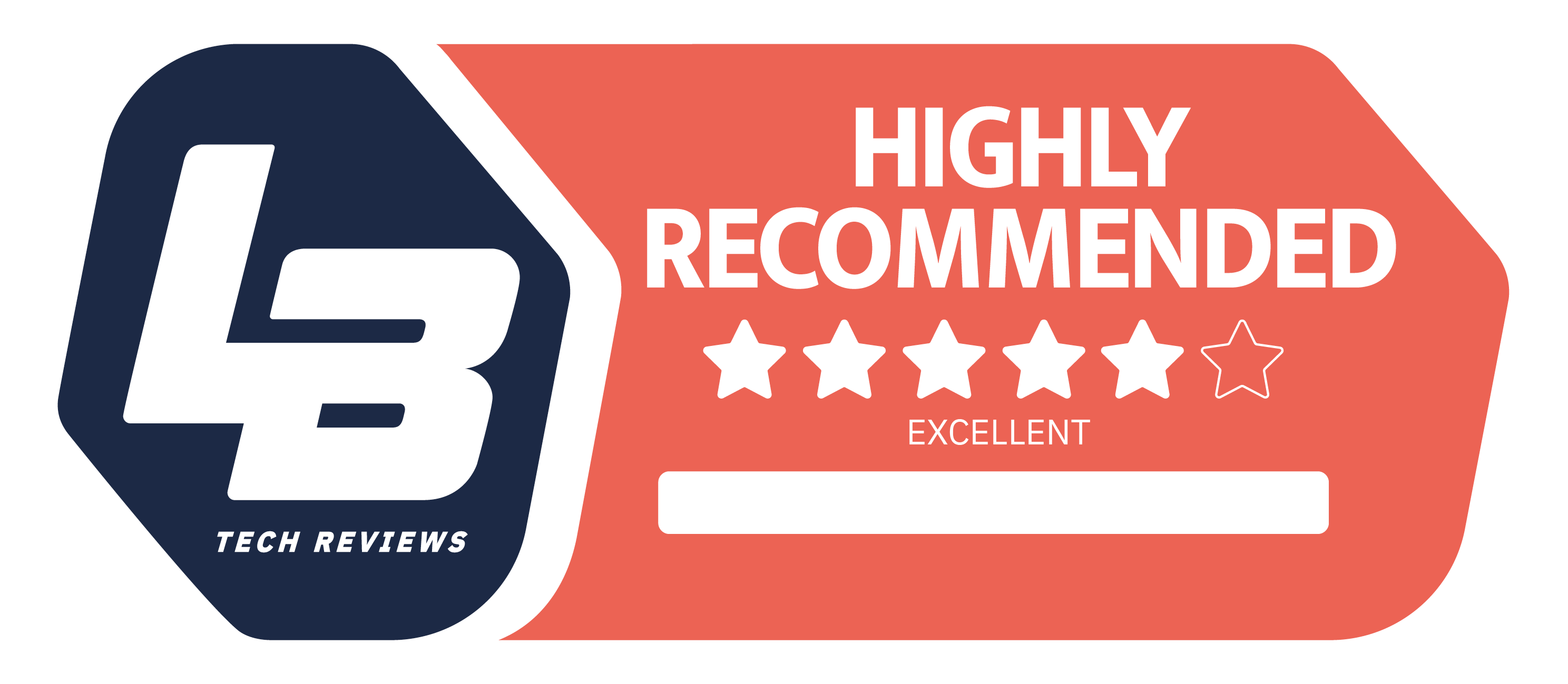 Basic
We think
The TCL screen offers great and contrast-rich image quality. The sound is also clear and rich, thanks to excellent built-in speakers.
The C815 has to do without the latest HDMI 2.1 features.