Audun Hage
Published

2020-01-15 - 1:29 pm
TCL 65EP785 generally has good picture quality, with great contrast, sharpness and smooth motion. Good format support allows this TV to be "omnivorous" when it comes to video content.
Competition in this price range is gruelling, and the TCL screen doesn't hit the high notes in all areas.
Specifications
TCL 65EC785
Size/type: 65" 4K LED LCD IPS
Resolution: 3840 x 2160 (4K Ultra HD)
Operating system: Android 7.0
Inputs: 3 HDMI, 2 USB
Outputs: Optical digital audio output
HDR: HDR10+, Dolby Vision
Other:
Web: www.tcl.eu
TCL may not be the first name you think of when it comes to TVs, but that may be about to change. The Chinese manufacturer is actually one of the largest global producers of TVs and excels in making well-equipped models at affordable prices.
65EP785 is the successor to the EP685 that we previously tested with good results. As with the latter, the EP785 comes with Android Smart TV, 4K resolution and HDR video quality, including support for Dolby Vision.
Besides some important upgrades in the picture area, it also boasts a built-in "soundbar" developed in collaboration with Onkyo.
Design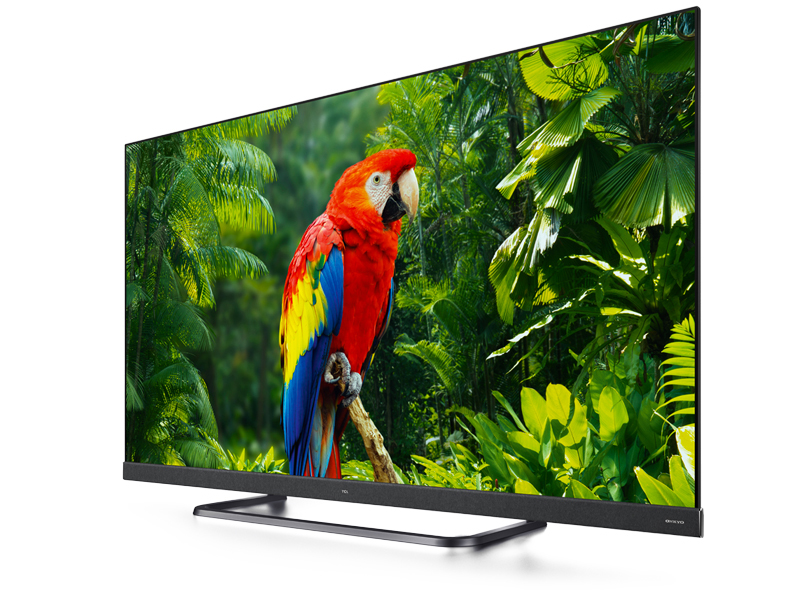 In appearance the EP785 is very similar to its predecessor. A wafer-thin curved bezel around the screen contributes to a modern aesthetic feel. The TV is slightly thicker at the base of the rear side, to provide space for the power supply and electronics. Here you'll also find the integrated soundbar wrapped in grey speaker fabric. 4 LEDs sit front and centre and light up when the TV is turned on. Overall, the TCL screen has a fresh and original appearance. The screen itself is also relatively matte so there are no noticeable reflections.
User-friendliness and details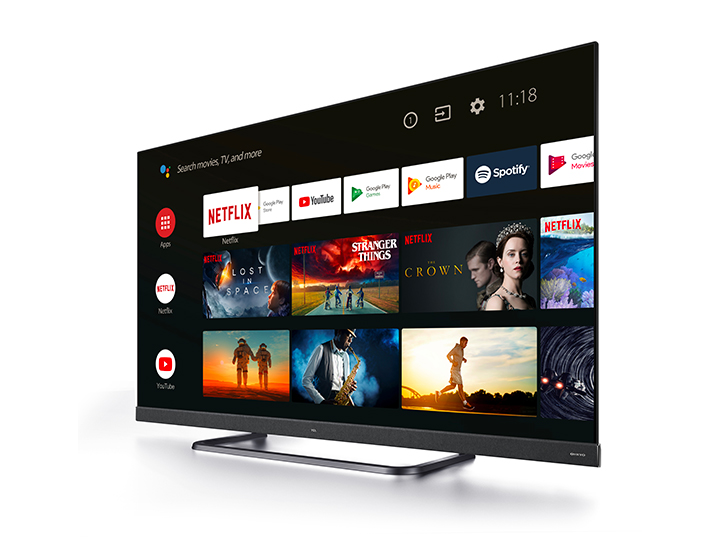 TCL 65EP785 comes pre-loaded with the latest version of the Android system (9.0 Pie) which is a vast improvement on previous generations. Apps and TV channels are easily accessible on the menu bar. Accessing Google Play Store opens up for a wide array of apps, including Netflix, HBO Nordic, and Amazon Prime. In addition, the EP785 comes with two remote controls, a slender full size one with lots of buttons as well as a smaller remote with just the main buttons. Both are equipped with microphones for voice control (Google Assistant).
Quality
When we tested the EP685, we were actually quite impressed with the image quality. It excelled in delivering very good contrast, deep black levels and plenty of brightness – even when compared with more expensive competitors. Our impression is that its successor, the EP785, also gets a lot right.
Compared to another TV we had in to test (the LG 65SM8600), it's clear that the TCL screen provides slightly better black level and contrast. There are no problems with the faded grayscale and black that the LG screen's IPS panel showed traces of. This contributes to an increased sense of depth on dark films and series: "The Irishman", the latest film from Martin Scorsese and Robert De Niro, looks truly gorgeous on the TCL screen, with impressive detail and sharpness.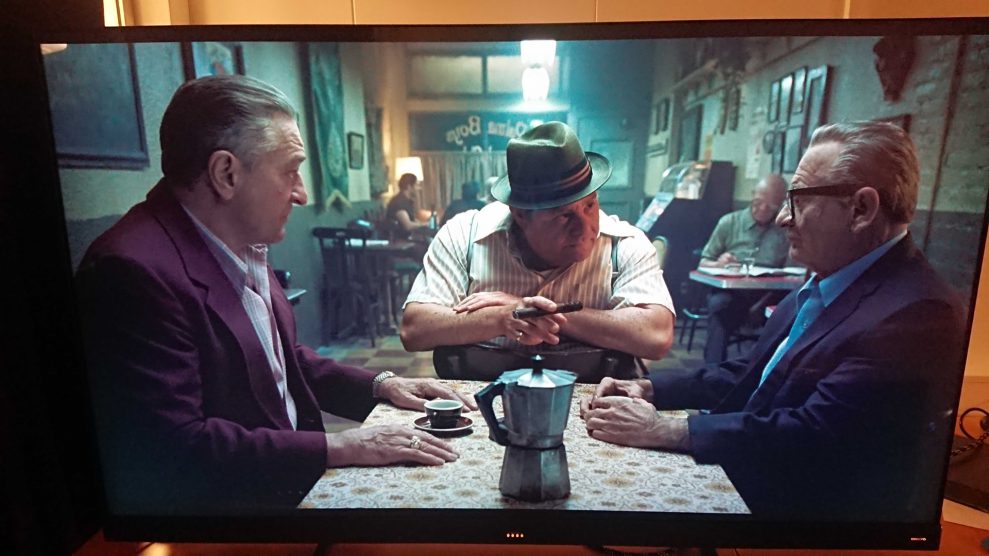 When testing the EP685 we had a few reservations about image rendering.
Our primary complaint was some irregularities in movements and notably inadequate sharpness when the image was in motion. So it's gratifying that TCL has improved on this with the EC785. TCL has added more advanced image processing with motion compensation (interpolation) to ensure smoother movement. This is especially noticeable on sports broadcasts with fast panning; the image is smoother and more "whole" with better motion sharpness. A clear improvement on its predecessor!
Compared to these, the TCL screen performs pretty well but perhaps it lacks the indefinable factor that would make it stand out, purely image-wise. Here, Philips has its popular Ambilight to elevate the experience, while Samsung boasts great sharpness and smooth movement and, in our opinion, the best user interface and remote control.
Sound quality
For its part, TCL can boast the best sound of the three. The 65EC785 comes equipped with a built-in soundbar from Japanese Onkyo. This is in contrast to its predecessor, the DC760, which had built-in sound from JBL.
We should add that TCL has taken over the rights to the Onkyo name outside Japan. So it's unclear how much development the traditional hi-fi manufacturer contributed on this occasion. In any case, the system sounds very pleasant: With front-facing speakers and 2 x 15 output power, the sound emerges directly, clear and distinct and with plenty of fullness in the midrange. As a result of which both music and movie sound effects are boosted.
This is a relatively simple speaker solution that cannot compare to the sound you get from a separate soundbar with subwoofer, but it's still miles better than many other TVs in the price range! The TCL screen also supports the Dolby Atmos audio format but has no dedicated height effects speakers. So you get more of a light version of Atmos rather than the full-blown 3D variant that can be achieved with a separate soundbar connected to the HDMI audio output.
Conclusion
65EC785 is another well-equipped TV from up and coming TCL. We're happy with the image quality, which is noticeably better than its forerunner, the 65EP685 – especially when it comes to motion. At the same time, it should be noted that the price has increased considerably: from €899 to €1199 (RRP). Thus, the TCL 65EC785 climbs into a considerably tougher price bracket, where recommended models such as Philips' The One and the test-winning Samsung UE65RU7475 remain our clear favourites. The TCL screen cannot contend against these, even though it may have noticeably better sound. The 65EC785 therefore does not appear to be a "price-killer" like the EC685 but nevertheless receives a stamp of approval from us.