Audun Hage
Published

2020-08-09 - 3:54 pm
The Sony screen offers lots for a low price, great image quality and a clearly improved remote control from previous generations.
The XH8096 lacks individual zones with local dimming, and can therefore not deliver as juicy contrast as Sony's top models.
Specifications
Size / type: 65 "4K LCD
Resolution: 3840×2160 (4K Ultra HD)
Operating System: Android
Inputs: 4 HDMI (2.0), 3 USB
Outputs: Optical digital audio output, HDMI ARC
HDR: Dolby Vision, HDR10, HLG
Other: X1 video processor
Sony has launched a large and wide TV range for 2020, with models tailored for everything from PlayStation games to discerning movie watching. If you have a big enough budget, there are both exotic OLED models and giant 8K screens to choose from. But of course there is a need for some sensible "milk-and-bread" models too!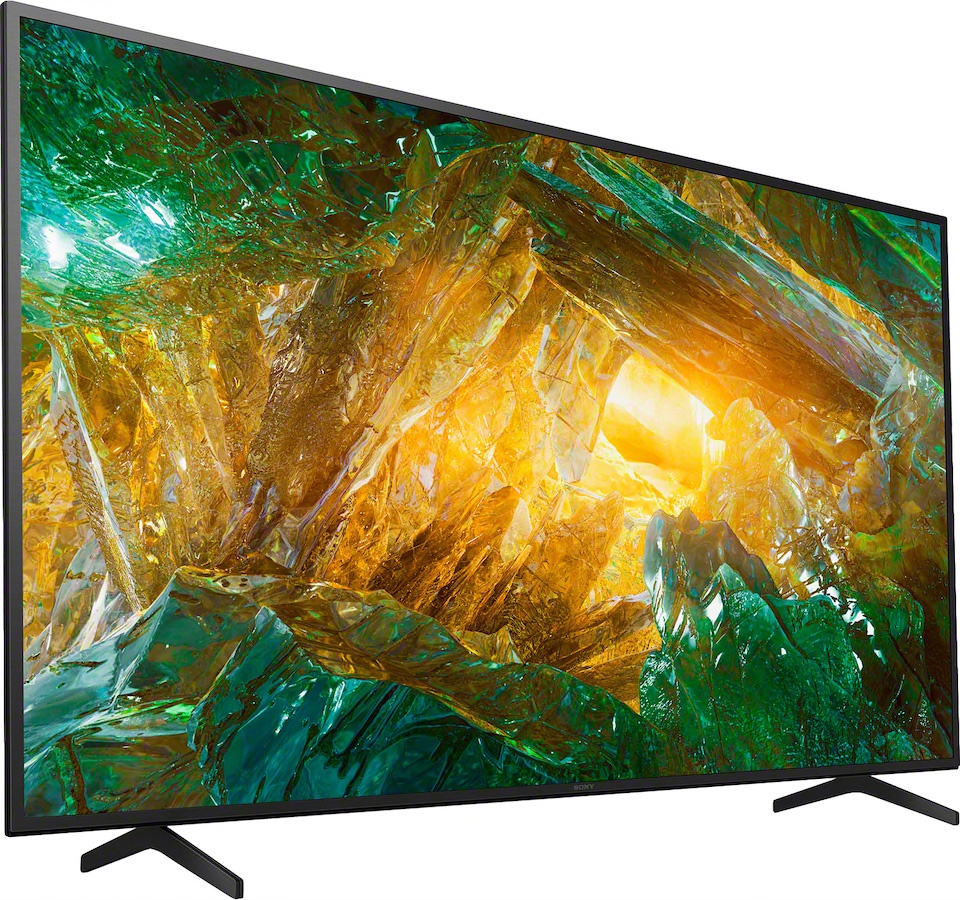 The newcomer XH8096 is one such: This is among the cheaper premium models from Sony this year. It has to cope with a simpler form of LED taillight, without local dimming as we find on the big brother XH90, and is also not particularly geared towards gaming. On the other hand, it can offer 4K resolution, support for HDR, Dolby Atmos and the latest Android TV in a seemingly quite affordable package.
Here we have considered the 65-inch KD-65XH8096, but it is worth mentioning that the Sony model is available in a wide range of sizes, from 43 "and up to 85" (!) With a favorable price per inch. All the way from the bedroom TV to the cinema big screen where …
Sony KD-65XH8096: Design
When it comes to design, the Sony XH8096 has a rather ordinary, unobtrusive look with straight lines. The frame around the screen is just over an inch wide seen from the front: the image does not go all the way to the edges, but almost. Seen from the side, the Sony screen is a bit thicker than many other screens, due to the direct LED backlight requiring more space in depth.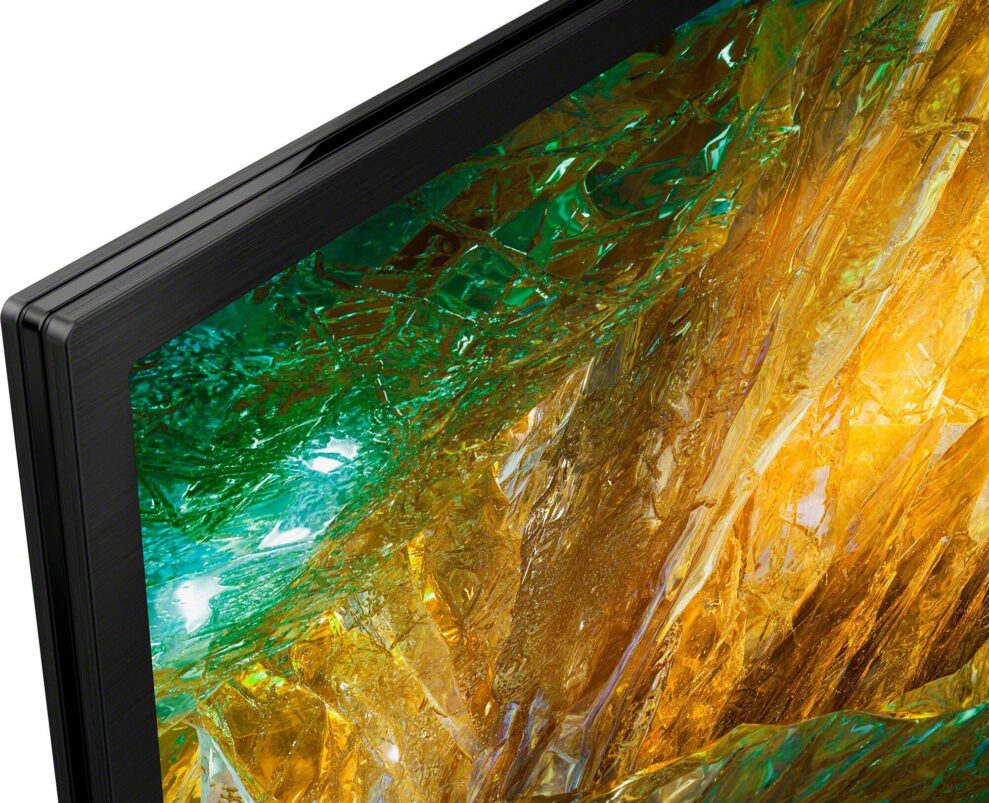 The Sony XH8096 has a clear frame, and looks a little thicker from the side than some other LCD and OLED screens. (Photo: Sony)
An important point when it comes to placement: The XH80 has two V-shaped feet that are mounted relatively far out at the edges. The TV therefore gets a fairly wide leg position that requires a correspondingly wide TV bench. This is worth taking into account when planning, not least if you are considering an even larger 75 "or 85" version of the XH8096! On the plus side, there is plenty of room for a soundboard between your legs.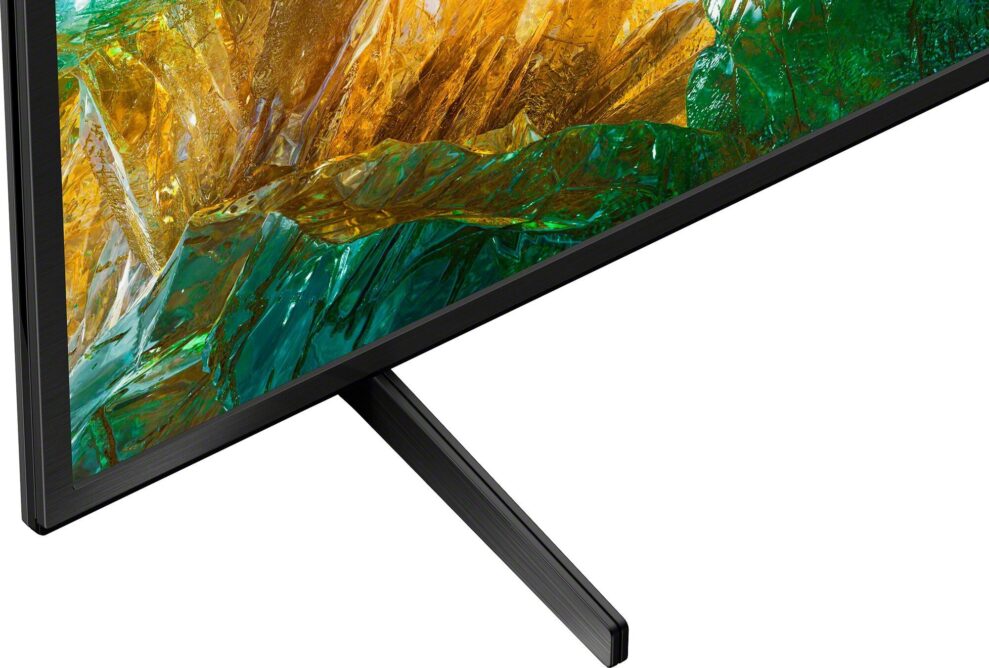 Ease of use and features
Sony XH80 is an Android-based TV (our test copy came loaded with version 9) It is noticeable that this year's model has become significantly faster and more intuitive to operate, and like its big brother XH90 it has very fast smart TV functionality. The TV starts lightning fast from standby, and menus and apps load in no time.
Like most Android TVs, the XH8096 has full support for Google Assistant voice control, and the built-in Chromecast makes it easy to stream or share content via your Android phone. It also supports Airplay and Homekit, so it can display content from the iPhone and can also easily be part of an Apple-controlled smart home.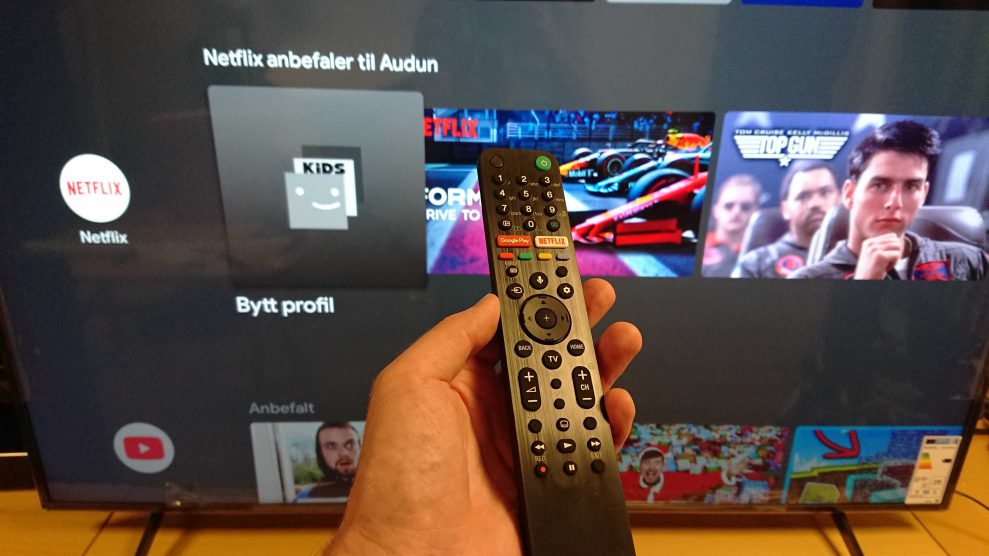 Sony has added its new Bluetooth remote control, which is a significant improvement over its infrared predecessor. It fits well in the hand, and the buttons give a nice tactile feeling. Previously, you almost had to be a top-trained sniper to hit correctly with the IR signals…! The new control, on the other hand, communicates quickly and efficiently with the TV, without you even having to point it directly. It gives a clear boost in usability, and the thumbs up from us.
Lacking HDMI 2.1
Sony has announced that some of their 2020 models have been prepared and tailored for the upcoming game console PlayStation 5. However, there is a relatively short list, which so far only includes the LCD models XH9005 and ZH8 (8K). The model we are testing here, XH8096, however, does not quite meet the requirement. This is mostly due to the absence of full HDMI 2.1 compatible video inputs, and compatibility with the 4K / 120 video format (up to 120 frames per second). This is not to say that the XH8096 cannot be used with the PS5: it just will not work optimally with all game titles.
The Sony screen still hits well when it comes to delay: We measured input layers to just under 10 milliseconds in game mode, which is very good.
Image Quality
Sony KD-65XH8096 comes equipped with a 4K LCD panel of the type IPS (In Plane Switching). This type of LCD panel is known for sacrificing some contrast and black level, in favor of a wider viewing angle. Here, Sony is in the same class as many of LG's LCD screens, which also use IPS.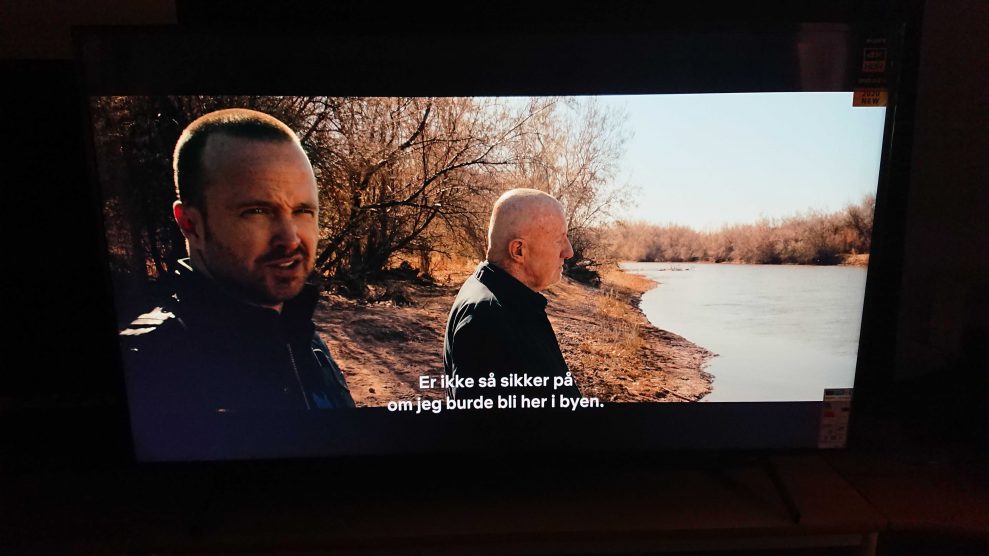 The Sony screen also boasts direct LED taillights, rather than the cheaper edge-LED variant. Here we are talking only about a static taillight, without local dimming as we find on the big brother XH9005. The Sony screen thus has no possibility of dimming or raising the brightness in certain parts of the image, which clearly affects the contrast.
The first impression is that Sony has achieved a lot right with this screen. The aforementioned LED backlight ensures even light distribution, and we can move relatively much to the side without the colors changing character. This is clearly an advantage, not least when we move up in screen size.
The Sony screen also excels with impressive image sharpness and smooth, natural color balance. We can enjoy everything from close-up nature programs to fast-paced sports broadcasts with great realism. The XH8096 manages to display everything from low-resolution SD broadcasts to true 4K film at its best, without introducing excessive sharpness or "muddy" noise reduction. The movements are very smooth and even, without introducing unnatural soap opera effect.
XH80 vs XH90
During the test, we also had the more expensive big brother XH9005 standing next to it, and XH8096 actually comes out surprisingly well from the comparison in several areas. The two Sony models use the same video processor (Sony X1) for image processing, but different types of image panel (IPS in XH8096, and VA with local dimming in XH9005).
First of all, it is obvious that the XH8096 does not lag behind the big brother in maximum brightness and contrast. The latter is able to turn up the light more, which is a clear advantage when watching TV in daylight. This also applies when we watch video in HDR quality: the XH9005 has significantly more "punch" in the brightest parts, in that image effects such as sunlight, flames and dazzling headlights, get significantly more glow.
However, everything is not just black and white between the Sony screens: in normal dim room lighting, the XH80 actually looks absolutely brilliant. The absence of active local dimming results in a slightly lower black level, but also means that you avoid uneven lighting / outlines around bright objects, as the XH9005 may have a tendency to do. In fact, the XH8096 has to be said to perform impressively well, especially given the price difference. With the exception of the contrast, the screens behave relatively similarly, with the same good image processing, smooth movements and excellent noise reduction.
Sound quality
The Sony XH8096 has no particularly expensive speaker solution on board, only standard stereo speakers. The voice reproduction is relatively clear and distinct, but the sound in general appears a bit slim and a little bass-rich.
Fortunately, the Sony XH8096 supports Atmos audio processing and HDMI ARC. This allows it to be easily upgraded using an external soundboard such as the Sonos Arc or other compatible Atmos soundbars.
Conclusion
With the XH8096, Sony can offer an affordable large screen that has most of the features in order. Here you get 4K resolution, Android TV with plenty of apps, support for Dolby Vision HDR and Dolby Atmos audio, which makes this a useful TV for most people.
The picture quality does not belong to the high-end class: the absence of local dimming means that you can not expect as juicy contrast in the most demanding film scenes. But in some areas, the XH8096 can actually compete with far more expensive TVs: the sharpness is impressive, the colors natural (with a wide viewing angle), and the movements seamless. All in all, an affordable TV with more strengths than weaknesses!