The old adage, "two heads are better than one", inspires a popular strategy in the audio and video industry. When a manufacturer launches a new product, you can almost bet it has "audio from producer Y" or "designed by producer Z" included in the description. This can range from pure licensing to more in-depth cooperation. Such partnerships can obviously be profitable but at the same time one wonders if it doesn't contribute to dilution of the brand name over time.
At Sony, however, they like to do things the Sony way. The Japanese manufacturer knows how to protect its patents. And even when they borrow technology from others, the majority of product development takes place in-house. The new high-end TVs in the "MASTER Series" are a great example of this, where Sony has leveraged all of its collective expertise to achieve the most awesome picture and sound quality.
Sony Bravia KD-65AF9: Design and build quality
The new KD-65AF9 model is the successor to the KD-65A1, which we voted the best high-end TV of 2017. This newcomer to the Bravia family has the same aesthetic appearance as its predecessor – minimalist and extremely elegant. There's no base, Sony logo or speakers on display. The AF9 has a slightly tilted posture, making this the perfect screen for low TV tables and shelves.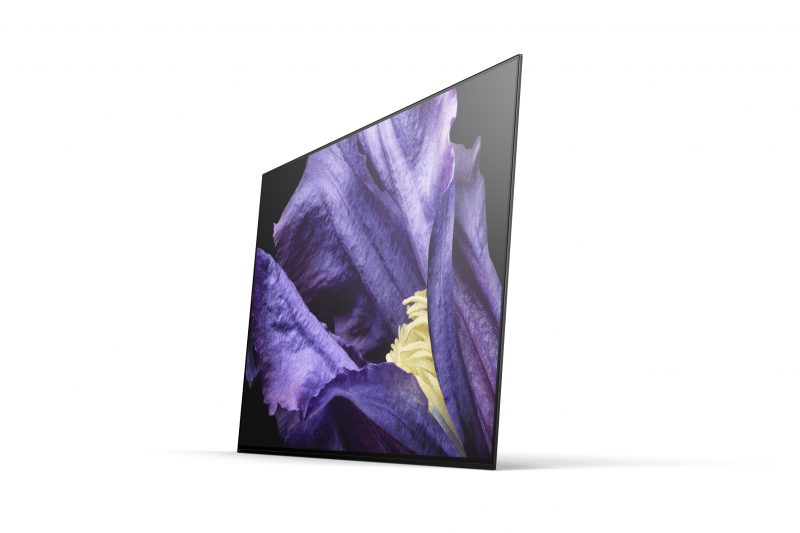 Of course you can choose to wall-mount this Sony screen, but it will stick out a bit more from the wall than other OLED displays – just over 9 centimetres. The support at the back is fixed and rather bulky, because, in addition to keeping the TV on an even keel, it houses all of the connections. On the other hand, Sony has added the possibility of concealed cabling and the back is covered with fabric clad panels, which look downright tasty in our eyes. This is a TV you'll be proud to have standing in your living room.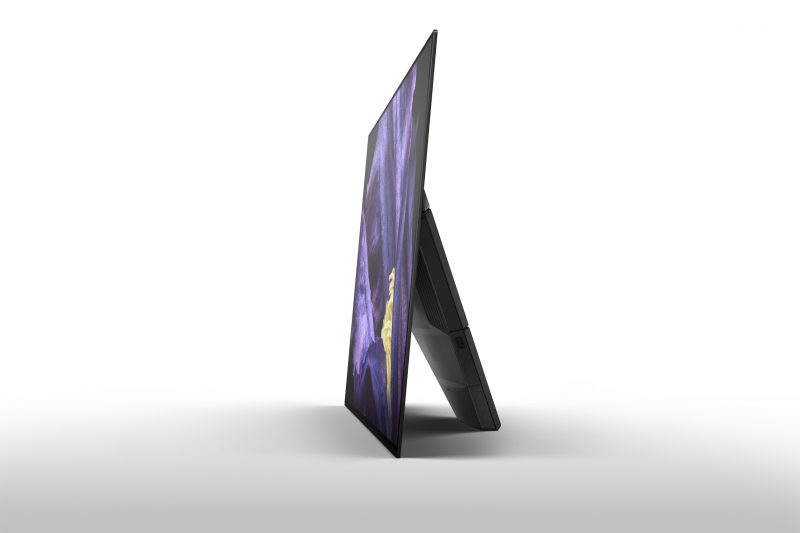 Ease of use and details
This new high-end model is the first to use Google's updated Android 8.0 Oreo as operating system. We won't go into all the new stuff here, but the overall impression is that the 8.0 version has become far more manageable and easier to use. The new home screen simply presents what we want to watch. Content from apps, connected devices, and live TV is listed in turn and in order and you can customise the home screen with your own preferences.
Another major advance is the option of multi-tasking: We can now jump between different content types (e.g. YouTube and Netflix) and pick up where we left off. Hallelujah! The Sony screen also has built-in Chromecast, so you can easily stream content from your phone on your TV screen and even remotely control the TV with your phone. Full integration with Google Assistant will also be possible in the long term.
With a game console like the PlayStation as a stablemate, it goes without saying that the Sony AF9 is good for gaming. The TV has a dedicated game mode with lowest input lag of approximately 27 milliseconds.
The KD 65AF9 now supports both HDR10 and Dolby Vision HDR format on every HDMI input and on essential apps like Netflix. This brings Sony (finally) more or less level with LG's own OLED displays when it comes to format support and you don't have to wait for firmware updates.
In light of the latest upgrades, it's a bit of a let-down that Sony clings to the same tired remote control they have used for generations… This is IR-based and requires pointing precisely in the direction of the TV. The ergonomics are not the best, and the buttons don't really give the tactile sensation we'd like.
Image Quality
KD-65AF9 uses Sony's thus far most impressive image processor, the X1 Ultimate, with up to twice as fast real-time processing as today's X1! It handles all image parameters (colours, contrast, sharpness, movement and more) and analyses and enhances the image exactly as it should be done. The question is whether Sony has managed to raise the bar for the competition?
Yes, the Sony screen has all the great qualities we associate with OLED – such as pitch dark black, perfect viewing angle and lovely contrast. We weren't blown away by our first impressions, and sat with a feeling of having "seen a lot of this before". This only underlines how demanding we've become nowadays!
On the one hand, Sony's best OLED delivers a picture quality we hardly dared dream of 1-2 years ago. At the same time, it's apparent that its performance is very close to competitors such as LG's C8 and E8 models, not to mention Philips' OLED803. You would really need to be eagle-eyed to differentiate the strengths and weaknesses in the images.
With our favourite Blade Runner 2049 playing, we can see Sony has opted for a slightly more sober image aesthetic than LG and Philips have for their OLED screens. Sharpness is less aggressive than LG's, which tends to accentuate the contours of Harrison Ford's face a little too much. The colours of the ruins of the future are also more natural and nuanced, with smoother gradations than the Philips OLED803 manages to present. But the divergences are more a question of taste than a "night and day" difference.
We were excited to see if Sony could go toe to toe with the Panasonic TX-65FZ950, which is our benchmark when it comes to colour reproduction. And the KD-65AF9 comes very close, albeit without quite surpassing the competition. The Panasonic screen is a level above, both visually and dimensionally, in terms of the combination of colours, contrast and detail in dark areas. The only area we see where Sony has a definite advantage is when it comes to movements, which are even smoother and steadier than Panasonic's, but not by much.
The Sony KD 65AF9 also boasts "Netflix Calibrated mode" — a proprietary image mode that has been customised to show Netflix movies and series as the director intended… In practice, we found this had little to offer, preferring in most cases regular Film mode.
Summing up, the image quality is very good, but isn't enough on its own to distinguish this Sony flagship from the competition.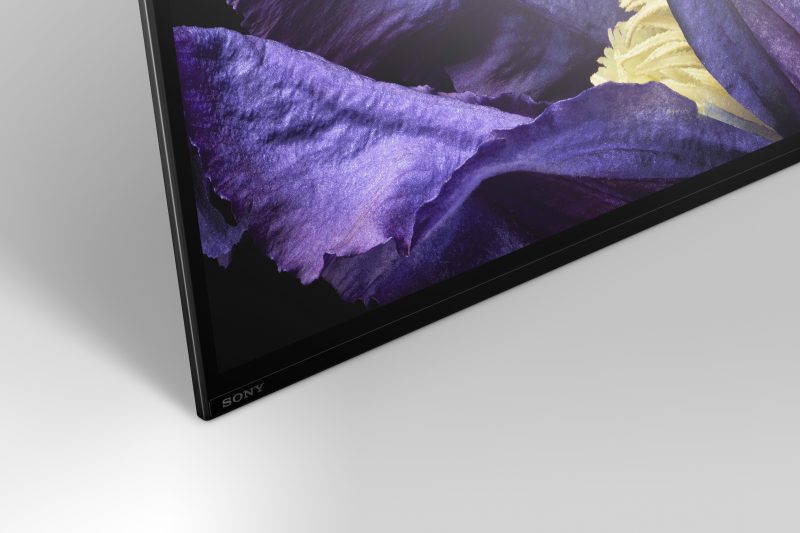 Sound quality
The challenge of getting decent sound from thin OLED displays causes a lot of headaches for manufacturers. But Sony has come up with a solution that, in our opinion, is utterly ingenious: They use the screen itself as a speaker, or an "Acoustic Surface" as they call it.
Instead of traditional speakers, small "vibrators" are used to get the OLED panel to oscillate in step with the audio signal. While the A1 had two vibrators for stereo sound, AF9 introduces a third vibrator as the centre channel. In addition, it has two additional woofers at the back that take care of bass reproduction.
The sound quality is undoubtedly very good. The vocal rendering is strong and clear, and because the sound is perceived to come straight out of the picture, you also get a precise connection between what you see and hear. By distributing the sound over the left, centre, and right, they have also achieved lower distortion than you typically experience with TV speakers. The Sony screen also has plenty of fullness in the bass, and can provide a completely satisfactory audio experience without the need for a soundbar.
Conclusion
Sony has apparently used all the tricks in the book so that KD 65AF9 can leave its competitors behind. With a brand-new Android platform, broad format support, great image processing and a distinctive speaker solution, this is clearly a TV that will attract many discerning image enthusiasts. There are competitors, though, who offer much the same image quality at lower prices. But if you're looking for the most awesome picture and sound quality, finished in a gorgeous package, Sony KD-65AF9 is one of the best buys you can make.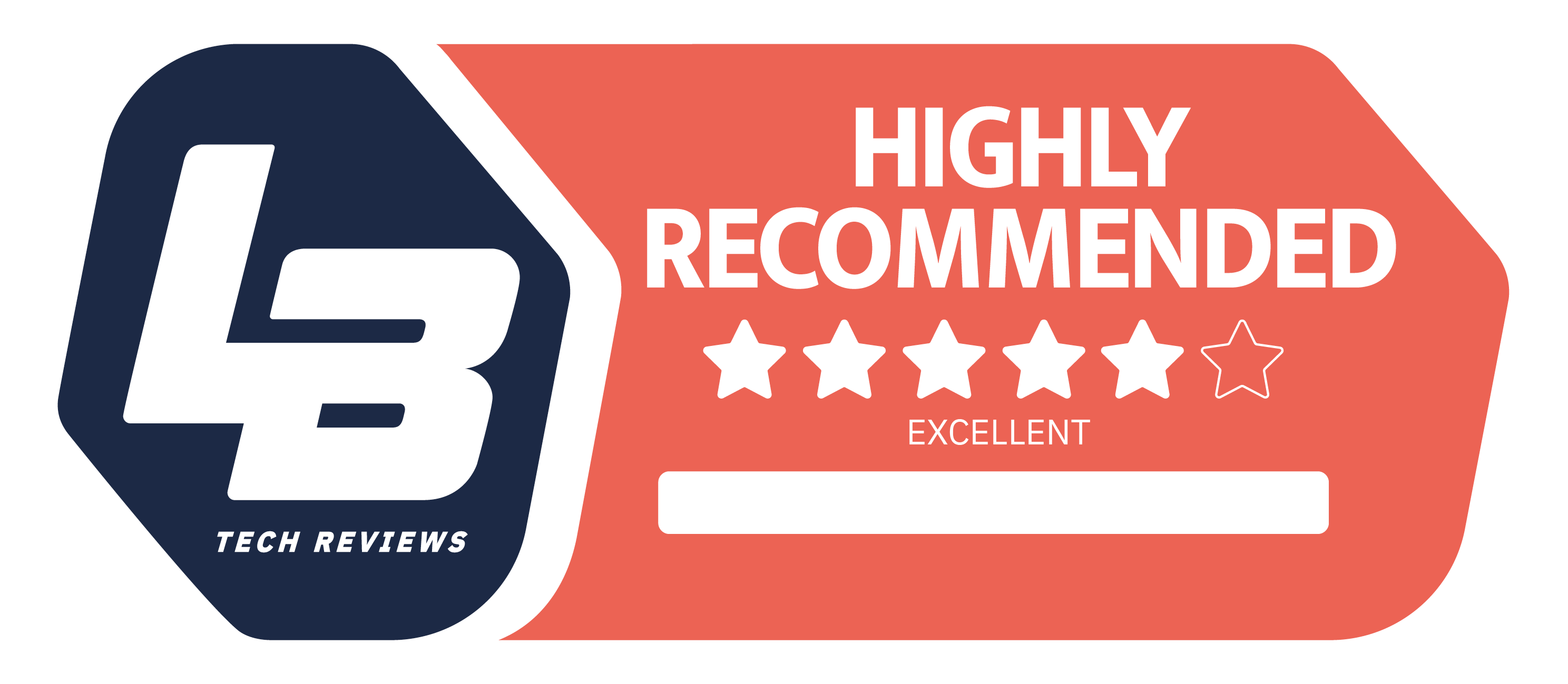 High End
We think
The Sony screen delivers masterful image quality, and invisible speakers you can really hear. With the upgraded smart solution added on, this is a near complete high-end TV.
The picture quality is very good, but you can say that about many of the competitors.