Samsung's innovative rotating screen is easy to connect to your smart phone, ensuring optimal viewing of vertical videos and app content.
The image panel is based on last year's Q60R, and must therefore do without some of the 2020 models' visual improvements.
Specifications
Product: Samsung The Sero QE43LS05T
Size / type: 43 "QLED LCD
Resolution: 3840×2160 (4K Ultra HD)
Operating system: Tizen
Inputs: 4 HDMI, 3 USB
Outputs: Optical digital audio output
HDR: HDR10 +
Other: Rotating Screen, Mobile View
Web: samsung.com/no
Samsung never ceases to amaze, and Samsung The Sero is perhaps their strangest TV to date. It literally turns the TV world upside down, with the ability to set the screen upright!
Ten years ago, we would probably have thought that the Samsung engineers had a screw loose, but in today's media everyday life, it is actually not so stupid to have a rotating TV in the house.
We need look no further than our mobile screen: The fact is that a lot of today's content is created and shared in portrait format: Now that you pick up your mobile from your pocket, film and snap photos spontaneously, it is often done with the screen and camera upright – in so-called portrait mode.
This works great for social media such as Facebook, Instagram or Snapchat, but presents problems when the same videos are to be rendered on a traditional widescreen TV screen (landscape mode). To fit the screen, they must either be stretched violently, manipulated or displayed with black "mourning stripes" on the sides. Far from optimal!
The Sero: Rotating TV screen
However, Samsung has found a smart solution to the problem. The Sero has a built-in electric motor, which allows you to switch between portrait and landscape format at the touch of a button. In addition to regular TV viewing, it can be used to mirror your mobile screen, view photos and videos you have taken, or scroll through the Instagram or Facebook feed on a large screen.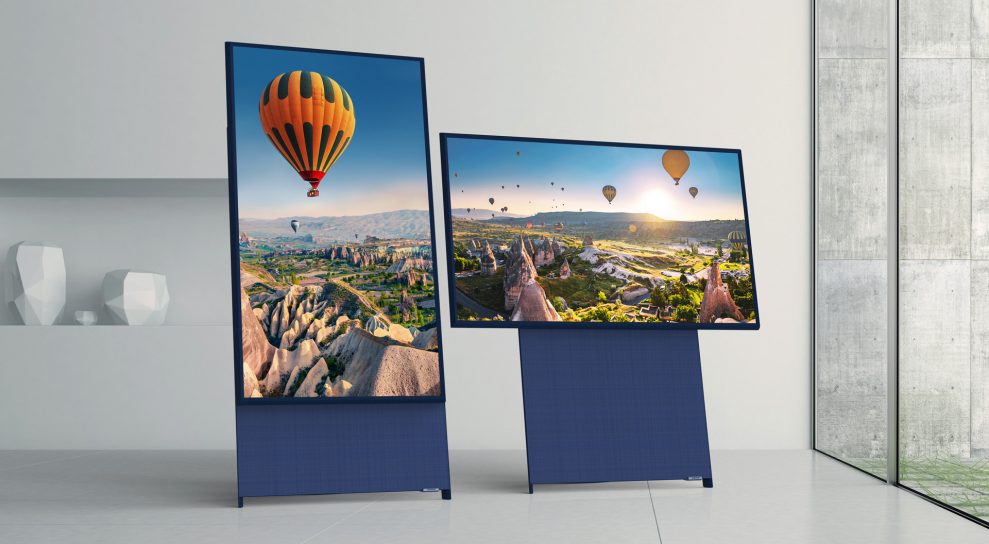 Design
The Sero stands out markedly from other TVs we receive for testing: even the box is set upright! The TV comes almost completely assembled: with motor and screen fully connected. The only thing you need to screw on is the easel stand, which ensures that the TV is upright and slightly reclined on the floor. The Sero is intended for floor mounting, and therefore has no table base or wall mount. Samsung also offers wheels as an option, and we immediately think that these can be nice to have, so that the TV can easily be turned in the desired direction.
The workmanship is actually quite nice: The Sero easily resembles something Bang & Olufsen could have created, without it costing the shirt for that reason. The screen has a slim frame in navy blue, and the base with built-in speakers is upholstered with fabric covers in matching color, which contributes to an exclusive impression.
The TV is upright in standby mode, and in this way takes up relatively little space in the room. The Sero also has a nice shape when the screen is in landscape mode, and the base makes sure to bring the image to the right height. This will definitely be a great TV for smaller rooms, and not least convenient for corner placement.
Ease of use and features
The Sero uses the well-known menu system Tizen, which we know from other Samsung TVs. This year's version has been upgraded with sharper graphics and more pleasant colors. The TV is quick to set up, but it is recommended to do the installation via Samsung's SmartThing app. Then you get access to some extra Sero features, including the ability to mirror the mobile screen and turn the screen automatically (some of these require you to have a Samsung mobile).
The menu system is very fast and logical, and works excellently with the sleek and ergonomic remote control. It uses Bluetooth, and is largely identical to other Samsung controllers, except for the button that says "rotate screen"! There is nothing to complain about the operation, but we think The Sero could have deserved a slightly more original remote control, for example in matching, navy blue color?
Samsung has otherwise made sure to expand its already wide app selection: In addition to Apple's TV app, and Airplay 2 support, you will now also find the music service Apple Music on board. The video store Rakuten is also a relatively newcomer that offers streaming of movies and series in 4K HDR quality. In addition, apps like Netflix, HBO, Canal Digital and Amazon Prime are easily accessible from the Start menu. You can decorate the menu yourself with the services you like best.
The Sero does not boast full HDMI 2.1 inputs, but still offers some of the latest features, including HDMI eARC (audio return channel) and ALLM (Auto Low latency mode). On the other hand, it lacks support for extra high frame rates such as 4K / 120.
However, Samsung has included a dedicated gaming mode with an extra low delay: We measured the delay to just under 10 milliseconds with our Leo Bodnar tester, which should be fast enough even for e-sports enthusiasts. Samsung also has a Real Game Enhancer mode that improves contrast and movement, but in return spends a little more time on the image processing (about 22 ms).
Mobile View: Vertical mode
The ability to set the image upright is the very idea of The Sero, and we can only say that this works excellently. The application of the vertical mode is almost endless: The Sero can mirror the mobile screen, while you continue to use the mobile's touch screen as a "remote control" and scroll through the content. Thus, it is free to view virtually all of the mobile content on the big screen. Whether it's Facebook, Instagram, Snapchat or TikTok you find most captivating, these can now be displayed in large format – perfect when you want to share with others.
The immediately most interesting app was Instagram and Instagram TV, which offers many small video clips in height format. Likewise, one can find many videos on Youtube, including music videos that are tailored for height format.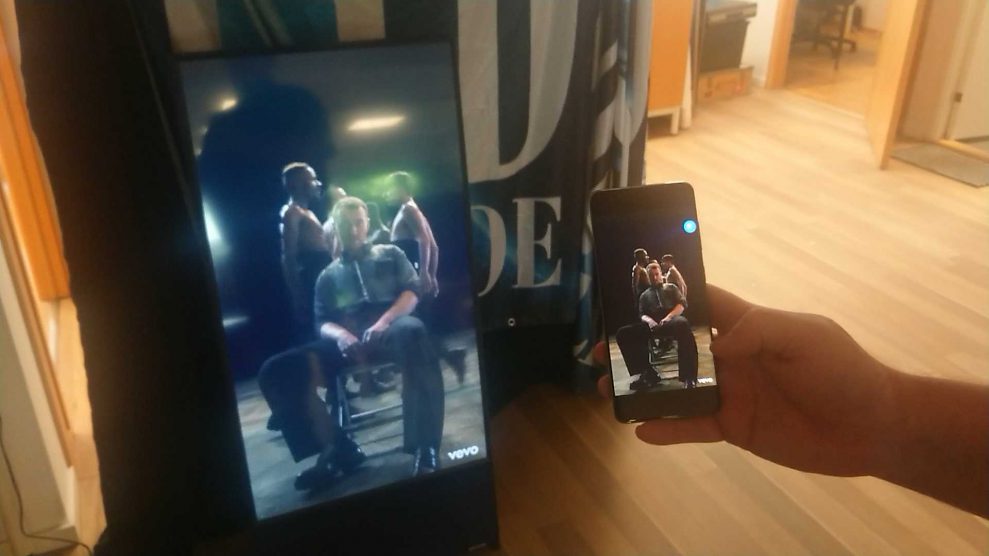 Samsung had lent us a Galaxy S20 mobile for the occasion, which has an extra high / wide screen in 9:18 format. However, the Smartthings app manages to compensate for this. It also supports automatic screen reversal: When you turn on your mobile phone, the TV follows. Samsung is also working on developing the finesse for other Android phones, but it may be brand dependent. The Sero also supports mirroring of iPhone mobiles via Airplay, but unfortunately only in horizontal mode for now. This may require an update from Apple.
Image Quality
The Sero is thus a rotating image machine, made to be able to display both TV and mobile content in its optimal format. The slide show itself is handled by a 43 "LCD panel with 4K resolution and LED edge lighting. Among other things, it boasts a QLED color filter, which ensures a wider color range and higher brightness. As far as Sound & Vision knows, the image panel is more or less identical to last year's Q60R model: it can therefore not boast of so-called Dual LED technology, as we find in some of the latest 2020 models. It is of course a pity that Samsung has not used the very latest technology on such an innovative TV, but we assume it has to do with cost savings.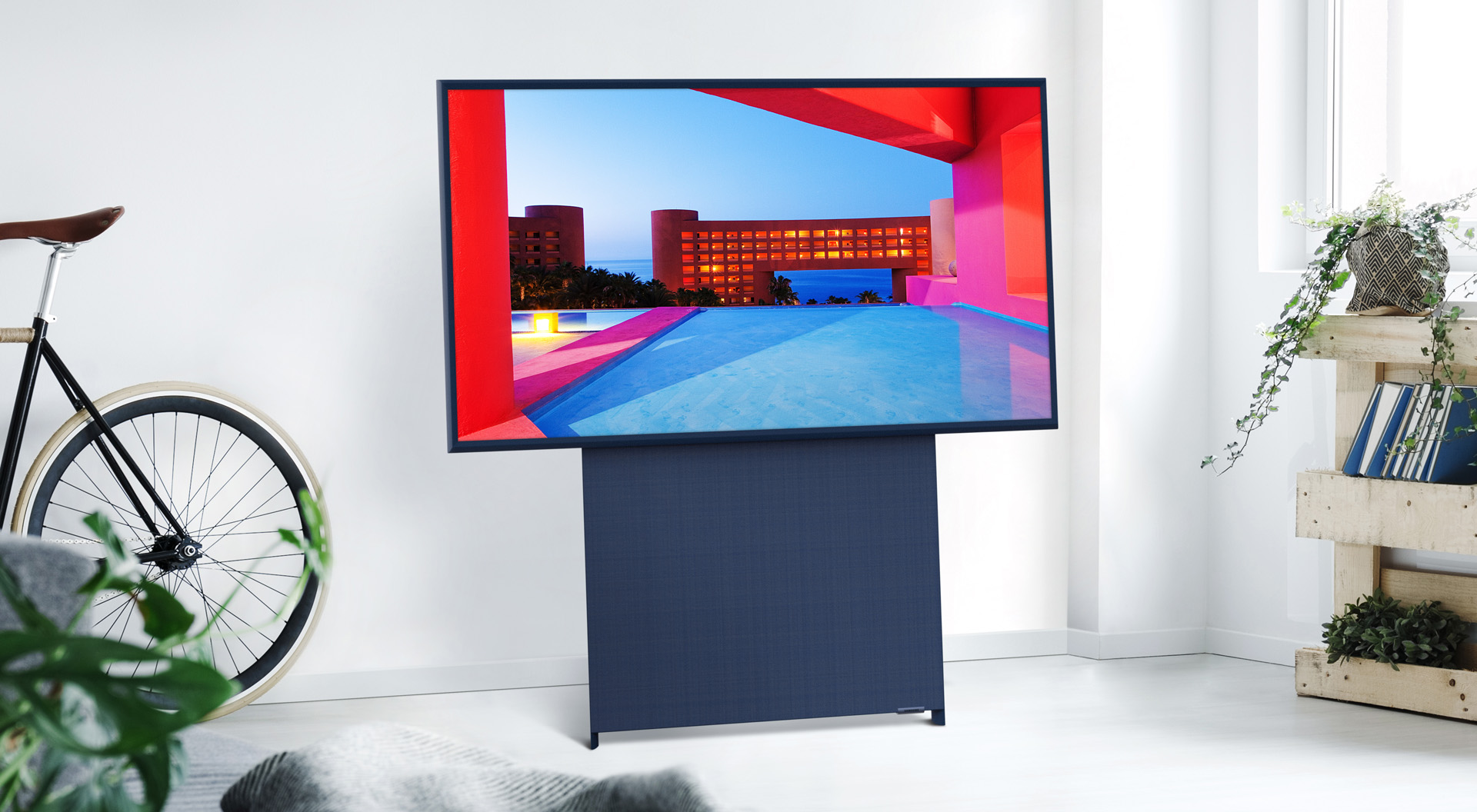 That said, The Sero delivers great image quality for its use. First, the picture is razor sharp, and the TV does a good job of upscaling and enhancing different types of content to fit the high-resolution screen. In addition, it has plenty of brightness, with dazzling reproduction of white, and juicy colors even when we look at the screen in daylight.
As we dim the lighting and go into "movie mode", some classic weaknesses emerge. Of course, the Sero can't keep up with the rawest OLED screens (not even QLED screens with LED backlights) when it comes to contrast and black level: the traditional LED lighting sets a limit for that. This is evident in movies and series with a lot of dark content, where the image may appear a little gray in dark areas.
Another thing we notice is that the Samsung screen has relatively much glare in it. The screen surface is of the "glossy" type and tends to reflect much of the surroundings. This is further enhanced by the fact that the TV is slightly reclined, and therefore can easily capture light from lamps in the ceiling, for example. Samsung could have cost a duller screen filter!
A 43 "TV for around 17,000 kroner obviously has a good number of challengers. If we look at other Samsung models, you can, for example, get a 55 "The Frame, or a 55" Q80T, which has both larger and significantly more contrast-rich image reproduction. But none of these can be spun!
Sound quality
A rotating TV is of course quite fun in itself. Extra fun is that Samsung has done a surprisingly great job with the sound!

The Sero has a significantly upgraded sound system compared to Samsung's regular TVs – more specifically a 4.1 channel speaker system with built-in subwoofer and 60 watt amplifier power. And you can immediately hear that: Here you get significantly more open, powerful and rich sound than the average.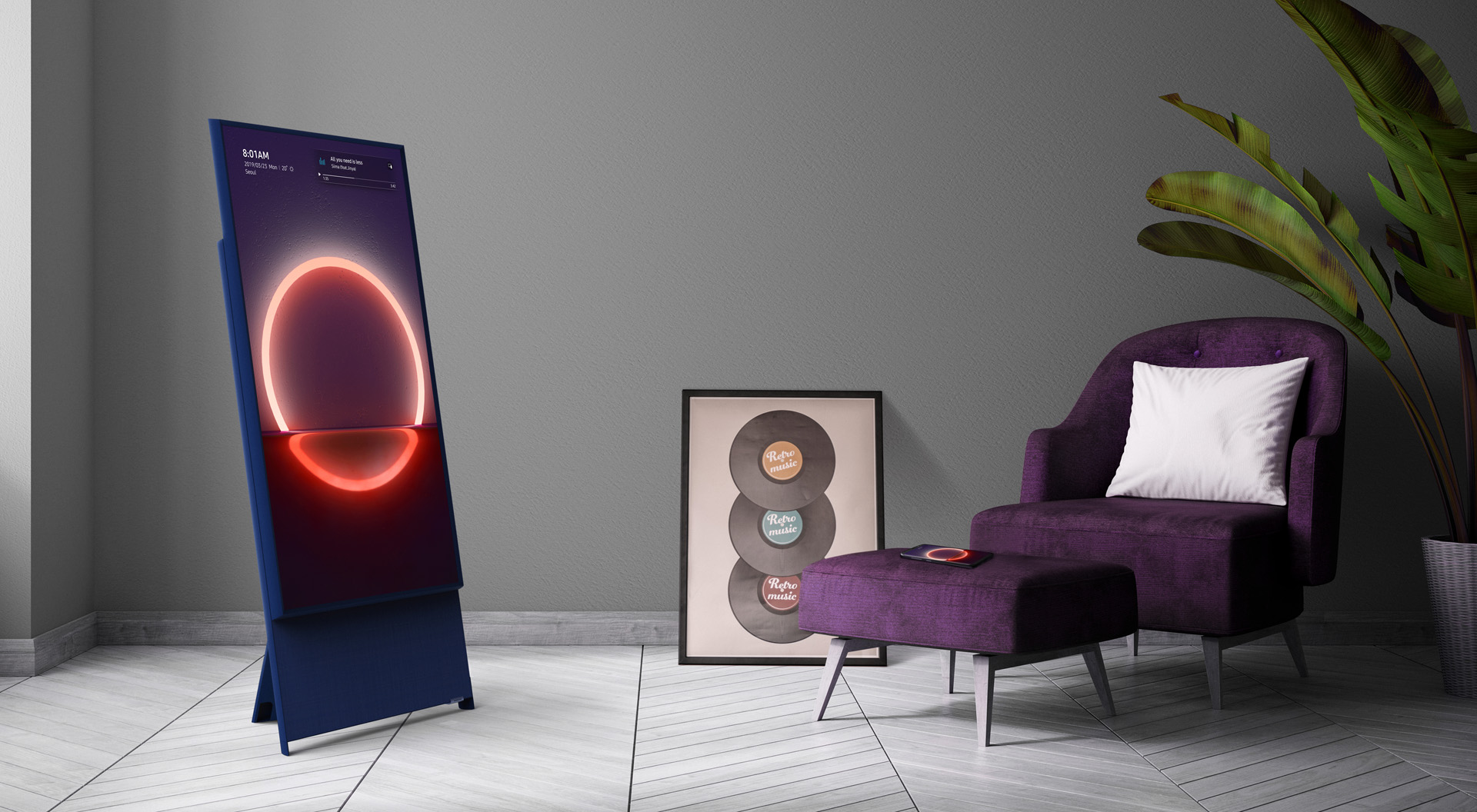 The sound is actually fully on par with many separate soundboards, with good clarity in the voices as well as music and sound effects. The rich sound also comes in handy when we have to display different types of mobile content on the screen, with a sound image that matches the larger format. Here it is also worth mentioning that you can connect a Spotify account to the TV and use it as a music source. It can also show "disco light" that moves in time with the music. Fun for both old and young…
Conclusion
A spinning TV is not just a fun party trick: in addition to being an entertaining and innovative TV, The Sero also has some practical benefits. The ability to view photos vertically is a welcome feature for anyone who is active on social media, uses video chat, or just wants to view portrait photos and amateur video in large format. In addition, it sounds surprisingly resilient! Samsung has made it easy for The Sero to be used for TV entertainment, mobile content and music listening.
The Sero is probably not necessarily meant to be the TV you spend late Netflix nights with: There are both bigger and more affordable options out there with at least as good, or better picture quality for the price. But none of these can be spun! The Sero is simply a hilarious "all-round" TV that we think will see more variants of in the future.