Samsung QE65Q9FN is the most awesome, high-end TV made by the Koreans. We are talking about the figurehead in the assortment in line with Audi A8, BMW 7 Series and Mercedes S class, representing the ultimate in technology, user comfort and performance.
In this respect, last year's Q9 model was an ever so slight disappointment. Although it was a brilliant TV in many areas, it failed to push the limits in picture quality as previous top models have done. Thus, they gave free reign to the OLED competitors like LG and Sony to grab important market shares in the premium segment.
Samsung therefore knows well that they are going to have to kick it up a notch this year:
The newcomer has been upgraded with new image panel, full LED backlights and local dimming, improved viewing angle, advanced filtering, and a powerful picture engine to power the whole thing.
Design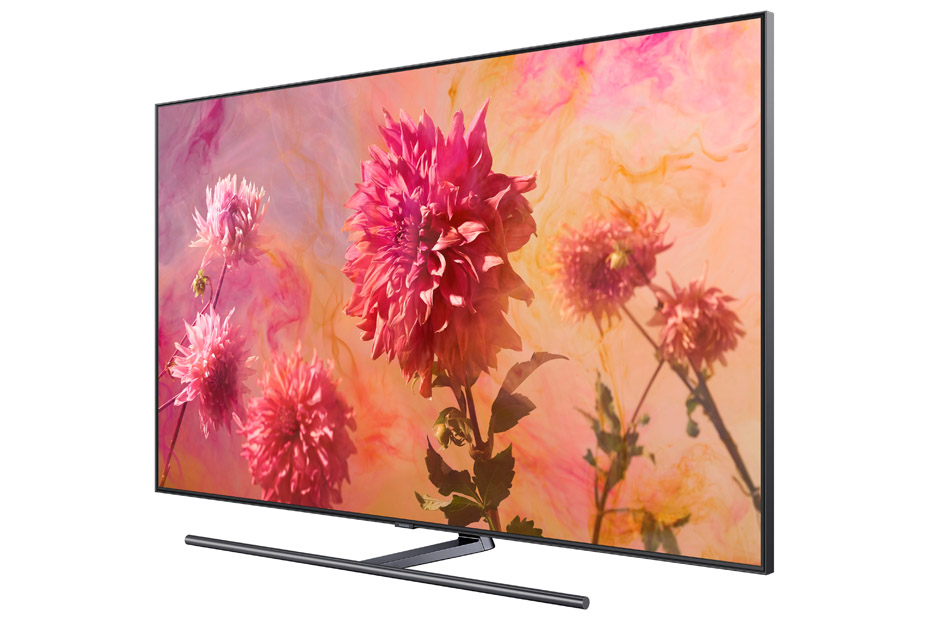 The Samsung QE65Q9FN has a tight, slim and subdued design. Despite the fact that it now has adequate LED backlight, it is no thicker than its predecessor 65Q9F.
The dark grey execution differs from the glossy details we associate with some other Samsung models, but we like it. Only the picture quality is meant to attract attention here, without any distractions. Samsung also equipped the screen with a special filter that counteracts light reflections.
Samsung has continued its so-called 360 degree design, which implies that also the back is smooth and clean with no visible wires or connectors. They have developed a new flat cable connector and cable for the 2018 models, located edge to edge with the backside. You can hide them by pulling them down through the T-shaped foot. It also means that you can hang the TV to the wall without anything sticking out. Note that this requires the use of the special "No Gap" wall mount (optional).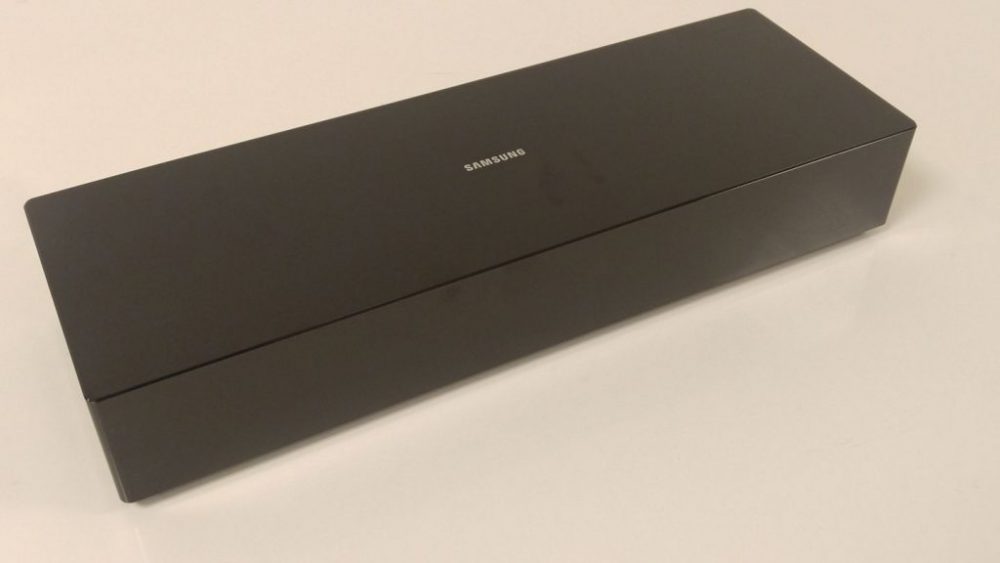 The connector that is inserted to the TV is flat and is included with the TV.
One Connect
As mentioned, there is almost not a single contact to see on the actual TV, and that's because all the connections are done on the separate One Connect box. The connection port is slightly larger and thicker than before, but there is a good reason for it: It now also includes the power supply for the TV, so that both the power and signal can be pulled through the same cable.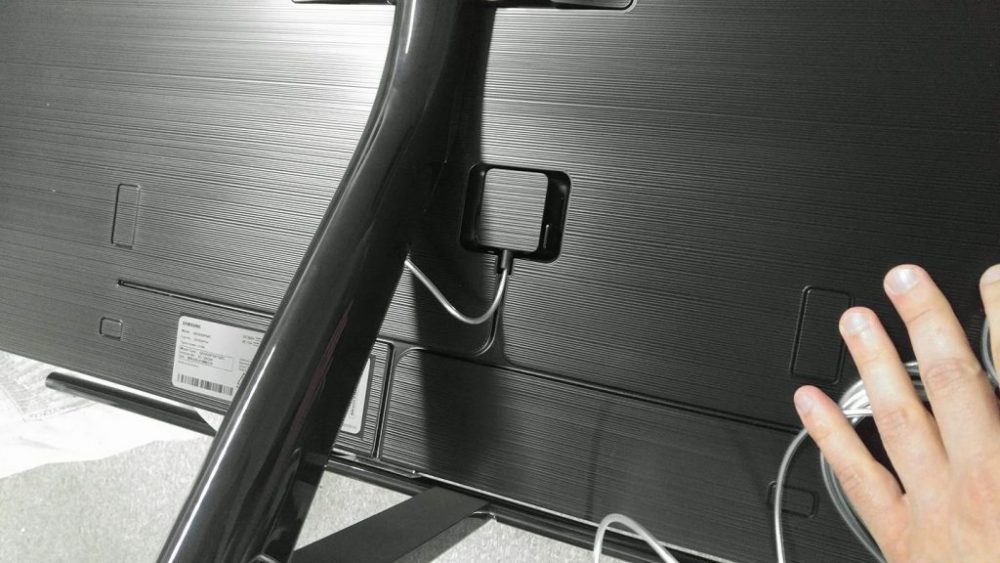 This is clearly a smart solution, with many advantages. You won't have a lot of wires hanging off the TV, and it can be wall-mounted without the need for a nearby power connector. The supplied cord is 5 meters long, but Samsung delivers up to 15 meters as an optional accessory.
Usability and features
Samsung's smart TV solution has long been one of the best on the market. And unless competitors like LG or Google pull a rabbit out of the hat, Samsung will remain on the throne this year too. This is, at least, our view after playing with the TV's many apps and gadgets.
Perhaps the most important change Samsung has done is to tweak the boot-up process, the so-called Easy Setup, which makes it simple to use your TV for the first time. You use your mobile phone to share information about networks, passwords, and user accounts. Then, the TV quickly recognises the various devices you have connected, be it a decoder, a Blu-ray or a gaming console. Everything is done in a few, short moments, and then the TV is ready for use.
True to tradition, Samsung has a great selection of apps including Netflix, HBO and Amazon Prime which provide access to lots of great content and excellent picture quality. Among the most impressive is Amazon's The Grand Tour with the good, old gang from Top Gear – a must-see with the high quality of the production.
For those who are fond of linear TV, it may be nice to know that the Samsung can remotely control most decoder boxes on the market. It also has a card module for terrestrial, cable and satellite dish if you want to cut out the box entirely.
SmartThings
QE65Q9FN gives us a taste of what a smart home can be. Samsung's SmartThings-app allows the TV to communicate with other devices such as a refrigerator, a washing machine or a robot vacuum and display their status on the screen. Do you want to check the contents of the refrigerator before you leave the couch or receive a notification that the laundry is done? Then this TV can help with that. In addition, if you want to control other devices in the house, such as Hue light bulbs, door locks, indoor climate or the like, a separate USB dongle is required.
Gaming mode
QE65Q9FN also has a dedicated gaming mode. It automatically detects when a gaming console is connected and automatically switches to the mode with least input lag (delay of the image signals). We measured the best at around 29 milliseconds of delay, but we've seen measurements down at 15 ms. If you have an Xbox One, Samsung also supports the so-called VRR (Variable Refresh Rate), which provides lag down to 6-7 milliseconds. It's a class leader!
Ambient Mode
Samsung has had great success with the picture frame TV, The frame, and some of this concept has rubbed off on the QLED models as well. Instead of just being a black screen when it is turned off, Q9 can display slideshows and time and weather information on a neutral background. It is also possible to snap a picture of your back wall and let the TV blend with it. Very clever!
Samsung QE65Q9FN: Picture quality
No need to beat around the bush when it comes to picture quality: The Samsung QE65Q9FN in our eyes looks outright cool! We started the session with the HDR version of Alien Covenant on UHD-Blu-ray, and the first thing that strikes us is the amazing contrast. The Samsung screen has a dynamic range from the darkest darkness to dazzling light, which surpasses most of what we've seen, and hardly thought that this was possible with LCD…
The Alien movie's many pitch-dark scenes are a challenge for most LCD displays. The scene where the settlers are exploring the spacecraft with powerful flashlights is full of sharp contrast between bright and dark that really put the back-light to the test. Here, a cheaper competitor like Sony 65XF9005 falters a little. However, Samsung manages to maintain control. We can enjoy the film without any annoying light bleed, or bright outlines. The feeling of depth is formidable! The back-light works very precisely and avoids the typical halo effect around bright objects on the screen. The only thing that tears a little is a small outline around the subtitles. We preferred in many cases to turn them off.
Samsung won't disclose exactly how many dimming-zones Q9 are equipped with, but it's definitely the best LED screen we've seen so far. It phases out old references like the Panasonic DX900 and Sony ZD9 when it comes to light control, contrast and black level.
Improved viewing angle
The viewing angle has also visibly improved in this year's model. This is an upgrade we were actually promised last year, but that for various reasons never saw the light of day. However, this year it appears that Samsung has succeeded. QE65Q9FN has an excellent viewing angle horizontally. However, the vertical viewing angle is quite narrow. You should therefore make sure to mount the TV fairly at eye level.
Intense brightness
When it comes to colour rendition, the QLED screen is in its element. It brings out shades of red, green and blue with greater saturation and intensity than its predecessor. In addition, the tendencies for colour banding (visible transitions between colours) is a thing of the past.
The big question is whether Q9 can also challenge OLED on its home turf? It certainly can. The precise dimming puts the Q9 not far behind OLED when it comes to black level. At the other end of the scale, Samsung can pump out considerably more brightness. We measured it to 1700 nits in calibrated movie mode — about twice as much as the most bright OLEDs manage!  This is really felt in the most intense HDR scenes. When David shoots up a flare in Alien Covenant, we are literally blinded and must blink to regain our sight. And when the spacecraft explodes, we can almost feel the thermal radiation on our foreheads. Frighteningly realistic!
We did not have the opportunity to compare the Samsung against the very latest 2018-weaponry from LG, Sony or Panasonic this time round, but when it comes to pure and shear experience, Samsung has raised the bar that they will have to climb over.
Calibrating the Samsung QE65QFN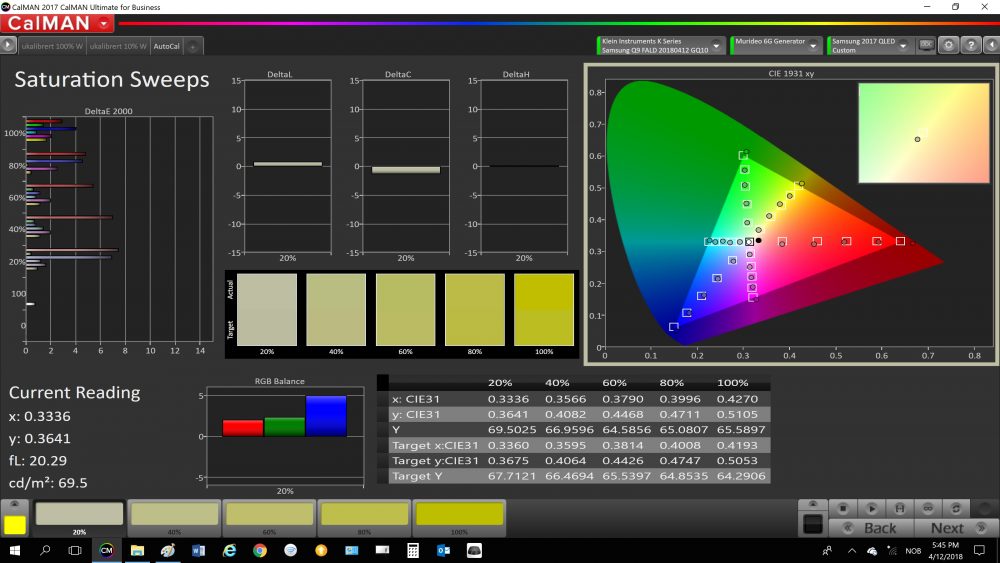 Samsung QE65Q9FN supports automatic calibration via the PC program CalMAN AutoCAL. By connecting the PC directly to the screen, we get direct access to all parameters, and can set a desired minimum deviation for gray-scale and colours that the program measures and adjusts automatically.
Q9FN does not measure as well out of the box as we might have expected. It seems like the TV is optimised to measure well at the 100% light intensity. The measuring points are at first well beyond the target values, and the auto-calibration had to work a while in order to adjust, and didn't succeed a 100%. It was only after a manual fine calibration that we received a satisfactory result. In return, the Samsung measured very well after manual calibration, with only a small delta deviation of respectively 0.72 in SDR mode and 3.95 in HDR mode. It is indeed among the most precise we have achieved.
Brightness measurements (Movie mode, after calibration)
10% test window: 1680 NITs
18% test window:  1140 NITs
25% test window: 1054 NITs
100% test window: 582 NITs
Sound quality
Q9 is a relatively slim TV, with no room for a huge sound system. Most people will probably choose to expand the sound with a separate soundbar. Samsung's own models will be a good match as they can be placed in front of the T-shaped pedestal. That said, we were pleasantly surprised at the on-board sound. There is plenty of weight in the bass, which contributes to making both music and movie songs entertaining. The TV also plays loud, with good clarity in voices and sound effects. In this respect, Q9 is actually one of the best TVs we've heard this year.
Conclusion
With this new top model in the Q9 series, Samsung has made a solid comeback in the high-end class. Samsung QE65Q9FN scores high in terms of design, usability and smart solutions. However, it is the image quality that really stands out: Here you get a scintillating contrast, a black level that is nearly on par with the OLED competition, combined with outstanding brightness. Therefore, we do not hesitate in giving this a warm recommendation.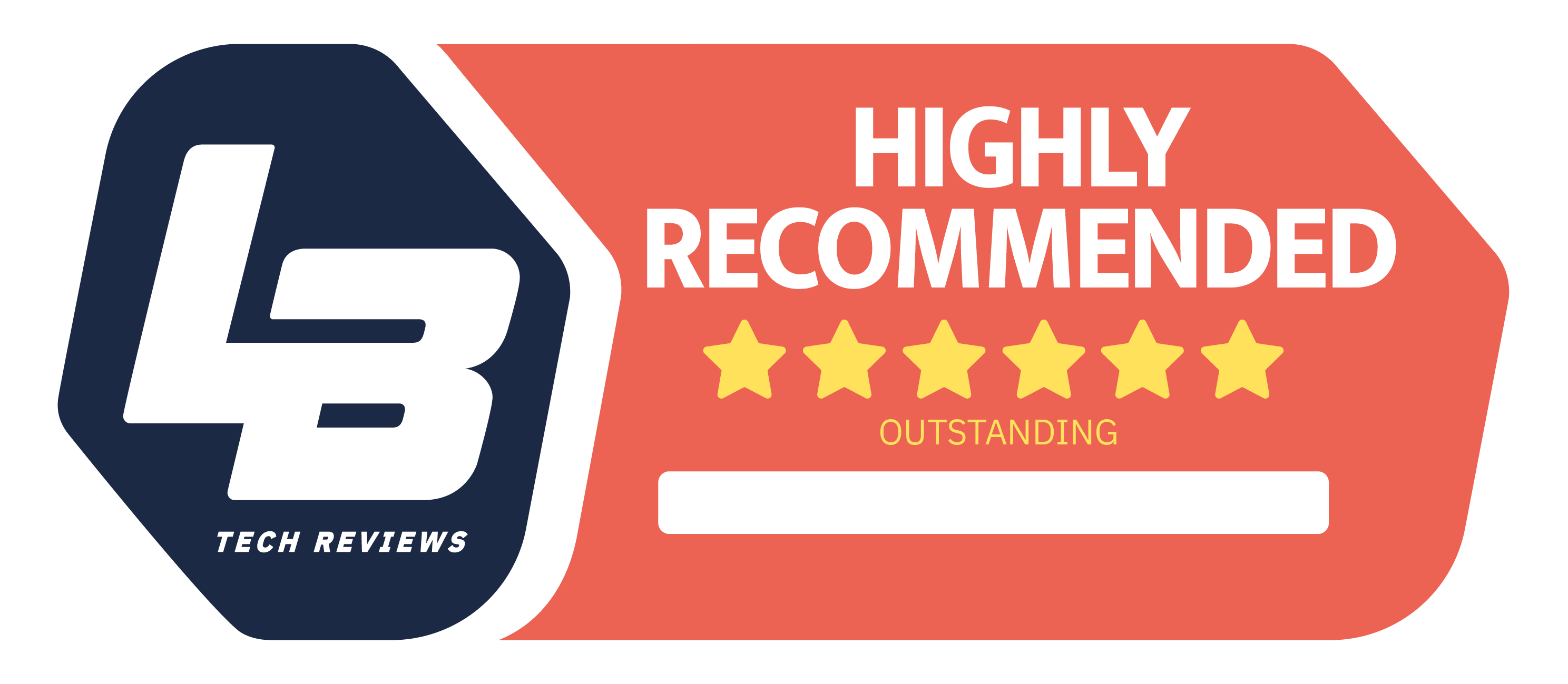 Premium
We think
QE65Q9FN impresses with fantastic colours, dazzling contrast, and finally: Really deep black level!
The TV does not have a 100% correct colour balance out of the box and needs a proper calibration in order to perform its very best.