Samsung has long been one of the trendsetters when it comes to TV technology, design and ease of use. Last year's introduction of TV with 8K resolution was a good example of that. However, the development is fast, and now there are brand new 2019 models that apply. Many people wonder if this will be the model year where QLED technology really takes off, and regains the lead that OLED has had in important areas such as contrast and black level. To find out, we found it natural to start with this year's new 4K top model, the Samsung QE65Q90R!
Design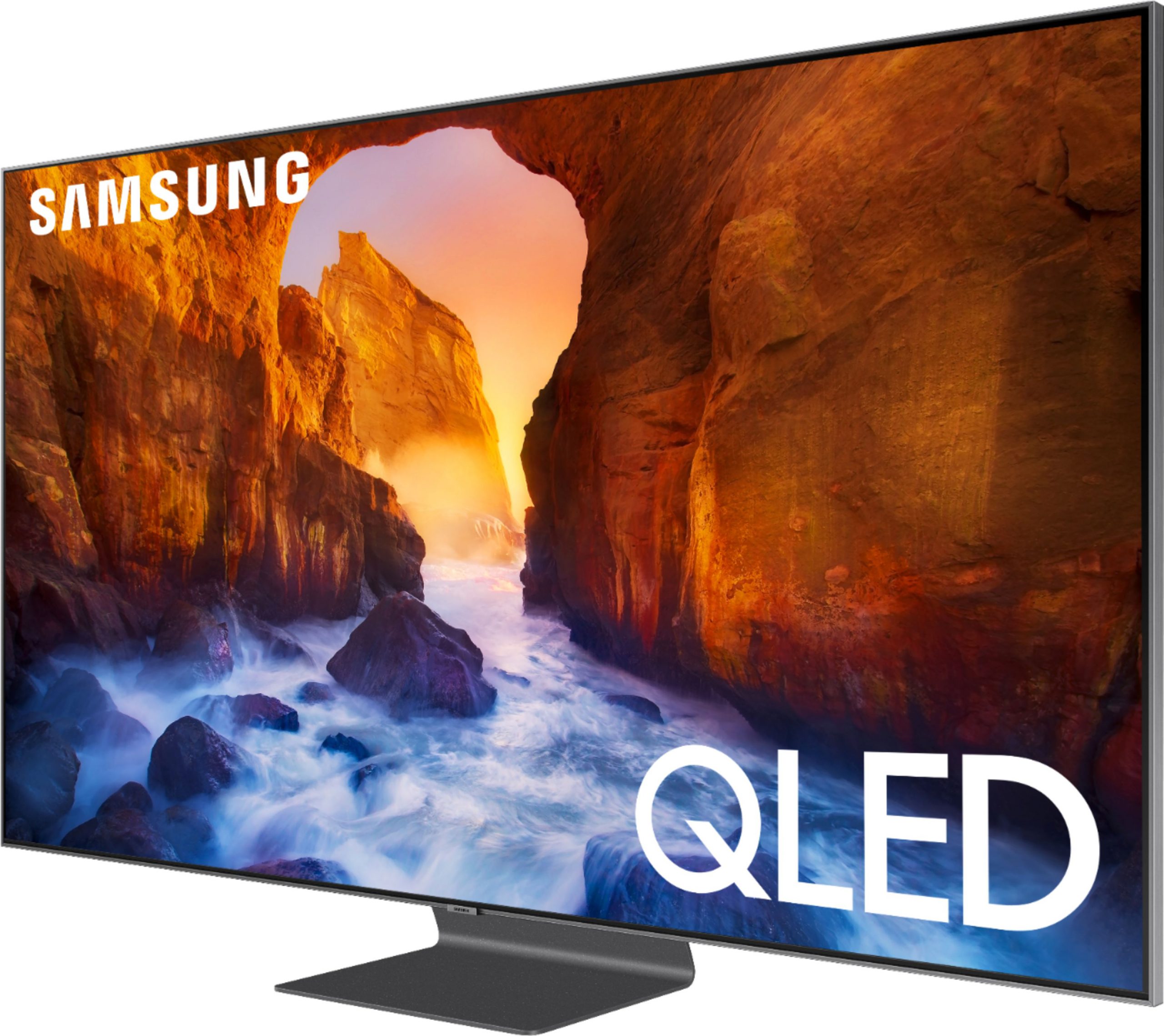 Of course, there are limits to how innovative you can be with a square screen, but Samsung has taken some smart steps this year as well. The first thing we notice when we unpack the Q90R is the center-mounted base, which is a bit reminiscent of Apple's iMac models. It seems solid, steady and takes up less space on the TV bench than its predecessor. The curved shape also provides plenty of space for a soundboard under the TV.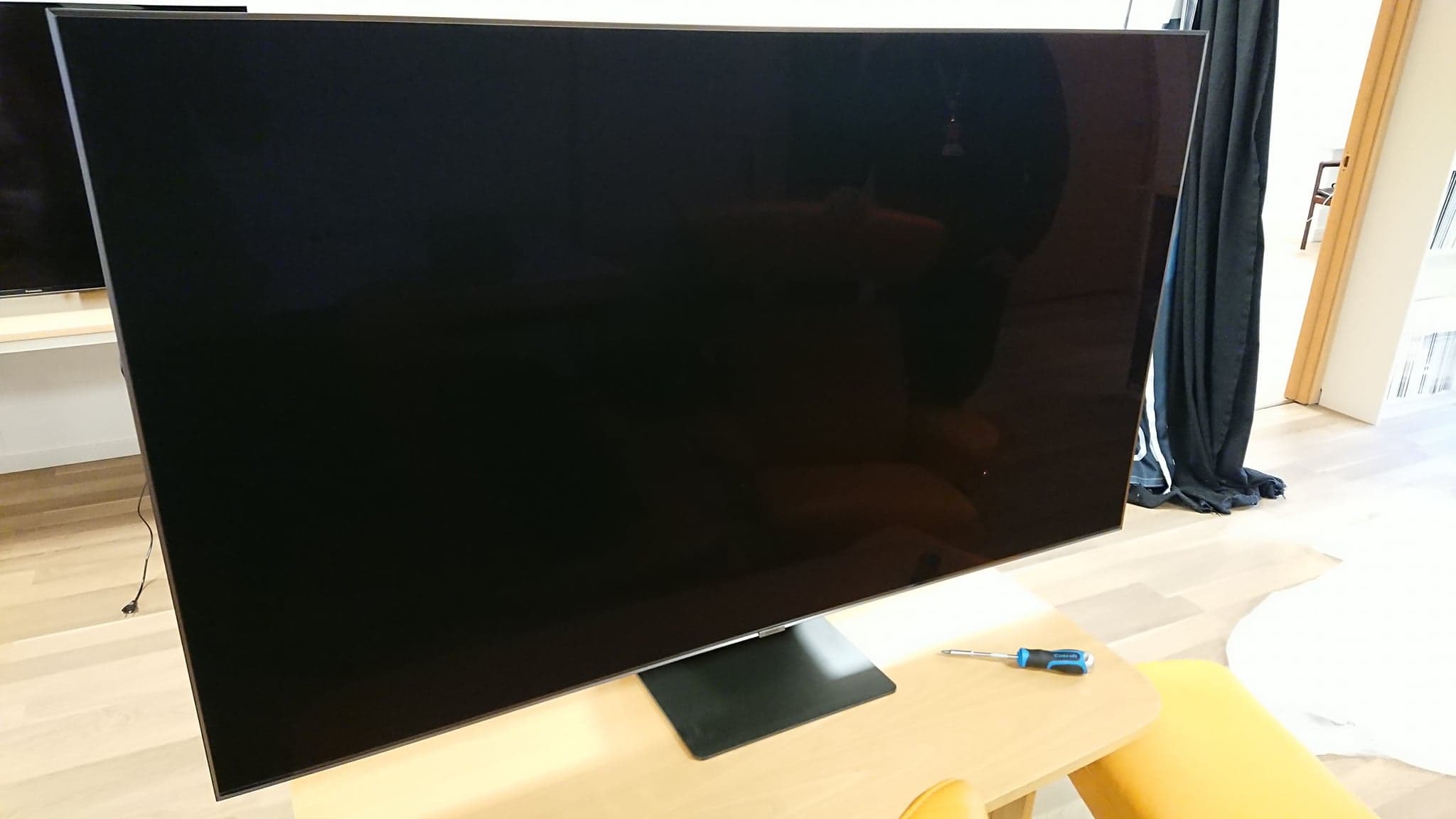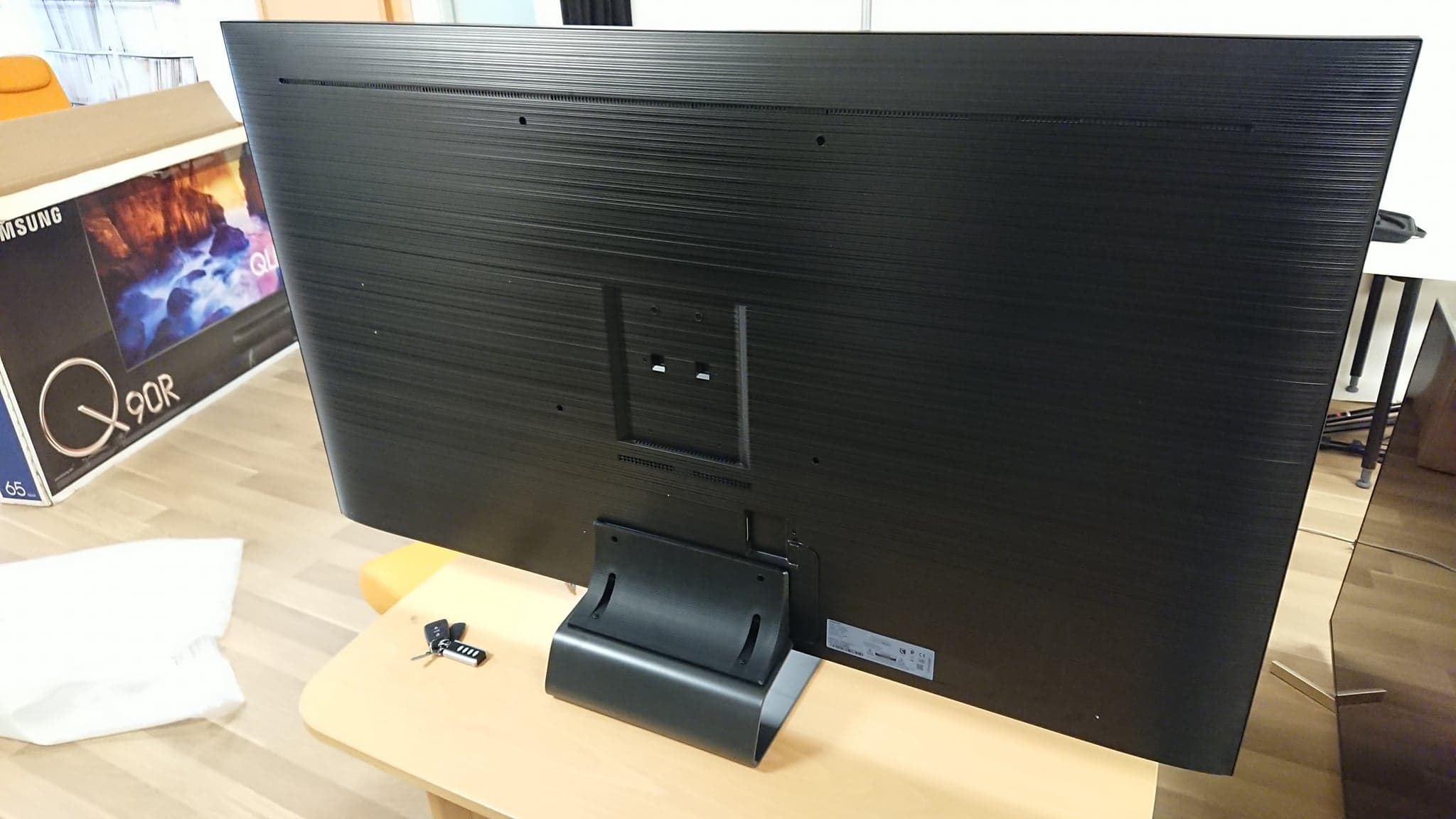 The screen itself is relatively thick (3 cm), not least when we compare with LG's jam-thin OLED screen. This is a natural consequence of the LED backlight, which requires more space inside. However, the Samsung screen retains the same thickness on the entire surface, without protruding parts. The connections are hidden behind a cover, on to the external connection box. This means that the TV can be mounted flat on the wall, using Samsung's own "No Gap Wallmount" which is an option.
Ease of use and features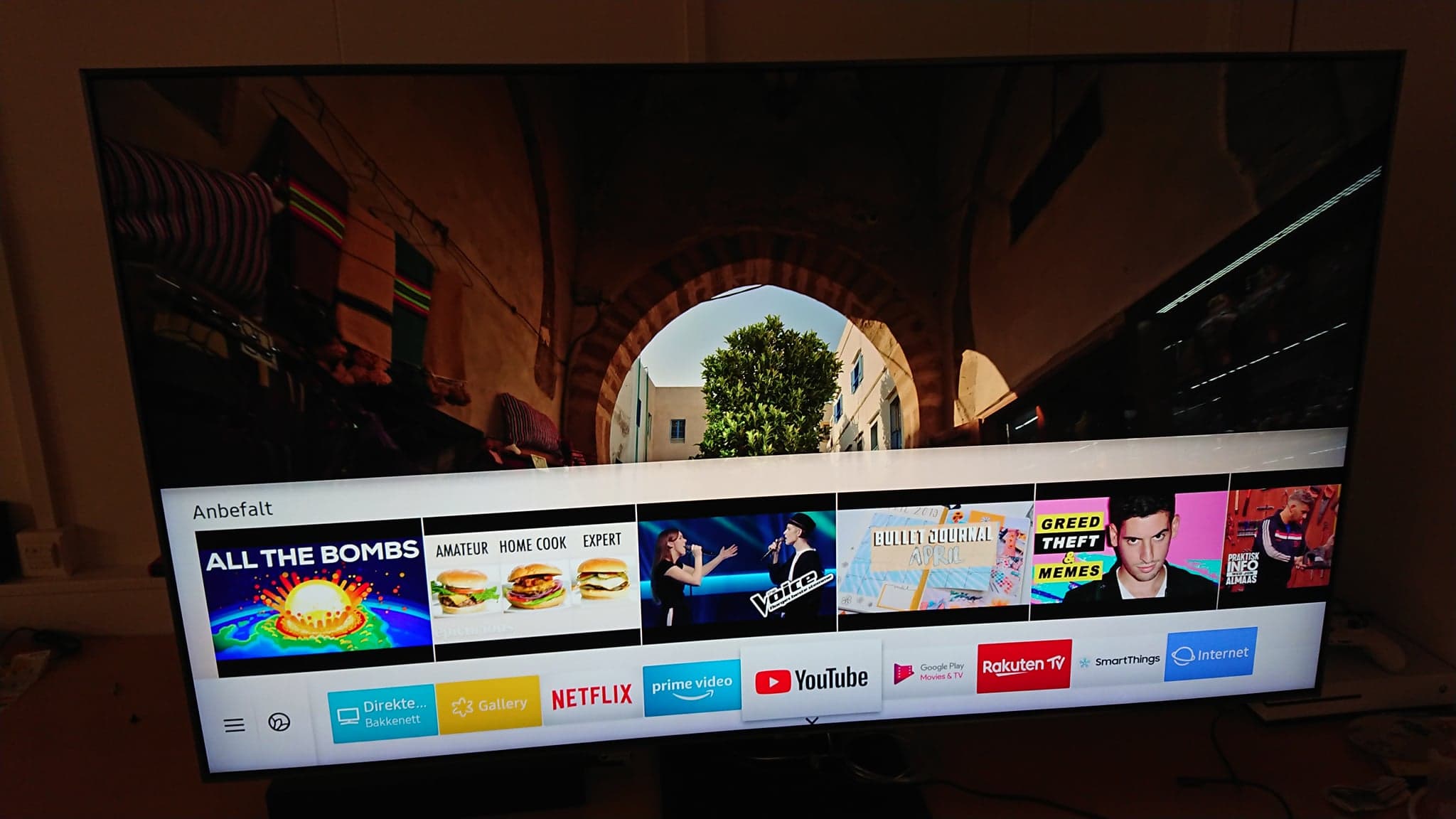 As is well known, Samsung swears by Android on the mobile front, but for TV they have developed their own operating system (Tizen). This gives them full control over the user experience, which in our opinion is one of the best on the TV front. The menu system is very fast and clear, while at the same time offering a wide selection of apps. Here you will find everything from well-known streaming services such as Netflix, HBO, Amazon, Viaplay and others, to newer services such as Rakuten. Samsung has also secured Apple's new streaming service TV + app when it is launched in May. It is very quick to switch between the different apps.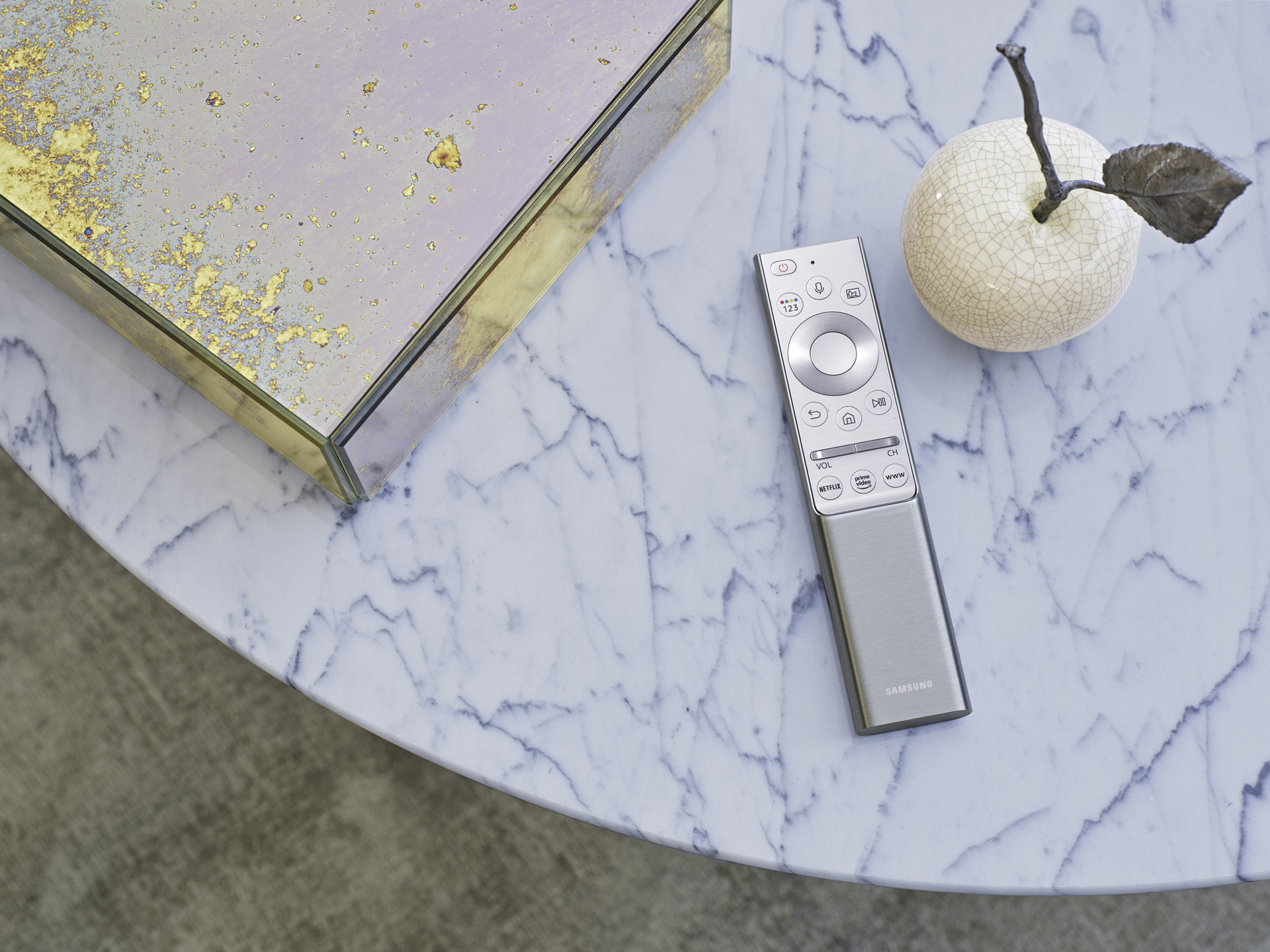 The TV is very easy to set up the first time. If you use your mobile phone, you can also easily share passwords and user accounts without having to enter everything again. The TV automatically adds other devices such as decoder and blu-ray player to the menu, which can also be controlled with the TV remote control. New on this year's remote control is that it also has shortcut buttons for the streaming services Netflix, Amazon Prime and Rakuten. With the built-in microphone, you can also operate Samsung's own voice assistant, Bixby.
Ambient Mode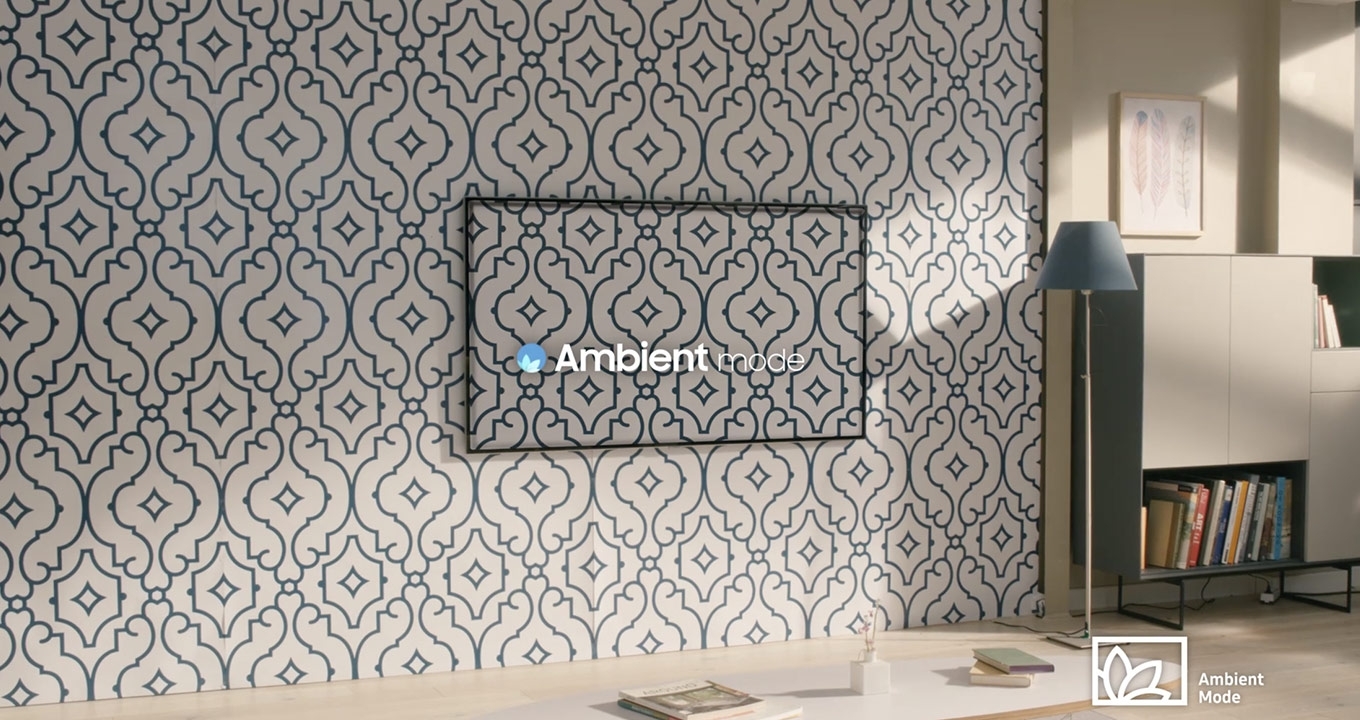 Do you remember "The Frame"? Samsung has had great success with the design model that imitates a picture on the wall. Some of the ideas from here have now been transferred to the QLED models through the so-called Ambient Mode, which gives you the ability to display wallpapers when the TV is not in use. As you know, a black hole in the middle of the wall is not very attractive…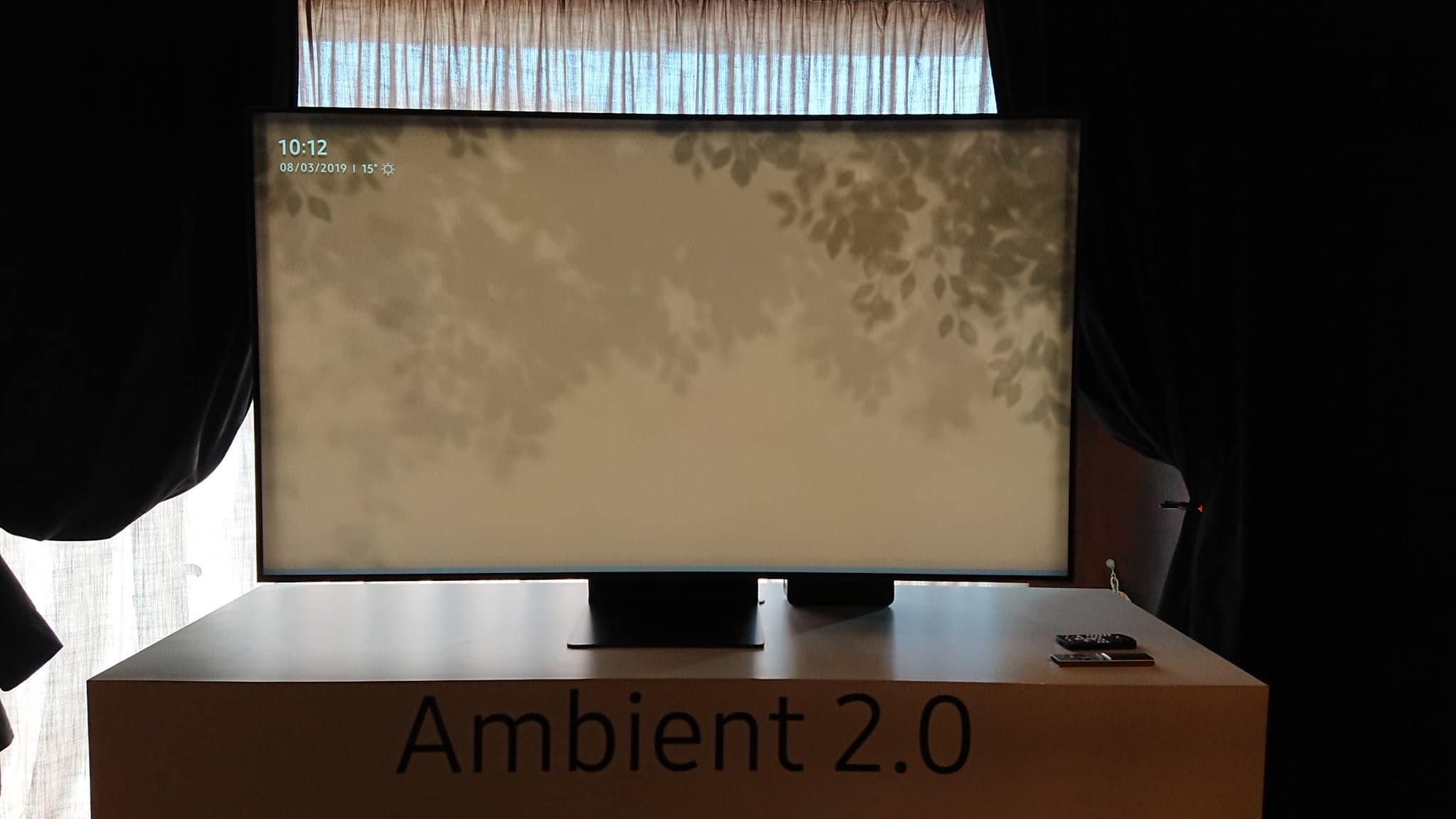 When the TV is in standby mode, it can display your own pictures that you have uploaded, stylish graphics or information such as time and weather forecast. It is also possible to snap a picture of your wall and let the TV blend in with the background, much like a chameleon. Ambient Mode offers many of the features we associate with The Frame, with the exception of the Samsung Art Gallery, which allows you to download works from famous painters and photographers.
Image quality
Samsung got a lot right with last year's top model, Q9FN. However, they have made major changes this year: the Q90R has both a new image panel and a new video processor, where the goal has been to further improve the viewing angle and black level.
QLED technology is basically an advanced form of LCD TV, which (unlike OLED) still needs backlighting from the back. This makes it difficult for the screens to produce real black, which means a total absence of light. In addition, the colors tend to change character when viewing the screen from an oblique angle. Still – with the help of direct LED backlights divided into hundreds of zones, different filtering techniques and advanced image processing, Samsung has managed to conjure up an image that is approaching, or even surpassing OLED in some areas.
Superb black level, little reflections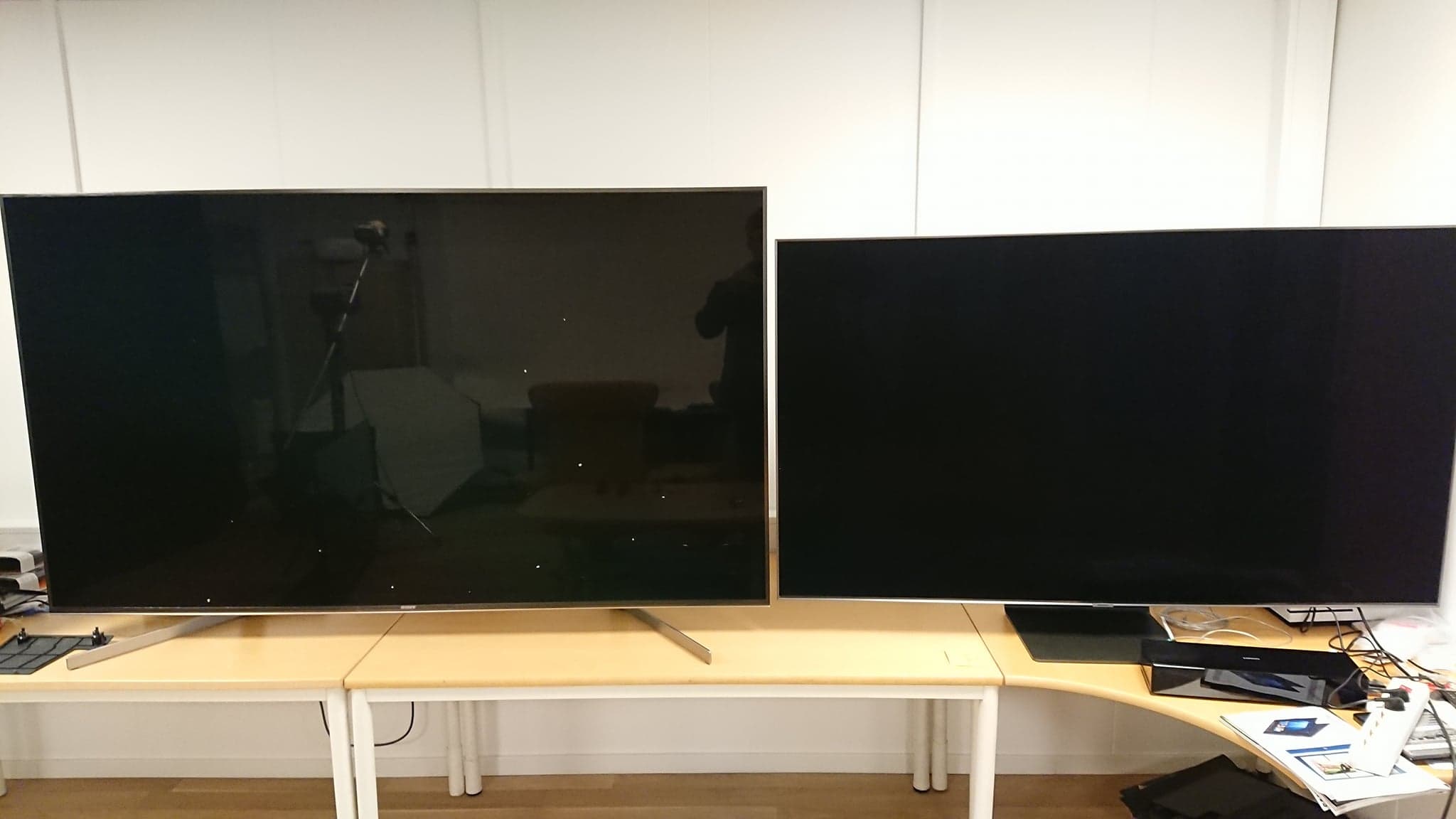 Last year's Q9FN model fell a little short against the OLED screens when it came to sheer depth in the image. Even as precise as the LED backlight was, one could occasionally glimpse some bright outlines and shadows around bright objects, which limited the depth in the darkest scenes.
In this area, this year's Samsung model has received a major boost. Dark parts of the image are literally charcoal black, and best of all – it can hardly be influenced by lighter parts at all! The taillight appears so precise and fine-meshed that you can easily believe it is an OLED you are looking at. Even demanding test scenes with a lot of darkness in them (like the cave scene season 2 / Episode 5 of Stranger Things on Netflix) simply look beautiful.
If you really go for it, it is possible to glimpse some excess light in extreme cases, but the black level is in practice almost as good as the OLED screen we have standing next to it (LG OLED65C9). Not only that: Because the Samsung screen has a matte / diffusing front glass that reflects very little light, you avoid annoying mirror images of the room. This means that in many cases you actually see MORE details in the dark than the OLED. LG's OLED screen is mirror-gloss, and is easy to hide some of the darkest details if the room is bright, or has windows, lamps etc. behind the viewer position.
Wider viewing angle
The viewing angle has also improved considerably – in fact the best we've seen from this type of VA LCD monitor ever. While its predecessor Q9FN got a bit washed out colors seen from the side, the Q90R manages to keep the colors and contrast almost unaffected, even when we see it from a sharp angle. This will definitely be practical for you who have a wide living room with lots of seating, and / or like to watch TV from the kitchen table or similar.
Sharp and noise-free images
When we tested Samsung's best last year models Q9FN and Q900R (4K vs. 8K) earlier this year, it was clear that the 8K model had some advantages beyond pure image sharpness: Even ordinary low-definition TV broadcasts looked rudely detailed and noise-free on the 8K screen, thanks to the new Quantum 8K image processor with "AI Upscaling". New this year is that Samsung has also used the technology on the 4K models. It seems to have done the trick, because the QE65Q90R delivers very sharp and above all noise-free images, in addition to smoother movements. It is especially clear when we watch YouTube videos of varying quality and resolution, that the TV handles different types of content in an exemplary manner.
OLED vs. QLED: Racing in 4K
In connection with the test of the Q90R, we also had a brand new OLED TV from LG on the bench (OLED65C9). Formula 1 on Netflix in sparkling 4K quality proved to be a real test of speed between the two screens. The documentary series follows the world's toughest racing sport, which naturally takes place on sunny tracks around the world. When we also watch TV in a fully lit room, it goes without saying that the brightness has a lot to say!
Samsung's QLED is really at its ace here. The sunlight shines from the polished F1 cars, and you can literally feel the radiant heat from the glowing brakes. In this scenario, there is no doubt that the QLED screen has a clear advantage with its potent brightness. It has much more dynamic surplus when the image demands it. The colors have significantly more punch and the images simply feel more vivid.
In comparison, the LG screen gets a picture that seems flatter. The usually so deep and dynamic OLED image falls a little short on hefty imagery like this, especially when we also see it in a fully lit room during the day. The colors are not as intense, and the contrast is slightly inhibited by the shiny front glass, which reflects the surroundings. However, the sharpness is nothing to complain about, and it is also noticeable that the LG screen has a slightly smoother movements.
Sound quality
Samsung Q90R does not have a particularly expensive sound system. Unlike Philips, Panasonic, and Sony, which have all placed great emphasis on sound in their high-end models, the Q90R's built-in speakers are of a relatively simple black. The speakers face down so that the sound will be reflected via the table on which it stands. The sound is experienced quite well, but is not quite in relation to the price range – it sounds a bit tame and confined. Even at high volume, speech intelligibility is not particularly good. In other words, you should add a soundboard to your budget. Samsung has fortunately facilitated this with the design of the shelf, and the Q90R also supports Atmos sound in combination with compatible soundboards.
Samsung QE65Q90R: Conclusion
Samsung has impressively succeeded in improving the most important complaints about last year's QLED model. Both the black level and the viewing angle have been greatly improved, to a point where you have to be good at distinguishing QLED from OLED in many cases! Add a matte, non-reflective screen surface, and not least the powerful brightness that QLED is known for, and you get a TV that is an optimal "all-rounder" for many types of content and viewing conditions. Everything from movies to sports looks really cool on Samsung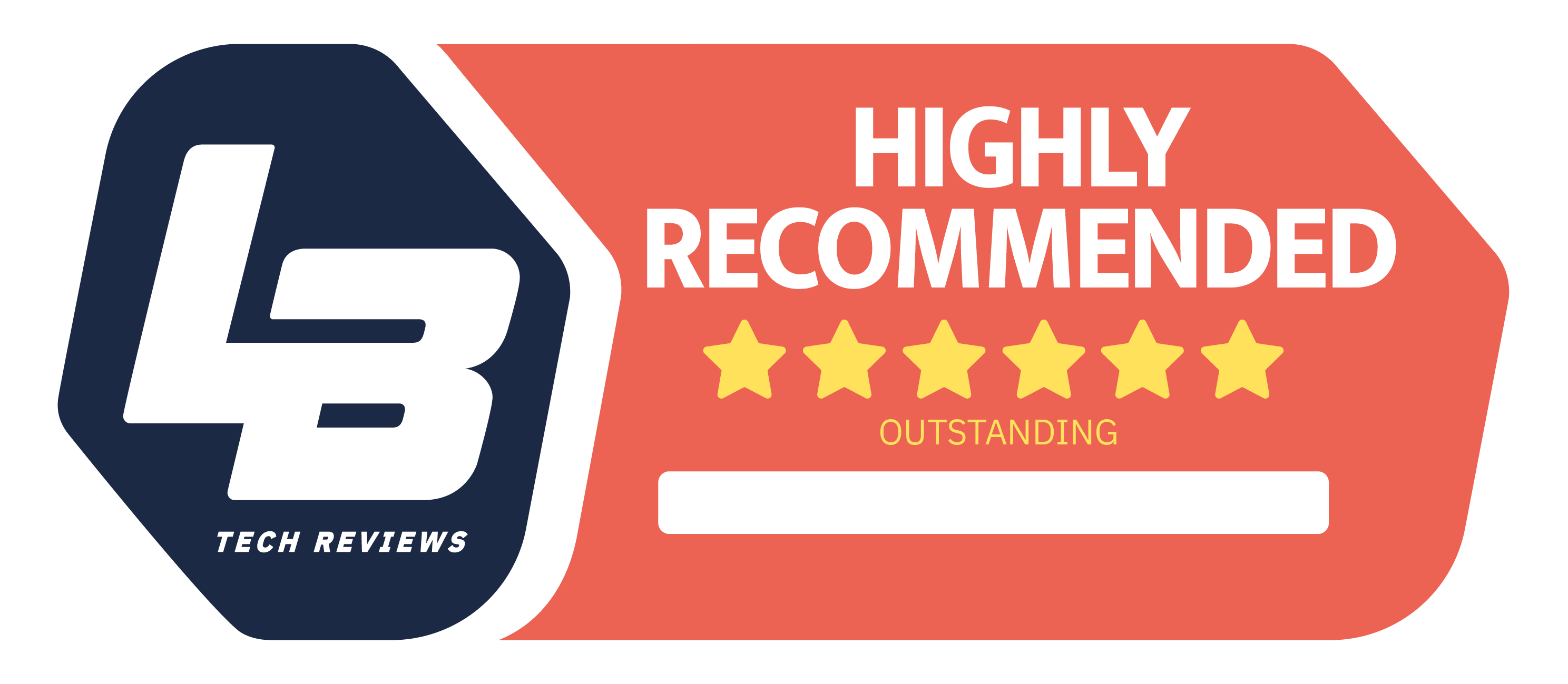 Premium
We think
Samsung's best 4K TV Q90R offers high-contrast images, intense brightness and a convincing black level, with a super-matte screen surface that makes it suitable for bright environments.
One can still decipher some faint "halo" effects around light objects on a dark background. The sound is not as potent as the picture, and can benefit from the help of an external soundboard.