Audun Hage
Published

2019-03-13 - 7:30 am
With true 8K resolution, the Samsung screen offers a fantastic, 3D-like image experience.
The difference from today's 4K screens is most evident in real 8K video material, which is currently in short supply.
Specifications
Size / type: 65 "8K QLED-LCD
Resolution: 7680×4320 (8K Ultra HD)
Operating system: Samsung Tizen
Inputs: 4 HDMI (2.0), 3 USB
Outputs: Optical digital audio output
HDR: HDR10 +
Other: One Connect junction box
Web: samsung.com
Laser-sharp TV screens with 8K resolution are the latest craze on the television front. With four times as many pixels as today's 4K screens, the new screen technology promises us such sharp and vivid images that it almost surpasses reality! The technology is still in its infancy, it will probably take 4-5 years before the content producers really start to use it. Besides a few video clips on Youtube, there is very little content to be found, as the 8K film cameras are still very expensive. However, the Japanese NHK has promised that the Tokyo 2020 Olympics will be filmed in 8K quality, and distributed to selected locations (probably limited to cinemas and other public viewing locations). So 8K is coming, as long as you are patient!
Patience is not exactly what characterizes TV producers. They make a living by selling new products, and manufacturers such as Samsung and LG are naturally early to offer the first 8K TVs.
As usual when it comes to new technology, there is reason to be a little skeptical. Do We Really Need 8K? Is it worth paying more for, and what are any pitfalls? Does it pay to be out early, or is it better to sit on the fence until the technology matures? And not least – how big should the TV be? Does it fit with a suitably large screen, or do you have to have the "wall full of TV" for 8K to make any sense?
Samsung's model portfolio can hopefully give us some of the answers. The Korean manufacturer already offers its first 8K TVs, in addition to "regular" but still excellent 4K TVs. It's set for 8K vs. 4K duel!
The duelists
In one corner we have the title defender Samsung QE65Q9FN, which we named the best high-end TV of the year for 2018. You should look for a better representative for 4K TV for a long time.
In the other corner we have this month's test object and challenger. Samsung QE65Q900R. It offers razor-sharp 8K resolution, QLED color filter for extra wide color range and dazzling 3000 nits with brightness. In short, this is one of the rawest TVs Samsung offers today – at least until the new 2019 models land on store shelves this summer.
Vigilant readers know that we have done similar tests of Samsung's flagship models in 75 "size. Here, the 4K model appeared to be by far the best purchase of the two: High price and lack of real 8K content were highlighted as negative points.
With the little brother in 65 ", however, the price picture looks a little different. While a 75 "or 85" 8K TV costs the white out of the shirt, you can buy the 65-inch all the way down to 3500. In fact, it is only a few thousand bucks more than what the 4K model costs, and cheaper than several of the OLED competitors. The question is whether millions of extra pixels in the 8K resolution make any real difference in this size?
Design
In terms of appearance, the two TVs are very similar. Both have a tight and rectangular design, and the biggest difference lies in the feet that the 8K model is equipped with. They can be mounted in two different positions depending on the width of your TV rack, and if you prefer to mount the TV on the wall, your feet can be stored in a niche on the back. Both screens are compatible with Samsung's "No Gap" wall mount which hangs the TV close to the wall.
Like other QLED models, the Q900R uses a separate "One Connection" box for all connections. New on this generation is that both power and signal transmission are routed through the same cable. This makes it possible to get a very "small" installation.
Overall, we think the 8K model looks great, but there is nothing that can tell that it costs more money – until you turn it on, mind you.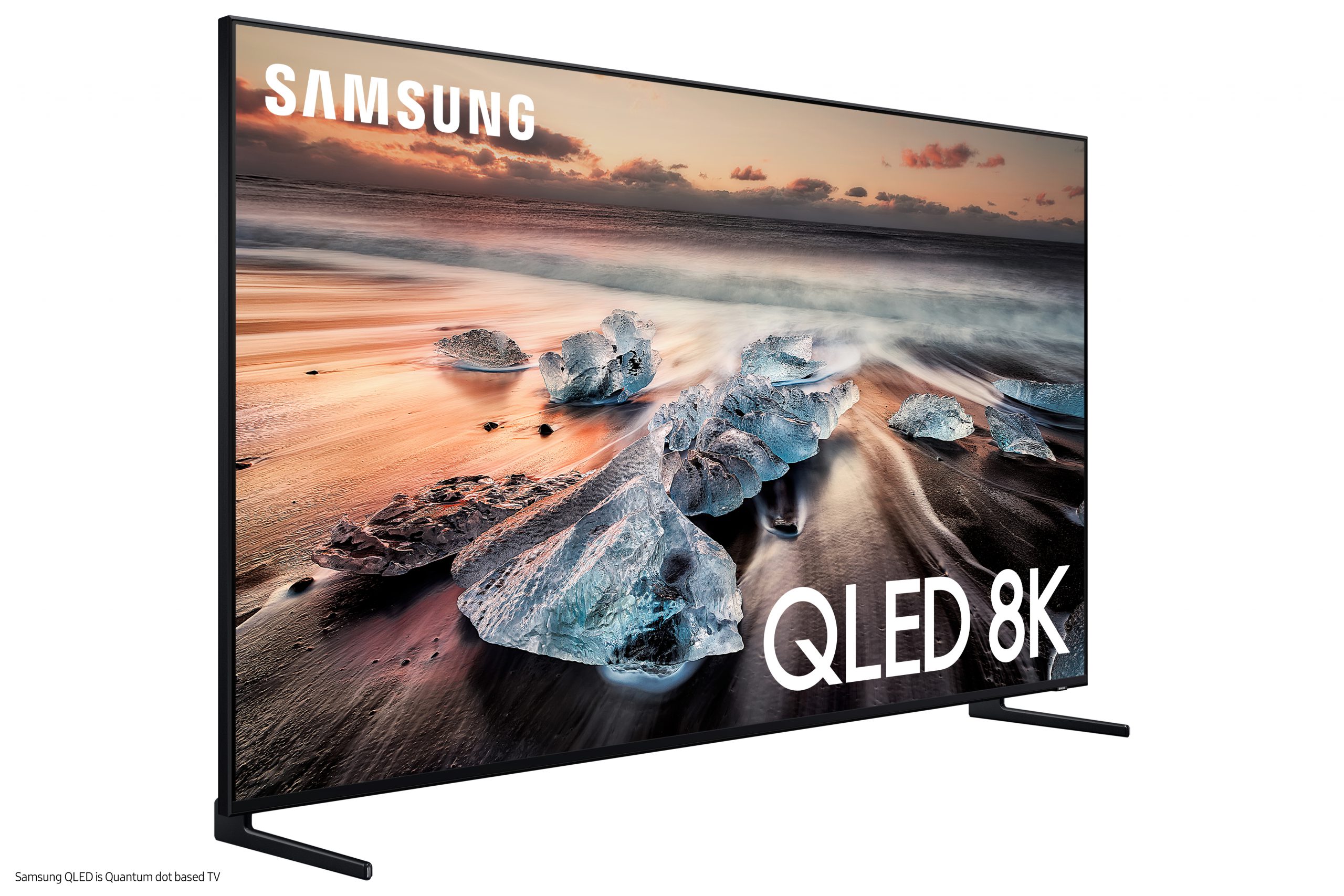 Ease of use and features
On the smart front, there is not much new. The QE65Q900R uses Samsung's proprietary smart platform (Tizen) which works very well. The Samsung system is playfully easy to set up via mobile. With the Smart Setup app, you share everything from user accounts and passwords in one go.
The user experience is very similar, including the ergonomic remote control. However, we noted that the 8K model is finely faster than the Q9FN in all operations. The remote control is Bluetooth-based, so you do not have to point it at the TV for it to respond. This is worth mentioning, as many of the competitors still use infrared remote controls, which are more sensitive to direction.
All of the HDMI connectors support the 2.0a standard, but the newer HDMI 2.1 standard excels with its absence on the Q900R. This may be relevant in the 8K context as it is required to transmit 8K resolution with higher frame rates. In that sense, it is nice that the connections are external, so that Samsung has the opportunity to upgrade this as the technology is in place.
Image quality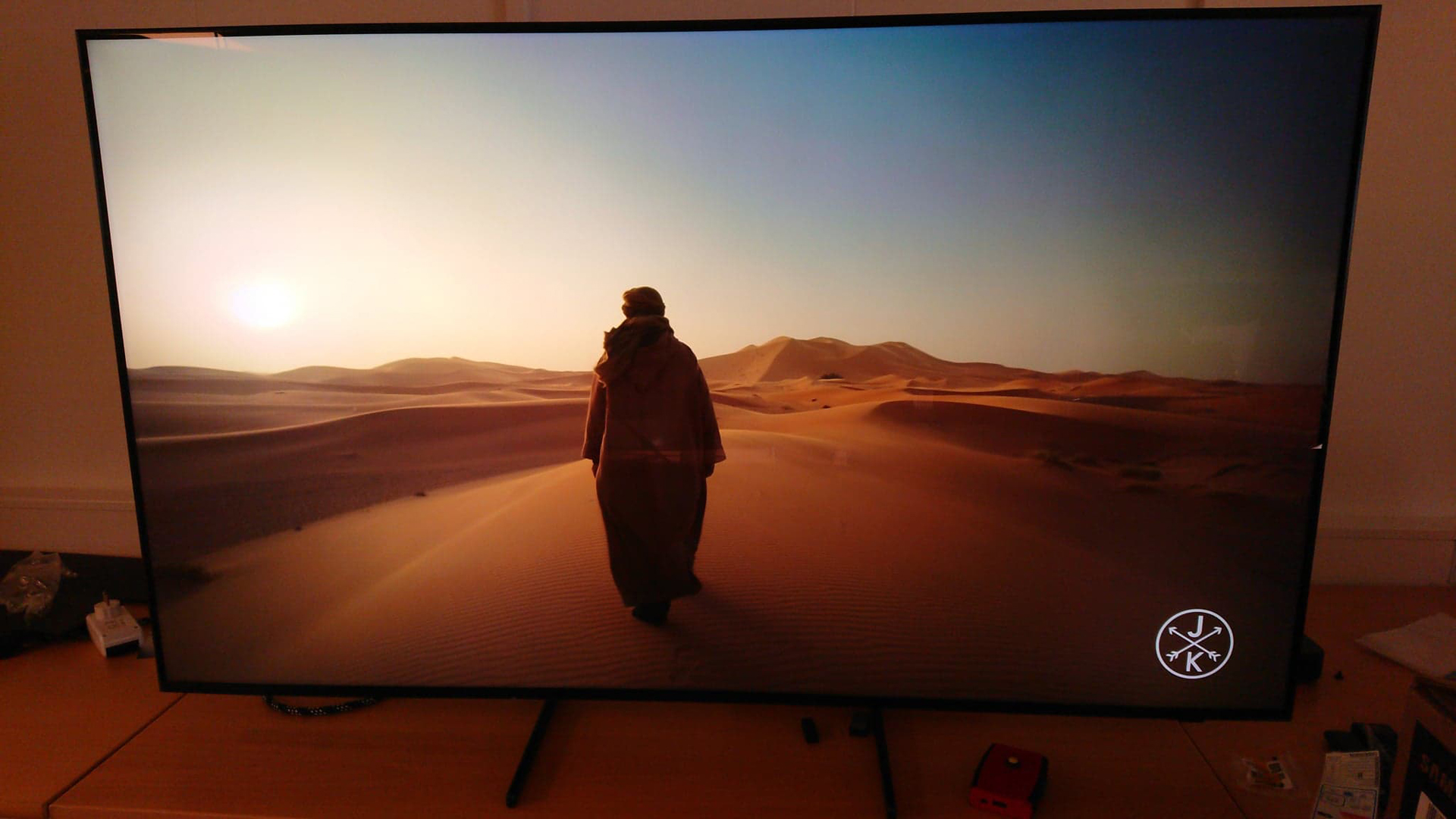 In connection with the test, Samsung had lent us a USB memory stick filled with genuine 8K material. And let it be said at once: Video content filmed and produced in 8K looks insanely cool, but not in the way one might expect. Although the image gives new meaning to the word "razor sharp", there is nothing that feels excessive or artificial, on the contrary.
If 4K TV can be described as a crystal clear and freshly washed window against reality, 8K can best be described as removing the glass completely. The eye can shift focus and study the image in a way that makes ordinary 4K look flat in relation. At the same time, the 8K image feels far more comfortable to rest your eyes on. There is room for so many details, shades and contours, that there is no need to highlight or reinforce anything artificially.
The only downside to the 8K recordings is that they end… very fast. Without any established entertainment channel, physical media or streaming service that uses 8K, there is currently very little content we can enjoy. We therefore had to content ourselves with watching regular HD and 4K content the rest of the time. This is where Samsung's advanced AI Upscaling is put into action. The powerful video chip uses machine learning and artificial intelligence to recreate lower resolution material in "almost 8K quality".
With Ready Player One on 4K Blu-ray, we were able to compare the two Samsung screens side by side under controlled conditions. Here, the 8K screen must scale up the content, while the 4K screen can display the raw material directly pixel by pixel. And just as we experienced with the 75-inch, there is only talk of subtle differences when both are fed with high quality content.
The Q900R with 8K resolution barely has an advantage in sharpness and depth, but it feels far from as groundbreaking as it did with real 8K material. In many of the fast-paced action scenes, there is an almost deadlock between the two screens. With the exception of a little extra sharpness, the overall image quality (contrast, black level and color reproduction) is almost identical. This is probably because both are based on the same screen technology (QLED with direct LED backlight), only with different resolution.
However, the difference increases when we switch to lower resolution video and bit rate. The spy series Homeland (Netflix, Full HD quality) shows the extra "horsepower" in the AI ​​processor. The image looks significantly sharper and more detailed, while the movements are smoother and have less noise. The contours are smoother and the image gets more convincing depth. The same was clear the times the streaming quality from Netflix fell in bitrate. This is quite surprising, and impressive considering that the 8K model has 24 million extra pixels to count on! Samsung has obviously achieved something right with the AI ​​upscaling in the Q900R, and it is already known that the 2019 models will use the same technology on an expanded number of models.
65" 8K TV
So is there any point in having an 8K TV at a splice 65-inch? We are tempted to say yes, with certain reservations. If the goal is maximum movie experience in the living room, we would rather spin and save for the 75 "version of the Q900R, or go for the 4K model QE75Q9FN. If 75 "takes up too much space, or you are looking for an optimal TV for smaller rooms and shorter viewing distances, this may be the right match. For example, we can hardly imagine a better TV for games than this one.
Sound quality
Samsung QE65Q900R is equipped with a relatively standard sound system. Here you will not find an advanced "soundboard" built-in, only downward-facing speakers similar to those you find in far cheaper TVs. That said, the TV provides absolutely usable sound, with clear speech and the ability to play loud and clear. With optical digital output and Bluetooth, it is also easy to upgrade with a separate soundbar. Here it is obvious to mention Samsung's own Atmos soundboard if you want a sound reproduction that matches, both acoustically and aesthetically.
Conclusion
With 33 million pixels and dazzling 3000 nits of brightness packed into a "small" 65-inch, the Samsung QE65Q900R can adorn itself with the title "The world's smallest 8K TV". The value of the extra pixels is best expressed with real 8K material, of which there is currently very little. Is it such a waste of money to evaluate this TV against Samsung's already excellent 4K model Q9FN? With recent price developments, we believe that the Q900R is by far the most exciting of the two. After all, here you get a taste of the TV of the future, already today!