The Q6 Series is the most affordable of Samsung's exclusive QLED-models. When it comes to appearance, this is definitely one of the most delectable in the test. The TV is very slim, with a barely visible frame around the screen. The back is completely smooth, with no visible cables. These are hidden behind a cover and are drawn to a separate connection box (One Connect). The feet can be mounted wide or narrow depending on what kind of table you have.
Usability and features
Samsung's smart menu system is very fast and offers a large variety of apps that the competitors do not have. The remote control is elegant, and although it has few buttons, it can control both the TV and other devices. Samsung has also included a separate game mode for those interested in gaming. It brings the input lag down to 15-20 milliseconds, which is good for the response in online games.
Picture quality
65Q6F uses a VA LCD panel with LED edge lighting, interspersed with a few drops of "Quantum dots" to provide an extra broad colour spectrum. However, Q6F must do without direct LED backlight as found in the competition from LG and Sony. Samsung has instead used its micro dimming technology (software based) to provide the best contrast possible.
The picture quality is great. The Samsung display has an impressive colour rendition that really brings out the nuances. The sharpness is also excellent: We can see details here that are blurred with some of the competitors. Samsung also manages to maintain good sharpness during motion, which is essential when it comes to football. It is not completely on par with the more expensive competition from Sony and LG, but it is close.
The contrast is also approved. For football and other sports, the Samsung display is more than bright, but when we test with darker film and series content, it lacks a deeper black level. The viewing angle is also limited: With this type of LCD monitor (VA), one would prefer to sit straight in front of it, not too far off to the side.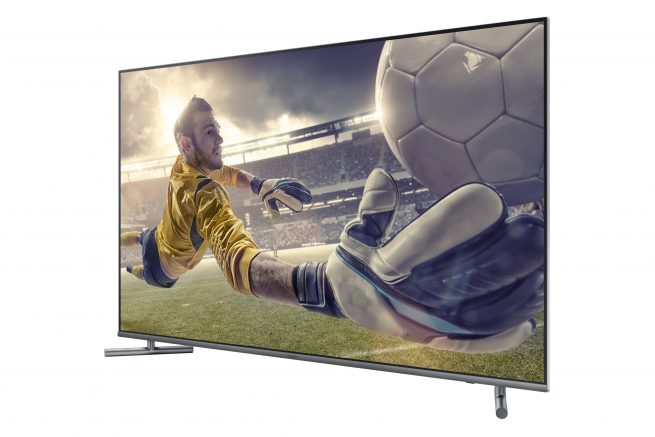 Sound quality
As slim as it is, the Samsung display does not have much room for large speakers. However, the small loudspeakers on the underside provide quite okay sound, with good clarity in the voices and a decent amount of bass. Even so, there is no doubt that one needs a separate soundbar to provide proper stadium atmosphere.
Conclusion
The Samsung 65Q6F is a scrumptious TV full of smart details. The design is a level above the competition, and the same can be said for usability. The picture quality scores above average, and although the performance is not as extreme as the most expensive contenders, it is definitely a good buy in the 65" class.
Premium
We think
The Samsung 65Q6F offers a thoughtful design, smart usability and razor-sharp picture quality at a reasonable price.
There are competitors with more impressive contrast.