Products in this test
Thanks for reading Tech Reviews.
Create your free account or log in to continue reading.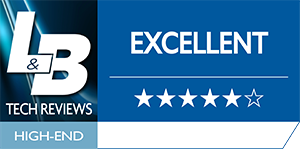 The king of contrasts
One of LG's most popular OLED models LG OLED CX is back in a new and top-trimmed version!
Our verdict
With sparkling good contrast, superb black level, plus very good connectivity options, LG's OLED screen is a safe choice for discerning TV enthusiasts.
The OLED screen is still relatively dim compared to the best LCD screens, and the glossy screen surface reflects a lot of light. Thus, this is not the ideal TV for very bright environments.
LG offers a wide range of OLED screens, and among these, the C-Series has been among the most popular. Here you get full credit for specifications and image quality, a slightly finer design than the simpler B model, without having to pay the stiff price tag for the top models in the GX and WX series. This has made the C-Series a sought-after model in the high-end class.
This year's model CX (or C10 as it can also be pronounced) has got a new screen size in the family. In addition to the LG OLED CX (OLED65CX6LA) that we are testing here, as well as the traditional 55 "and 77" models, it is also available in a new and interesting 48 "format. Thus, this series should be able to offer something for everyone!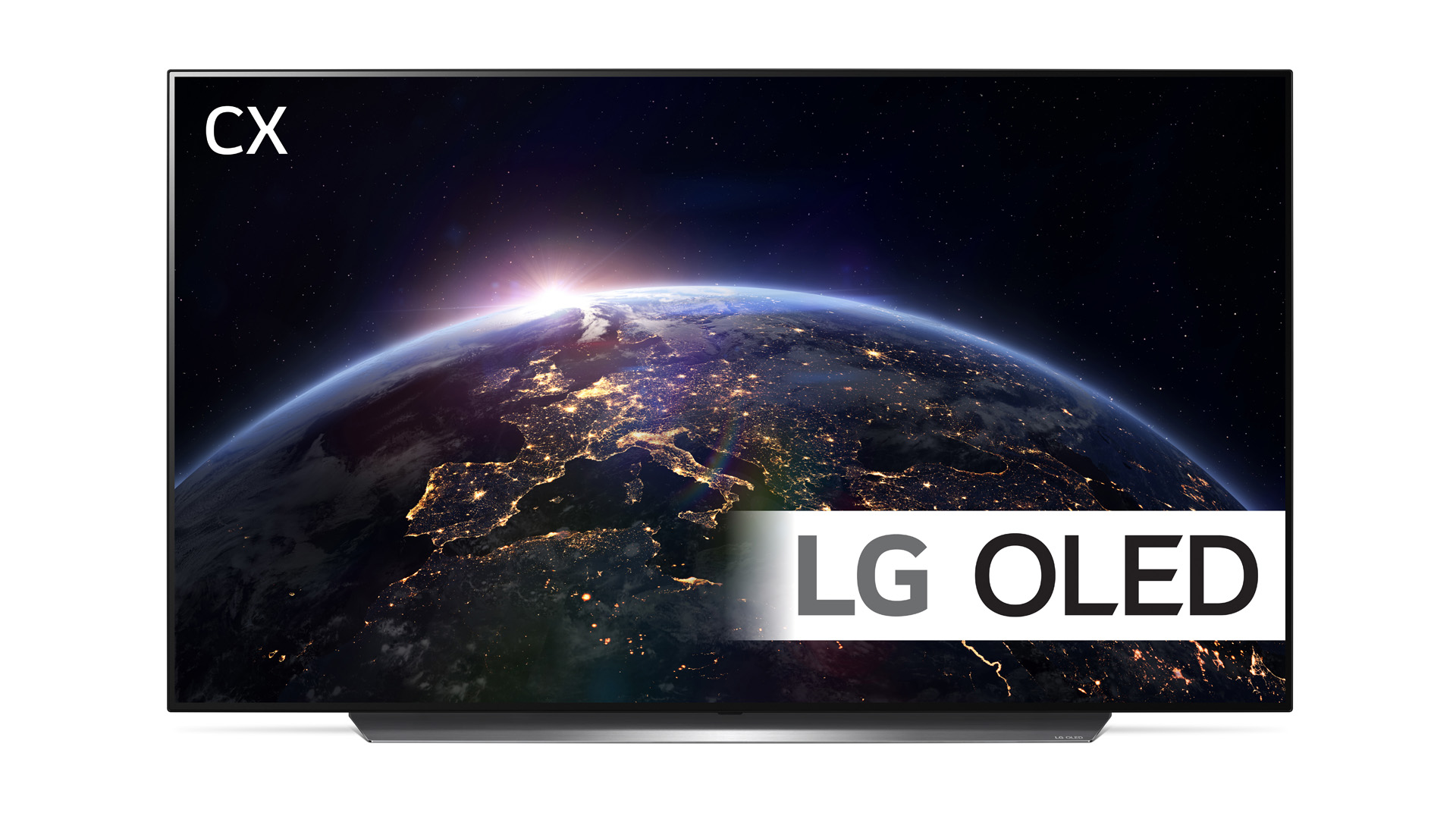 Design
The LG OLED65CX does not deny itself in what we unpack it out of the box: This OLED TV is really jam-thin! Only about 6 millimeters at the thinnest, but of course a lot thicker where speakers and power supply are located. Here, the C-Series differs from the more expensive G-Series, which has a more even thickness and is tailored for wall mounting.
OLED65GX is more intended for standing on a piece of furniture, which it manages steadily with the help of a lead-heavy base in two parts, which is screwed to the bottom of the TV. When assembled, it creates a stylish look, where the screen is slightly reclined on the table. The foot also moves the weight distribution backwards, giving better space for a soundboard right in front of the TV.
Speaking of jam: Our test screen had a noticeable bend on the way through the media jungle. This is probably due only to a packing error or external stress on the trip, but only emphasizes that one should exercise some caution when handling OLED screens. In other words: Remember to get help from a friend when it is to be carried and unpacked!
Ease of use and features
OLED65CX comes with the latest version of LG's operating system WebOS (5.0). This year's version has received a slight facelift. The graphical user interface feels modern, clear and easy to operate – perhaps not as intuitive as Samsung's Tizen system, but still close. The Magic Remote remote control has a gyro control and active mouse pointer that requires some getting used to, but eventually it becomes easy to navigate through the menus.
The app selection is very good: In addition to Netflix, you get access to HBO Nordic, Amazon Prime, Rakuten, and Apple TV +, among others. LG will also roll out the new Disney + app as soon as the service becomes available in the Nordics.
The TV also supports AirPlay and Homekit, which means it can display content from Apple iOS devices and be part of a Homekit-controlled smart home.
OLED65CX also boasts of supporting HDMI 2.1 – not just on one, but all four inputs! Thus, it is future-oriented and well-prepared for modern video sources. Next-generation game consoles such as Playstation 5 and Xbox Series X will be able to display 4K video at up to 120 frames per second, and then it's nice with a TV that supports this.
Speaking of gaming, the LG OLED65CX will work great for this. The LG screen has a very low input layer, which we measured at about 12 milliseconds. It is also packed with gaming-friendly features such as AMD FreeSync and Nvidia G-Sync, which ensure smooth and clean reproduction of various types of computer graphics.
Image quality
On the image front, the CX series uses the same OLED panel and image processing as more expensive LG models, including the powerful A9 gen 3 video processor. It uses advanced machine learning to continuously monitor and improve image quality. But LG also offers a number of more neutral image modes, including the new Filmmaker Mode which eliminates all unnecessary image processing.
OLED65CX is a perfect example of the many benefits of OLED TVs. The raisin in the sausage is, as usual, the bottomless black level! The dark parts of a film scene are simply carbon black, and that also contributes to the lighter details having a completely different "impact".
Because each pixel also has its own color and light source, the LG screen achieves a razor-sharp, smooth and seamless image with tremendous contrast.
Without the need for backlighting or mirrors behind the screen, the light distribution is also very even. This is characterized by the fact that we can view the screen obliquely from the side without the color reproduction or the grayscale being affected by the viewing angle. The same cannot be said of the QLED competitor Q95T, which gets a more washed-out feel when we look at it from the side. This is important to keep in mind if you have a large, wide room with plenty of seating, or like to watch TV while sitting at the dining table.
Just like with the more expensive design model OLED65GX, we landed on the setting "Cinema Home" as our favorite picture mode. This is a nice setting that suits most things, with beautiful, neutral colors and smooth movements. The disadvantage of the cinema setting is that it is not particularly bright. Those who watch a lot of TV in daylight will probably prefer the standard or dynamic setting. Unfortunately, the OLED screen does not thrive as well with the brightness "at full speed": The colors bleed into each other, and do not appear as intense and clear as they do in darker environments. Here, the QLED screen from Samsung has a clear advantage with its powerful taillight: Even with floodlit rooms and plenty of sunshine from the windows, it manages to maintain a bright and contrast-rich image.
Sound quality
The LG OLED65CX is equipped with a relatively standard sound system, with stereo speakers without any additional subwoofer on the back. However, it is equipped with advanced "AI" sound processing, plus individual sound modes for, among other things, cinema, sports and music. We found that the cinema setting sounded clear and strong, with good speech intelligibility and good fullness in the bass.
Most people will probably still want to connect the LG monitor to an external soundbar. In this way, it is nice that it supports HDMI eARC, and thus is able to send high-resolution audio signals (eg Dolby Atmos in TrueHD format) to a compatible audio board.
Conclusion
OLED65CX is among the more affordable OLED screens from LG's 2020 range. Here you get the contrast-rich image quality that characterizes OLED, combined with state-of-the-art image processing, connections and other features. We are extra pleased with the wide format support (including Dolby Vision in picture and Dolby Atmos sound) and good connectivity with HDMI 2.1, which makes this a multi-compatible and future-oriented TV. The OLED screen still lacks a bit of light intensity compared to the QLED light cannons from Samsung, we would have liked to have seen LG develop a duller contrast filter for its screens. In a slightly darker environment, however, the OLED65CX is completely unique when it comes to black level and depth feeling. If you are looking for a TV for late nights with movies, series and game entertainment, this is a perfect choice!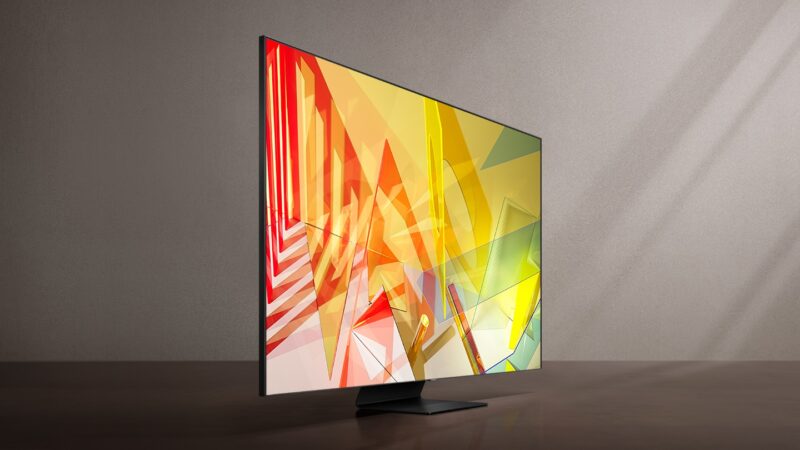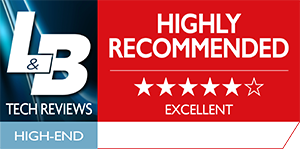 The best all-round TV?
Smart, contrasting and bright: Samsung's 4K top model Q95T is an excellent TV for all kinds of weather.
Our verdict
Samsung Q95T er en velutstyrt TV med imponerende kontrast og saftig lysstyrke, og har et smart skjermfilter som reduserer refleksjoner.
Q95T må klare seg uten det populære HDR-formatet Dolby Vision. Enda så finmasket LED-lyset er, blir ikke lysfordelingen like presis som en OLED-skjerm.
Samsung has had great success with its QLED TVs in recent years: With an advanced color filter full of quantum dots plus direct LED lighting on the top models, they have achieved wonders with the otherwise aging LCD technology.
Critics will probably claim that Samsung uses all the tricks in the book to keep LCD alive for a few more years: There are rumors that the Koreans will soon phase out LCD in favor of new and modern QD-OLED technology.
But let rumors be rumors: LCD is still a reliable and well-proven technology, which can be constantly improved and patched. It is also cheap to mass produce, especially in screen sizes from 65 "and up, which is becoming increasingly popular.
For those who want a top-notch QLED model, but are not interested in paying the fee for 8K resolution, the Samsung Q95T may be an interesting alternative. It offers pretty much everything except the 8K resolution itself, at a significantly lower price.
Samsung Q95T: Full-featured 4K model
The Q95T boasts the most well-equipped 4K display you can buy from Samsung this year. Sure – there are even more expensive and more exotic 8K models in the range, but as long as we stick to 4K resolution, it is the Q95T model that ranks at the top. The screen size starts at 55 "and goes all the way up to 85".
In terms of equipment, the Q95T has a lot in common with its little brother Q90T. In fact, these two Samsung models are completely identical in terms of image. However, the Q95T boasts two features that will make it more user-friendly for many: The separate One Connect junction box that facilitates hidden wiring. as well as the option of No Gap wall mounting, which makes wall mounting easier and more elegant. The Q90T, on the other hand, has to do with the usual VESA mount and connections at the back – but if you just want to put the TV on a shelf, it can be an equally good buy.
Design
The Q95T has a sleek and sleek design in the familiar Samsung style. It has only a thin frame around the screen, where the image goes almost completely to the edges. For a direct LED TV to be, it is also relatively slim in depth: Slightly thicker than the thinnest OLED screens, but nothing that bothers. The centrally mounted base makes the TV easy to place, while there is plenty of space for a soundboard.
Ease of use and features
Samsung is a well-known manufacturer of Android phones, but for TV use they have chosen their own system. The Tizen user interface is one of the best on the market in our opinion, as it is both quick and easy to set up. Here it is easy to get an overview of available apps and program offers (you can customize the menu bar yourself) or make settings.
The selection of streaming services is very good: With both Netflix, Apple, Amazon, HBO, Rakuten and soon also Disney +, there is plenty of content to frolic in.
In these home office hours, it may also be worth mentioning the Remote Access feature. It allows you to stream and display the PC screen directly on the TV, and work via the TV with keyboard and mouse.
Another novelty on the 2020 models is the Smart View feature, which allows you to display your mobile screen next to the TV content. Here it is also possible to listen to the other "screen" via the headphone output, which is useful if two people share the screen.
The Q95T also has Ambient Mode, which is Samsung's smart screen saver. When the screen is in standby, it can display everything from family photos to weather information, or colors and graphics that blend in with the surroundings.
When it comes to HDR video, Samsung does not have as wide a format support as LG. The Q95T supports standard HDR10 and the dynamic HDR10 + format, but the most popular (and perhaps best) DolR Vision HDR format excels with its absence. Samsung is now the only one of the major TV manufacturers that does not support the Dolby format, which we find a bit strange, as they already have a good collaboration with Dolby on the audio side (Atmos 3D audio).
Samsung LG, like LG, can also boast HDMI 2.1, but only on one of the inputs. It supports 4K / 120p Variable Refresh Rate (VRR) and Auto Low Latency Mode (ALLM). It bodes well for future compatibility with the next generation of gaming consoles Playstation 5 and Xbox Series X. The dedicated game mode is very fast, with an input layer / delay of less than 10 milliseconds (measured with Leo Bodnar input layer tests)
Image quality
As mentioned, the Q95T is the top model among the 4K screens from Samsung this year, and will take over the baton after last year's Q90R, which we also named the best TV of the year in the high-end class in 2019. Like last year's model, it is a top-trimmed LCD TV with QLED color filter and direct LED backlight. The Q95T has also got Samsung's Wide Angle filter which will improve the viewing angle. It also has a special surface treatment (Ultra Black Filter) that reduces reflection of the surroundings.
At one point, the Q95T actually takes a step backwards from the Q90R: The direct LED taillight must cope with fewer dimming zones than last year's model. The most advanced taillight with the most individual zones is now reserved for the 8K models. Here it may seem that Samsung has taken out the "saving knife" a bit compared to last year's model. At the same time, the Koreans claim that they have achieved improvements in power management and image processing, which may help even out the difference.
Superb contrast filter
One feature we want to highlight is the Ultra Black filter, which absorbs / filters away a lot of stray light from the surroundings. This is a feature you only get on Q90T / Q95T and up, which has a BIG impact on the visual result.
Sound quality
Samsung Q95T comes with a new finesse on the sound side, more specifically Object Tracking Sound. In addition to the usual undermount speakers, there are some extra speakers at the top of the back, which will help to create a larger sound image.
The Samsung screen provides relatively good sound on its own: here there is good clarity in the voices, in addition to nice fullness in the bass. The extra speakers also help to make the sound more airy and better spread. But of course there is no substitute for a separate soundboard!
If you want to take full advantage of the sound, you should of course add on with an Atmos soundboard, which can transmit the audio signal from the TV in high quality via the HDMI eARC connector.
Samsung has also added a small bonus to those who buy a new 2020 model soundboard from them: Then you can use the new feature Q Symphony, which utilizes the TV's own speakers in combination with the soundboard. We became acquainted with this feature during the test of the Q80T, and experienced that it gave a significantly expanded sound image.
Conclusion
Q95T is Samsung's best 4K TV for the model year 2020. Here you get both slightly better picture quality and more smart solutions than the other QLED models, at a slightly higher price. The Samsung screen is equipped with direct LED taillights that contribute to superb contrast. The black level is not as impressive as competing OLED screens, something many will notice especially in a darkened room. On the other hand, the Q95T has an advantage in brighter environments: Here there is always plenty of brightness, and no problems with reflections. For varied TV use, this is still a favorite!