Audun Hage
Published

2020-09-12 - 5:59 pm
You will be looking for a long time for two more fierce competitors than Samsung and LG: The two South Korean heavyweights have long struggled to deliver the best TVs in all kinds of sizes and price ranges. The competition is extra strong in the high-end segment, where LG goes for perfect black with its OLED screens, while Samsung pulls in with sparkling brightness with QLED. Both deliver colorful images, which are meant to draw you into the action so you never want to turn off the TV again. But both types of panels have their technical strengths and weaknesses, and it is not certain that the experience-seeking night raven will choose the same as the daydreaming sofa pig.
But which TV is best at most? You may be surprised by the result.
Two different panel types
So what exactly is the difference between OLED with O and QLED with Q? Here we talked about two very different image panels. The modern OLED technology that LG produces stands for Organic Light Emitting Diode and means that every single pixel has an LED that can emit both light and color at the same time. This modern design allows the image panels to be made jam-thin and flexible. The pixels can also be turned on and off one by one, and this is how OLED screens achieve their sublime contrast, like stars in a dark sky.
QLED, on the other hand, stands for Quantum Light Emitting Diode and is actually more of a marketing name used by Samsung and others on their LCD TV with Quantum Dot color filter. The small quantum dots provide significantly better color reproduction and contrast than regular LCDs. But the QLED screens still rely on backlighting to display images. This gives very good brightness, but can also lead to poorer contrast than OLED, in that some unwanted light leaks through.
Note! Not all QLED LCD TVs are the same: The rear light can be located at the edges (Edge LED) or directly behind the LCD panel (So-called direct / full array local dimming). The latter is a more expensive variant, and this is the one you want, for the best possible contrast and black level.
"Rumble in the TV jungle"
The weapon carriers we have selected are already high on the ranking list for 2020. LG OLED65CX and Samsung QE65Q95T are both among the respective manufacturers' top models with 4K resolution, and currently cost around £ 2500. Although both LG and Samsung offer even larger, more expensive and more exotic models with 8K resolution, it is probably here, in the 4K class, that the choice will be for many.
Caption: In the left corner: LG's new OLED CX in 65 inches. In the right corner: Samsung's 4K QLED top model Q95T.
Even after putting LG and Samsung up against each other on the test bench, it is not easy to announce a definitive winner. Both manufacturers have refined the technology over several years, to a point where the best choice of TV is more about your own preferences and needs.
The difference between QLED and OLED can no longer be called "night and day". On the other hand, it has a lot to say what time of day you prefer to watch TV! Both technologies have their strengths and weaknesses, which are typically manifested in either dark or light environments.
QLED has traditionally had an advantage in bright rooms, thanks to high brightness. While OLED typically has many advantages in a dark room, thanks to the OLED pixels that can be turned on and off completely. And although both LG and Samsung's engineers have worked hard in recent years to refine, tweak and improve their respective techniques, there are still clear pros and cons.
OLED best in dark rooms
In a room with fully or partially dimmed lighting, OLED is definitely the "boss". The OLED screen from LG has a superb light precision with on / off pixel control which provides a superb contrast on a dark background. Here, the QLED screen falls a little short, as it has more obvious bleeding and halo effect from the backlight. This is indicated by bright objects on a dark background, such as subtitles or the light at the end of a tunnel: Here you can see clear outlines from the backlight.
QLED best in bright surroundings
Samsung's QLED screen, on the other hand, has some clear advantages in bright rooms: The direct LED backlight allows the screen to turn up the brightness sharply. Maximum brightness is close to twice what the OLED achieves (approx. 1000 nits against approx. 550 nits).
In bright environments, the Samsung Q95T has a completely different brightness, contrast and color intensity than the LG OLED65CX. The primary colors red, green and blue slam against us on a charcoal black background. Samsung also has a more fun in the brightest HDR effects thanks to this, and distinguishes better between the color shades at high brightness.
Samsung also benefits from the super-matte screen filter that absorbs and diffuses stray light from the surroundings. Therefore, reflective light is almost unproblematic. LG, on the other hand, is glossy, and reflects a lot on the surroundings. If you have a room with many windows, and prefer to watch TV in daylight rather than in the dark, QLED is the best choice in our opinion.
The traditional notion that OLED is best suited for dark rooms, QLED for light rooms, therefore seems to continue to apply.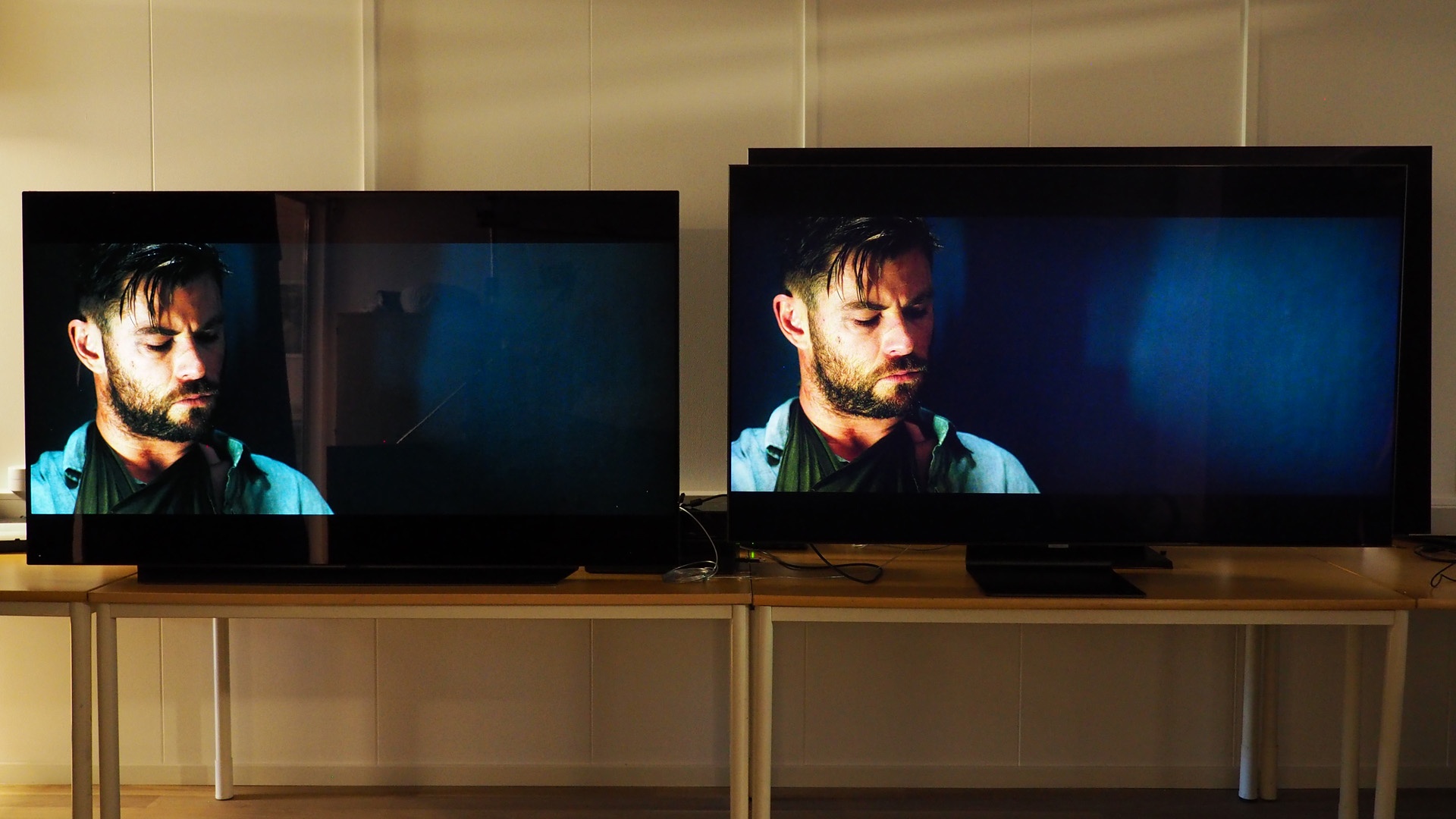 Products in this test
LG OLED CX
The king of contrasts
One of LG's most popular OLED models LG OLED CX is back in a new and top-trimmed version!
With sparkling good contrast, superb black level, plus very good connectivity options, LG's OLED screen is a safe choice for discerning TV enthusiasts.
The OLED screen is still relatively dim compared to the best LCD screens, and the glossy screen surface reflects a lot of light. Thus, this is not the ideal TV for very bright environments.
Samsung Q95T
The best all-round TV?
Smart, contrasting and bright: Samsung's 4K top model Q95T is an excellent TV for all kinds of weather.
Samsung Q95T er en velutstyrt TV med imponerende kontrast og saftig lysstyrke, og har et smart skjermfilter som reduserer refleksjoner.
Q95T må klare seg uten det populære HDR-formatet Dolby Vision. Enda så finmasket LED-lyset er, blir ikke lysfordelingen like presis som en OLED-skjerm.