Philips OLED + 935 (65OLED935) is the newest and best OLED TV Philips can offer in the 2020/21 model year. We are talking about a packed top model with 4K OLED panel and colorful Ambilight lights on all four sides! Under the TV, they have hooked on a serious soundboard from Bowers & Wilkins, and inside is a top-trimmed version of the video processor P5. All this creates expectations for a TV experience out of the ordinary, and you certainly get that too: Here you just have to fasten your seat belts…
In this test, we have concentrated on the 65 "model of OLED935, but it is worth mentioning that the Philips screen also comes in a smaller 55" version, in addition to an extra compact 48-inch. All three use the same speaker package, so with the exception of the screen size, both the design – and the performance – will be very similar.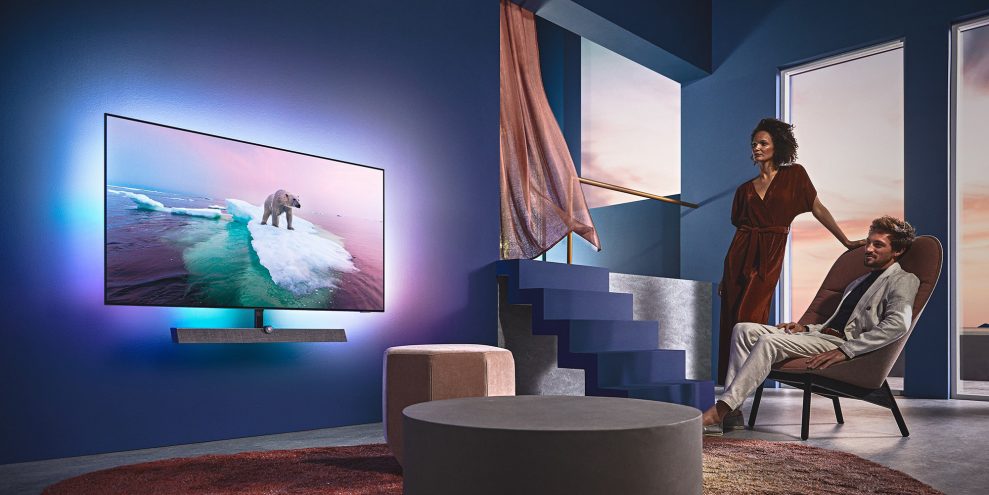 PHILIPS OLED + 935 – DESIGN
Despite a bold list of equipment, Philips has managed to keep the design slim and sleek. OLED935 has a tight and straight line appearance as we associate with most OLED TVs. There are also lavish details in polished chrome, in addition to the speaker which is clad in square fabric, which contributes to an exclusive expression.
Philips has also succeeded well in integrating the speaker into the table base: rather, the speaker IS the base. It is attached to the TV part by means of a strong, chrome-plated metal bracket, and ensures a stable foothold against the surface. If, on the other hand, you prefer wall mounting, it comes with a custom bracket that hangs the soundboard directly below. The way Philips and B&W have solved this seems very well thought out, and the finished solution appears far more elegant than having a separate, loose soundboard next to it.
EASE OF USE AND FEATURES
Philips 65OLED935 comes loaded with the 9.0 version of Android. This version has become quicker and more TV-friendly: Both live TV channels and apps such as YouTube and Netflix are quickly accessible via the start menu, and the same applies to the recently launched Disney +. For the time being, however, Philips has to do without Apple TV + on the app list. Voice control via Google Assistant is also possible, via a built-in microphone in the remote control.
The remote control is new this year: Philips has finally heard our prayers, and upgraded to a Bluetooth-based remote control! The new control has become far more responsive and, above all, less directional than its predecessor. We also notice that the TV responds quickly to commands.
OLED935 uses the latest remote control from Philips, which now has Bluetooth communication. (Photo: Philips)
OLED935 supports Dolby Vision and HDR10 + HDR formats. Philips, together with Panasonic and TCL, are among the few manufacturers that can offer both the important HDR formats. This way, you can be sure that content from, for example, Netflix, Amazon Prime and Disney + can be shown in the best available quality.
The only place where the OLED935 does not feel very modern is on the connection front: the Philips screen boasts 4 HDMI inputs of the type 2.0b. With the exception of ALLM (Auto Low Latency Mode), none of the inputs are updated with the latest HDMI 2.1 features. Philips also does not have the option of VRR (Variable Refresh Rate) or 4K video with 120 frames per second.
All this means that the OLED935 is not the most obvious gaming TV. With just over 30 milliseconds "input layer", it is also a few notches behind the fastest screens we have tested, including Samsung Q80T and LG OLED CX.
GREAT PICTURE QUALITY
Philips OLED935 is equipped with an OLED panel from LG Display – as we also find in the cheaper little brother OLED805. However, the image processing has been adjusted up a bit, thanks to a new and more powerful version of the P5 processor. Here you get all the well-known OLED qualities, such as bottomless black level, high contrast and sparkling colors – but also a little extra of all the good.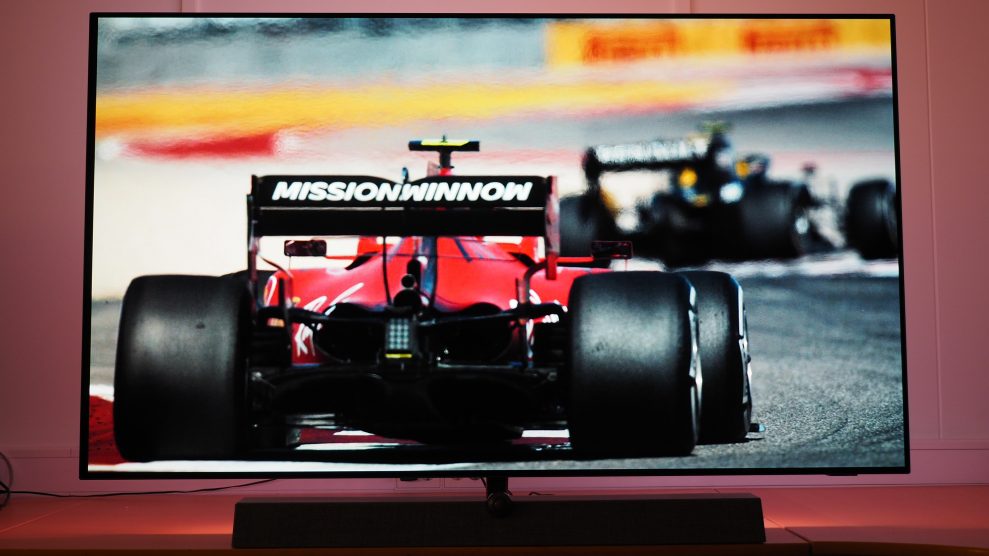 The contrast is, like most OLEDs, formidable. Here you really get all the shades from dark to light, as well as small, subtle color shades. One can easily spot details that pass a house on less capable screens. OLED935 also excels with very good light distribution and panel uniformity, without noticeable unevenness. The Philips screen also has impressively smooth and seamless movements. It manages to maintain a sharp focus, even when lightning-fast Formula 1 cars whiz past on the screen.
OLED935 uses the 4th generation of the powerful video processor P5, here in a new and upgraded version compared to the little brother OLED805. It uses so-called neural networks and machine learning from millions of test clips (from Philips' own database) when analyzing and enhancing images. Both sharpness, color enhancement, contrast and motion are adjusted to different degrees, depending on the image mode you select.
If you want full thrust from the OLED panel, you can select the AI ​​setting. Then the P5 processor runs at full machine, but it can be a little too much of a good thing, with a slightly "supernatural" colorful, sharp and contrast-rich image. We prefer the standard setting, which gives slightly cooler and fresher colors than neutral, but good contrast and plenty of brightness, in addition to super-smooth movements. We think many people will enjoy this mode for most of the TV content.
OLED935 also has a "Pure Cinema" setting that reduces flicker without introducing artificial soap opera effect. We preferred this setting on a lot of classic movie content.
Philips has also included a separate image mode for gaming. Although it is not among the fastest, it appears with good sharpness and smooth movements. In addition, the Ambilight light is adjusted so that it follows the graphics and action on the screen extra closely.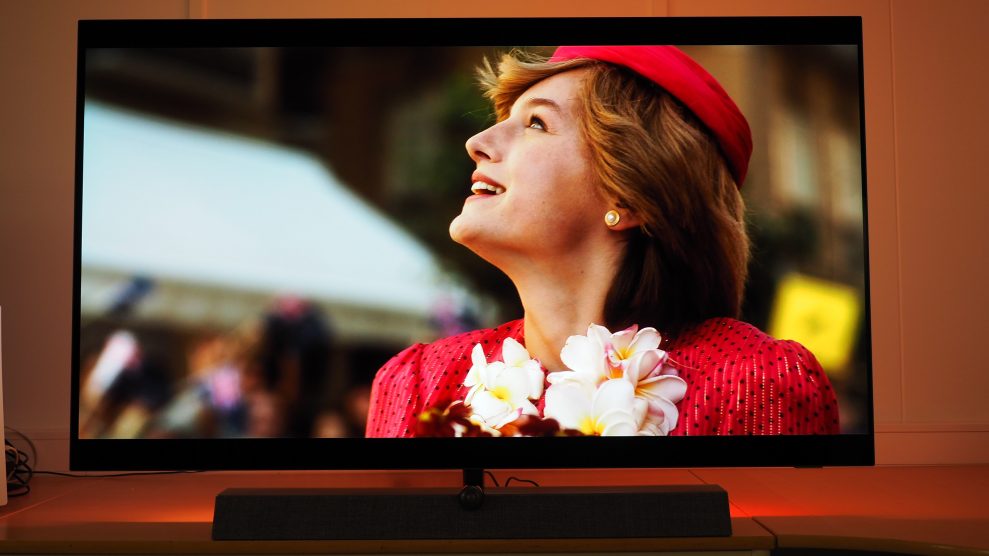 AMBILIGHT
Philips is still alone in offering the patented Ambilight light on its TVs. The solution consists of small color LEDs on the back of the screen, which illuminate the surroundings in the style of the action on the TV screen. OLED935 boasts an extra light strip on the underside of the cabinet, thus sending the color light to all four edges: This is especially advantageous if you choose to wall-mount the TV.
Ambilight definitely adds an extra twist to the experience of film, series and sports: in addition, it helps to make the contrast-rich OLED image more comfortable to rest your eyes on. If you are among those who like to watch a lot of TV in the evening, this may be right up your alley. Philips has included a separate menu for how bright the light should be and how dynamic it should follow the action on the screen.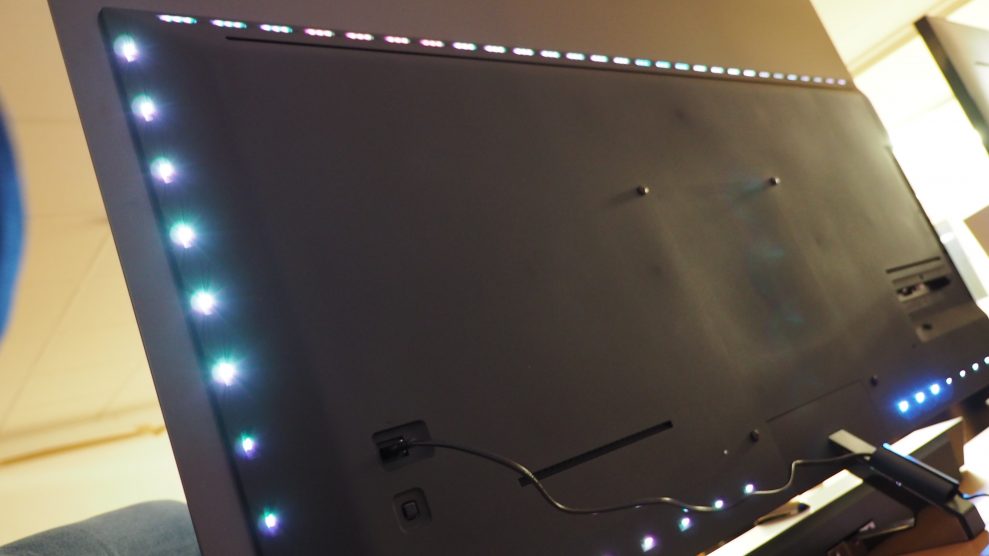 SOUNDBAR FROM BOWERS & WILKINS
No "anyone" has been responsible for the sound reproduction in OLED935: Bowers & Wilkins is a venerable English speaker specialist, and they have done far more than just lend their name in this case. The speaker part was developed at B&W's factory in close collaboration with Philips' design team.
The sound system of the OLED935 contains as many as ten individual speaker units, and is characterized by the characteristic treble cap that protrudes at the top. This is a solution we often see on B & W's more expensive hi-fi speakers, and was chosen because it reduces diffraction and distortion from the surrounding cabinet.
The speaker uses a 3.1.2 configuration: This means that it has a dedicated center channel, in addition to separate channels for left and right in front. At the top are also Atmos' own "height channels" which are directed towards the ceiling, as well as a 100 × 65 millimeter bass speaker. The TV also has a subwoofer output, so those who want even more bass can upgrade with an active subwoofer.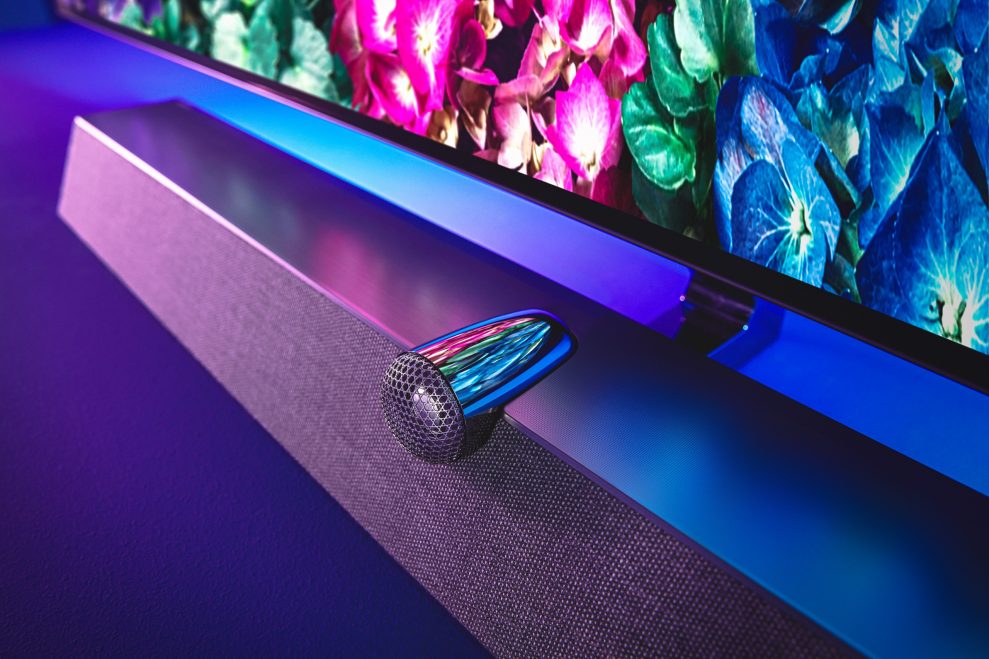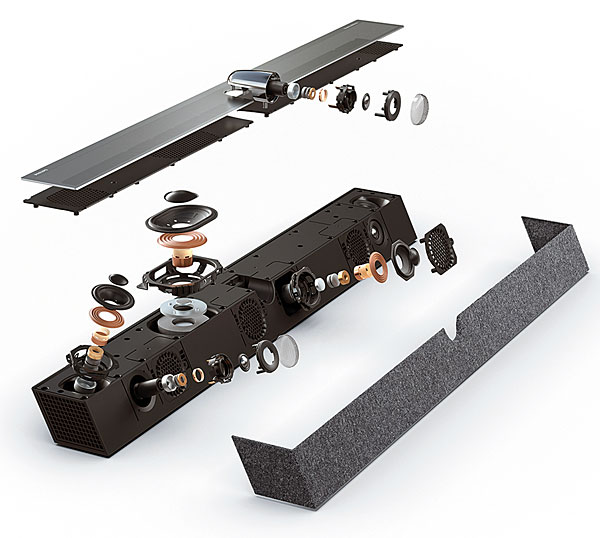 SOUND QUALITY
The collaboration between the two producers has resulted in a number of well-sounding TVs. That said, we actually think OLED935 may be the best so far! The first thing that strikes us is the strong and clear voice reproduction.
The Formula 1 documentary Drive to survive has a breathtaking soundtrack filled with squealing engines, dedicated TV commentators and stressed team leaders. The dialogue often tends to drown out other noise, but with Philips / B&W every word comes out clearly: here it is no problem to hear what is being said.
The commentator's voices sound crystal clear out of the loudspeaker, and during the interview rounds with the F1 drivers, it's almost like having Sebastian Vettel and Louis Hamilton sitting in the room in front of us! Even small changes in tone of voice are evident. This is real hi-fi TV sound!
We are also impressed by the good channel separation. Although the soundboard is relatively compact, it paints a large and airy soundscape with a clear distinction between the left, right and center channels. Every little "sound event" stands out clearly in the mix, and panning sound effects sound believable.
The undersigned is very sensitive to poor synchronization between image and sound (so-called lip sync ). However, we can state that the Philips / B&W combo has a perfect sync between image and sound. It results in a better connection between what you see and hear, and you do not have to concentrate to hear what is being said. It becomes easier to understand what the producers are trying to convey, quite simply.
The integrated soundboard has quite usable fullness in the bass. That said, there is no substitute for the foundation a proper subwoofer can provide. If you are extra picky about sound, we recommend upgrading the sound with a separate subwoofer. Bowers & Wilkins offers several compact subwoofers that can match well. Then you get TV sound in the absolute top class!
CONCLUSION
On this top model, Philips has taken it all out: The image quality from the OLED screen is simply beautiful, and gets extra traction from the atmospheric Ambilight light. In addition, they have (with good help from Bowers & Wilkins) managed to hatch a really good speaker – in fact some of the best we have heard of integrated TV sound.
All this helps to make the OLED935 a potent all-round TV, which is actually not a deterrent when viewed holistically. The Philips screen is not perfect for connectivity, but in return so good in picture and sound that we do not hesitate to give it 6 stars. A real dream TV, simply!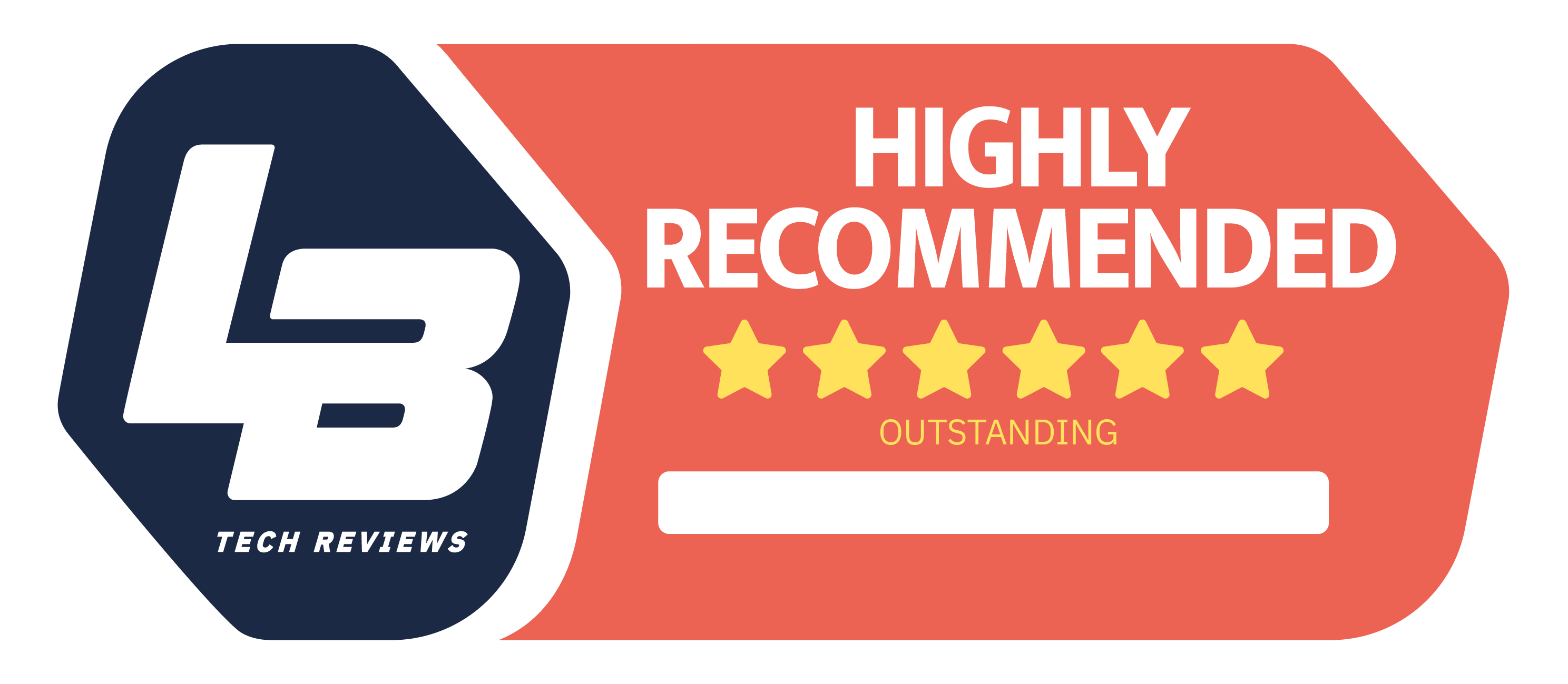 Philips OLED+ 935 (65OLED935)
High End
We think
Philips OLED935 offers superb image quality and mood-creating Ambilight lighting, as well as a very convincing sound experience.
The only thing we miss is support for the latest HDMI 2.1 features, which could have made the OLED935 even more relevant for gaming.