While the other TV manufacturers are busy with their final adjustments, Philips has managed to get its first 2018 models shipped to the store. Philips 65OLED873 is out first, which by all indications will be the most affordable OLED TV this year. The recipe is very similar to last year's models: OLED panel, P5 picture processing, Ambilight and Android Smart TV. Best of all, it is now also available in a 65" edition!
In an OLED panel, every little pixel is "self-luminous", and therefore does not need lighting in the way an LCD panel does. This provides a unique contrast and ink-like rendition of black, which in no time has made the OLED technology the go-to choice in the high-end category. This also holds true for Philips, which rolls out three model series with OLED this year.
Little brother 55POS9002 (which continues in 2018) is an excellent television in many ways, thanks to the brilliant combination of OLED and Ambilight, Philips' patented ambient lighting. The only thing needed was a larger model. Those with a sense of good image quality would certainly prefer something larger than 55"!
Design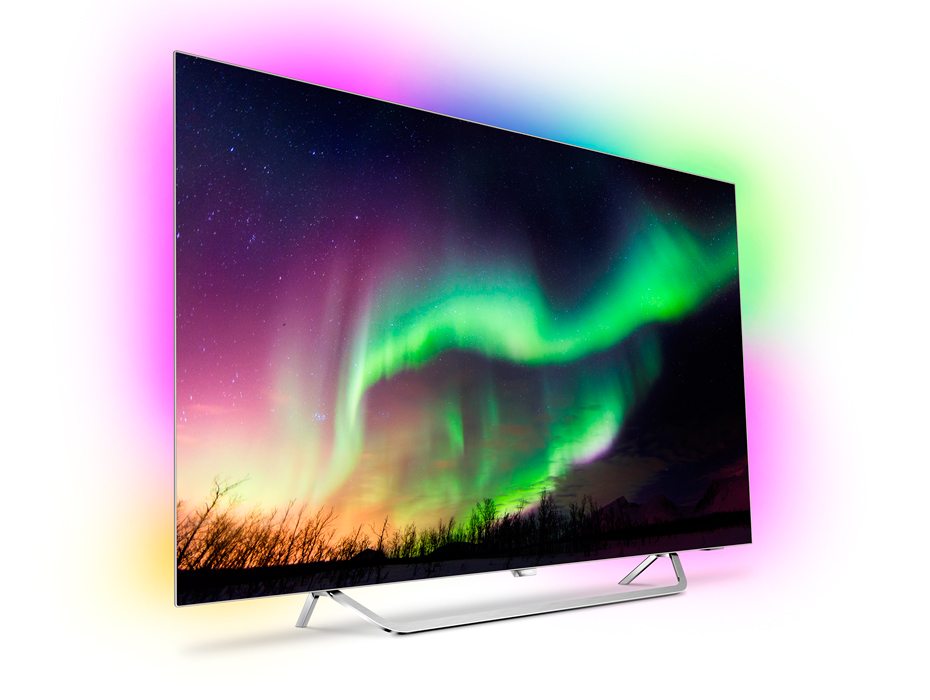 Philips has not had any need to make any changes to the design. 65OLED873 is a sleek and stylish TV with a subtle appearance. It must do without the exclusive glass frame found in the top model OLED 973, but it is just as beautiful to look at. The very thin OLED panel features a charcoal-grey steel frame. It is similar to the LG OLED C7 model, where the image does not go all the way out to the edges, but leaves a thin black strip between the image and the framing. The brushed metal foot has an otherwise nice design, and is narrow enough that the 65" edition will fit on the vast majority of TV tables.
Usability and features
The Philips model uses Android 7.0 as the operating system with all the smart features. The TV is for the most part super easy to set up, and if you have an Android mobile with a Gmail account, you can use this to set up your TV, share info about Wi-fi and user accounts.
The user interface is very similar to other Android TVs, with YouTube and other apps readily available on the home screen. When we want to use more advanced options and settings, we need to use Philips' self-developed menu system. There have been no major changes since the last model. The menu structure takes some getting used to, and the way you confirm and move about on the menu does not feel as intuitive as on Samsung or LG.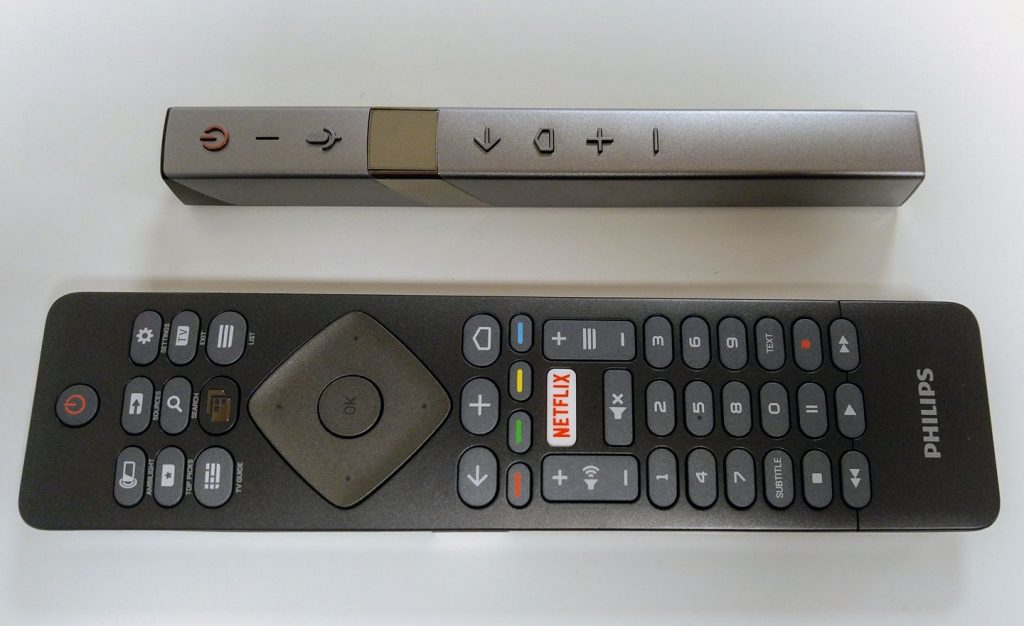 The main remote control impresses with its own keyboard on the back, making it easy to enter keywords, passwords, and so on. Other than that, the remote control feels a bit outdated, and the arrow buttons make an annoying clicking sound that we could have done without! Luckily, Philips also added an simpler mini-remote control that works much better. It has far fewer buttons, and allows us to easily swipe in any direction.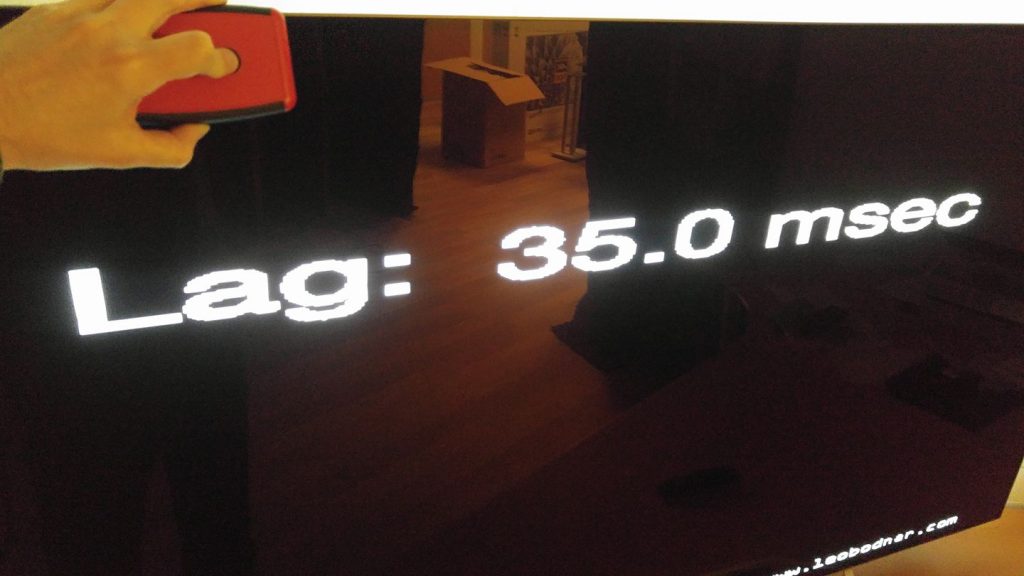 Similar to their competitors, Philips has its own game mode with the lowest possible delay. We measured the input lag to about 35 ms, which is no record but nevertheless should be okay as long as you are not playing at a professional level!
The biggest novelty on the smart-front this year is voice command with the help of Google Assistant. The Philips display is prepared with a built-in microphone in the remote control. We'll be back with more info as Google Assistant is rolled out in the Nordic region.
Image quality
Philips has always enjoyed taking its own path when it comes to image quality. Where competitors like Sony and Panasonic strive to be as true to the original picture as possible, Philips' engineers have a flair for spicing it up. From a purist's standpoint, it is considered a shame to add stronger colour and contrast or to accentuate sharpness – but as long as it is done sparingly, and is carefully adapted to the image material, it can help to raise the experience, they believe.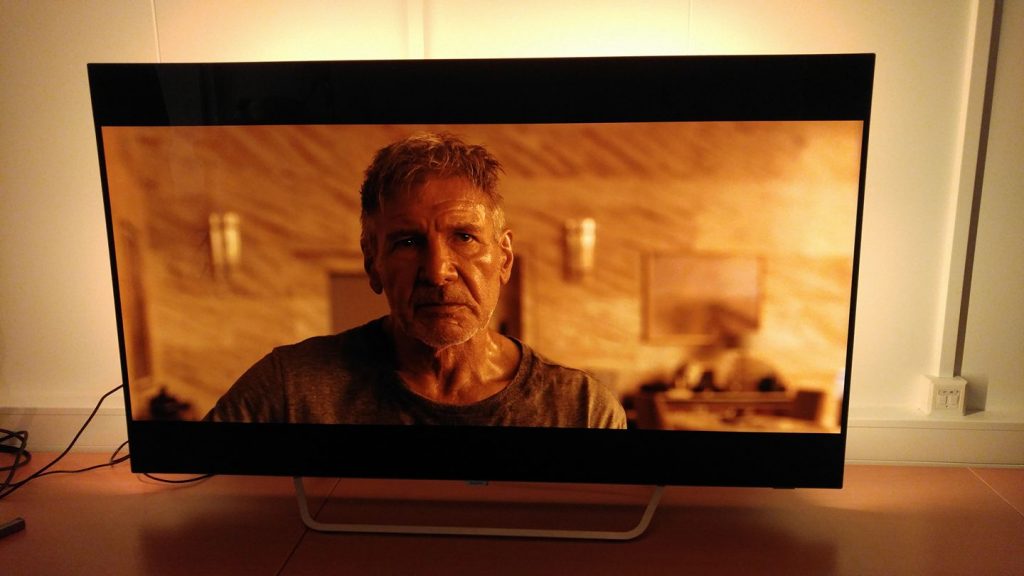 Philips 65OLED873 has all the prerequisites in place to provide excellent picture quality: Besides the state-of-the-art OLED panel and colourful Ambilight, it comes equipped with their most powerful P5 image processor which is packed with image enhancement circuitry and algorithms. So why not use them, Philips' reasons.
The TV has a number of different picture modes to choose from, depending on how much spice you want. Vivid is excessive for our taste, and is more like something Chili Klaus would prefer! Here are all the settings at max. The people on the screen also look like they have eaten excessive amounts of spicy foods, while the picture feels slightly 2D due to exaggerated sharpness.
However, we like the default setting. Here, it uses the imaging process to provide a somewhat clearer and stronger pictures than originally, without the colours being blown out of proportion. It can be well-suited for both news, sports and other TV entertainment.
Great sharpness and contrast
We put on the classic "Breaking Bad" (Netflix, 4K), and it was almost like watching the series for the first time! First of all, the contrast is totally unmatched: The methamphetamine king Walter White looks even more weathered, the sky is even bluer and the desert sands appear more searing, without feeling excessive or fake. Add the Ambilight light that is projected to the wall behind it and it all feels more genuine.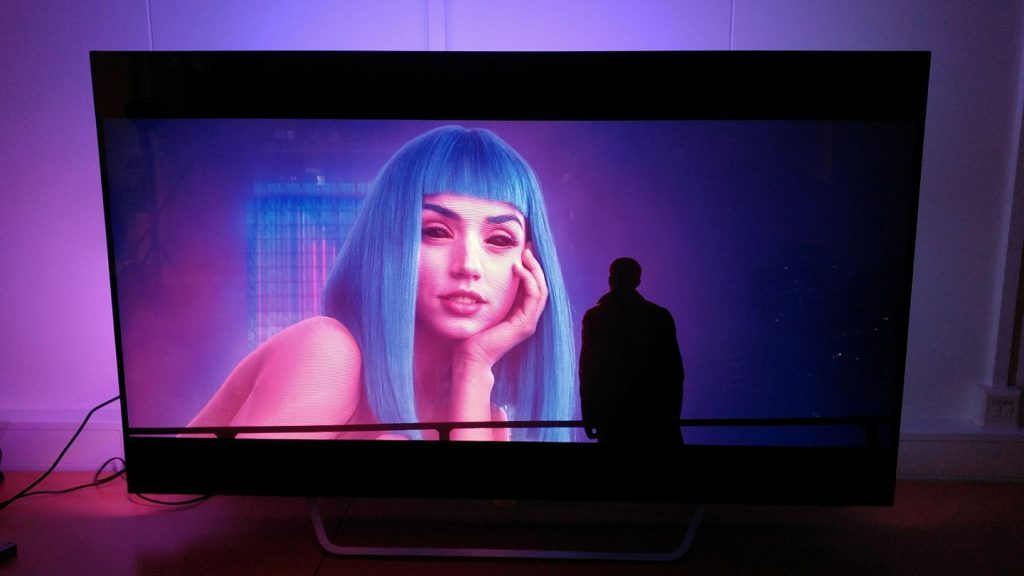 When you want to see movies and shows as the director had intended, we still prefer the Movie mode. Philips has done a good job with the factory settings, which gives very neutral and nice colours, without excessive sharpness. The black level is virtually bottomless, with a good level of detail in dark areas. The contrast in bright scenes impresses greatly. The HDR version of Blade Runner 2049 on 4K Blu-Ray actually glistens! Compared to LG's popular 2017 model OLED B7, it is evident that Philips has managed to get more contrast, improve sharpness and not least, render smoother movements. How Philips perform against a 2018 model like B8 or C8 remains to be tested. We're looking forward to a real OLED shootout!
Calibrating Philips 65OLED873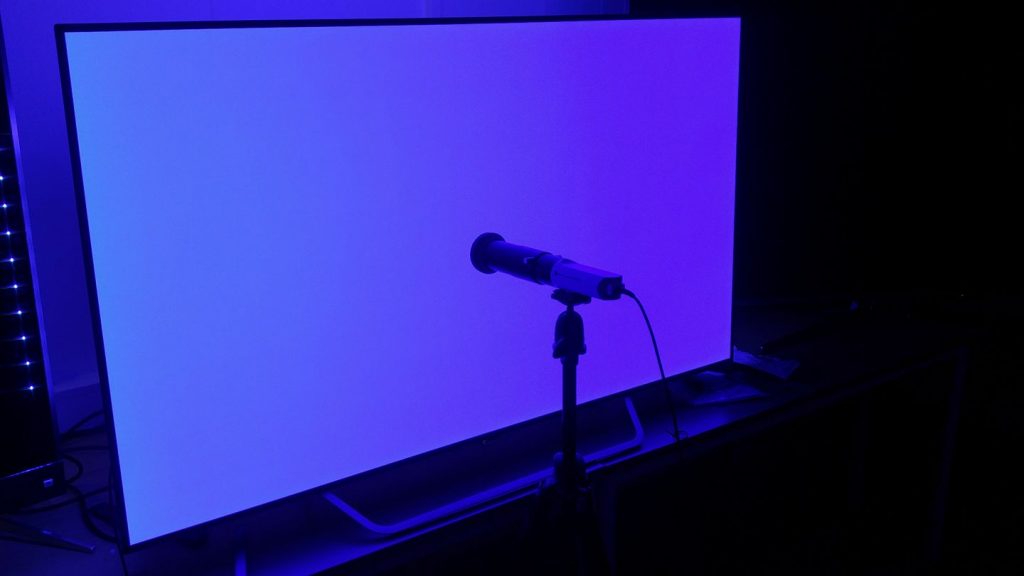 The Philips screen comes with the "expert mode" ISF Day and Night, but beyond that has limited calibration capabilities. Here is only 2 point white balance, and no full colour calibration (Color Management System). It is therefore difficult to correct any deviations in gray-scale and calibrate it 100% to perfection. After manual adjustment, we ended up with an average delta deviation of 3.3 on gamma and colours in the Calman Colorchecker (HDR mode), which is an excellent result (anything under 5 is acceptable).
Here are our measurements for brightness:
10% test window: 700 NITs
18% test window: 600 NITs
25% test window: 480 NITs
100% test window: 150 NITs
Sound quality
The Philips 65OLED873 has a relatively simple audio system consisting of under-mounted speakers and an additional "woofer" in the back. The sound is both strong and clear with clear voice rendition and good foundation. The Philips can also withstand quite high volumes before it sounds pressured. Those who want an even better TV sound should consider a soundbar, or wait for the top model OLED 973, which has a more expensive speaker solution.
Conclusion
With this 65-inch OLED display, Philips has raised the bar for the competitors in 2018. The picture quality is sparklingly good, with compelling contrast and black level like we are used to from OLED. Philips has done a good job with the colours, and Ambilight ensures the right mood. 65OLED873 is definitely worth a recommendation and a very good buy for the price.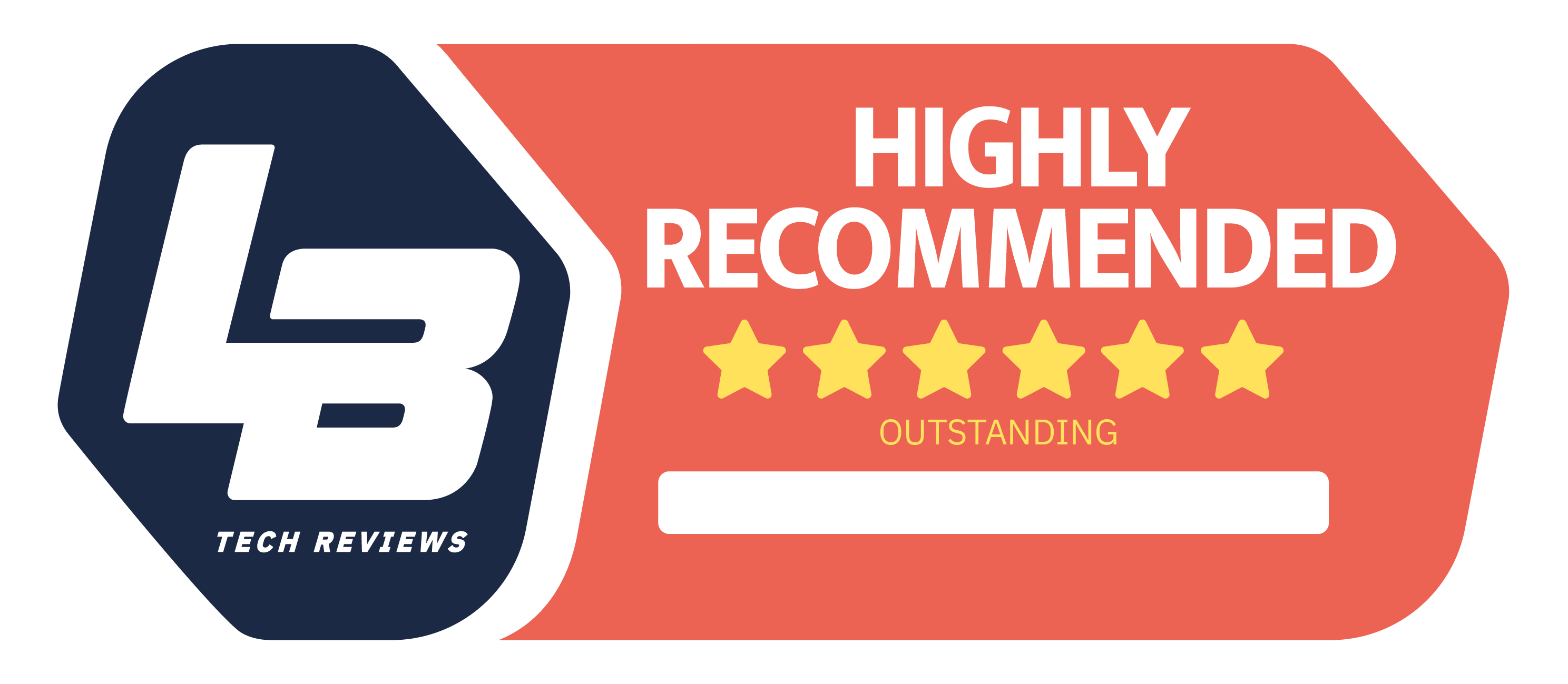 Premium
We think
The Philips display provides dazzling contrast and sparkling colour, which is amplified by the atmospheric Ambilight.
Philips does not support Dolby Vision, and the smart interface could have been even faster.