Audun Hage
Published

2019-02-12 - 10:56 am
The Panasonic screen presents benchmark class images with razor-sharp details, raw contrast and ultra-precise colours. The integrated soundbar delivers strong and clear audio.
The user interface is simple and straightforward, but lacks features and apps compared to LG and Samsung. No support for Dolby Vision – or Dolby Atmos audio.
Specifications
Size/Type: 65" 4K OLED
Resolution: 3840×2160 (4K Ultra HD)
Operating system: My Home Screen 3.0
Inputs: 4 HDMI, 3 USB
Outputs: Optical Digital Audio output
HDR: HDR10+, HLG
Other: THX certified, HCX video processor,
Technics soundbar
Web: panasonic.no
Price: 39,990 NOK
Web: panasonic.no
Price: 39,990 SEK
Web: panasonic.se
Price: 29,999 DKK
Web: panasonic.dk
Price: €3,999 (Finland)
Web: panasonic.fi
Modern TV's are getting ever more beautiful image quality, but the sound is worse. The slimmer the display, the less room there is for proper speakers. No wonder the sale of separate audio solutions has skyrocketed! A soundbar can significantly elevate the audio experience – the downside is that it takes up extra space, rarely looks particularly elegant, and introduces yet another remote control that you need to keep track of.
While Panasonic is probably primarily known for exquisite picture quality, the TX-65FZ950Es has also ensured that the sound has legs to stand on – literally. The boss in the Panasonic range combines excellent image quality with an innovative soundbar from Technics integrated into the base. FZ950 costs just a few hundred euro more than little brother FZ800, and boasts a significantly better sound.
Design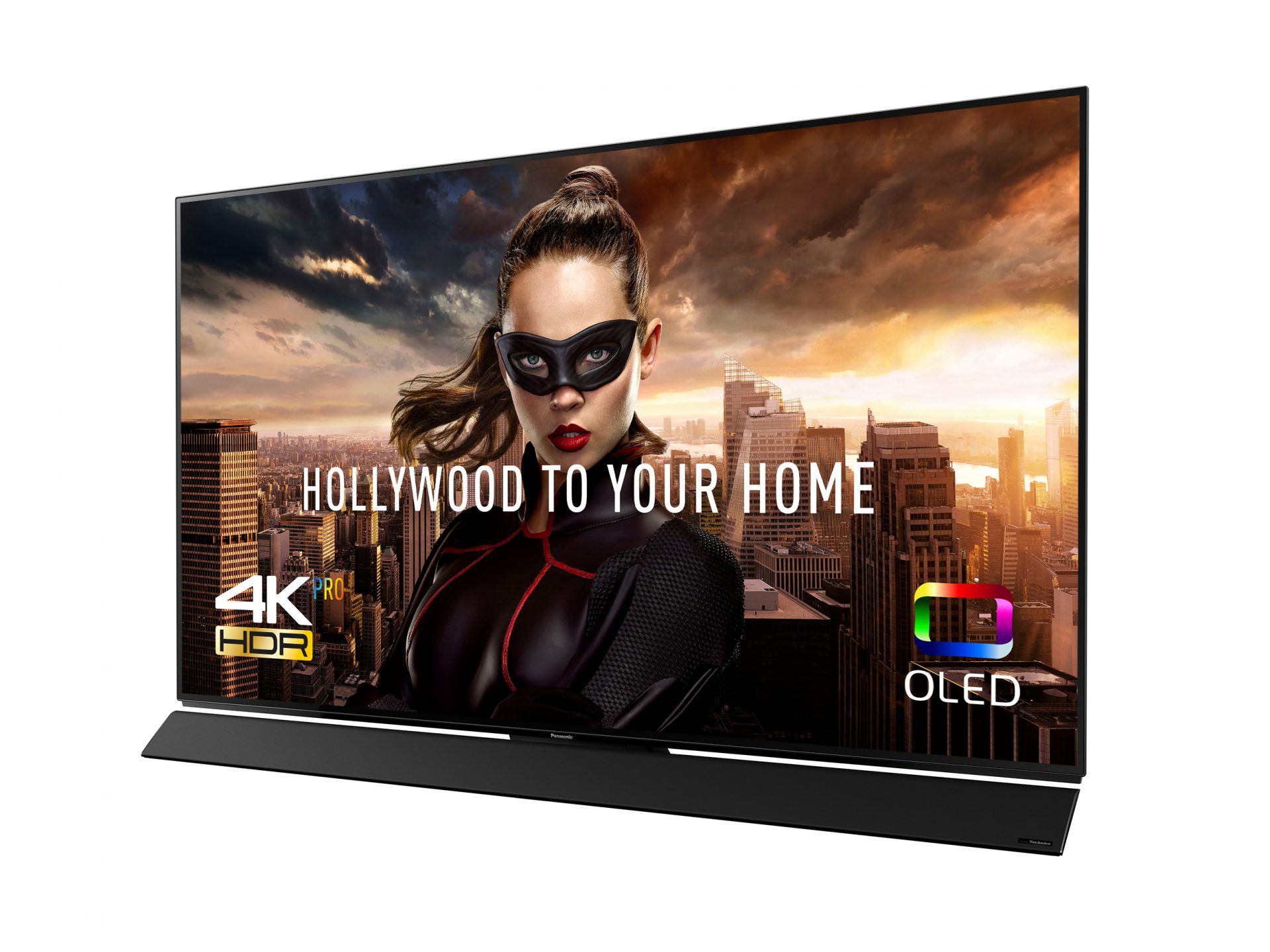 Appearance-wise FZ950 is very similar to its little brother, with a sleek black metal finish. The main difference lies in the audio solution. While the FZ800 stands on a standard metal foot, the FZ950 has its own speaker integrated into the base. It spans the width of the TV and is covered in speaker cloth to appear as discreetly as possible. The whole is a visually elegant solution – much less ostentatious than a separate soundbar.
Ease of use and details
FZ950 comes with two "premium" remote controls in exclusive metal finish.  One is a classic variation with a button for every feature. It also has lighting so you don't have to go fumbling in your darkened home cinema. The second control features a touchpad and built-in microphone – ready for voice control. However, Panasonic has not yet joined the Android camp and is still focusing on its own user interface, My Home Screen. This is a single menu system with a limited number of apps and gadgets, though it works well for the intended purposes. If you're missing an app or two, that can be solved with an external media player.
This Panasonic screen has great connectivity, with card slots for satellite dish, cable and terrestrial. It can also stream TV content to another TV in your house via the Internet (IP). Those with several 4K sources should note, however, that only 2 of the 4 HDMI inputs have bandwidth enough to cope with all types of 4K signals. Panasonic also has a lightning-fast dedicated game mode.  We measured the lag down to 18 milliseconds at the lowest.
Image Quality
The Panasonic TX-65FZ950E is built on the same mould as its little brother FZ800E: this involves an LG OLED panel of the latest type, coupled with Panasonic's own video-chip HCX (Hollywood Cinema eXperience) in the revamped version. The top-tuned video processor is jampacked with advanced image processing, and uses all of Panasonic's tricks to squeeze out more lifelike images. Including a new colour decoder with a 3D lookup table that analyses the image and defines colour nuances with greater precision than ever before.
While some TV manufacturers like to embellish the colours and perhaps jack up the sharpness a couple of notches too much, Panasonic is keen to preserve the original image without manipulation or additives. This lack of "spice" may cause the TV to look less impressive in the store next to more garish competitors – but it will be even better when you get it home!
FZ950 comes with a wealth of settings options and picture modes. "THX Cinema" is the most colour neutral of them all, but best suited for film viewing with muted lighting. The normal setting works great for regular TV viewing in lit rooms. The Panasonic screen offers colour reproduction that simply has to be experienced: Just play a nature documentary like Planet Earth II in Blu-ray and you're guaranteed to be impressed by the ultra-precise colour spectrum. The image is completely seamless, with zero tendencies to "banding" or visible gradations.
When you switch to a pitch dark action series like Altered Carbon it also becomes evident how Panasonic manages to dig more details from the darkest areas than the competition, without introducing noise or other problems. Where LG and Sony tend to "crush" the darkest grey tones, the Panasonic screen toils to preserve more picture information and depth. And when the laser beams whizz across the screen, Panasonic also has sufficient brightness to dazzle us.
The competitors from LG and Sony boast support for Dolby Vision — a video format that Panasonic has, somewhat surprisingly, chosen to drop. Instead, they've teamed up with Samsung, Philips and 20th Century Fox on an open, common standard called HDR10 +.  Both standards use the so-called dynamic metadata to give your TV more information about the lighting and contrast conditions of each scene — and thereby provide a better image experience. It's too early to say which of the standards will "win" in the end. Dolby Vision has a head start, while HDR10 + seems to be gaining ground as more manufacturers and content providers jump on board.
Sound quality
Panasonic's speaker base boasts the "Tuned by Technics" brand, indicating that the hi-fi division has had a hand in things during development. The speaker itself is a stereo three-way speaker system with a total of 80 watts power output, and this really makes an audible difference. While FZ800 gave quite a slender and trapped sound, its big brother serves up a far more open and potent sound. The treble is distinct with good resolution, with considerably more "air" in the soundstage. The important mid-range area is well rendered, providing considerably better speech comprehension. There is also plenty of bass to give extra fullness to voices as well as sound effects and music. You don't get the deep rumbling bass that only a subwoofer can provide, but in many cases it's good enough. With the exception of Bang & Olufsen's TVs, which are in a different price league, the Panasonic FZ950 is quite clearly among the best-sounding TVs right now.
Conclusion
Anyone who cares about realistic and lifelike images won't go far wrong with the Panasonic FZ950. In an era when both Sony, Philips and even LG use almost identical OLED image panels, impeccable credentials are required to stand out in the crowd. However, the Panasonic TX 65FZ950 has an ace up its sleeve with its advanced image processing, resulting in an extremely accurate colour reproduction. FZ950 shares all the best properties of its little brother, the FZ800, but it can also boast an elegant hi-fi quality soundbar – and it doesn't cost an arm and a leg. At the time of writing, the price difference between FZ950 and FZ800 is roughly 500 euro. In our opinion, it's worth it – solely for the sake of the sound!