This year's new top model from Panasonic – HZ2000 – has a lot to live up to. The predecessor gave the test panel a chin drop, and remains one of the best OLED TVs we have ever tested! With its strong image quality, resilient sound, wide format support and a wealth of advanced adjustment options, the GZ2000 was and is a true enthusiast model. As you know, there is no point in resting on your laurels!
For the model year 2020, Panasonic has upgraded the flagship model with a number of nice features for us video freaks. Newcomer HZ2000 has, among other things, got the super-correct Filmmaker mode, driven by the film industry in collaboration with Panasonic. It has also received smarter "IQ" image processing with a light sensor that adapts the image exactly to the viewing conditions. Otherwise, Panasonic has also this year teamed up with Technics in the development of the speaker system. Although several TVs can now boast Dolby Atmos support, not many can boast built-in surround speakers!
Design
In terms of appearance, there is little about the HZ2000 that reveals that we are dealing with an expensive high-end TV: the Panasonic screen has a straight and discreet design with straight lines, with a great design in black brushed metal. Apart from the shiny OLED panel, there is nothing screaming for attention here. The build quality has been completed, with solid dimensions on both the plinth and brackets.
We notice that the base is permanently mounted, and can not be rotated – this was a nice feature that we appreciated with the little brother HZ1000. The HZ2000 is generally slightly larger and thicker than its little brother, due to the extra Atmos speakers on the back. These mean that the TV will necessarily protrude slightly from the wall during any wall mounting. By the way, the HZ2000 weighs a good deal more than other OLED screens we have lifted up on the test bench!
Ease of use and features
Panasonic HZ2000 uses the latest version of Panasonic's own user interface MyHomeScreen (5.0), which has a very simple, clear layout. The menu system feels modern and personal, where you get recommended content on the home screen. You also get quick access to the many advanced adjustment options that the Panasonic monitor is equipped with.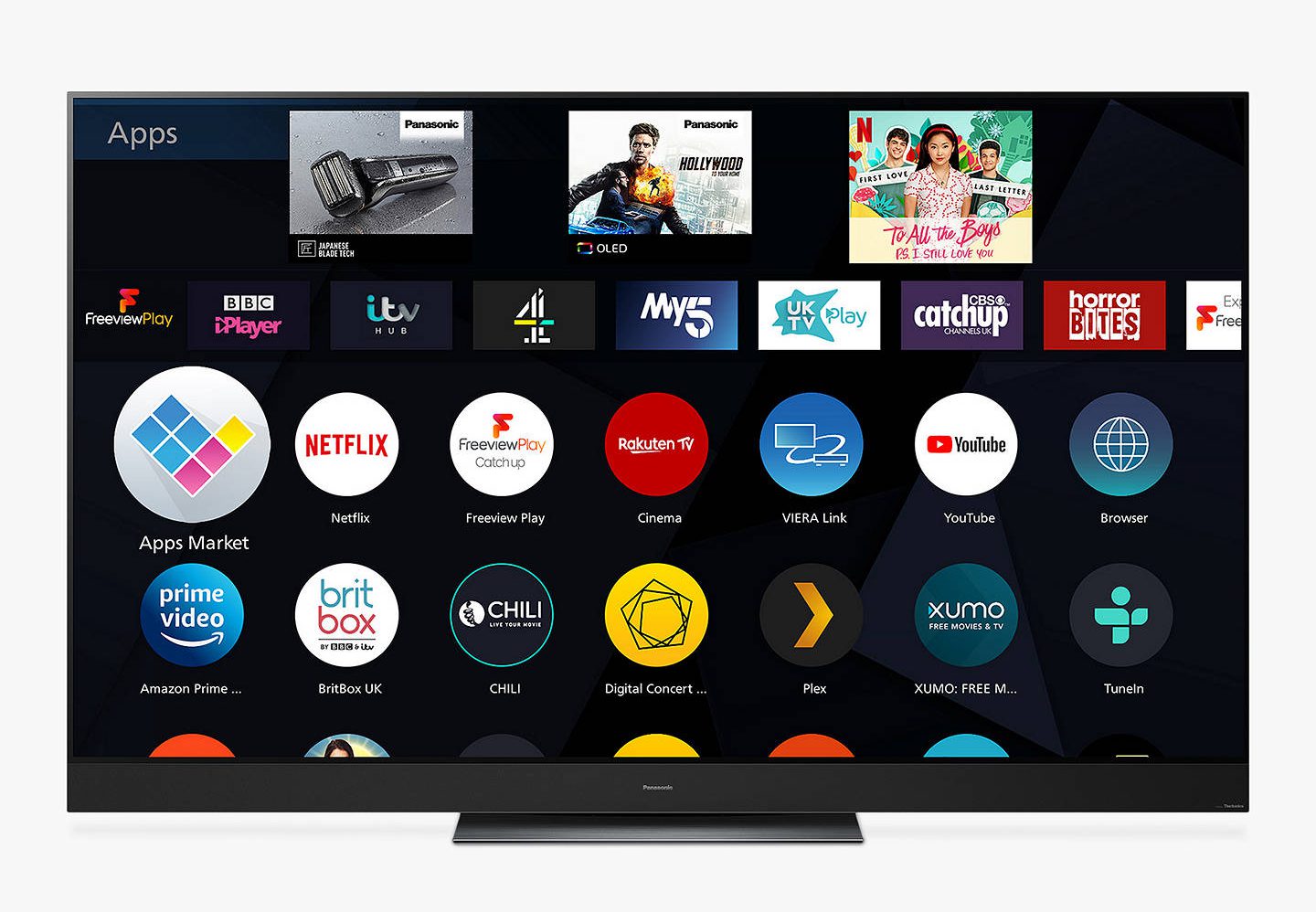 Unfortunately, Panasonic still has a relatively limited app selection. Apart from essential services like Netflix and YouTube, there are many popular services that excel with their absence. Here, for example, there is no HBO or Apple TV + on the menu, and there are no signs of Disney + either.
Those who want to take full advantage of the Panasonic HZ2000 should therefore definitely budget with an external video source. For example, Apple TV 4K, an Xbox or Playstation. Then you can in turn take advantage of the Panasonic monitor's wide format support: the HZ2000 supports both Dolby Atmos, Dolby Vision and HDR10 +, so that the content can be both seen and heard in optimal format. Here, Panasonic has a big advantage over competitors Samsung and LG, which each support their own standard, but not both. With the advent of services like Apple + and Disney +, both of which offer a lot of content in Dolby format, this has become even more important in the last year.
Panasonic both surprises and disappoints a bit when it comes to supporting modern HDMI 2.1 features. Apart from supporting HDMI eARC (high definition audio return channel) and ALLM (automatic low delay), it does not support features such as 4K / 120p (120 frames per second) or VRR (variable refresh rate). It can be a deal-breaker for those who want to use the TV with the next generation of game consoles. Input layer is also in the middle of the tree: We measured HZ2000 to 22 ms which is fast but far from class leading.
Image quality
Panasonic has a philosophy that differs from many of the competitors in the TV jungle. The Japanese producer works closely with Hollywood and the rest of the film industry, and is very concerned with preserving "director's intent". It is simply a matter of reproducing video content that is as faithful as possible to the original: Directors, filmmakers and colorists often have a specific idea when choosing lighting and color scheme. These small nuances can be lost in the worst case if the TV adds too much spice and sauce. That's why Panasonic is committed to being extremely thorough, but also careful when it comes to image processing.
The image panel used in the HZ2000 is also not an ordinary off-the-shelf product, but a specially selected professional panel from LG Display. The panel is equipped with extra passive cooling (cooling fins on the back), which enables it to withstand higher sustained brightness – about 200 nits more than ordinary OLED panels!
Brightness is an area where OLED is often criticized and is somewhat overshadowed by the brightest LCD screens. That is why it is gratifying that Panasonic's engineers have found a solution that allows them to boost the brightness considerably. This provides a visible improvement on almost all types of image material, but above all on modern video in HDR format.
The HZ2000 has noticeably more sparkle and glow in the brightest HDR details, giving a captivating and lifelike effect. The rendering of a bright sky takes on lots of nuances, which tend to flatten or disappear on less capable OLED screens. The HZ2000 is equipped with an intelligent light sensor that adapts the image to the surroundings, and the increased brightness simply ensures that the TV has more to go on, even when watching TV in bright surroundings.
The Panasonic screen also has a really impressive black level. Black appears as real black, as we have become accustomed to with OLED, but the HZ2000 also manages to reproduce the many dark gray gradations that tend to drown in black on other screens. Here, the intelligent light sensor helps by pulling up the gamma curve in a bright environment, and increases the details in gray without it having a noticeable negative effect on the image. The dark cave scenes from Gemini Man are reproduced brilliantly, with all the details preserved.
The Panasonic screen otherwise excels with extremely even light distribution, even to OLED to be. The expensive image panel shows no signs of irregularities such as vertical streaks, visible ribbons / shades or other quality problems with the panel itself. The improved cooling also contributes to the screen being less exposed to temporary burn-in: we did not experience any problems with bright objects such as channel logos, text or test windows "hanging" on the screen surface.
This so-called professional panel actually works so well, that we wonder why LG does not offer something similar on its own TV models! The answer to that probably lies in the price, because the HZ2000 obviously costs a pretty penny extra compared to LG's own CX model. But when we consider the quality, there is actually no price the Panasonic takes for the HZ2000. Too bad it does not come in 77 "!
Filmmaker Mode
The HZ2000 comes with a variety of preset picture modes such as movie, Dolby Vision and Netflix Calibrated Mode, all of which provide a neutral picture. New on this year's model is the much talked about Filmmaker Mode, which goes on to be "Hollywood directors' own picture mode". This is an image mode that is adjusted to give neutral images with the least possible image manipulation (artificial sharpness, smoothing, etc.), all to be as true as possible to the original. This setting is also "locked" from the factory so that you can not make any custom changes afterwards.
The undersigned has previously been a bit skeptical about the usefulness of Filmmaker mode, all the time it is possible to achieve a similar result with other good picture settings. But eventually I have to admit that it gives a certain "peace of mind" to have a picture mode that gives top results right out of the box! Filmmaker Mode did excellent in our measurements, with an almost string-straight color balance.
Sound quality
The Panasonic HZ2000 is equipped with a relatively comprehensive sound system: In addition to standard, forward-facing speakers below the screen, there are two additional speakers on the back. These are dedicated "height channels" – designed to reproduce the extra height information from Dolby Atmos audio tracks. In addition, Panasonic allows you to connect an external subwoofer via an additional, volume-controlled audio output.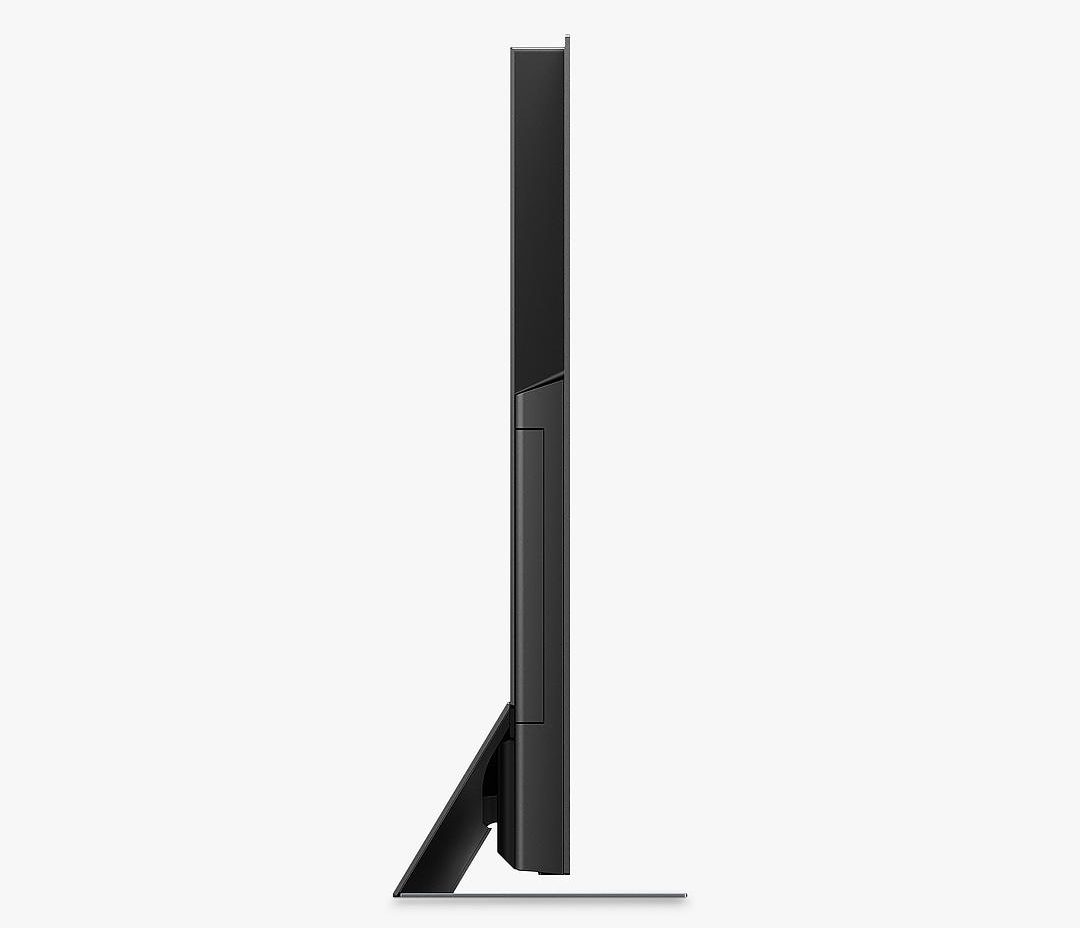 Although we have been testing several potent soundboards lately, we have to say we are very happy with the built-in sound in this case. In contrast to the diffuse and confined sound that characterizes the majority of TVs, the Panasonic screen has a strong, clear and distinct voice reproduction that comes straight out at us. In addition, the hidden Atmos speakers manage to give an captivating surround effect. It sounds best when we place the TV screen close to the back wall and make the right adjustments in the setup menu. The sound is also rich with a great foundation for music and sound effects. An active subwoofer will probably be the icing on the cake in this case. Although a TV of this caliber clearly deserves an external sound system, it's nice to know that the built – in speakers do a great job!
Conclusion
With the HZ2000, Panasonic has committed another TV in the real reference class. The HZ2000 benefits from an extra expensive OLED panel, which boasts better brightness and contrast than the competition. The image processing is superb, and ensures that all video content can be enjoyed in neutral, true-to-life but still engaging image quality.
Therefore, we can forgive that the HZ2000 lacks some of the latest streaming services, a couple of connectivity options, and that the user interface feels a bit outdated compared to some of the competitors. The only thing we really miss from Panasonic is a larger 77 inch version. Pictures in this quality class deserve to be enjoyed in extra large format!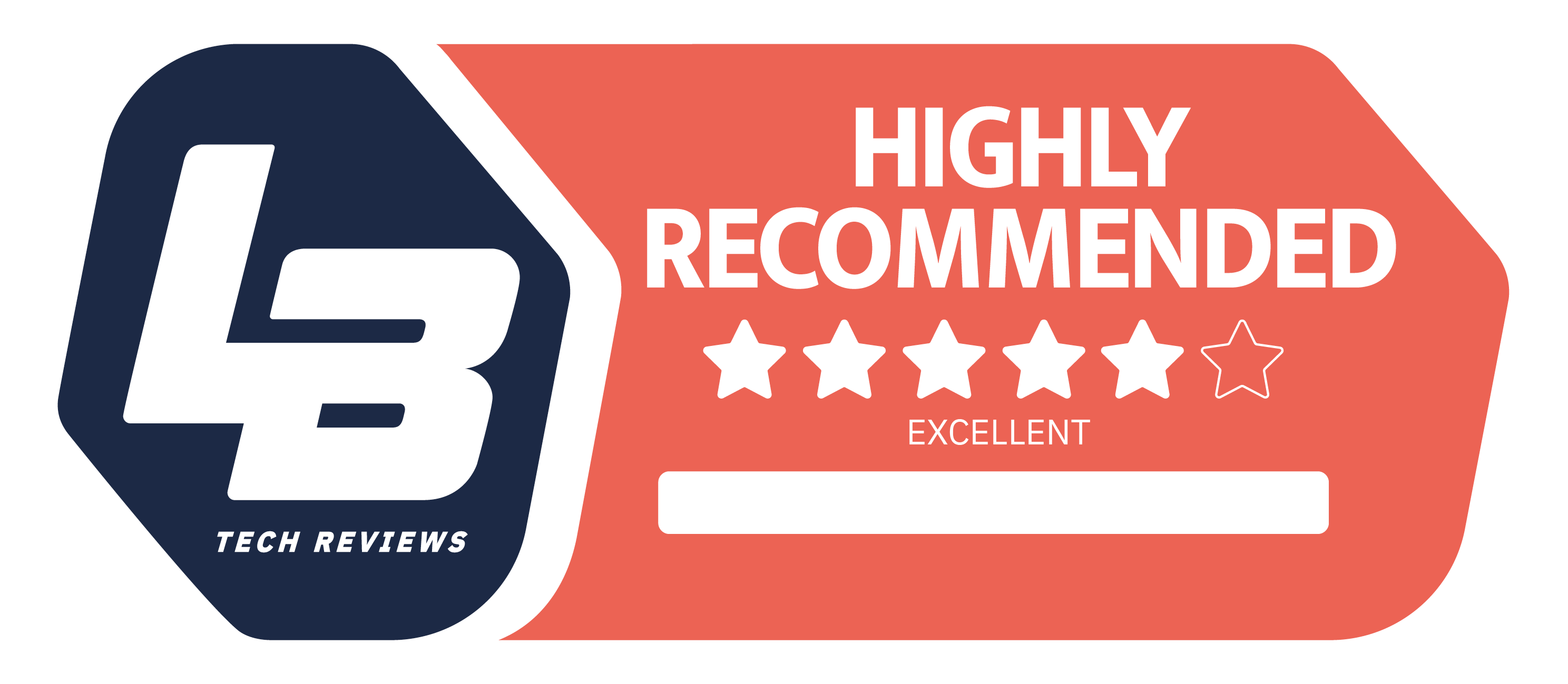 Panasonic HZ2000 (TX-65HZ2000E)
High End
We think
Panasonic's top model serves true-to-life images in reference quality, with extremely precise color balance and super even grayscale, plus raw brightness and contrast!
The Panasonic monitor does not support all the latest HDMI 2.1 features, and lacks a number of apps in the portfolio, including Disney +. In addition, we want a larger screen than 65 "!