Audun Hage
Published

2020-08-11 - 1:42 pm
Panasonic HZ1000 provides superb image quality with stark contrast and natural colors. It has very precise picture mode, which allows you to watch movies and series in almost studio quality!
The Panasonic monitor has limited app selection, nor does it support all the latest HDMI 2.1 features.
Specifications
Size / type: 65 "4K OLED
Resolution: 3840×2160 (4K Ultra HD)
Operating system: My Home Screen 5.0
Inputs: 4 HDMI (2.0b), 3 USB
Outputs: Optical digital audio output, HDMI eARC, Sub out
HDR: Dolby Vision, HDR10 +, HLG
Other: HCX Pro video processor
Panasonic is a manufacturer we have learned to trust when it comes to TV. The Japanese manufacturer does not use as many "big words" and fancy expressions as some other TV manufacturers, but they usually deliver the goods when it comes to performance and quality! A good example is last year's OLED flagship GZ2000, which gave the test panel a chin drop and was close to making our measuring instruments kneel with admiration…
This year, Panasonic is back with a new range of OLED screens aimed at the discerning image enthusiast. And we notice that even the most affordable model has got quite hairy specifications and an abundance of features. The carpet goes up for HZ1000!
Panasonic TX-65HZ1000: Design
The Panasonic screen comes in 55 and 65 inches, and has a design that is very easy to like. Like most OLED screens, it has a slim and tight design, with a slightly thicker part at the bottom of the back of the screen, where speakers and electronics are hidden. The build quality feels a little more exclusive and lavish than average – just as we have become accustomed to from Panasonic.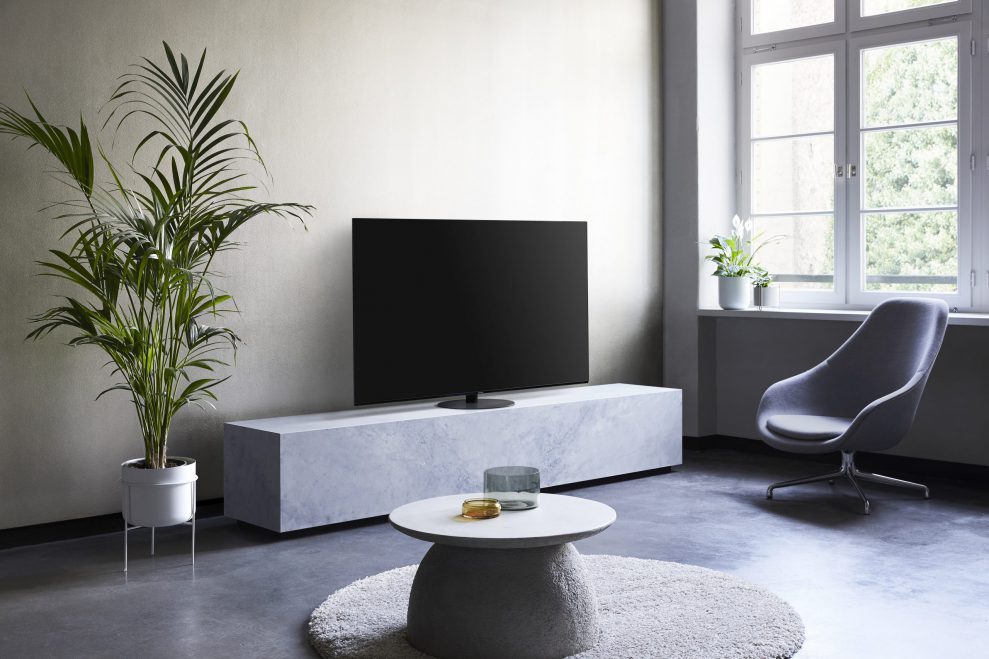 The center-mounted base is easy to mount, and gives a solid impression. It also has the advantage that it can be rotated – nice when the TV is in a corner of the room, or when you have several alternative seating positions. The TV is very easy to mount, and Panasonic has ensured that cables can be routed hidden down through the base. If you choose to wall-mount the TV, it is nice to know that the connectors face to the side and do not take up unnecessary space backwards.
Ease of use and features
The remote control that comes with the HZ1000 is of the faithful and traditional IR type that Panasonic has used for many years. We would have liked to have seen Panasonic soon update to a less directional Bluetooth variant.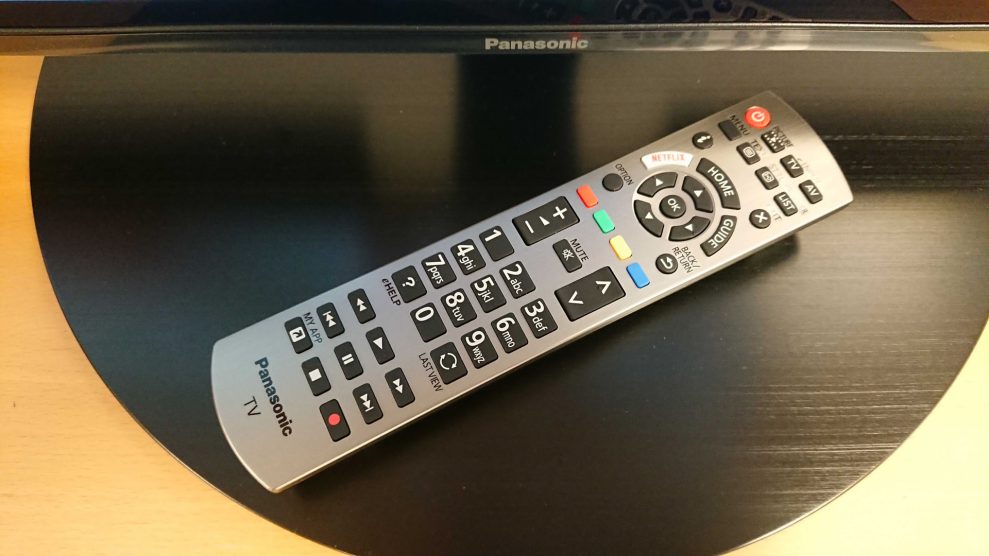 When it comes to operation and user experience, there is also no revolution in this year's model compared to previous generations. The 2020 models do use an updated version of Panasonic's own user interface MyHomeScreen (5.0), which has a very simple and clear layout. The menu system feels a little more modern and personal, where you get recommended content from Netflix and YouTube on the home screen. The system also provides easy access to all the advanced adjustment options the Panasonic monitor has to offer.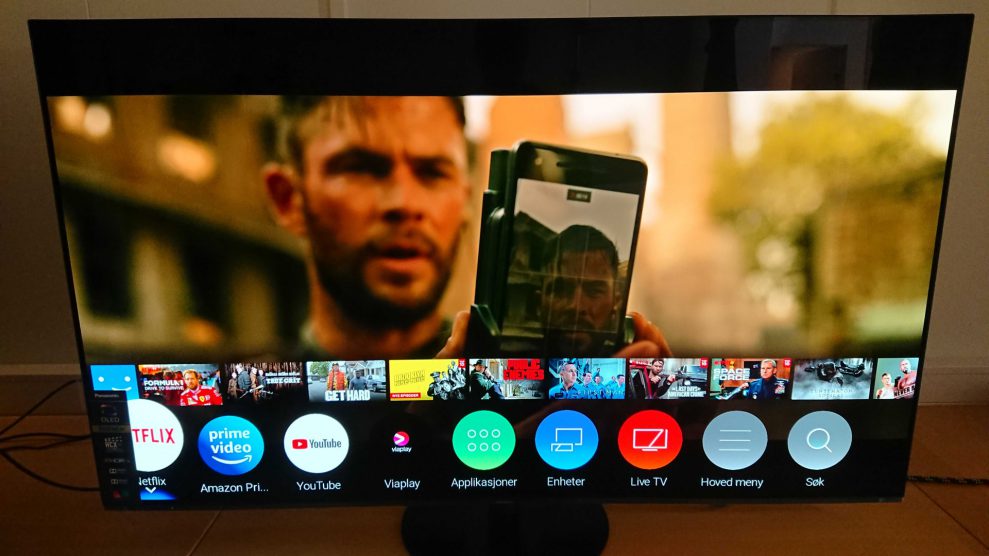 The downside of the medal is that Panasonic, just like previous years – has a relatively limited app selection. Those who are "series fanatics" will probably miss streaming services such as HBO and Apple TV +. Panasonic also has no (as far as we know) plans to include Disney + when this service arrives in the Nordics. Without support for AirPlay 2 or Chromecast, sharing content from your mobile phone becomes tricky.
Those who want to take full advantage of the HZ1000 will probably therefore feel the need for an external video source such as Apple TV 4K. Then they can enjoy good format support (including Dolby Vision and HDR10 +) which ensures that the content can be viewed from its best side.
The Panasonic HZ1000 does not have a built-in voice assistant, but still has passive support for Google Assistant and Amazon Alexa. If you have a smart speaker that is compatible with Google or Amazon, you will be able to easily control TV features via it.
Does not support HDMI 2.1 – only partially
Panasonic is equipped with 4 HDMI inputs, but must do without any of the latest features the standard has to offer. Specifically, you can take advantage of ALLM (Auto Low latency mode) and eARC (enhanced Audio Return Channel). The former ensures that the TV automatically switches to low delay when it detects a game console. The latter is an enhanced audio return channel that sends high-resolution audio signals to compatible audio planks.
However, Panasonic does NOT support so-called VRR (Variable Refresh Rate) or HFR (High Frame Rate – 4K / 120 fps). This will probably disappoint the most avid gamers out there – especially since LG's new 2020 OLEDs now support all these features.
Speaking of gaming: We measured the Panasonic screen to an input layer of 22 milliseconds, which is exactly the same as last year's model GZ960E. It's fast enough for most people, but still a little behind the best who now record times of 10 milliseconds or lower.
Image Quality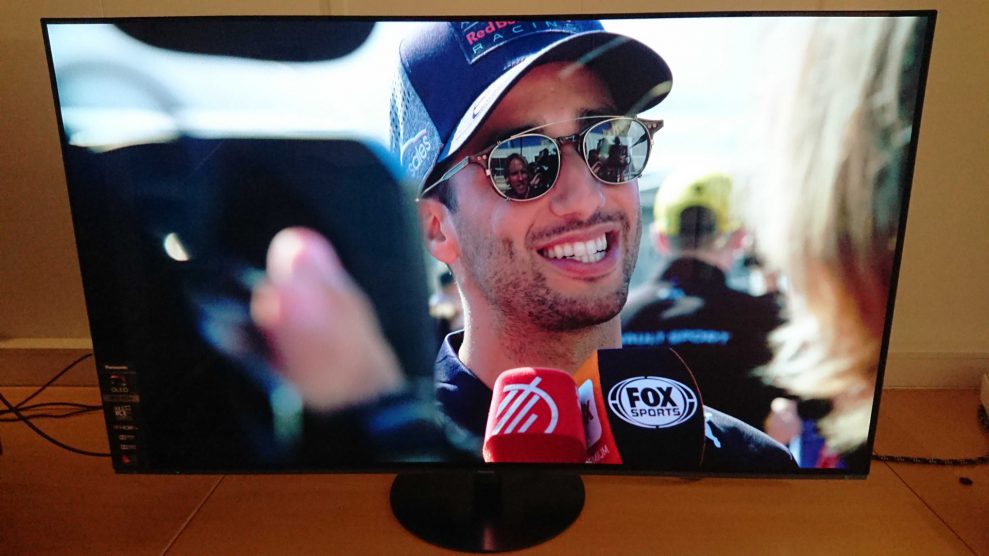 The HZ1000E model is the most affordable of three OLED models from Panasonic this year, but it has a lot in common with the big brothers HZ1500E and HZ2000E when it comes to picture quality. Like these, the HZ1000E uses a new image panel from LG Display, combined with Panasonic's own image processing. The video processor is the well-known HCX Pro, which is only used in the roughest top models.
Panasonic has succeeded well with this recipe in previous versions, and it does not take long to confirm that the HZ1000 also has the family tree in order. The Panasonic screen looks very impressive "straight out of the box", before we have time to make a single setting or fine-tuning.
The first thing that strikes us is the juicy contrast and the almost bottomless black level.
Recently, we have tested impressive LCD screens with LED backlights such as the Samsung Q80T and Q800T, which definitely breathe OLED in the neck in some areas. Still, there is something special about the Panasonic screen and the way it handles demanding, dark movie scenes.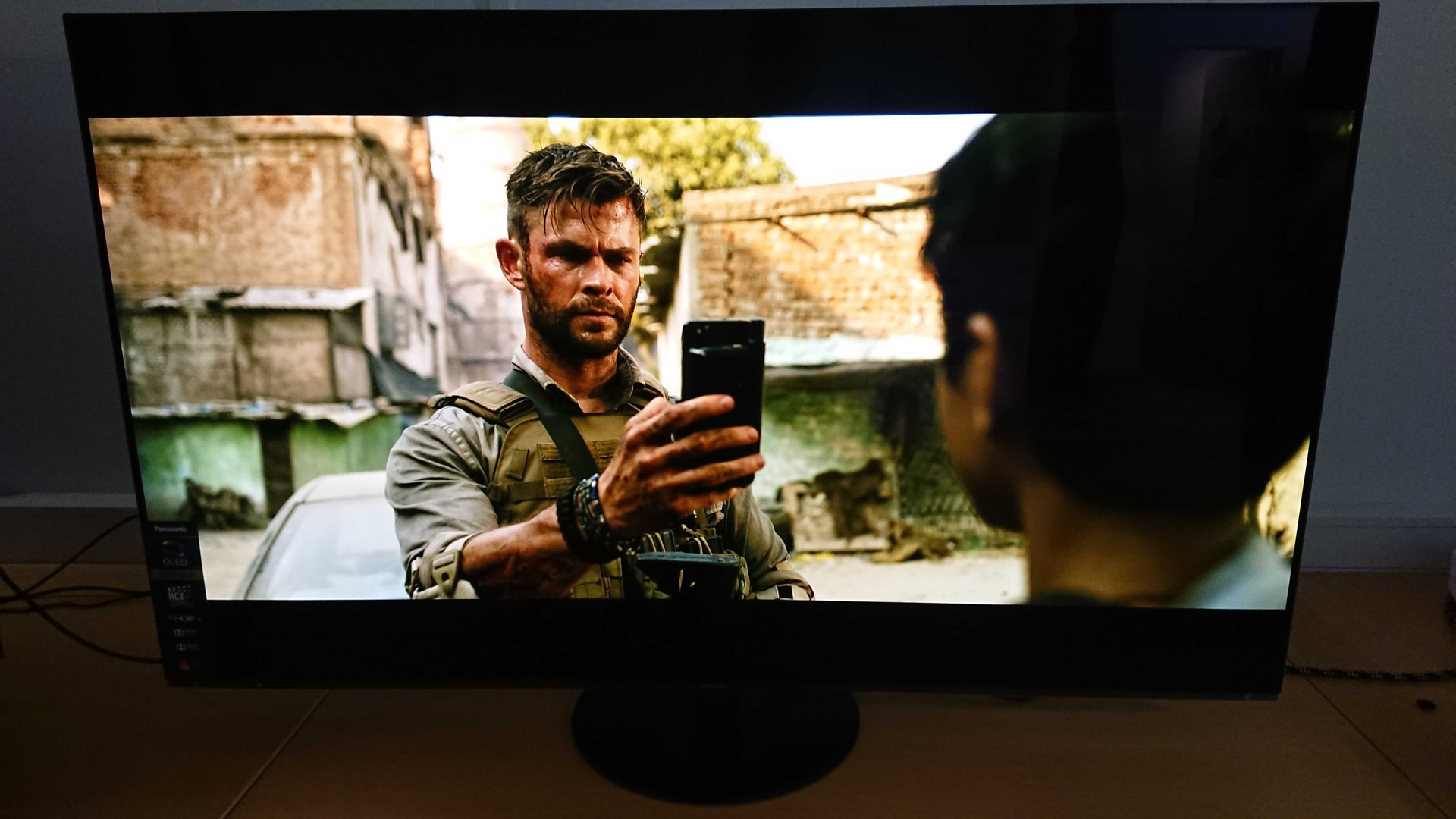 Take, for example, the fast-paced hostage hunt in the Netflix movie Extraction, which cuts fiercely between scenes in daylight and muffling dark underground action. Here the contrast is really put to the test, but the Panasonic screen gives us the images with raw dynamics, even in the most difficult parts where many LCD screens have to give lost. Not only that: the HZ1000E also has noticeably more detail in the darkest scenes than we have seen with several OLED competitors, including LG's OLED65E9. Here there are no tendencies to so-called "black crush" or noise.
The Panasonic screen is also a good example of how it is possible to create impressive images, without going crazy with the color controls. The color reproduction is extremely nuanced and even in the shades, at the same time as the colors are experienced as fresh and intense. During the testing, we checked out the Michael Jordan biography The Last Dance, and the bright red suits of the Chicago Bulls got a wonderful intensity, without it being too much of a good thing.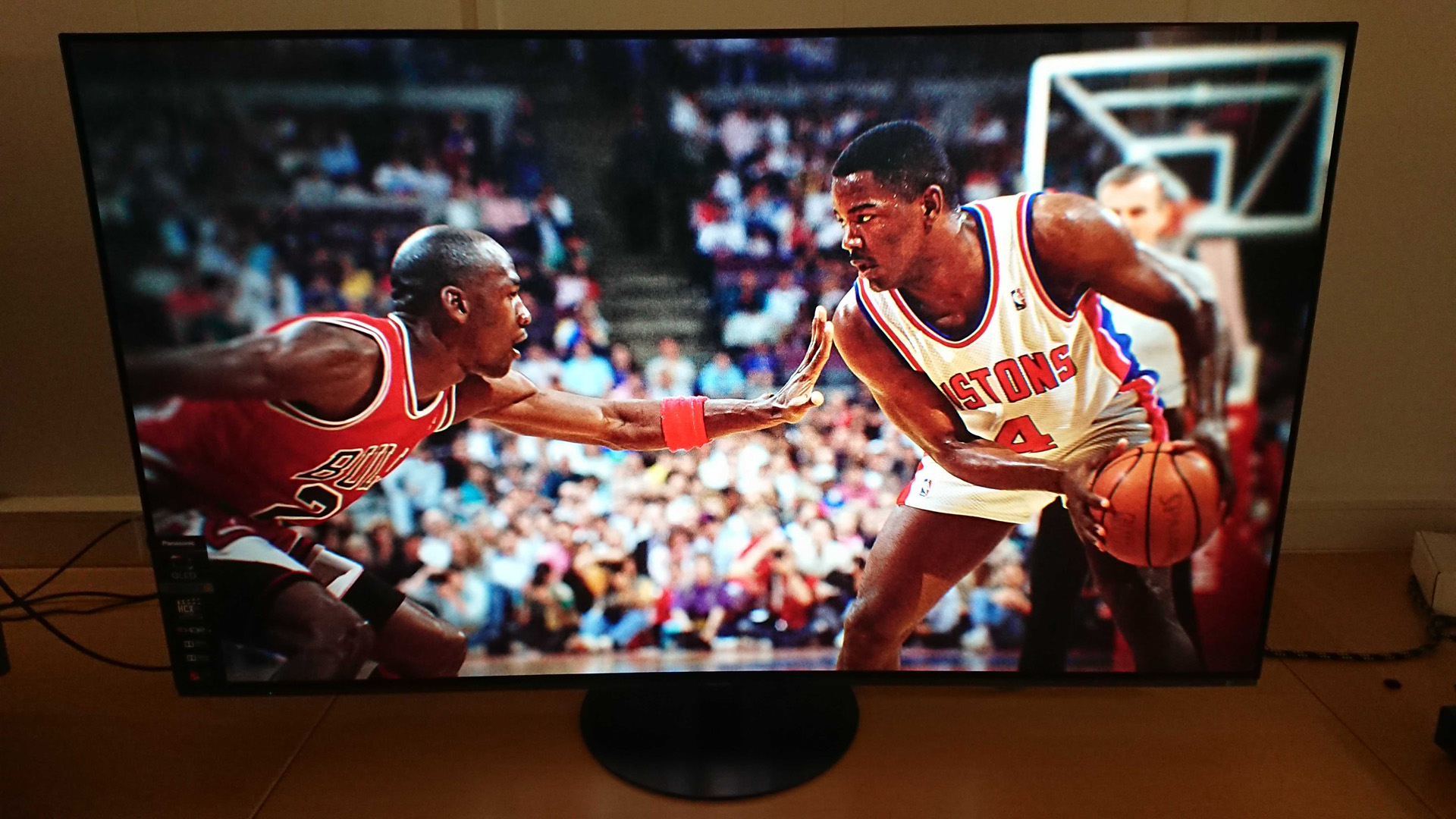 The Panasonic HZ1000 looks great with modern 4K video in HDR format, but if possible we are even more impressed with how it handles older and lower resolution video material. The aforementioned Jordan documentary contains many interviews, match footage and background material from the 90's (recommended!). Some of the footage from the Bulls' heyday actually looks quite frightening, but Panasonic "saves" them with good upscaling, effective noise reduction, and not least super-smooth movements.
The movements have been really good on this year's model. Panasonic's interpolation (Intelligent Frame Creation) smooths the movements and reduces flicker without creating any annoying side effects. In addition, Panasonic has added a new feature called Black Frame Insertion, which helps to make the motion sharpness even better. Thus, even old recordings can be given new life, without looking artificial.
The biggest difference between the HZ1000 and the flagship HZ2000 lies in the brightness. While the top model's special panel manages to squeeze out as much as 900 nits in the brightest parts, the HZ1000 is more at an average OLED level of around 650-700 nits measured with 10% of the screen in white. It gets quite tame compared to the roughest LED screens, which can handle up to twice as much, and can also maintain a higher brightness over the entire screen area. This is primarily noticeable on content in HDR quality, in that bright areas such as sunlight, flames and the like do not feel as glowingly intense.
Under normal viewing conditions and slightly dim lighting, the Panasonic screen has more than enough gunpowder. It is only if you watch a lot of TV during the day and have a lot of light in the room, you will be able to experience that the picture becomes a little dim.
Dolby Vision IQ – built-in "IQ sensor"
The Panasonic HZ1000 is equipped with a wealth of advanced video features, and allows you to adjust so many different picture parameters that even an advanced TV user can be a little overwhelmed. Ordinary TV viewers can be directly intimidated! The remote control becomes like a powerful weapon that can destroy a lot if it ends up in the wrong hands…
Fortunately, Panasonic has also added some image settings that you can select and then leave with the certainty that the images are handled optimally. A good example of this is the new Dolby Vision IQ setting, which ensures the correct display of HDR video.
The IQ function combines local measurements from the TV's built-in light sensor, with metadata from the HDR video stream to select the correct brightness according to the conditions. This feature worked very well, helping to elevate the level of detail in dark scenes. We preferred to use this for all Dolby Vision content from Netflix and Blu-ray.
Filmmaker mode – Hollywood directors' image mode
Do you remember the video from 2018 with Tom Cruise and director Chris McQuarrie who was outraged by TVs with soap opera-like "motion smoothing"? Since then, TV producers have tried to cater to the film industry with less intrusive picture modes. Panasonic has joined forces with other TV producers to create the so-called Filmmaker Mode, a certified TV mode that shows movies and series exactly as they are meant to be seen. Specifically, it is a mode with neutral color settings, where many of the TV's own video features – including so-called interpolation / motion smoothing – are turned off.
We have of course tested the Panasonic screen with Filmmaker Mode activated, and in our view there is no direct revolution. Fine-tuning the colors and turning off excessive image processing is something experienced TV users have been doing for years. Besides, Panasonic has long been among the best in the class anyway, with its own professional and cinema settings that do very little wrong. That said, it is undeniably both reassuring and time-saving to have your own mode that automatically selects the optimal presets for us! We sleep a little better at night, knowing that Christopher Nolan and Martin Scorsese have approved our TV settings…
Sound quality
The Panasonic monitor does not have a particularly expensive sound system. However, it is worth mentioning that it has its own subwoofer output! The HZ1000 supports Dolby Atmos on paper, but without additional speakers it is limited to pure decoding of the audio signal. If you want a more vibrant internal sound, it is a good idea to go for the big brothers HZ1500 or HZ2000 which can boast dedicated "height speakers".
However, connecting an external soundbar to the Panasonic monitor is a narrow matter. The HZ1000 supports the enhanced HDMI eARC audio return channel, which allows you to take advantage of high-definition audio signals. If you connect a 4K Blu-ray player, you can connect it directly to the TV, and drive the full bandwidth sound to the soundboard. We tested this feature with the brand new Atmos soundboard Sonos Arc, and there was no doubt that high-resolution sound gave a noticeable boost. The Atmos sound from streaming services such as Netflix has a slightly lower resolution, but the HZ1000 gives a good response here as well, and worked smoothly with the new Sonos board.
Conclusion
Panasonic's latest OLED display is again a revolution compared to last year's models, which already maintained very high quality. Nevertheless, the HZ1000 has some important features that help to elevate the picture and sound experience a notch.
The HZ1000 is aimed at enthusiasts who want "the little extra", but you do not have to be an advanced user to appreciate the good image quality. Panasonic has added some nice automatic features (including Dolby Vision IQ) that ensure optimal image display according to the conditions while maintaining the artistic integrity. Here you can simply turn on the TV and feel confident that you see the pictures exactly as the producers intended it to look!