Audun Hage
Published

2019-07-05 - 6:05 pm
E9 is a very complete TV with stylish design, strong picture quality and crystal clear sound.
Although the picture quality is excellent, it is very similar to the slightly cheaper C9 series. The brightness is slightly lower than what you get LCD TV with QLED technology.
Specifications
Size / type: 65 "4K OLED
Resolution: 3840×2160 (4K Ultra HD)
Operating system: WebOS 4.5
Inputs: 4 HDMI, 3 USB
Outputs: Optical digital audio output
HDR: HDR10, Dolby Vision, HLG, Technicolor
Other: Dolby Atmos compatible
Web: lg.com
The LG OLED65E9 is packed with the most advanced imaging technology currently available. In addition, it has more lavish sound, design and finish than the cheaper B and C models. This is simply LG's best offer for a real high-end TV, within reasonable limits. The question is whether it offers enough extra to defend the extra price?
OLED bonanza
LG gradually has so many different OLED series in the range that it can be tricky to get an overview. In general, you can say that the further out in the alphabet you get, the better (and more expensive) it gets.
If you want the rawest and can afford it, you naturally choose the Z model with 8K resolution. If you want an OLED that can be rolled up in a box, choose R9. For the design-conscious, the jam-thin W9 "Wallpaper" is probably the big dream. But for those who want a luxurious OLED with a beautiful image, without the price going up completely, the E-series will be a good alternative.
Design
In terms of appearance, there is no doubt: Compared to the otherwise excellent C9 series, it is clear that LG has spent more resources on the design. While C9 and B9 have standard metal framing, E9 is characterized by the OLED panel being glued on top of a glass plate, which stands slightly reclined directly on the table.
The glass plate helps to stiffen the delicate OLED panel, and reduces unevenness (wave effects) on the screen surface. It also helps to increase weight significantly. But most of all, it gives it an appealing look. Together with the foot that is hidden on the back, a visual effect is created where the TV screen floats over the table top.
The look is definitely nice, but beware: the glossy screen surface can give quite annoying reflections when you sit in a bright room. If you are going to use the TV in a living room with large windows and lots of sunlight, you should take precautions to avoid mirror images.
Ease of use and features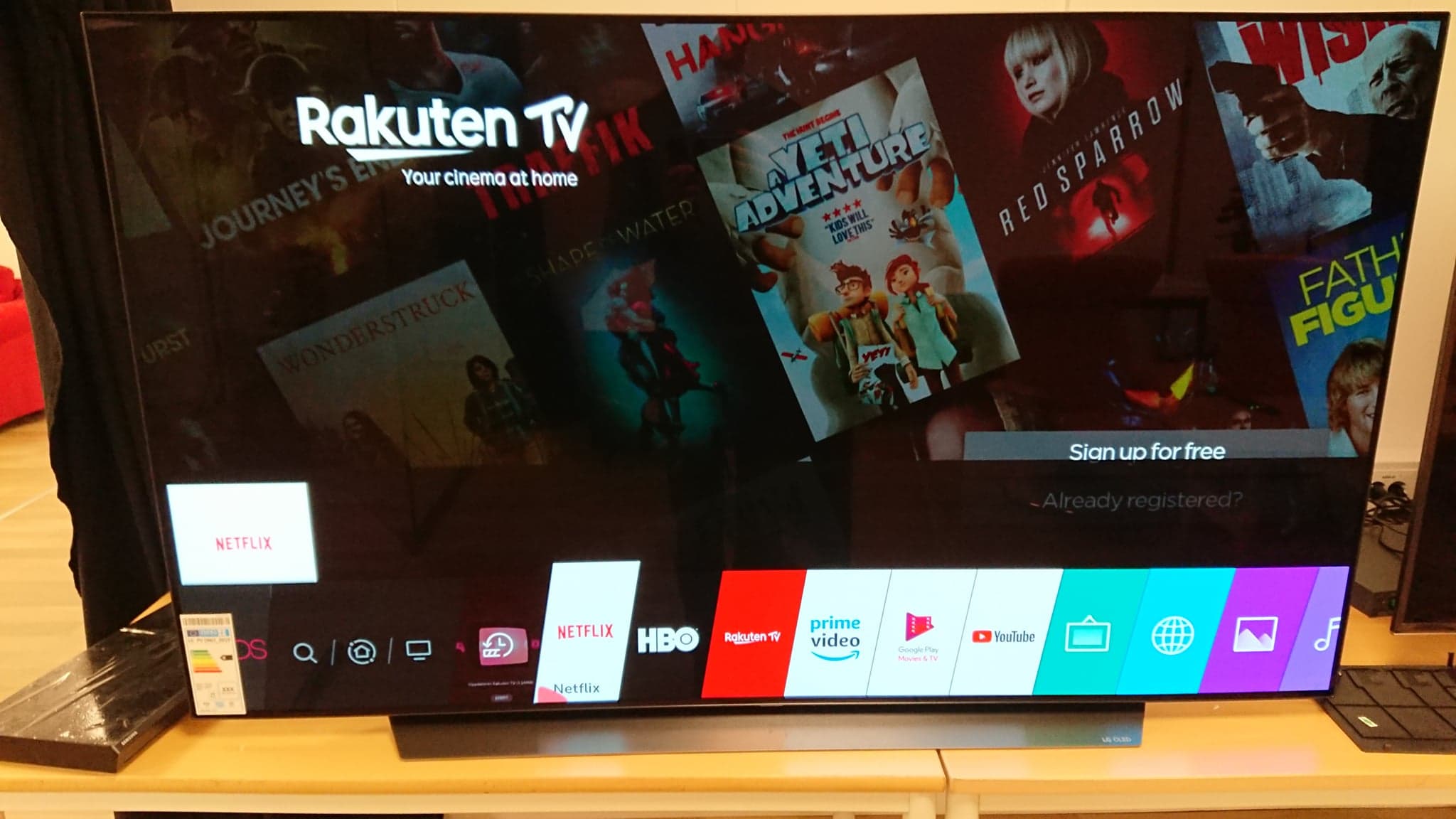 LG is among the best in the class in terms of ease of use, operation, connectivity and support for various video formats. The new HDMI 2.1 inputs help make the TV more future-proof than many of its competitors. With new advanced game consoles such as Playstation 5 and Xbox Scarlett "just around the corner", this may be worth thinking about! The 2.1 standard allows for 4K video with a frame rate of up to 120 frames per second. An improved audio return channel (eARC) also provides better audio quality between the TV and advanced audio boards.
On the content side, it's gratifying that LG can now boast support for all the major streaming apps, with HBO and Amazon as newcomers in addition to Netflix. Support for Google's voice assistant is also in place, although support for Nordic languages ​​is long overdue. LG also has its own voice assistant, Thinq AI, which can be used to operate the TV's many functions using the voice. We will return with a more thorough comparison test of voice-controlled smart TV systems later this autumn!
Image quality
OLED's many advantages are gradually becoming familiar to most people: Canonically strong contrast, carbon black level, pixel-level light control and a color reproduction that looks equally good from all angles. If you are sitting with an older TV, the difference will be experienced as enormous, and even relatively modern LCD screens can almost look defective next to an OLED.
The challenge for LG and other manufacturers that offer OLEDs is that all the image panels come from the same factory (LG Display). To stand out from the competition, it is therefore crucial to have the best possible image processing, and here LG is equipped with an extremely powerful "image engine": The new A9 video processor reportedly uses AI technology (artificial intelligence) to create optimal image quality. But fear not – the TV is unlikely to become self-conscious and hostile like Skynet for that reason!
AI in this case is just about the algorithms used by the video processor being developed using machine learning. This way it can analyze the image material, and automatically know how to scale up a low-resolution image as best as possible, or remove noise most efficiently etc.
Artificial intelligence or not, we notice that the image processing works unabashedly well. Like the C9, the E9 has the ability to make even different types of mediocre content (image quality, not necessarily the action) look great. This is especially evident on coarse-grained YouTube clips as well as older SD series TV series. OLED65E9 brings out details and nuances without "messing it up" with too aggressive noise reduction, which can otherwise make the image look artificial.
Previous LG generations have received some criticism for uneven movements, but here too there has been a great improvement. The LG OLED65E9 has very smooth and seamless movements, and follows the action on the screen without jerks or nips. In those cases where you want to preserve the classic movie feel, it is possible to turn off interpolation in the settings menu.
If you want a perfect picture experience, however, 4K resolution and HDR quality apply. And here the LG screen is really in its ace. We sat down with season 3 of Stranger Things via Netflix, and it's clear that we are dealing with a real high-end TV. OLED65E9 serves the images with intense contrast, voluminous colors and – for OLED to be – impressive brightness. In fact, there is noticeably more gunpowder in the brightest parts here than we have seen on any OLED so far! The competitor from Sony (KD-65AG9) has significantly lower contrast and image dynamics, even when we turn the controls to max. Here it is clear that LG has chosen a different image aesthetic – and it works. The eyes are immediately drawn to the strongest light source, without any apparent negative disadvantages. The brightness is not on a par with Samsung's QLED screens, but for OLED to be, the LG E9 is in a class of its own.
LG has traditionally faced stiff competition from specialists such as Sony and Panasonic when it comes to accurate images, but in this year's generation, they have really gotten to the image processing, to a point where they can be difficult to surpass.
Sound quality
Older generations of the E-series have had a comprehensive speaker solution, with a separate "soundboard" integrated in the shelf. On the newer E-models, this is apparently somewhat scaled-down, with only a small gap below the image panel. This may not give the very high expectations for sound, but then you are wrong.
Behind the façade hides a more powerful amplifier and dedicated subwoofers. The LG screen also comes with automatic room correction, which fine-tunes the sound according to the acoustics in the room. It uses the remote control's built-in microphone.
The forward-facing speakers provide a clear and distinct reproduction of both voices and sound effects. In fact, there is also usable fullness in the bass area – a clear step up from the C9 model acoustically. However, the E9 cannot quite compete with Sony and their Acoustic Surface sound technology. While Sony AG9 offers a powerful sound reproduction that allows you to do without a soundboard, the LG E9 is more "good for TV to be".
Many people will probably therefore want to use a soundboard together with E9. Then it can be good to know that the TV supports Dolby Atmos both internally and via the HDMI output. It allows you to connect all sources through the TV, and also enjoy Netflix with optimal sound quality.
Note! If you are considering using a soundboard with your LG monitor, it should be on a shelf above or below the TV. Otherwise it will shade the glass and ruin the nice look. You can of course choose to wall mount E9 as well, but then some of the point with the gorgeous foot and glass plate falls away in our opinion.
LG OLED65E9: Conclusion
For those of you who are not content with having the best picture quality, but also want a TV with tasteful design and good sound, the E9 series from LG is an excellent choice. While previous generations of the E-series have cost a little more than they taste, you get full value for money with this year's E9 model. For just a few thousand bucks more than LG's own C9, you get an aesthetically pleasing TV with noticeably better sound. The only shard in the joy is that it does not come in a 77 "edition!