Audun Hage
Published

2019-02-12 - 10:50 am
Superb contrast, black level and colour reproduction combined with broad format support make this a serious "binge-watching" screen.
Despite its delectable appearance, E8 doesn't quite justify the extra cost compared with little brothers, C8 and B8.
Specifications
Size/Type: 65" 4K OLED
Resolution: 3840×2160 (4K Ultra HD)
Operating system: WebOS 4.0
Inputs: 4 HDMI, 3 USB
Outputs: Optical Digital Audio output
HDR: HDR10, Dolby Vision, HLG, Technicolor
Other: Dolby Atmos compatible
Web: lg.no
Price: 57,990 NOK
Web: lg.com
Price: 57,990 SEK
Web: lg.com
Price: 39,999 DKK
Web: lg.com
Price: €5,699 (Finland)
Web: lg.com
From the start, OLED has been a technology we associate with sleek design, high performance – and high prices. Now prices are on the way down, and today it's actually possible to nab a 65″ OLED for around 2,000 euro! Of course, that would be last year's models and basic models, not the real "high-end" goodies. If you want to have the most coveted features, image quality and design, you'll have to be willing to pay extra.
The E-series from LG has traditionally been a model in the upper price range and quality performance, and this year's model, OLED65E8, is no exception. Along with the wafer slender "Wallpaper", OLED W8 is the most exclusive that LG will present this year.
OLED E8: Design
The first thing we noticed when we unpacked the E8 out of the box is that it feels heavier, more thoroughly accomplished and exclusive. While B8 and C8 have a fairly ordinary plastic and metal construction, E8 comes with a luxurious "Picture on Glass" finish where the OLED panel is glued outside a hardened glass pane. This gives a much heavier, stiffer and solider construction. Where with the B8 and C8 you could experience slight inconsistencies and ripple effects as a result of the wafer-thin panel, E8 has a completely flat and unaffected screen surface. The glass allows the E8 to actually be a little thicker than its little brothers. On the other hand, it doesn't feel like it's going to break every time you move it.
The glass goes right down to the table edge where it meets the discreet base. The forward facing speaker section is also located here. Besides table-mounting, you can of course choose to wall-mount your LG screen. In both cases, the translucent glass plate provides a great impression of a picture that almost floats in the air. It looks fairly sumptuous, and if we had to choose, we would clearly prefer this design at home in our living room. The only thing that annoys us a little is that LG hasn't found a more elegant solution to hide the cables.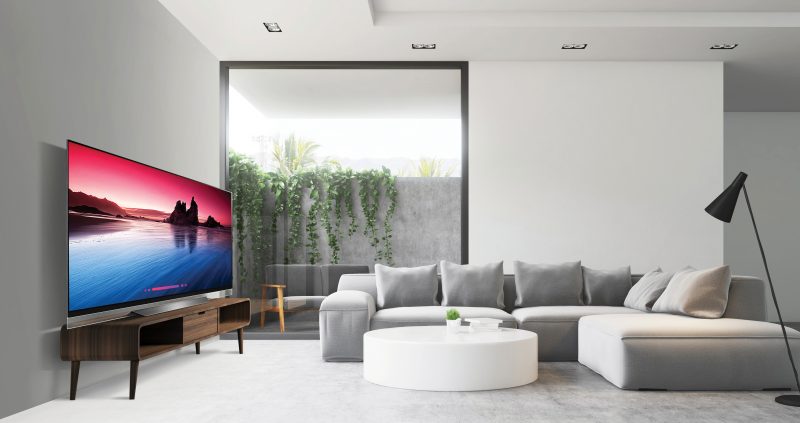 Ease of use and details
E8, then, has a considerably more luxurious design than its little brothers in the B8 and C8 series. On the inside, though, there are more similarities than differences. E8 uses the same WebOS 4.0 that we're familiar with from other LG models, and this shouldn't be dismissed out of hand: The menu system with the Magic Remote pointing remote control remains one of our favourites. The LG screen kicks into life from standby at lightning speed and switches instantly between different types of content. You also get a wide selection of apps and content, including Netflix and Amazon Prime.
Image Quality
OLED65E8 uses a state-of-the-art OLED panel from 2018, coupled with the most awesome image processing. The Korean company's newly developed Alpha 9 image processor takes care of this. With this, the E8 has a lot in common with the C8, which we already had a positive experience of.
The superb image quality from OLED is likely to be well-known to readers of Sound & Vision, but it never hurts to repeat yourself. On an OLED display, each tiny pixel is self-emissive. This provides a formidable contrast and a pitch dark black level which is the perfect "backdrop" for movies and series. There are no distracting lighting effects here, just a crystal clear picture, which even preserves the same appearance whether you're sitting right in front or to one side.
With the LG screen, it's perfect for really great movie experiences. We start with science fiction movie, Ready Player One, and witness a pyrotechnical display of colour.  Steven Spielberg takes us into his virtual dream world, and the LG screen conveys the experience without any filter. The movie almost looks better than when we experienced it first time round in the cinema! In the gaming world, Oasis switches rapidly between different settings and eras, and LG tackles this challenging image material without adding oversaturated colours or unwanted noise. It simply looks magical.
It should be noted that we watch, no, we enjoy the movie in the best available quality, on 4K Blu-ray with Dolby Vision HDR format. The Dolby version looks really intense and gives LG an edge over TVs that don't support the licensed format.
The LG screen is ideal for those who like to binge watch movies and series. All you have to do is switch off the light and absorb the explosive contrast. When it comes to movement, the LG screen is among the smoothest we've ever seen. Sports and games are served up with smooth and seamless motion and without breaking up in noise and distortion.
However, OLED65E8 is not without competitors. Sony, Panasonic and Philips all have highly capable OLED displays in their range which can offer a little extra. Sony's AF8 and AF9 with their innovative speaker solution, Panasonic with its studio-like image precision and potent audio, and Philips with the colourful Ambilight! They all have something "extra" to offer that the LG E8 is somewhat lacking.

Sound quality
The E series tends to stand out with brilliant sound: Its E7 predecessor had a fully-fledged soundbar integrated as part of the base. On this year's E8 variant, LG, somewhat surprisingly, has chosen a significantly slimmer speaker solution. This can be seen and, unfortunately, heard: Although sound reproduction is noticeably clearer and fuller than little brother OLED65B8, we don't get the whole wow experience. Speech is clearly rendered thanks to the forward-facing speakers but the difference is less than anticipated. Listening to music also reveals an annoying resonance in the bass. Playing the challenging "Thanks to You" by Boz Scaggs gets the whole TV cabinet vibrating!
LG's E8 is still far from the distinct and powerful sound that Sony gets out of its OLED screens, and can't keep up with the Technics speakers in the Panasonic 65FZ950 either. On the plus side, the LG screen has built-in processing of Dolby Atmos surround sound. This means it can receive, decode and play the three-dimensional audio format. Something that's especially useful if you want to connect an external Atmos soundbar. And you will!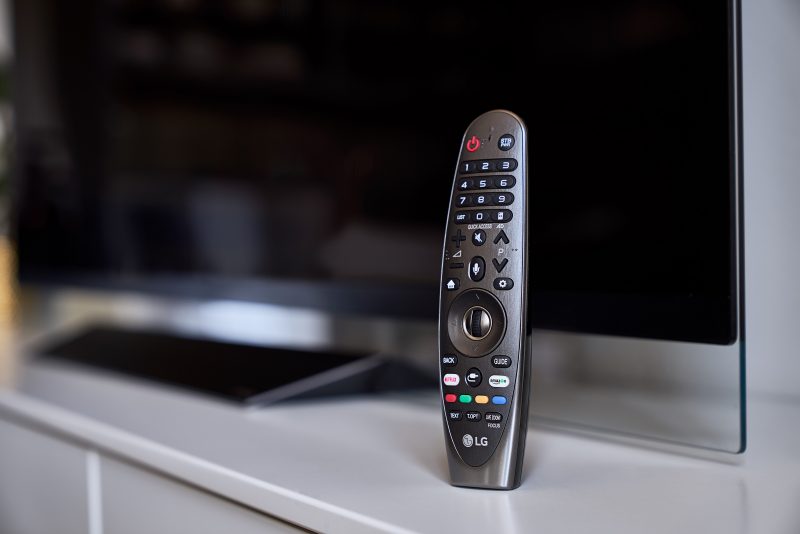 Conclusion
On paper, the LG OLED65E8 has everything needed to provide a tremendous TV experience. With a crystal clear picture, ease of use and sumptuous build quality, this is undoubtedly a very complete TV. The problem lies with the high price: With roughly the same image panel and technology as B8 and C8, E8 struggles to justify the major price leap. Nor does the sound reproduction live up to expectations. Unless you're particularly concerned with design, we'd recommend buying a OLED65C8 instead and adding a soundbar!