Audun Hage
Published

2019-10-27 - 11:53 am
The LG screen offers beautiful, high-contrast image quality and supports all the important video and audio formats. An affordable entertainment machine!
A soundbar is recommended for the sound to match the gorgeous picture quality.
Specifications
Size / type: 55 "4K OLED
Resolution: 3840×2160 (4K Ultra HD)
Operating system: WebOS
Inputs: 4 HDMI, 3 USB
Outputs: Optical digital audio output
HDR: HDR10, Dolby Vision, HLG, Technicolor
Other: Dolby Atmos compatible
Web: lg.com.
LG offers a wide range of TVs with OLED technology, and it is an indisputable fact that these provide phenomenal picture quality. But what many do not know is that the difference between the different models is surprisingly small. With the exception of the flagship Z9, which boasts razor-sharp 8K resolution, the other image panels – and therefore also the image quality – are very similar.
One of last year's favorite TVs is now back in the upgraded 2019 version: LG OLED55B9 takes over the baton after OLED B8, which we named the best TV of the year in its class.
The B-Series will be released as usual a little later in the year than the other OLED models from LG, but it has already started to reach quite aggressive prices. Although the recommended price is around 2000, it has already been observed down to half. LG's most affordable OLED is a popular TV that retail chains love to push in price. This is simply OLED on cheap sale!
Design
This year's B9 model has, as usual, a slightly simpler cosmetic design than the more expensive models in the LG portfolio. The base is made of plastic, and does not give as exclusive an impression as the models in metal and glass. The rest of the cosmetics are also relatively simple – it is free of chrome and flashing lights. On the other hand, the shape is slim and the lines are tight, just as you would expect from an OLED screen.
Ease of use and features
In terms of user, there is also not much difference between the different LG models. The B9 comes with the latest version of LG's WebOS menu system, as well as the latest Magic Remote remote control. If you have first become accustomed to navigating with LG's remote control, it is playfully easy to scroll through the menus, and the most used apps are easily accessible with shortcuts on the menu bar. The latest news on the finesse front is i.a. support for Airplay 2, which allows you to share content from iOS devices on the TV screen.
The B9 has to cope with slightly simpler video processing than the top models, nor does it support automatic calibration (CalMAN AutoCal). Beyond that, the functionality is very similar to the other LG models.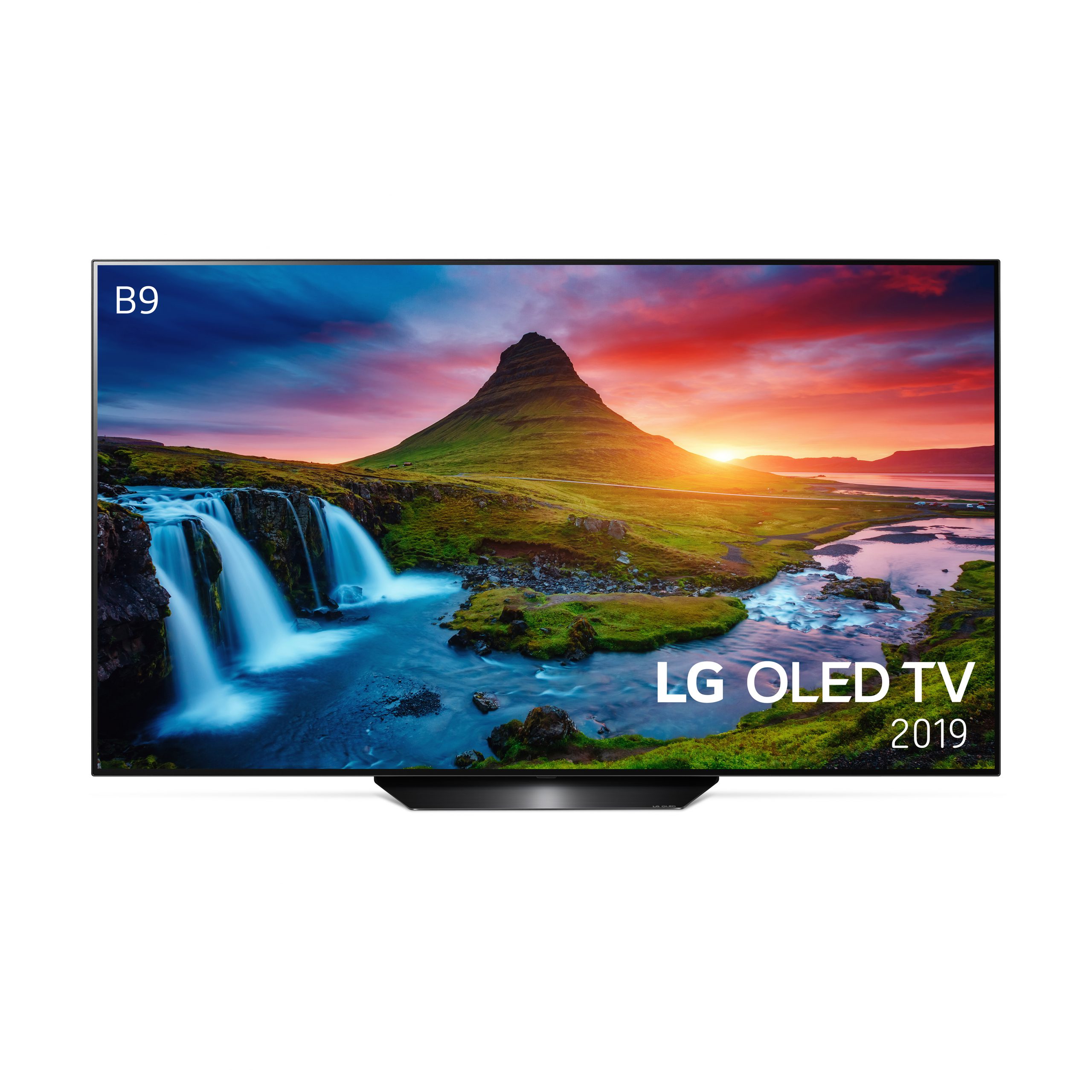 Image quality
As previously mentioned, there are more similarities than differences between the OLED models. This is in contrast to LCD screens, where there can be quite drastic differences. And one thing's for sure: It takes a pretty hefty LCD screen to match the performance of LG's most affordable OLED model.
OLED55B9 is a perfect example of what OLED technology has to offer. With extreme contrast and almost bottomless black level, it serves movies and series with a realism and millimeter precision that most LCDs can only dream of! There is hardly a single competitor in this price range that can keep up with the LG screen's rich and true-to-life color reproduction, which is also unaffected by the viewing angle.
Many Netflix series such as Luke Cage and Stranger Things are served in sparkling Dolby Vision HDR quality, with expanded dynamics and color depth. A variety of 4K Blu-ray titles are also available in the high-contrast video format. The LG screen is as created to display this type of content as it deserves. Here you just have to sit back and enjoy the sharpness and depth of the image.
It is primarily the processing power that distinguishes the B9 from the other LG variants. Where the more expensive C9, E9 and W9 can boast the worsting processor Alpha 9 Series 2 under the hood, the B9 must cope with the somewhat simpler Alpha 7 Series 2. It does not have as advanced image processing, and lacks the mentioned "AI" the algorithms from the big brother, which uses machine learning to analyze and optimize the image. But just as we experienced with last year's B8 model, there is not a sea of ​​difference in practice.
The B9 has plenty of muscle and computing power to handle the video hardships. Upscaling from lower resolution to 4K happens without any problems, and there is noticeably little noise or distortion in the image, regardless of source. The movements are also nothing to complain about: the LG OLED B9 with "TruMotion" interpolation has very smooth and even movements, and also manages to preserve the image sharpness when it goes fast. OLED B9 also boasts a very low delay (input layer) which we measured down to less than 14 milliseconds in game mode, which makes this a suitable gaming monitor.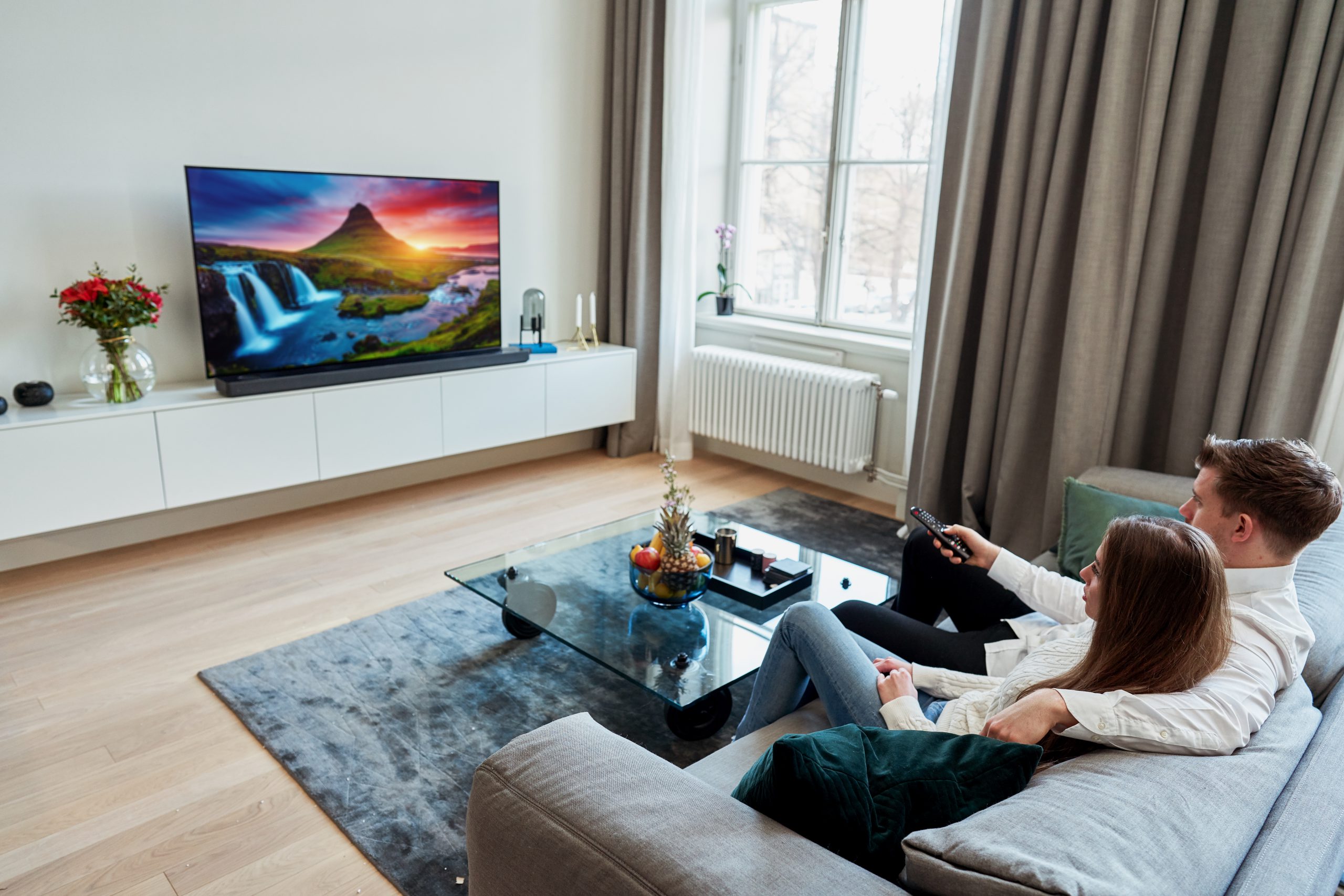 Sound quality
The B9 is equipped with relatively simple undermounted stereo speakers. The sound is both clear and distinct with distinct voice reproduction and relatively rich midrange and bass. Nevertheless, it is in the cards that you should upgrade with a separate soundboard that matches the gunpowder-strong image. The LG OLED B9 is well-suited for this as it supports important audio formats such as Dolby Atmos, and can send high-resolution audio signals out to compatible audio boards (via HDMI eARC). Thus, it is a narrow matter to get bold sound in all contexts, whether it is via external devices such as game consoles or via internal apps such as Netflix.
Conclusion
The B-series from LG is definitely not a B-item: Although the OLED B9 is the entrance ticket to LG's OLED universe, it is not far behind the more expensive models in terms of performance. With the exception of a little cosmetics and some pictorial features, the overall picture experience is very similar, with impressive contrast, darkened black level and a color reproduction that makes the LCD competitors blush and hide in a corner! The sound is not as groundbreaking, but with the money you save compared to the more expensive C9 and E9 models, you can easily afford an external soundboard that boosts the sound.