Audun Hage
Published

2018-08-25 - 9:54 am
Superb contrast and black level, well-functioning smart platform and support for the most important formats make the LG OLED55B7V a brilliant all-round TV.
The sound is slightly slim and trapped
Specifications
55" 4K OLED TV, 3840×2160 Dolby Vision/HDR 4 HDMI, 3 USB Magic Remote Web: lg.no
LG currently has the wind in its sails. Their OLED screens are considered by many to provide the best picture quality that money can buy and with superior contrast and black levels.
Several of the competitors have realized this, humbled themselves and licensed the technology from LG to use it in their own top models. The list of clients so far includes Sony, Panasonic, Philips, Grundig and Loewe, and now also Bang & Olufsen with their BeoVision Eclipse.
There is no question. These TVs cost quite a bit. OLED is still a premium product in a higher price range than traditional LCD TV, and will remain so for a while. But there are some exceptions!
LG 55OLEDB7V: Affordable OLED Model
LG 55OLEDB7V takes the baton from last year's budget model OLED55B6V, which has been one of the biggest bestsellers of LG until now. Last year's model is still sold in some stores, and is currently the market's most affordable OLED with 4K-resolution, HDR, smart TV and everything. But soon the warehouse will be empty, and then B7 will become relevant!
As usual, this year's newcomer OLED55B7V from the start costs a bit more and currently lists for about 15,000 NOK.. However. it boasts an updated OLED panel, a more powerful image processor and a faster smart TV than its predecessor.
Design
The B7 series is significantly less expensive than the more exclusive OLED series from LG, and a large part of the price difference is in the quality of the build and finish. For example, 65E7V has a refined construction with the OLED panel glued on the outside of a glass plate, while the top Model W7 is a clean panel to be affixed directly to the wall with magnets. Compared to these, B7 is a more ordinary construction with a grey metal frame, but it doesn't look shabby in any way. The screen is sleek, and a curved silver base enhances its appearance. The screen looks very minimalistic and easily fits into any living room.
Usability and features
OLED55B7V uses WebOS 3.5, which is LG's self-developed smart interface. The user experience revolve around the pointing remote control Magic Remote, which allows you to navigate, point and click your way from menu to menu. This year's version is noticeably faster, and competes with Samsung's Tizen in providing the best overall experience, right under the nose of the Android-competitors! The TV turns on very quickly, and can switch between different menus and content in record time. You can even customise the menu bar with the content and applications you want, and the remote control can control your other devices. We measured the image delay (input lag)at about 25 ms with our Leo Bodnar tester – right on target for hardcore gamers out there.
Picture Quality
OLED has some obvious advantages when it comes to picture quality. It is no coincidence that the technology has emerged victorious from a number of tests and informal "shootouts" recently! The OLED panel's ability to light up and extinguish single pixels individually, produces a perfectly superb contrast from scene to scene compared to LCD, and you don't have to be an expert to notice it.
The B7 model has all the capabilities we expect from a good OLED TV: Black becomes genuine black, as opposed to the slightly bluish rendition one often experiences with LCD monitors. With genuine black as a background, the other colours are also more lively and contrastive. In addition, the image rendition from the OLED display is very lifelike, regardless of the viewing angle.
The truth is that B7 is very similar to its predecessor in many areas, but we do see glimpses of some improvements in certain areas: The contrast and brightness have become marginally better, thanks to the fact that LG has tweaked the image processing a bit. This year's new model also has less reddish glare in the display glass. The movements have become even smoother and retain sharpness slightly better when panning than its predecessor did. However, LG B7 is not entirely on level with Sony's super-smooth A1 OLED when it comes to movement.
Uneven light distribution or "clouding" is a recurring theme on LCD monitors with edge mounted lighting. This type of problem does not occur with OLED55B7V. However, we notice some vertical and horizontal stripes on dark backgrounds. These remain as "imprints" or temporary burning of our test images, but are only transient and are not seen as being annoying in practice. As long as you are careful to put the TV in standby after use (LG runs a "screen wash" before it shuts off completely), the burn-in is nothing you need to worry about.
Superb HDR contrast
Of course, when you buy a brand new TV, it's nice to be able to enjoy the very latest movies and series on Blu-ray and streaming . An important keyword here is the new High Dynamic Range (HDR) video standard, which provides enhanced contrast and colour spectrum. Here, OLED is really in its element with the superb contrast completely from the bottom.
Here, the LG screen clearly has an edge with the support from the so far best (in our opinion) HDR format DOLBY VISION. Dolby's own HDR format provides significantly more room in contrast and brightness from scene to scene, thanks to so-called dynamic metadata. This compares to the normal HDR10, which sets a static light throughout the film sequence.
While HDR10 is an open standard, Dolby requires both a licence grr and a separate hardware within the device, and not all manufacturers have been willing to take on this cost. A comparison of the LG's OLED side by side with the competition leaves no doubt that the Dolby version looks considerably more vibrant. The Netflix series have more detail and shades from dark to light. This gives LG a definite advantage against Philips and Panasonic, among others, which do not support Dolby's version.
Calibrating the LG OLED55B7V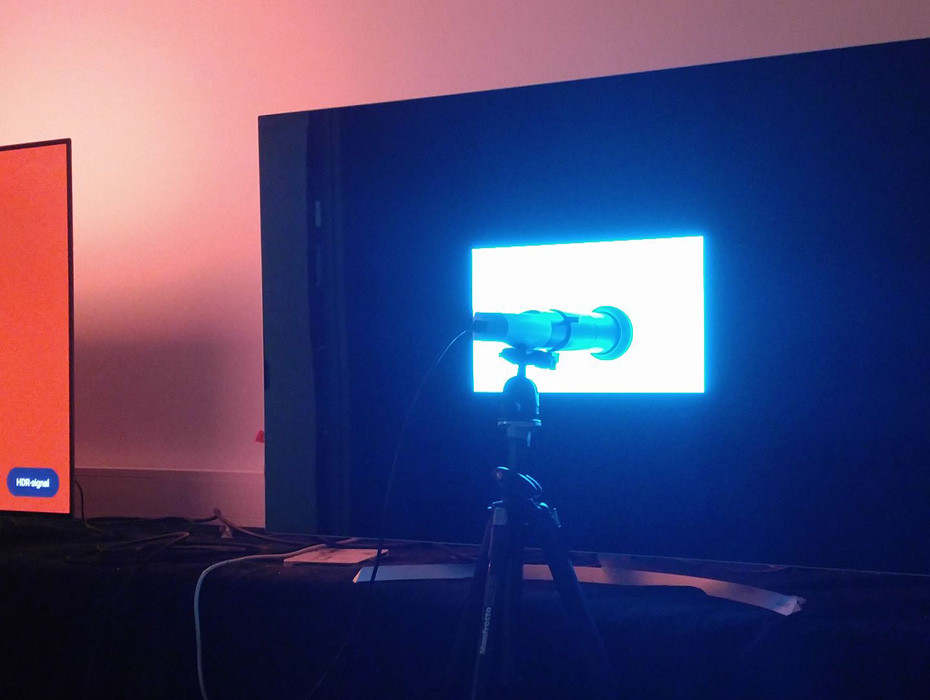 LG has had to endure some criticism in previous tests for its low calibration-friendly screen menus. This year's models has improved slightly, with black background instead of glaring white, and it has become a bit easier to do advanced settings. However, we regret the lack of autocalibration (CALman Autocal) which is now supported by both Panasonic and Samsung. This means that full calibration takes longer.
The gamma curve is a bit dark and uneven straight out the box. After a thorough 20-point calibration of white balance, it was perfect. This year's models have received significantly better and smoother colour decoding (look up table with several reference points), which makes the colours fall into place where they should. After calibration, we ended with a score of 0.76 in the Colorchecker and pristine colour balance at the level of a professional studio monitor. Clearly approved!
We also measured the brightness of the LG OLED55B7V, which turned out to be somewhat under what we measured on the 65-inch 65E7V. Max brightness is approximately similar (680 nits with 10% of the screen in white), but drops somewhat steeper in line with the increased size on the test window.
10 % test window: 680 NITs
18 % test window: 475 NITs
25 % test window: 400 NITs
100 % test window: 130 NITs
LG OLED55B7V calibration report
Sound quality
The LG display does not have an especially expensive sound system, only a few simple speakers just below the panel that casts the sound forward. The sound system is perfectly okay for speech and entertainment, but quickly proves deficient for music, movies and shows. 55OLEDB7V quite clearly deserves to be paired with a full-fledged speaker system; in addition, a soundbar with an accompanying woofer (e.g. LG's own SJ9) will clearly do wonders for the sound.
Conclusion
It only takes a few seconds to ascertain that the performance from the LG OLED55B7V can easily stand up to the best LCD screens out there when it comes to black level and contrast. Not only that – it looks very similar to LG's (much more expensive) E7 model in sheer picture quality! The sound is a bit flimsy, but for you who are concerned with the best possible picture at a reasonable price, LG budget-OLED is one of the best TV purchases you can make right now.