Audun Hage
Published

2021-05-19 - 7:00 am
The LG OLED G1 is an impressive TV with a crystal clear picture and a beautiful, wall-mounted design. Ease of use and connectivity are very good.
The G1 costs more than other OLED models, and the difference is not huge. The sound is quite dull and diffuse. Feet for table mounting are optional.
Specifications
• Size/type: 65″4K OLED Evo
• Resolution: 3840 x 2160 (4K Ultra HD)
• Operating system: LG WebOS 6.0
• Inputs: 4 x HDMI (2.1), 3 x USB
• Outputs: Optical digital audio output, HDMI eARC
• HDR: Dolby Vision, HDR10+, HLG
• Other: A9 gen 4 video processor, wall mount
LG's gorgeous OLED GX with gallery design walked away with the award for the best high-end TV of the year in 2020, and now the new 2021 version OLED G1 Evo is ready to take over the baton. It looks almost exactly the same on the outside, but has got a lot of news under the hood, in addition to a new user interface and a new remote control.
2021 is set to be the big OLED year if we are to believe the South Korean manufacturer: New assembly lines are up an running, and the pace of production has increased to meet the rising demand for OLED panels. In addition, prices are slowly but surely on the decline, even for the larger screen sizes. But the greatest expectation is linked to the new Evo panel, which LG claims will provide a marked improvement in image quality…
LG OLED G1
LG's OLED screens have always delivered good image quality: the challenge is that the performance has been fairly similar throughout the range. Even the cheaper screens in the B and C series have been close to the top models in image quality, because they have been based on the exact same image panel.
This may be a change this year, as LG has introduced a brand new image panel with the nickname Evo. It is only available for the top models in the Gallery series, and comes in 55″, 65″ and 77″ sizes.
Exactly what's new about the Evo panel, LG is naturally a little secretive about. But according to the presentations we have seen, they use a new light element that emits more precise wavelengths, and an "optimized panel structure" which reportedly results in an increased brightness of up to 20% compared to older OLED panels.
Of course, a new image panel is of little value without a proper image engine to power it. Therefore, the LG OLED G1 has also got an upgraded video processor, more specifically the Alpha 9 series 4. This chip uses advanced machine learning to continuously improve the image quality.
Tailored for wall mounting
This LG model is specially designed for wall mounting (the G stands for "Gallery"). The TV screen is completely flat on the rear, with recess for cables and wall bracket. There is no doubt that LG has taken inspiration from Samsung's popular The Frame model.
When we tested the first Gallery model in 2020, it was fixed and mounted on a mobile exhibition wall. This time we had to set it up on our own, and it turns out that the wall bracket can be a bit tricky to mount: Ideally, you should be 3 people when the TV is to be hung in place. The screen also tends to wobble a little in and out if you bump into it. The attachment does not appear as elegant as what Samsung has achieved on The Frame. Without a separate junction box, one must also find that several wires hanging down from the TV. Alternatively, if you want a proper professional installation, you will have to make a hole in the wall for the cables.
However, with everything set up, the Gallery OLED looks very nice. Once mounted on the wall, it protrudes only a few centimeters from the surface. Far less than, for example, the little brother C1, which will stand out more due to power supply and connections.
The G-series has a flat and slim design with its own recess for wall bracket, which means that it can be mounted close to the wall.
Wall bracket only
As mentioned, the gallery OLED is made especially for wall mounting. Therefore, it does not come with any feet in the box when you buy a G1. This must instead be ordered as an option (Desktop stand # AN-GXDV55 / 65/77) for about GBP 150…!
While most people will probably prefer to wall mount the G1 model, we think it's a bit cheap for LG not to put any feet in the box. This would undoubtedly be practical the first time you set it up, while considering different locations. It is worth mentioning, for example, that Samsung's The Frame model includes both feet and wall mounting.
However, the LG was gracious enough to include a pair of feet in the box for our test sample. The L-shaped feet are mounted at the edges of the screen and ensure that the screen is stable. In addition, some extra covers are included to hide the cables on the back.
Ease of use and features
OLED G1 has received a number of updates on the features front, including a new version of LG's well-known operating system WebOS (6.0). The main menu has been given a major facelift, and appears quite different from previous versions. But still fast and intuitive to use.
The new home screen is actually a bit like the latest version of Google TV, where it lists available apps, content and connections. In addition, you get recommendations based on what you have previously watched. The only thing we dislike is that the menu now fills the entire screen, overshadowing what you are watching right now.
The remote control is a slightly updated version of the Magic Remote that LG has been using for years. The pointing function is still intact, but it has also been given several shortcut buttons for the largest streaming services. Another new feature is Magic Tap, where you can share content between the TV and your mobile, simply by "tapping" the mobile with the remote control.
The new remote control works excellently, but feels a bit plastic-like. In our opinion, LG could easily have indulged in the fine premium control in brushed metal (known from the Signature 8K models) on such an exclusive TV as the G1.
LG's WebOS user interface has changed significantly this year. The home screen fills the entire image. The app selection is very good: In addition to Netflix, you get access to Amazon Prime, Rakuten, Apple TV + and not least Disney +.
Great for gaming
LG, on the other hand, is the king of the hill when it comes to connections. With four fully compatible HDMI 2.1 inputs, it is ready to pair with high-resolution video sources and not least game consoles such as PS5 and Xbox Series X, with support for 4K resolution and 120 frames per second. The G1 also supports AMD FreeSync and Nvidia G-Sync for the best possible synchronization to PC graphics cards. A competitor such as the Sony A90J has only two HDMI 2.1 compatible inputs, and currently has to do without equally broad support for all gaming features.
LG has also made it even easier for the game savvy with its own Game Optimizer, which gathers the relevant settings in one place. Here you have a full overview of the current adjustment options, and can also specify the type of game genre you want to optimize for.
LG's new Game Optimizer (game optimization) provides quick access to relevant game settings. (Photo: Audun Hage)
Image quality
LG has been promoting the launch of this year's Evo panel, which is said to have up to 20% higher brightness than the previous generation. We were naturally excited about how this difference turns out in practice!
Quite right: The first impression is that this – just as promised – is a significantly brighter and contrast-rich TV than last year's OLED generation, which is also supported by initial measurements. The LG screen has no problems squeezing out 800-900 nits (10% screen window), which is a noticeable jump from its predecessors. In practice, this makes the TV look far more dynamic and vibrant, especially in bright environments.
However, there are more important elements than maximum brightness, and that is how the TV uses the available brightness to achieve the best possible contrast, and adapts it to different types of picture content. Here we notice that the LG screen has become even better at reproducing dark scenes, where it manages to dig out the details without everything turning black (so-called black crush).
We started watching by checking out the Netflix series Easy Money, which is presented in crystal clear Dolby Vision HDR quality. The action from Stockholm quickly alternates between scenes from dark and light surroundings, and the LG screen adapts to the action lightning fast and super smooth. It retains the depth in dark scenes, while the light scenes really shine. In addition, there is a wonderful intensity in the HDR effects. I am immediately drawn into the action, and forget that we are doing a TV test…
We switched through the LG screen's various image modes, and found the favorite in "Cinema Home". Here we get even and neutral colors, but parts of LG's TruMotion interpolation (motion smoothing) are still active. This gave an excellent combination of natural colors and smooth movements – a nice all-round setting. If you want it 100% neutral, you can choose Filmmaker Mode, but then you also turn off some of the features that the screen is equipped with to make the image smoother and sharper.
LG G1 vs. Sony A90J
The LG screen presents an image quality that is definitely in the high-end class. That said, it has yest to overtake the Sony XR-65A90J (Sony's new top model, and currently our favorite) at some points.
Although both Sony and LG have achieved higher brightness this year, the Sony screen looks noticeably more dynamic and contrast-rich in practice. As good as the LG looks, there is something about Sony's image processing that seems even more efficient, especially when it comes to so-called "tone mapping" of HDR video material. In addition, the Sony screen has an excellent noise reduction and subtle contour enhancement, which makes the images look even sharper, purely subjective.
To make a long story short: LG's top model looks great, it's just that Sony packs even more power, and has a seemingly superior image processing!
Sound quality
The built-in speaker system in the G1 is hidden on the underside of the TV. And unlike the picture and the design in general, the sound does not appear particularly lavish. Although it's basically good with bass, the rest of the soundscape seems a bit diffused, and especially the voice reproduction could have been better. It comes a bit "everywhere and nowhere", instead of a specific point. Here LG can take some learning points from Sony and their Acoustic Surface speaker system.
The LG screen is equipped with various sound modes, where we found that the cinema mode worked well for movies and series, while Music gave a nice reproduction of… music. On the other hand, we wanted to steer clear of the AI ​​Sound Pro setting. It is supposed to adapt to the content you are watching, but sounds sharp and frightening!
If you want a real foothold in the sound, it is probably better to go for a separate soundboard: In this connection, it is good to mention that LG offers a matching model – Gallery Soundbar. It has the same flat design as the TV, with a separate wireless subwoofer, and supports Dolby Atmos 3D sound.
Conclusion
Like last year's model GX, the LG OLED G1 is a very sleek and high-performance TV: That said, it's undoubtedly more of a small evolution, rather than any direct revolution. Despite the brand new OLED panel with slightly higher brightness, the overall picture quality is very similar to its predecessor and other excellent OLED screens. Meanwhile, competitor Sony has sharpened the competition with the top model A90J, which in our eyes looks even more spectacular, and has more well-sounding built-in speakers. In addition, we should not forget that LG's slightly cheaper C1 model (test coming) will also be close to the G1 model in image quality. However, if wall-mounted elegance is essential for you, the G1 is hard to beat!
Calibration of the LG OLED65G1
The LG OLED65G1 supports the CalMan AutoCal calibration program. By connecting the TV to a PC with measuring equipment, one can measure (and, if necessary, correct) color balance and grayscale according to current standards.
After calibration, we measured a delta deviation of 0.5 in Cinema mode with the correct color temperature. The only thing we have done is to adjust the 2-point grayscale, then we got 0.4 deviations in color temperature / gamma. It testifies to good calibration from the factory.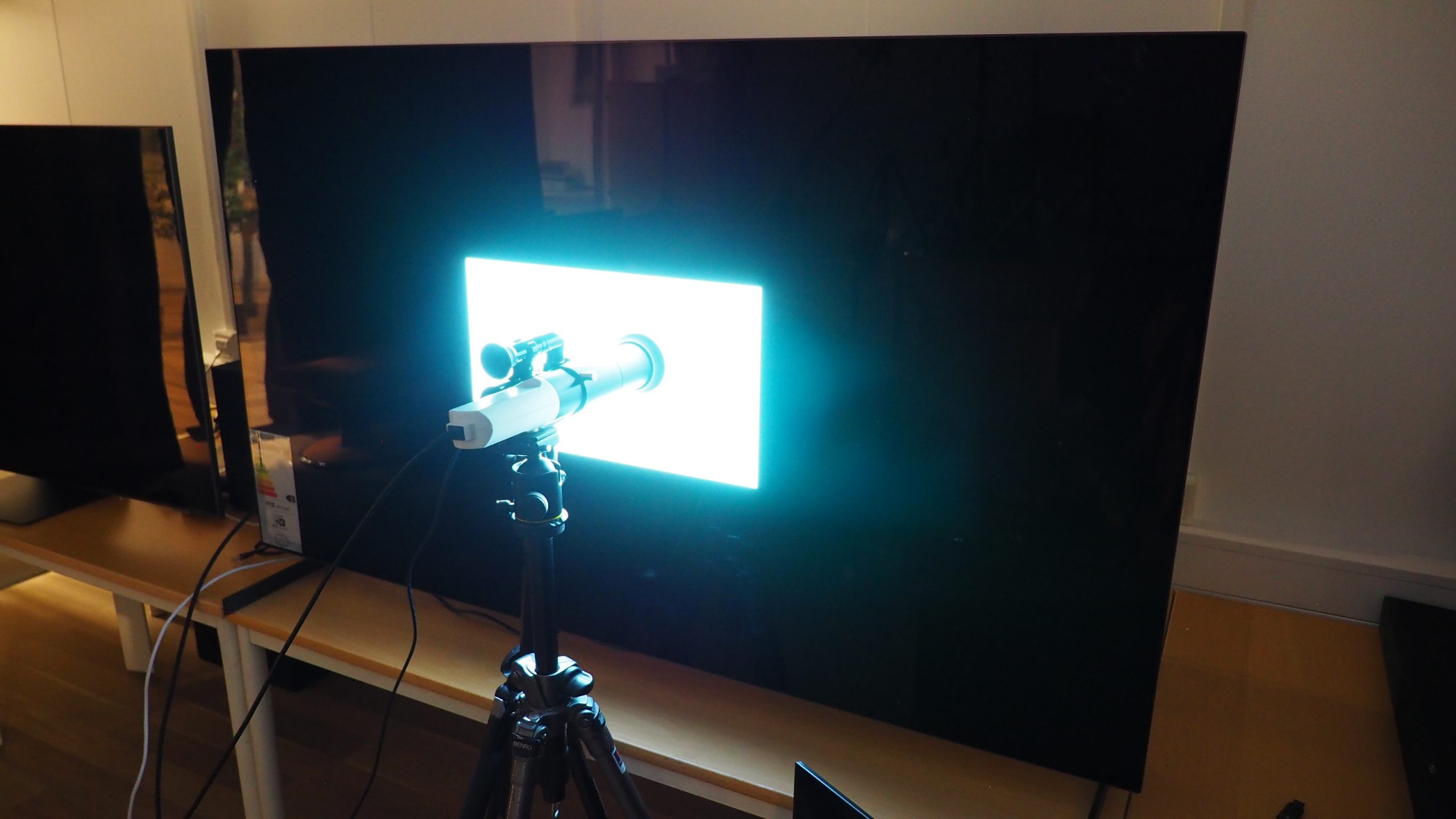 Measurements of brightness
| | | |
| --- | --- | --- |
| Screen area | Brightness (nits) | |
| 10 % | 850 | |
| 25 % | 450 | |
| 50 % | 290 | |
| 100 % | 180 | |
All calibration is performed by Gorm Sørensen from ProCal. Gorm Sørensen is an ISF- and THX-certified calibration expert with years of experience in TV/AV, cinema and broadcasting.