Audun Hage
Published

2018-01-03 - 1:30 am
Very good contrast and colour rendition. Good black level. Good image processing with very smooth motion makes it well-suited for most TV content.
A disruptive effect with vertical lines/noise drags down the overall experience for sports.
Specifications
Size/Type: 65" 4K LED LCD
Resolution: 3840×2160 (4K Ultra HD)
Operating system: WebOS 4.0
Inputs: 4 HDMI, 2 USB
Outputs: Optical digital audio output
HDR: HDR10, HLG, Dolby Vision, Technicolor
Other: Dolby Atmos
Website: lg.com
The SK8500 series is one of LG's top models for 2018. The sleek design can definitely be reminiscent of the OLED screens from the same class. 65SK8500 has a smooth back with recessed connections, which also makes it easy to wall mount. It has considerably more beautiful construction quality and finish than the SK7900.
Usability and features
The LG screen comes with the Korean-made WebOS smart TV interface and Magic Remote pointer. APP-selection is clearly approved; the most important services are in place. This is a "Netflix Approved TV" which means it loads the streaming service extra quickly. The screen is also fast enough for gaming aficionados, with barely a 14-millisecond delay/input lag.
Picture quality
LG 65SK8500 comes fully loaded with imaging goodies. It uses a top-specified LCD panel with NanoCell technology-tiny nano-crystals that spice up the colour rendition. On the inside, it has full LED backlight with local dimming.
For the most part, the TV looks good showing sports. The picture is razor sharp, even when the ball is in motion. The broadcasting from Premier League has super nice colours, where both the players and the audience simply jump out of the screen. The good viewing angle enables LG to maintain a decent image even when you view the screen from an angle.
Unfortunately, there is a weakness that drags down the overall impression: Our test sample had thin vertical irregularities in the picture, which adds a whispy thin veil over the image. This is especially visible during football broadcasts because of the large, expansive grassy areas, and this can easily become a distraction.
The problem is not as prominent in movies and TV shows. The eminent LED backlight provides good contrast and deep black level. Netflix series such as Stranger Things in 4K HDR quality look amazing on the LG screen, thanks to the support for Dolby Vision.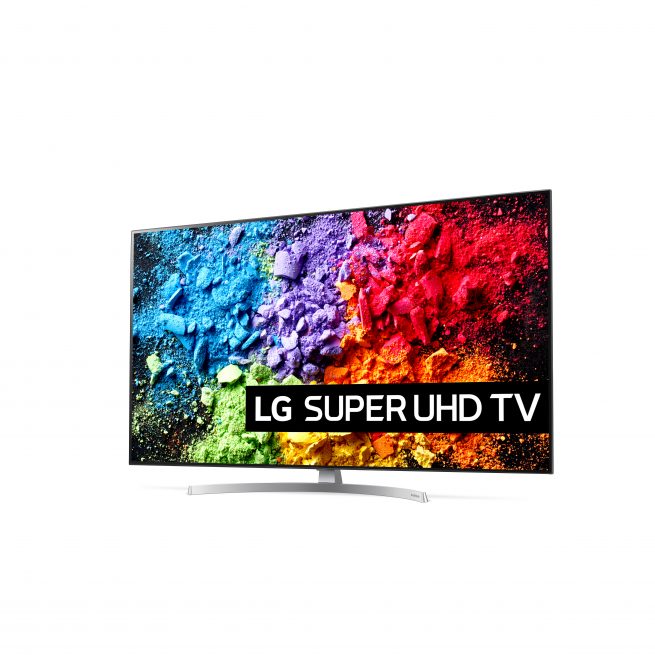 Sound quality
The LG display features an upgraded audio system with 40 W output power and improved audio processing, including support for Dolby Atmos surround sound. It actually sounds much better than expected: There is good clarity in the voices, with surprisingly rich bass and an ever so slight surround effect.
Conclusion
LG 65SK8500 is basically a brilliant display for movies, shows, and other TV content. It rivals the best in colour and contrast, and is first rate when it comes sharpness during motion. The LG screen is close to being an ideal display for sports as well, had it not been for an annoying screen effect that mars the picture experience a bit.