KEF has had great success with compact speakers recently. The speakers in the LS50 series have received much praise, and especially the latest version of the LS50 Wireless II has garnered much praise in tests. But even brilliant speakers like this lack something important: Real deep bass. That's exactly why the KC62, the latest subwoofer from KEF, arrives exactly as ordered!
Deep oscillations (down to 20 Hertz or lower) require a speaker that can pump lots of air without running out of power, and this is exactly the job a subwoofer is made for. It gets even better if you get a BIG active subwoofer with a built-in amplifier, that is tailored to reproduce the deep bass tones with a powerful and clean sound. KEF has followed this recipe to the letter, except when it comes to size, that is…
KEF KC62
The tiny bass cube measures only 25 x 25 x 25 centimeters, and is actually more the size of a regular compact speaker. Nevertheless, KEF claims that they have achieved real deep bass down to 11 Hz! To achieve this, they have obviously had to rethink.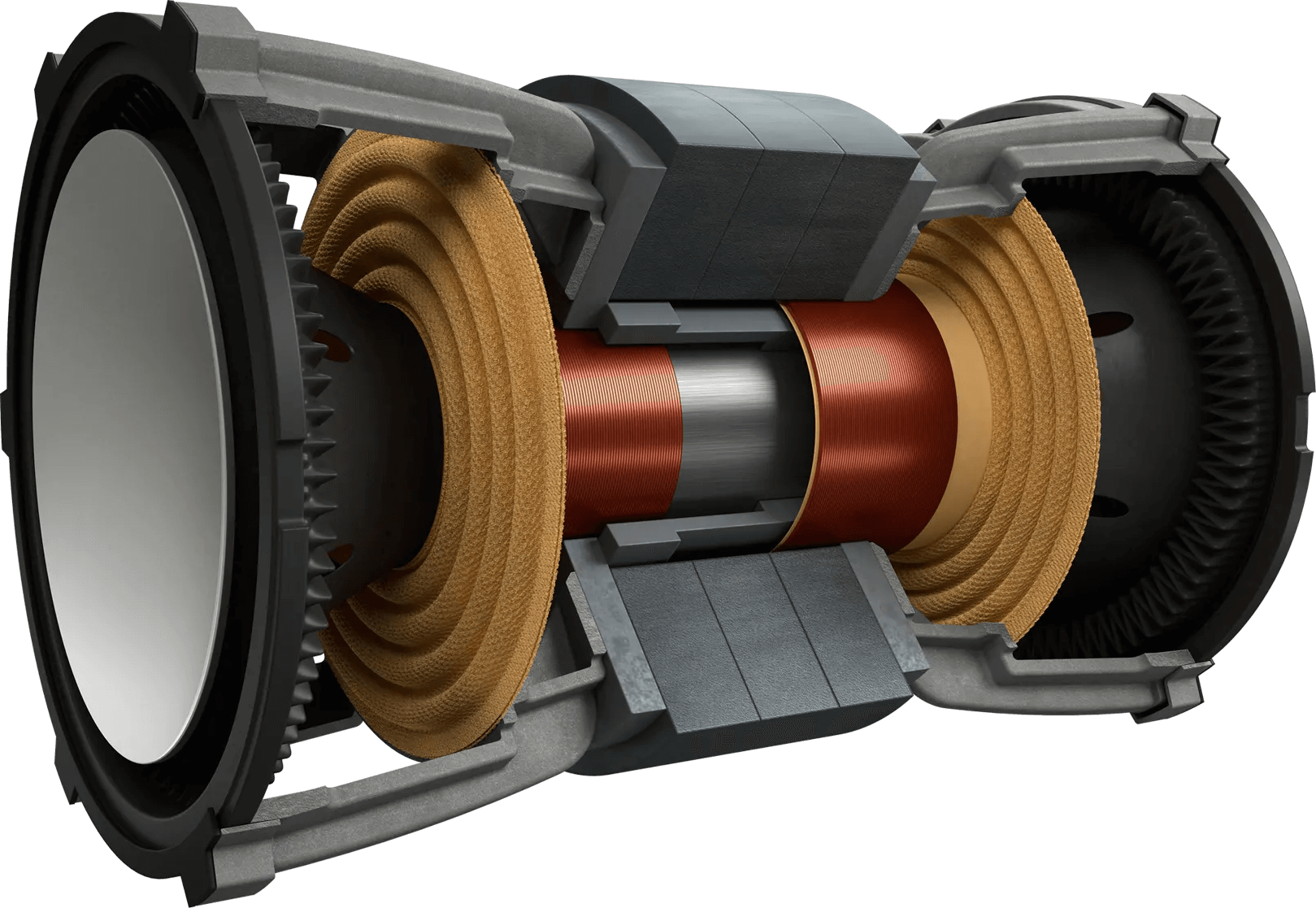 Just having room for two active woofers in such a small cabinet presents challenges. However, the engineers have come up with a clever solution: By letting the two woofers share the same magnet system, where one element's voice coil goes on top of the other, they have managed to fit two. KEF calls the technology UniCore.
This achieves a number of advantages, including that the woofers push in the opposite direction of each other, and reduce unwanted resonances. Two active woofers – driven by two 500 watt amplifiers – also provide significantly more sound pressure than an active-passive variant. The result: more powerful, cleaner and more precise deep bass!
The small KEF sub is easy to place, set up and adjust the way you want it. With its compact dimensions, it fits nicely under the coffee table, behind the sofa or in the corner by the potted plants. In terms of design, it is clearly inspired by the LS50 speakers with curved lines and matching colors in black and white. (Photo: Audun Hage)
User-friendly bass with (partial) app control
KEF KC62 is flexible enough to be included in any sound system, but it is no secret that it is made especially to be a good match for the LS50 models. It can be connected to the speakers via standard RCA signal cable as well as speaker cables directly from the amplifier (via a small, awkward adapter). If you want a wireless connection, KEF offers this as an option in the form of the USB dongle KW1. The latter is the most flexible, because then you can basically place the subwoofer anywhere.
The KC62 has some added benefits if you choose to use it with the LS50 Wireless. Then you can use KEF's own app (KEF Connect) to tune and optimize the sound. Via the app, you can, among other things, regulate the bass level and crossover frequency, save your own EQ settings, and decide at which frequency the speakers should roll off, and at which frequency the subwoofer take over.
What the app does NOT provide, however, is direct access to remotely control the sub's own manual settings. Therefore, you still need to make some adjustments on the back.
If you specify that it is a KC62 you have connected, the app automatically selects the recommended settings. You also have the option of adding an additional subwoofer (one to each speaker) and running stereo bass.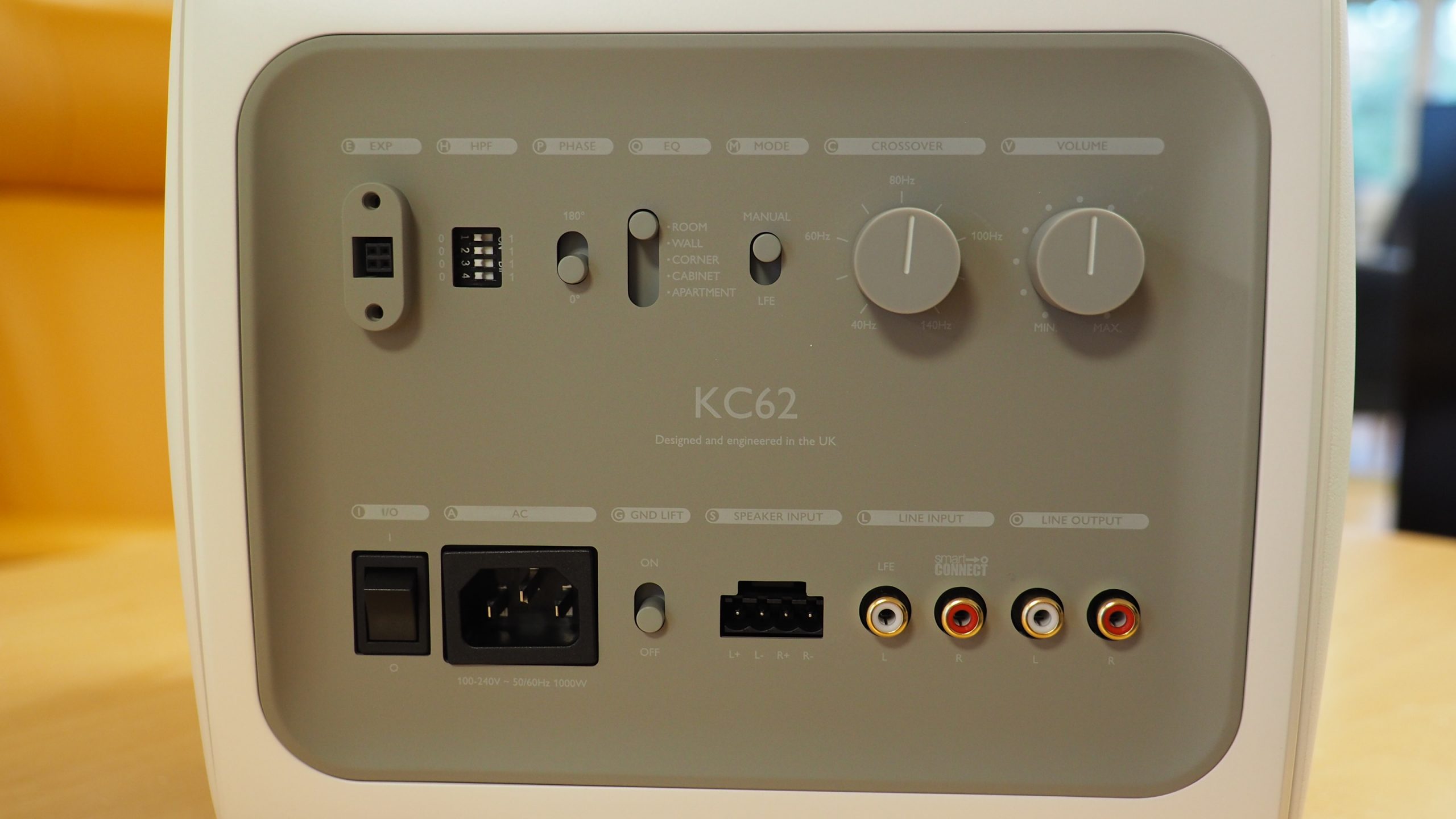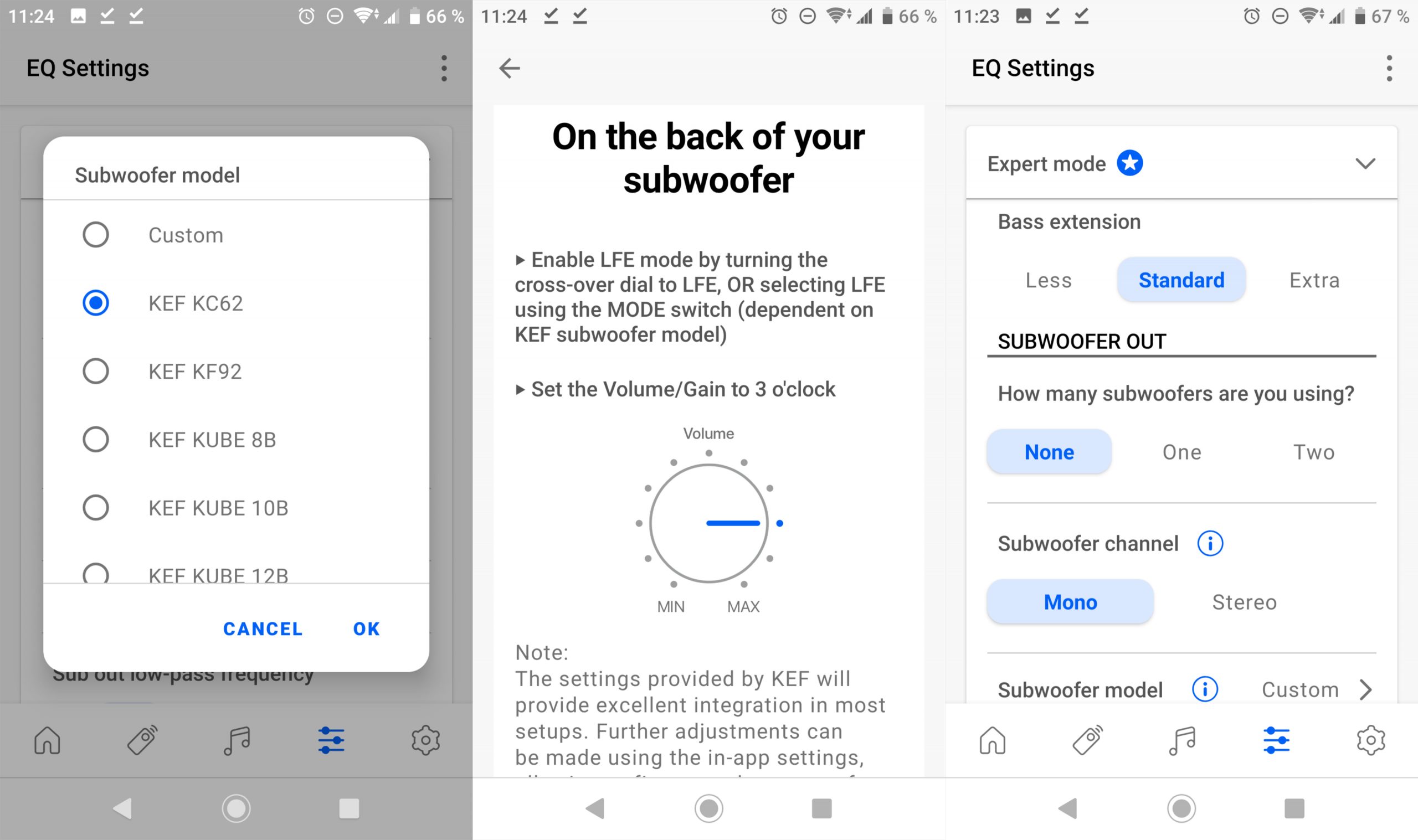 Sound quality
KEF makes no secret of the fact that the KC62 is made to be a good match for the LS50 Wireless II. Therefore, we took them at their word, and used these in connection with the test. We started listening without a subwoofer, and know from experience that the small KEFs thrive quite close to the back wall (about 50 cm) so that they can get a little bass boost from their surroundings. At those conditions they sound quite nice and full on a wide repertoire of music, but it also quickly becomes clear that they (like most compact speakers) lack a little weight in the lowest octaves. In addition, they sound quite slim when we pull them out on the floor: Although the focus and soundscape may be better, they lose everything called bass. By adding a subwoofer that takes care of the deepest bass, you are a little freer to position the speakers as you wish, and can achieve a slightly larger and more open sound image.
We were naturally excited about how KEF has succeeded with the integration and timing up to a small speaker like the LS50. And there is no doubt that it works well: the bass projections sit immediately as they should, and sink perfectly with the bass reproduction from the speakers. Actually, it does not sound like we have connected any subwoofer at all: it's just that the LS50 speakers suddenly sound several sizes bigger!
We challenged the KEF sub with a long repertoire of demanding, bass-heavy music, and were generally impressed by how much bass the little die manages to squeeze out. The construction seems very solid. Even when we play at full throttle so the elements flutter, the cabinet boom stands still with no sign of vibration.
Especially groovy hip hop tracks like Lemonade sound much more compelling (and entertaining) when you add proper deep bass. The same can be said about the deep, rhythmic synth bass that characterizes many of DeadMau5's best songs. Not to mention acoustic bass guitar and double bass.
But it's not just the bass itself that gets better when you add a subwoofer. The improvements are noticeable far up in the midrange. The soundscape grows in size and the various instruments get a clearer anchorage. The rhythm fits better and the music gets a more realistic size and presence. We get much closer to the live feeling!
If you also use the KEF LS50 as TV speakers via the HDMI input, you can also look forward to significantly more weight in the sound effects. We tested this solution together with a Samsung TV, and the movie sound sounds as expected far more potent when you add a subwoofer to the bottom.
Limited sound pressure
Of course, we had to check whether the bass response goes as deep as KEF promises. And quite rightly so: the KC62 actually DOES a provide audible/tactile response down to 11 Hz. The tiny sub actually has an impressive thrust, with a high sound level down to about 25 Hz. It is not necessarily the case that the foundation wall cracks, but it is definitely felt in the floorboards!
Even the best things come to an end, and a small subwoofer like this naturally has some limitations compared to a proper "fullsize" variant. Even as smart as KEF's engineers are, they have not managed to repeal the physical laws! It gets to a point where the small 6.5″ drivers do not manage to pump more air, and then the amplifier compensates by holding back the level. Whether this is "enough" depends on your own preferences, how big a room you have, and not least what relationship you have with the neighbors!
We also tested the KEF subwoofer in combination with a pair of larger hi-fi floor-standing speakers (Sonus Faber Olympica III). These naturally have significantly more deep bass on their own than the small LS50s, and do not need as much "traction" from the subwoofer. Although the KC62 made a marked difference here as well, it did not quite keep up with really high listening levels. The solution here will probably be to use a larger subwoofer, or connect an extra KC62!
Conclusion
Who better than KEF itself, when it comes to making a subwoofer that matches the small but excellent LS50 speakers? The British speaker manufacturer is known for its smart solutions, and with the KC62 they have managed to make a big fuss out of a small box. It is easy to place and definitely plays on teams with small compact speakers.
This is not a subwoofer that makes the trouser legs flutter or tickle the nose hairs when the explosions hit the movie screen, but rather a practical subwoofer that complements the smaller KEF speakers in an excellent way. If you want massive, untamed deep bass that makes the floorboards tremble, you are better off looking for a larger bass box. For example, KEF's own KF92, which uses double 9-inch in a slightly larger cabinet.
If, on the other hand, you are looking for a small subwoofer that can fit almost anywhere, the KC62 fits right in the picture. In fact, we can not remember hearing a more potent subwoofer of this size!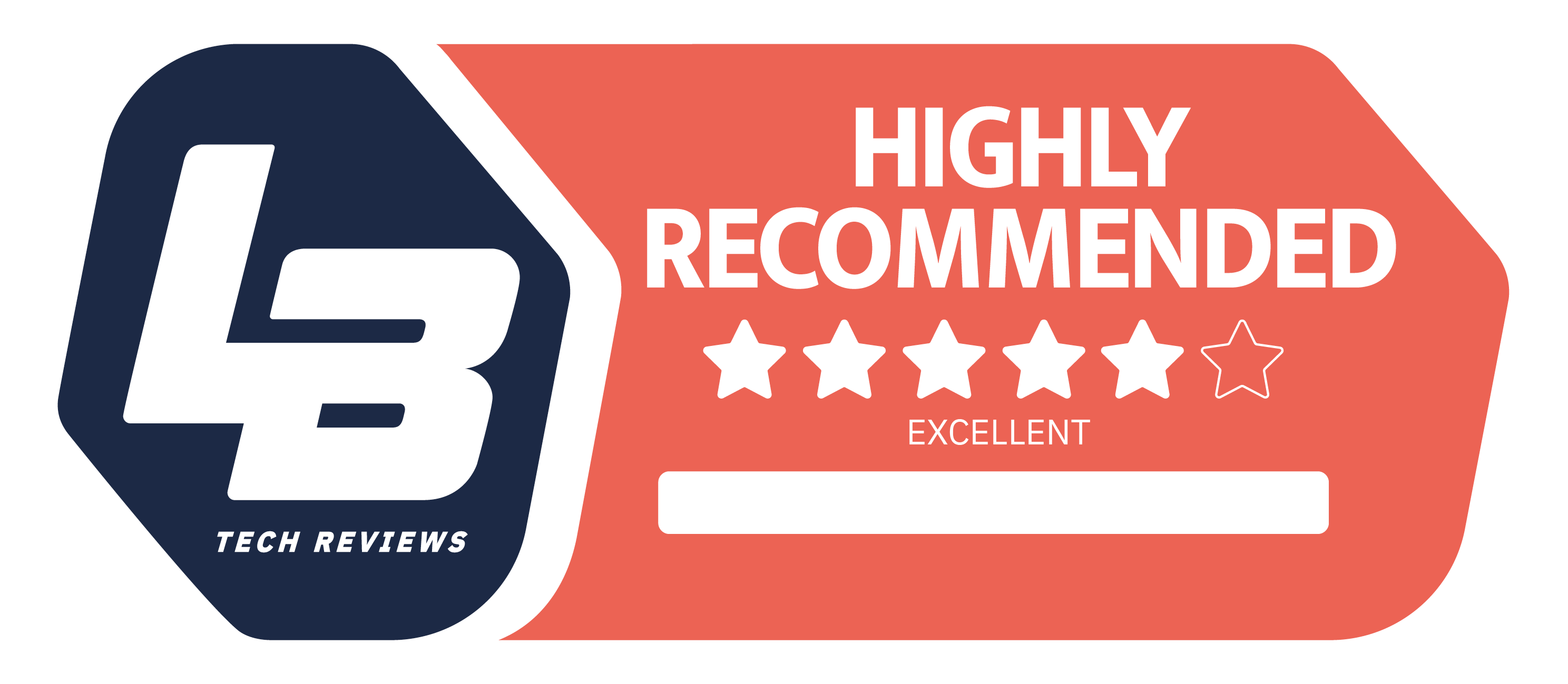 Premium
We think
KEF KC62 is a small and easily placeable subwoofer with excellent and precise deep bass in relation to its size. A perfect partner for the LS50 speakers.
Even a high powered sub like the KC62 has some physical limitations: If you like to play extra loud or have a large listening room, there are even more potent subwoofers to be found.