Lasse Svendsen
Published

2021-05-13 - 10:00 am
Powerful dynamics and a push in the bass you rarely experience. Nails you to the chair with a scale and insight it has been a long time since we have associated with JBL.
Requires a lot of space and does not tolerate puny amplifiers.
Specifications
Type: Two-way floor-standing speaker
Woofer: 38 cm Aquaplas membrane
Tweeter: 75 mm midtweeter
Sensitivity: 94 dB
Impedance: 8 ohms
Frequency response: 30 Hz – 40 kHz (-6 dB)
Crossover frequency: 700 Hz
Dimensions/weight: 94.1 x 56 x 42.5 cm/54 kg
Other: Walnut veneer or black, blue or black fabric grill
Web: jblsynthesis.com
"Go and hear them," I tried, but my foreign colleagues did not look very convinced, when I met them at the High End trade fair in Munich in 2018.
Instead, they smiled overbearingly when I told them about the new JBL speakers that debuted at the show that year and that sounded in a completely different way than we were used to from that part.
Maybe it was because they looked like a pair of JBL L112s from the 1980s, but most likely it was probably because we had all written off JBL as a serious speaker manufacturer a long time ago.
But the new L100 Classic surprisingly sounded much better than feared and gradually became one of the topics of conversation from that year's High End trade fair. And when we finally got them into the test room, our first impressions were confirmed. It was a pair of damn good speakers, dressed like in 80s, that maybe – finally – could put JBL back on the map again.
They did something so emphatic that there were rumours that JBL could not meet the demand for a period of time, and when the smaller L82 Classic came in for testing, we were convinced. JBL was back. It was no longer just the pig-eared Everest speakers that were good; JBL also nailed speakers for a fraction of the price.
When my colleague Geir Gråbein Nordby tested 4349, which is one of the most expensive ends of the JBL – Synthesis series – his conclusion was that few are able to bring the studio sound into the living room in such a convincing way. He should know that since he has spent more time both behind the mixer and in front of the microphone in a studio than most hi-fi journalists I know.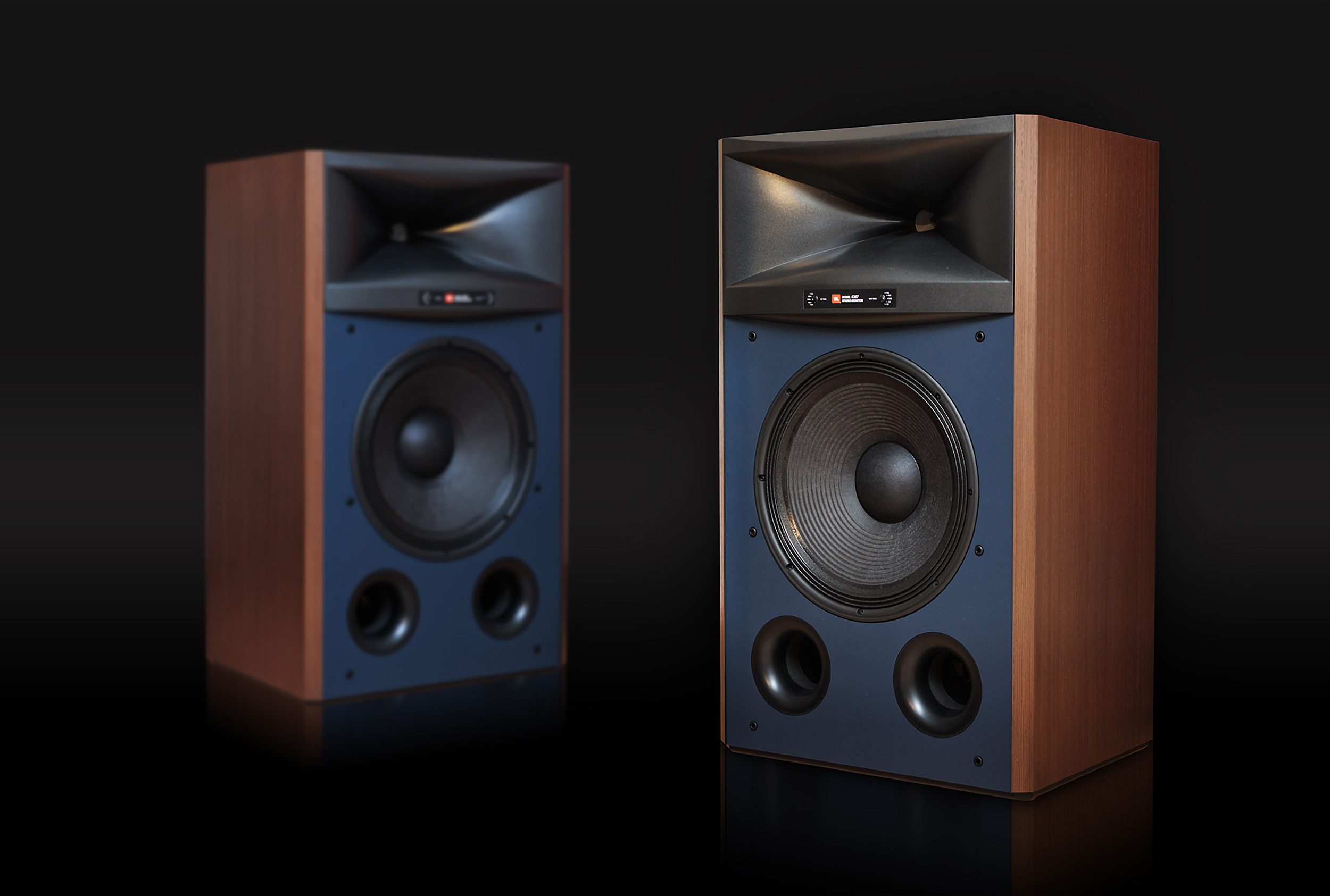 Bigger, stronger, more powerful
But if the 4349 can bring the studio sound home to you, the larger 4367 speakers can bring the stadium sound home to you. They are the incarnation of JBL's stadium arrays and monitor speakers with blue front panels, mixed with modern technology and new ideas on how to bring JBL back to its roots with a modern tuning.
Without completely diluting JBL's signature: The warm, sonorous and above all dynamic sound that pushes you back into the chair as you turn up the volume. Add to that some finesse and sophistication and you have the recipe for a pair of modern JBL speakers.
This pair is colossally large compared to the 4349 that Geir tested. The almost one meter high cabinet is 56 cm wide and over 40 cm deep to accommodate the two large units that JBL has chosen for 4367.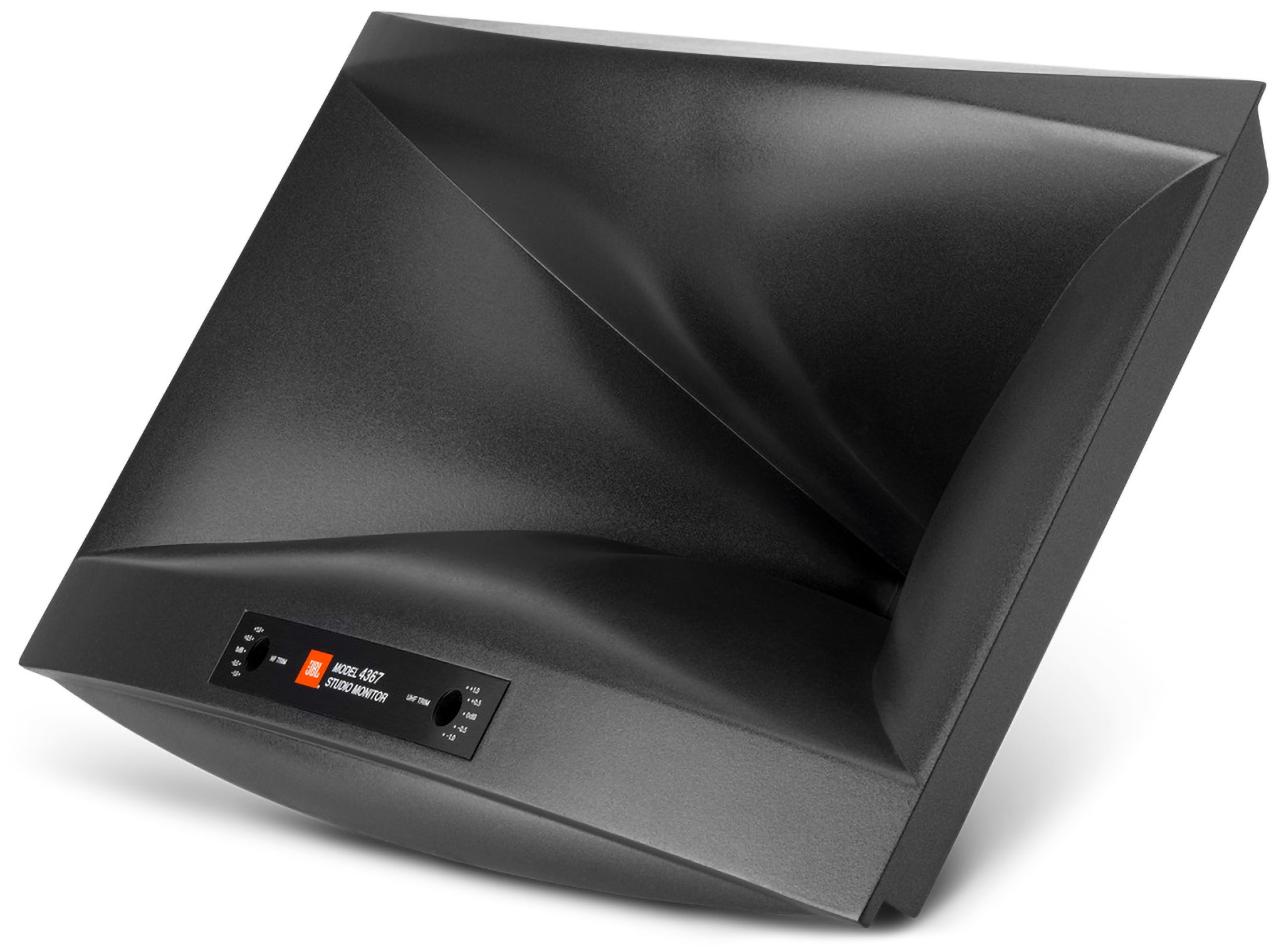 Two-way construction
The 15-inch woofer is JBL's 2216ND, as we know it from the more expensive S4700, and the tweeter, or rather the tweeters, is JBL's D2430K, which has two 3-inch diaphragms in a compression horn.
The special construction uses two polymer diaphragms with two neodymium magnets each and two voice coils, where the diaphragms are located on opposite sides of two phase plugs. They both divide to the base unit at 700 Hz and cover the rest of the frequency range up to 40 kHz.
JBL says that the solution with two diaphragms in one unit smooths out the frequency response and reduces distortion, especially when playing loud. Although the two diaphragms cover the same area, the frequency level can be adjusted individually on two screws in the edge of the gray HDI horn by +/- 1 dB.
One – HF – covers the range from 600 Hz to 9 kHz, while the other – UHF – covers the range from 4 kHz and up.
Although there are actually three diaphragms in a 4367, there is still a two-way speaker. But a brutally raw one of a kind…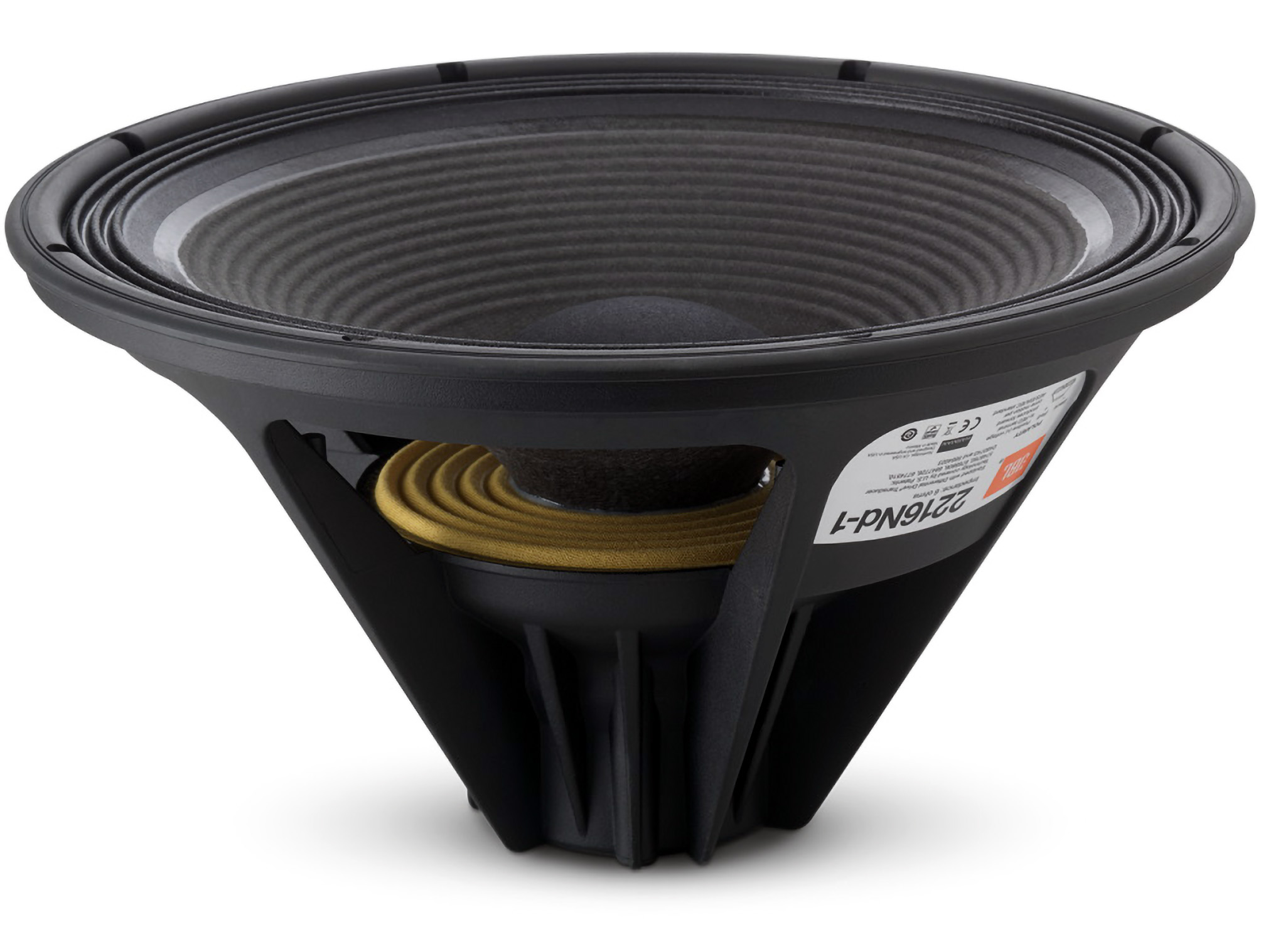 15 inch Aquaplas bass unit
The special horn construction gets good help from the 38 cm large bass diaphragm, which has a black Aquaplas on fiber diaphragm and JBL's so-called Dual Differential system. Which are two voice coils in separate magnetic gaps with neodymium magnets. A solution that JBL in their white paper to 4367 describes as a way to reduce distortion and provide better linearity.
So there are huge amounts of energy going out of the cabinet. Which can quickly give way and create unwanted resonances and problems for the sound. In the same white paper, JBL describes how they have worked to reinforce and cushion the cabinet with 25 mm thick MDF, a reinforced inner baffle for both units and internal horizontal bracing.
The cabinet is veneered in black or walnut with a blue front plate, just like on the studio speakers, where two large bass reflex ports are located under the bass unit. The fronts are either black or dark brown, and the speakers have four adjustable feet in chromed brass with small pads to protect the parquet floor.
Demanding but not picky
The large speakers require some space. They can be pushed against the back wall, but then you are like to have too much bass, so try to pull them further on to the floor. This also makes the bass tighter and better defined.
The wide HDI horn is molded in a material called BMC and shaped so that it spreads the sound 110 degrees horizontally, but only 50 degrees vertically to attenuate reflections from the floor and ceiling.
After finding an optimal location in my room of almost 30 square meters, I switched between different amplifiers in different price ranges – tubes, transistors, class D – and if there was one thing I learned, it was that even though the speakers' sensitivity at 94 dB is relatively high, you will not release the potential without an amplifier with a sufficient power supply. Torque rather than horsepower, if you will.
Therefore, the Yamaha A-S3200 with "only" 100 watts of power fits just as well as the McIntosh MC312 at 300 watts per. channel, but I would not use a Marantz Model 30 for a pair of JBL 4367. I do not think it is powerful enough to provide as much energy as is needed for these speakers.
Sets the whole room in motion
The gorgeous MC1502 from McIntosh – with 2 x 150 watt power – was a successful match with 4367. Its warm sound and distinctly full-bodied bass gave the speakers a solid boost on blues and rock, but the sound at the top was more withdrawn compared to the MC312. Which also tightened the bass up when I played loud.
The integrated Yamaha amplifier is the weakest of the three, but it has so much torque that it had surprisingly good control over the speakers. It was only when I was really playing loud that it made signs to hoist the white flag. But then I could always switch to MC312.
I threw the same Leonhard Cohen recording from London on which I tested both the L82 and L100, and the much larger speakers simply pulled the stage into the room and placed me in the front row. Pure goosebumps!
The bass and drums sat as if cast in the huge soundscape that filled the entire room. The chorus gave depth, and Cohen's voice sounded frighteningly lifelike. It was not even necessary to play very loud to bring out the live feeling; the magnificent bass reproduction and extreme dynamics of the speakers contributed greatly, and the only thing I missed was half an octave more in the bass.
The drum track on Dire Straits' album Love Over Gold is recorded with really good depth and dynamics. There is plenty of power in the bass on "Telegraph Road", and when the drums thunder loose on the otherwise low-key "Private Investigations", you become a boy again and sit there with big eyes. Is it really that cool, I thought, for such a bass dynamic it's been a long time since I've heard of Love Over Gold.
The speakers are in their right place when they can play with the dynamics of the music, and you can feel the pressure – not only in the bass, but over the entire frequency range. The piano tones are felt in the body, and the speakers have a distinct physical way of presenting the music. Everything comes out, and it's not like some speakers where the music just falls out on the floor in front of them; one can feel them all the time.
It does not have to be jazz, blues or rock. Throw on something classic and you are facing another shocking experience. If you've never had a symphony orchestra in the living room, try a pair of 4367. It's far cheaper than renting the Vienna Philharmonic and you can do it as often as you like. When the conductor starts the orchestra with Mahler or Mozart, you will be drawn into the music, your ears will be warm, and you will love it.
The string sound is warm and comfortable, never sharp or thin, but maybe not quite as airy and refined in terms of structure as on a pair of Quad ESL 2905 or Piega Coax. A pair of KEF Reference 5 will also have a slightly better defined stereo perspective, and there is no doubt that the Sonus faber Olympica Nova III is more well-executed. But none of them are as raw, powerful and above all dynamically captivating as the 4367.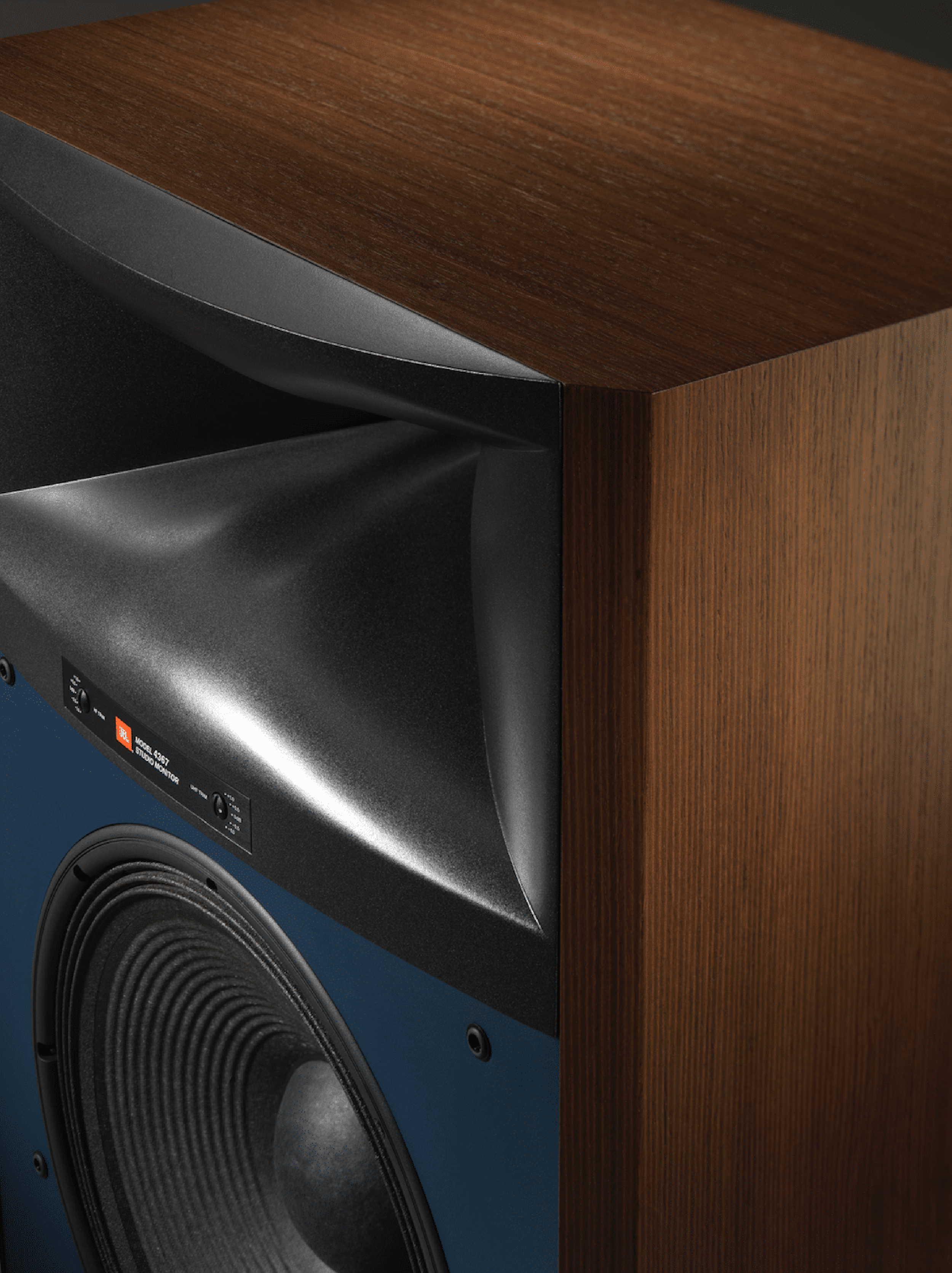 Conclusion
JBL Synthesis 4367 are the kind of speakers you will never forget. They have left a lasting mark in the memory and a new standard for playfulness and dynamism. At the same time, they manage to treat the finer nuances with a gentle hand and have a refined detail that many may not associate with JBL speakers.
The wood veneer and lacquered blue front panel may be the only thing that does not quite live up to the price range they are in, but they can scare the life out of you one moment and smear your soul with musical balm the next. Not many other speakers can do that, not even in this class.