Geir Nordby
Published

2020-08-10 - 2:00 pm
Powerful sound, hard-hitting bass and true surround sound from wireless rear speakers. With Atmos sound both front and rear.
Sounds too grainy to beat the best.
Specifications
Width corresponds to screen size: 55 "w / side speakers, 39" without side speakers
HDMI: 1 in / 1 out (eARC)
Digital input: Optical, USB (for service only)
Network: Wi-Fi (2.4 / 5 GHz), Ethernet
Wireless: Chromecast, AirPlay 2, Bluetooth
Voice control: Passive only (Assistant, Siri)
Analog input: No.
Subwoofer: Wireless 10 "
Dimensions: 88.4 / 120 x 6.2 x 12 cm (W x H x D)
Color: Black
Web: jbl.com
The first time I opened my eyes to JBL's soundbars was when I tested Bar 3.1 a couple of years ago. What it lacked in nuances and delicacies made up for in sheer sheer power and playfulness. And at £ 600, it was just right priced to run away with the victory in the group test.
It did not go quite so well with little brother Bar 2.1, who in addition to being rough in the goal, also did not have enough power to weigh up. That it was cheaper was not enough, it landed between two chairs. The big brother Bar 5.1 Surround was far more powerful and more entertaining when it went under the microscope this spring, but this one was also coarse-grained and a new remote control did not go down well, with its hidden functions that required reading the user manual.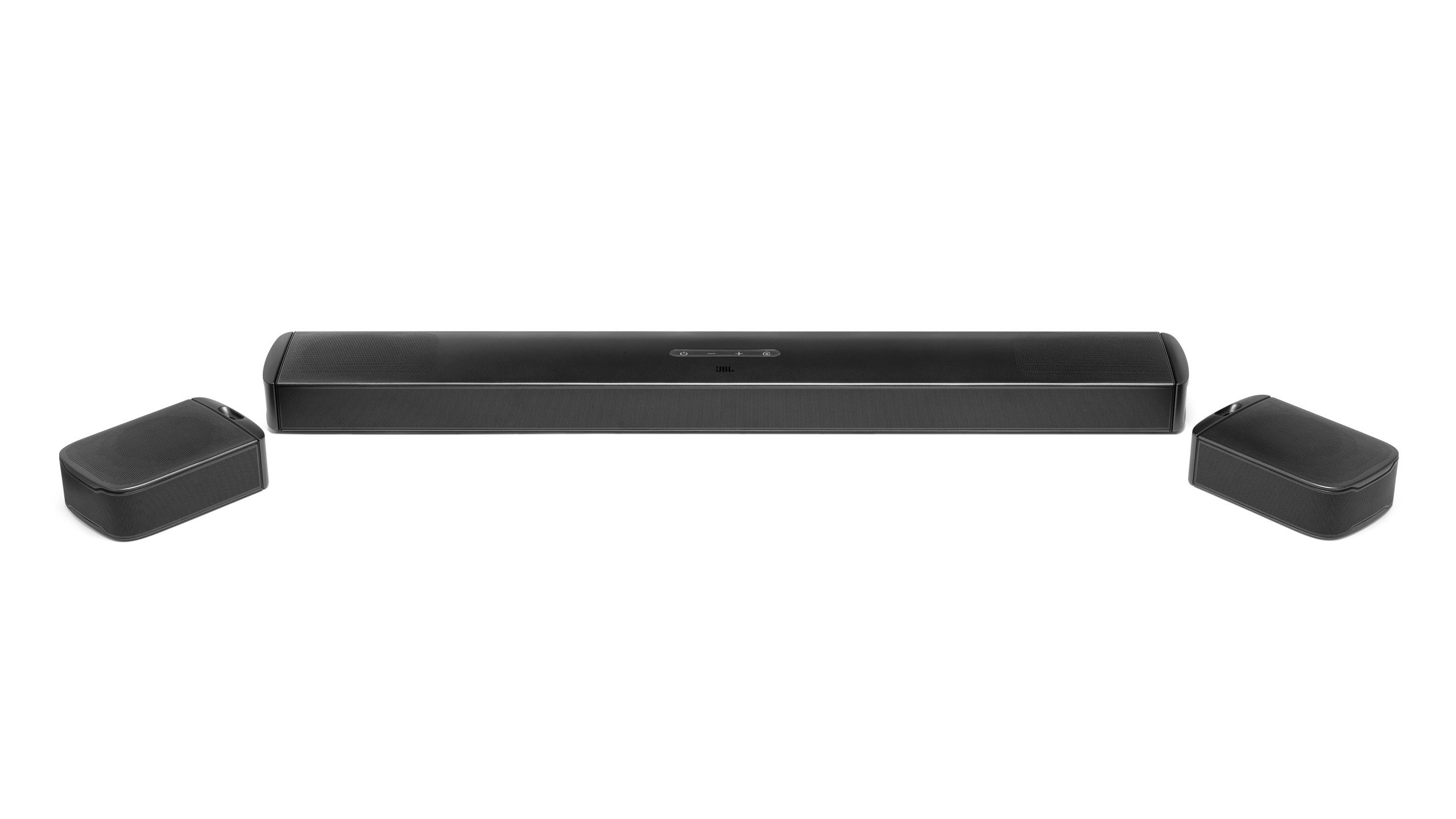 Sound from the sky
Now the latest top model will be able to ride. Bar 9.1, as it is called, is JBL's first soundbar with real 3D sound "from the sky" with Dolby Atmos. Unlike the new Sonos Arc, it also supports DTS: X, and stands out with wireless rear speakers. And not the type you find on the Samsung HW-Q96R, where each speaker is plugged into an electrical outlet. No, here the rear speakers are completely wireless. Though they can run on continuous power with a USB charger, should you wish.
The rear speakers have a built-in battery with a duration of 10 hours, and are charged by being docked to the sides of the soundbar itself when not in use. Docked in this way, they will provide virtual surround sound like other soundbars, and it can be a decent solution if you can place the rear speakers optimally in the living room.
With the rear speakers docked in front, the soundbar is about the same width as a 55-inch TV, while it matches a 49-inch when unhooked.
Atmos sound for the ceiling comes from both upward-facing speakers on the board itself, plus one in each rear speaker. In other words, you get 5.1.4 surround sound with Bar 9.1, which has 13 speaker elements in total distributed on the soundbar and rear speakers.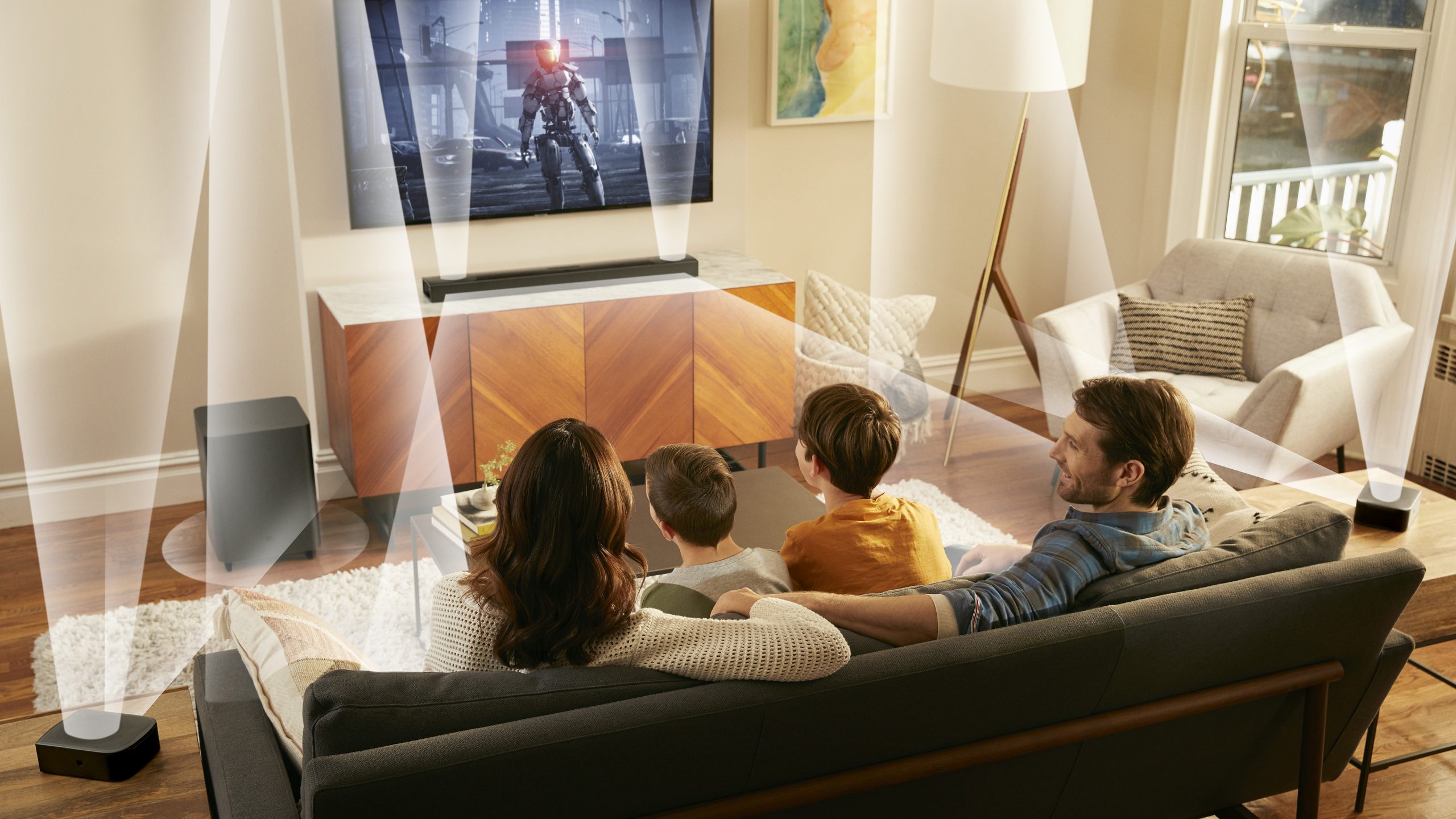 Powerful subwoofer
In addition to nine channels with surround sound, it comes with a powerful wireless subwoofer with a large 10-inch bass element. It is of the same size and power as with Bar 5.1 Surround (300W peak), and seems to be identical at all.
Improved sound return: eARC
For TV audio, Bar 9.1 has an extended audio return channel, eARC. This supports high-definition surround sound back through the HDMI cable that goes into the TV. This requires an updated TV with equivalent eARC technology, otherwise you get the standard audio return channel (ARC), which does not support high definition audio.
Streaming services such as Netflix should still work with Atmos over standard ARC, since the audio track is packaged as a low-resolution Dolby Digital + format. Unfortunately, I did not get this to work with Bar 9.1 connected to the Samsung TV I currently use with regular ARC (Q90R). After contacting JBL, I was told by one of the engineers that it is true that there are some problems with ARC and Atmos via some TVs – including from Samsung – and that this will be fixed in an upcoming firmware update.
For Atmos, I have therefore settled on a Blu-ray player (Panasonic DMP-UB700) connected directly to the HDMI input on Bar 9.1.
Music streaming: Chromecast and AirPlay 2
For music, most people want to be able to stream wirelessly from their mobile phones. With Bar 9.1 you can use Bluetooth, or connect it to your home network with wifi or Ethernet. Then you can use Spotify Connect, Airplay 2 or Chromecast, in practice you can then play any streaming service. Connecting to wifi is easiest with the Google Home app, but iPhone owners can alternatively connect to Bar 9.1 as a wifi access point and then follow the on-screen instructions.
If you want to include Bar 9.1 in a multi-room setup, it can be connected in family with other speakers that support Chromecast or AirPlay 2, and the soundbar can be voice-activated passively via a Google Nest speaker or Apple HomePod.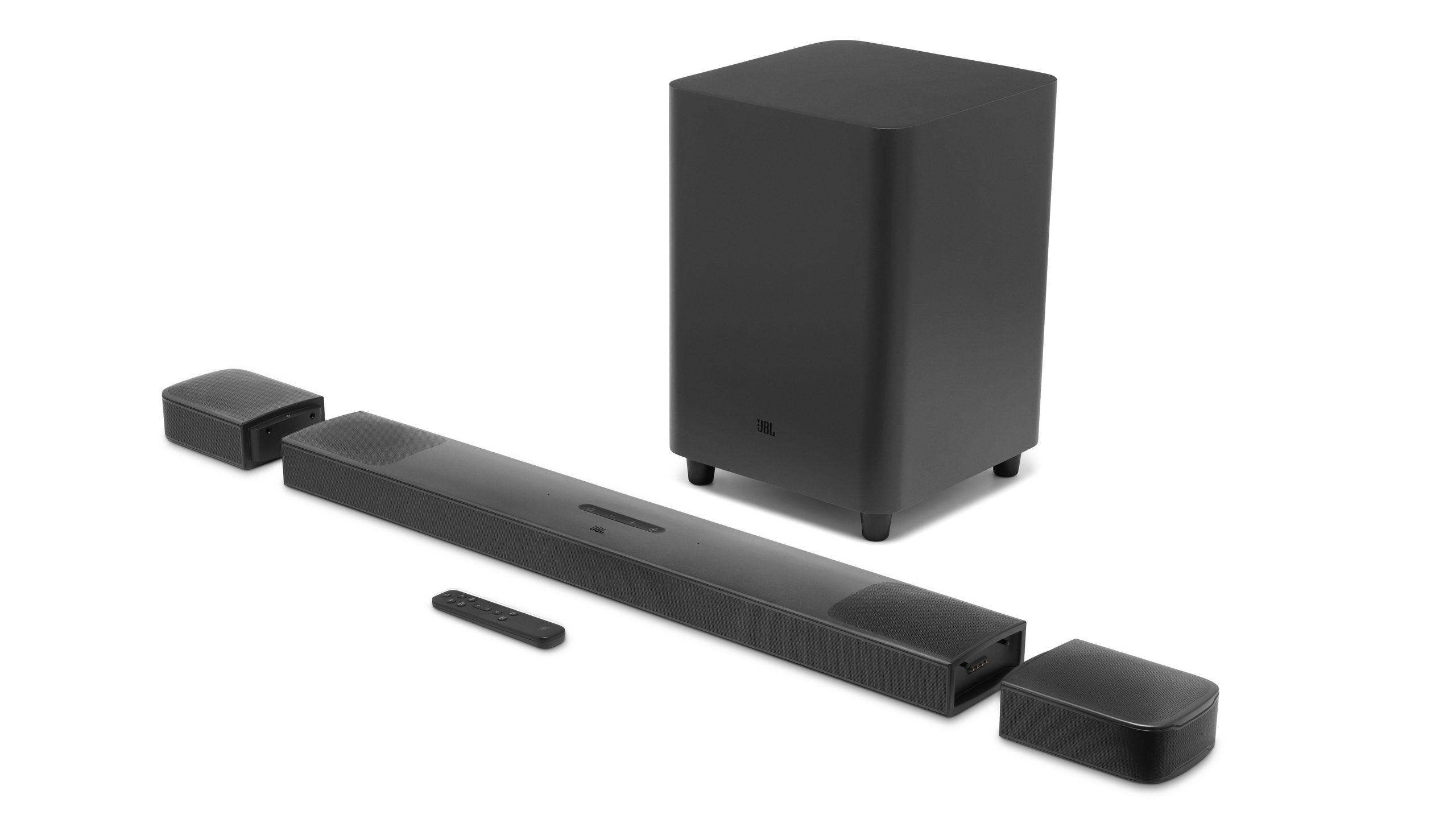 Non intuitive remote control
The sound settings you can make are bass adjustment to the subwoofer in five steps, level of the surround speakers in three steps, and also the Atmos effect – also the one in three steps. The default setting is the middle level for everyone. You can also choose to turn on or off simulated surround sound if the rear speakers are docked to the soundbar. JBL has called this surround sound Smart Mode, and you turn it on and off quite non-intuitively, by holding down the mute button on the remote control, and then switching between and on with the + button.
Thank God the surround sound comes automatically when you hook the rear speakers off the soundbar and place them behind. What I still wish for was the ability to measure the distance from the seat to the soundbar and rear speakers, and be able to plot these, to get the right delay. Otherwise, the surround sound may become too unnatural if you do not position the rear speakers correctly. You get the best surround sound with the sofa well out on the floor, with the same distance to the rear speakers as to the soundbar. Very few live like this.
Lip Sync
If you think "lip sync" is too bad, ie that the sound is too poorly synchronized with the image, you can set audio synchronization. But this too is a bit bumpy: Hold down the TV button on the remote control for at least three seconds, then press + or – on the remote control to adjust the delay.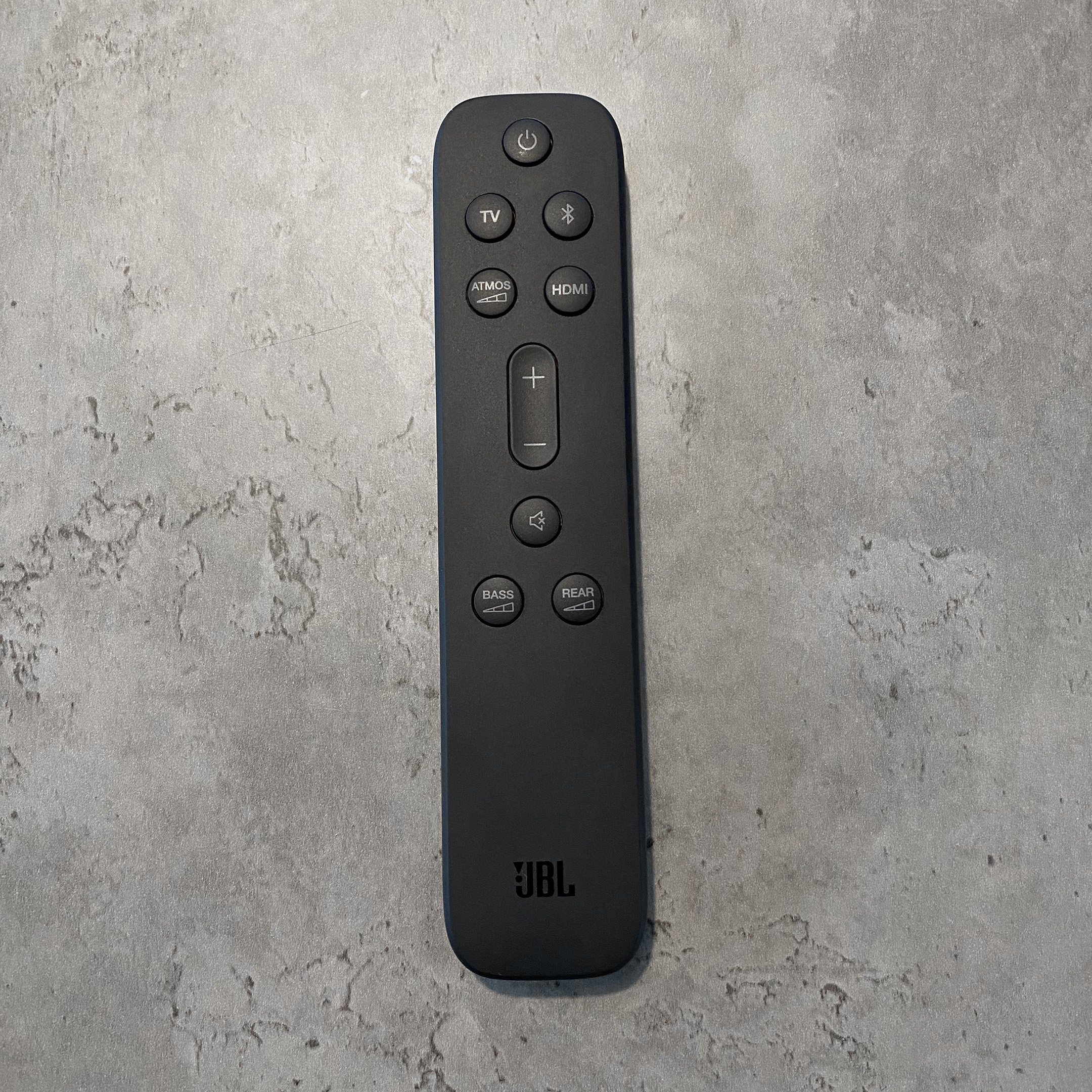 JBL Bar 9.1: Movies
With Dolby Atmos material in the drawer, the living room rumbles well. The introduction to Mad Max: Fury Road delivers true surround sound with the surround speakers located at the rear, and there is a masculinity in the voice of Mad Max, which surpasses that of the Samsung HW-Q76R. The Sonos Arc without subwoofer can also just forget about this harsh sound. If you go up to the Samsung Q96R – which is currently JBL's main competitor as they both have rear speakers and Atmos sound – you will get even louder and cleaner sound, but at a slightly different price (if you do not find it on offer, it should namely soon to be replaced). What the Samsung board lacks is eARC.
The subwoofer blends well into the soundscape and does not sound disconnected. It can not compete with proper subwoofers you buy loose, until there is too much plastic and it amplifies some bass frequencies more than others. But it works convincingly enough, especially for film. About in the same class as the sub on the Samsung Q96R.
Better surround with rear speakers
The rear speakers enhance the experience, by providing true surround sound. It also means that the soundbar does not have to process as hard, which often gives a thin and unnatural sound. Not here. That is, it will not be completely natural, because it is a bit coarse-grained in the treble range and can occasionally sound a bit hermetic at the top. The dialogues on film, especially female voices, get a sharpness at the top that is a bit more expensive when you raise the volume. The same with orchestra-based film music, which could well have had more nuanced tone structures.
Still, I have to say the movie experience is engaging, and the Atmos soundtrack is lifted up in height so you feel surrounded by a hemisphere of sound.
If you do not have the option of a symmetrical placement of the rear speakers, it is better not to. Then the surround sound does not become seamless enough, it sounds fragmented and skewed. But Bar 9.1 also does a perfectly decent job with the rear speakers docked to the soundbar.
Still, I have to say there is something about the Sonos Arc that even without rear speakers gives such a good feeling of surround sound, and more phase-presented – and with an even more impressive feeling of sound from above – that it works better than JBL Bar 9.1 if you do not has the space to have a symmetrical placement of the rear speakers.
JBL Bar 9.1: Music
When it comes to music, Bar 9.1 has the same strengths and weaknesses as its smaller brother Bar 5.1 Surround. There is about the same power to music in stereo, which is good. You can guffaw a lot and feel the bass in the body. But it gets a little too rough in the goal. For music, I would rather choose the aforementioned Samsung Q96R, and also the Sonos Arc sounds cleaner and more open. But it screams for a subwoofer, and then we talk a quite different price range.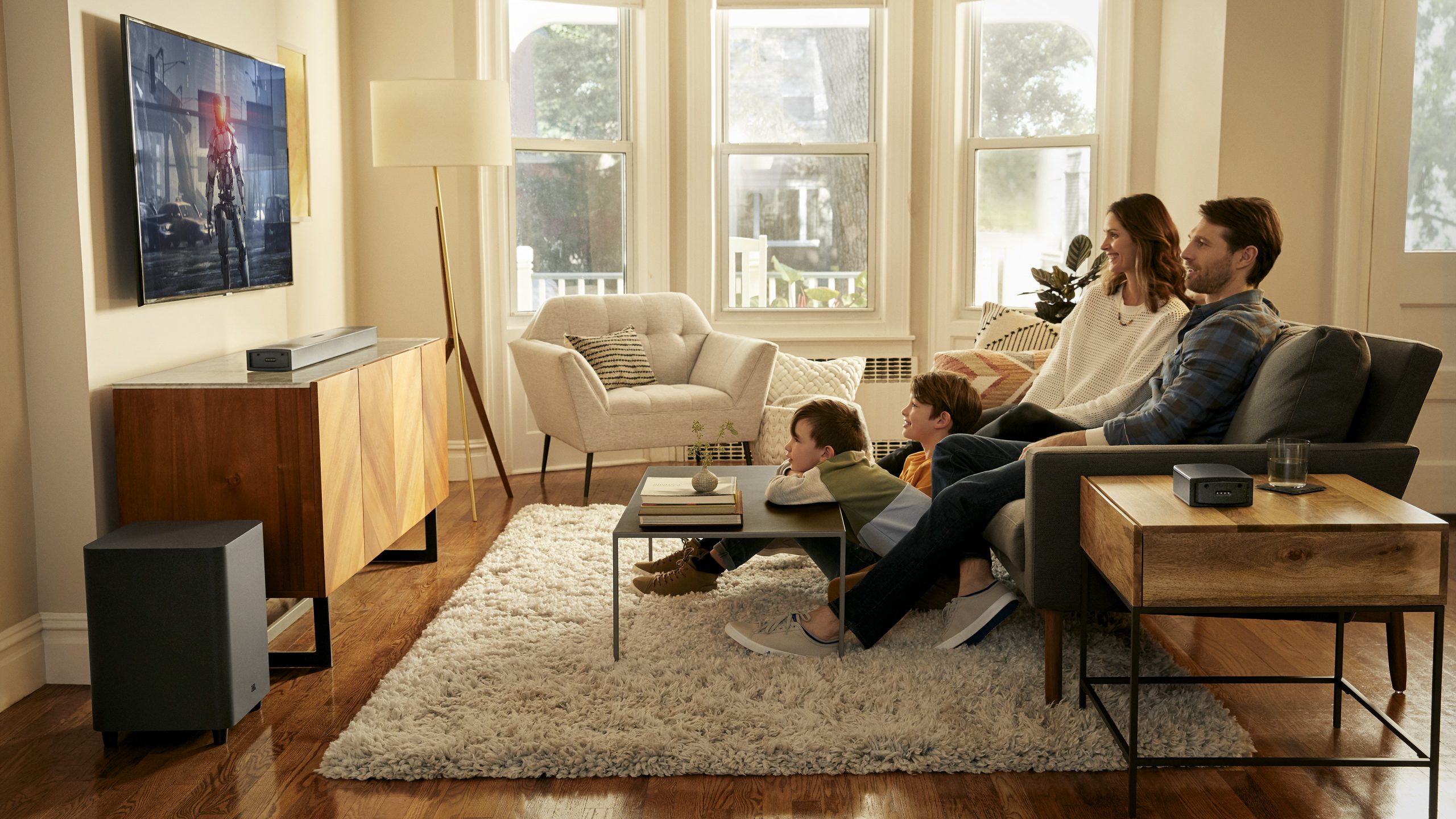 Update 10.08.2020
It turns out that JBL Bar 9.1 actually has automatic calibration of soundbar and rear speakers. You have to read the operating instructions to find out, if you have not received a remote control with a sticker on the back, which explains this (we did not get it).
The remote control has another "hide" function. Hold down the HDMI button for a few seconds and the soundbar enters calibration mode. Place the rear speakers at the sitting position, close to each side. Run calibration. Then move the rear speakers to where they should be located, and run calibration again.
The surround sound is actually improved by this, and the dialogues on film sound cleaner, with a less swollen chest sound area (lower midrange). But I think the sound is a little too loud in the rear channels, even when they are set to their lowest sound level. Or, the real problem is that the left and right front channels get too narrow, with the short soundbar in front. The result is that you hear the dialogues well from the front, but the rest of the sound image is focused backwards, through the rear speakers. If you want the widest possible sound image in front, you may still want to dock the speakers on the side of the soundbar, and rather get quasi-surround sound.
Music in stereo does not sound much better after calibration, as the midrange sounds too slim, and the harshness I felt before calibration has not given up.
The calibration does a lot with the sound, and I would recommend activating it. But it does not work wonders.
Conclusion
JBL Bar 9.1 has a lot going for it. Especially when we talk about muscles, not many people can assert themselves. Action film works great, with tough dialogues and lots of power in the special effects. And with real rear speakers – which are completely wireless and battery-powered – the surround sound becomes a fact. Atmos sound also works well, you get a feeling of sound from the height here, thanks to speaker elements that shoot the sound up into the ceiling, whereupon it is reflected down on the listener.
What the soundbar lacks is finesse and sophistication in the harmonics. On this it is no better than its own little siblings, and when we come up in this price it competes with a lot of good.
The closest competitor is the Samsung Q96R, which sounds pretty much better than the Bar 9.1. It does not have AirPlay or Chromecast, and must stream music with either Spotify Connect or Bluetooth. Still, it is a better buy.
The Sonos Arc is also a good alternative. Even without a subwoofer, it has a more natural sound, and the Atmos effects impress even more – even without rear speakers. But it can not measure muscles with the JBL plank in sound pressure, and then of course especially in the bass. There is simply something about a 10-inch subwoofer.
Nevertheless. We have to draw so that the lightest frequency register is so grained. Knotted remote control functions, on the other hand, you get used to.