John Hvidlykke
Published

2020-09-04 - 9:40 am
Exclusive finish that you normally would have to pay a (bigger) premium for. Detailed and open sound.
The soundscape is reclining, bordering on restrained. They will need a lot of power to reach acceptable loudness.
Specifications
Functional principle: two-way bass reflex
Treble: AMT
Bass / midrange: 6.5 "aluminum / ceramic
Impedance: 6 ohms
Sensitivity: 88 dB
Frequency range: 42 Hz – 30 kHz (+/- 3 dB)
Crossover frequency: 3200 Hz
Dimensions: 27.6 x 40.4 x 36.0 cm (WxHxD)
Weight: 13.9 kg
Colors: walnut / black satin or silver oak / black satin
Web: en.elipson.com
Although the French hi-fi brand Elipson has been around for more than 80 years, where they have received awards in their home country for their often science fiction-like design, they have never been particularly well-known here, and in fact we have only tested one single product from them earlier, namely the compact speaker Prestige Facet 8B.
However, Elipson also has more ambitious designs. Legacy 3210 is the smallest model in the company's newly launched top series, Legacy. The name is meant to create a connection to technology and design from the company's classic models from the 80's.
Large format compact
But back to the present. This is a two-way compact speaker, ie what we would previously have called a bookshelf speaker. But it takes a rather spacious bookcase to accomodate a pair of Legacy 3210s.
Despite the relatively large cabinet (40 liters gross volume), a bass/midrange unit of only 6.5 inches has been chosen. It should make room for a deep bass. It also provides space for a solid cabinet. Elipson states that the walls are 25–32 mm thick, and internally braced. The weight is up to 14 kilos.
The bass/midrange unit has an aluminum diaphragm, coated with a ceramic material. It is quite advanced at this price.
The tweeter unit is an AMT element (Air Motion Transformer) that should reach 30 kHz.
The bass port is located at the back, where you will also find two pairs of solid banana / screw connectors, which allows for bi-wiring. Instead of the usual hoops that use to connect the bass and treble terminals, some serious-looking jumper cables are used.
Much has been made of the details of the Legacy 3210. Top panel in aluminum, rounded edges, and curved sides with veneer in real walnut or black oak complete the impression of luxury. All in all, it looks super exclusive, in a price range where many others settle for a box-shaped spray-painted cabinet or vinyl finish.
Deep sub rather than sound pressure
The basic principle of the speakers is called "Hoffman's Iron Law", and it says in short that you have to choose between deep bass, small cabinets or high efficiency. One can achieve one or maybe two of the things at the same time. But never all three at once.
In the Elipson Legacy 3210, it is the deep bass that walks away with the victory. The speakers actually have a very good and deep bass reproduction. According to the datasheet, they go straight down to 42 Hz, and that's great for a small 6.5 " in a compact speaker.
On the other hand, a sensitivity of 88 dB is not particularly effective. I used the NAD M33, a 200 watt class D amplifier, during most of the test, and it had to be turned up more than usual to reach normal listening level in a not very large living room of 25 square meters.
The naked truth
If you compare the Elipson Legacy 3210 with the Prestige Facet 8B from the same manufacturer, the construction is almost the same: a 6.5″ bass and a treble unit (Prestige Facet settles for a dome tweeter instead of the AMT band). But the Legacy 3210 costs almost four times as much. What do you get in addition to the last three quarters of the money?
The answer is that you get less! Less resonances and coloring. The solidly built cabinet is largely vibration-dead, and the advanced ceramic/aluminium sandwich diaphragm of the bass/midrange unit is far more free of resonances and break-ups, than a traditional cardboard or plastic cone.
It leads to a reproduction, especially of voices, that is dry and naked. The voices are clear with their own timbre – and no more than that. It makes it easy to hear small differences between singers in a choir, or recognize the acoustics in the recording room (or the special reverberation that is put on by the studio technician).
Picky about electronics
As we are used to, the AMT tweeter is well-resolved and crazy. And the transition to the very heavy bass / midrange unit, which can otherwise often be problematic, is beautifully solved.
The cleanliness and the good resolution also mean that the Elipson Legacy 3210 is picky about the electronics they are put together with. Not that it sounds bad in connection with a less well-resolved amplifier. But it will be obvious that some transparence is lacking. The ability to show small differences also applies in combination with equipment several times more expensive than the Legacy 3210. Elegant.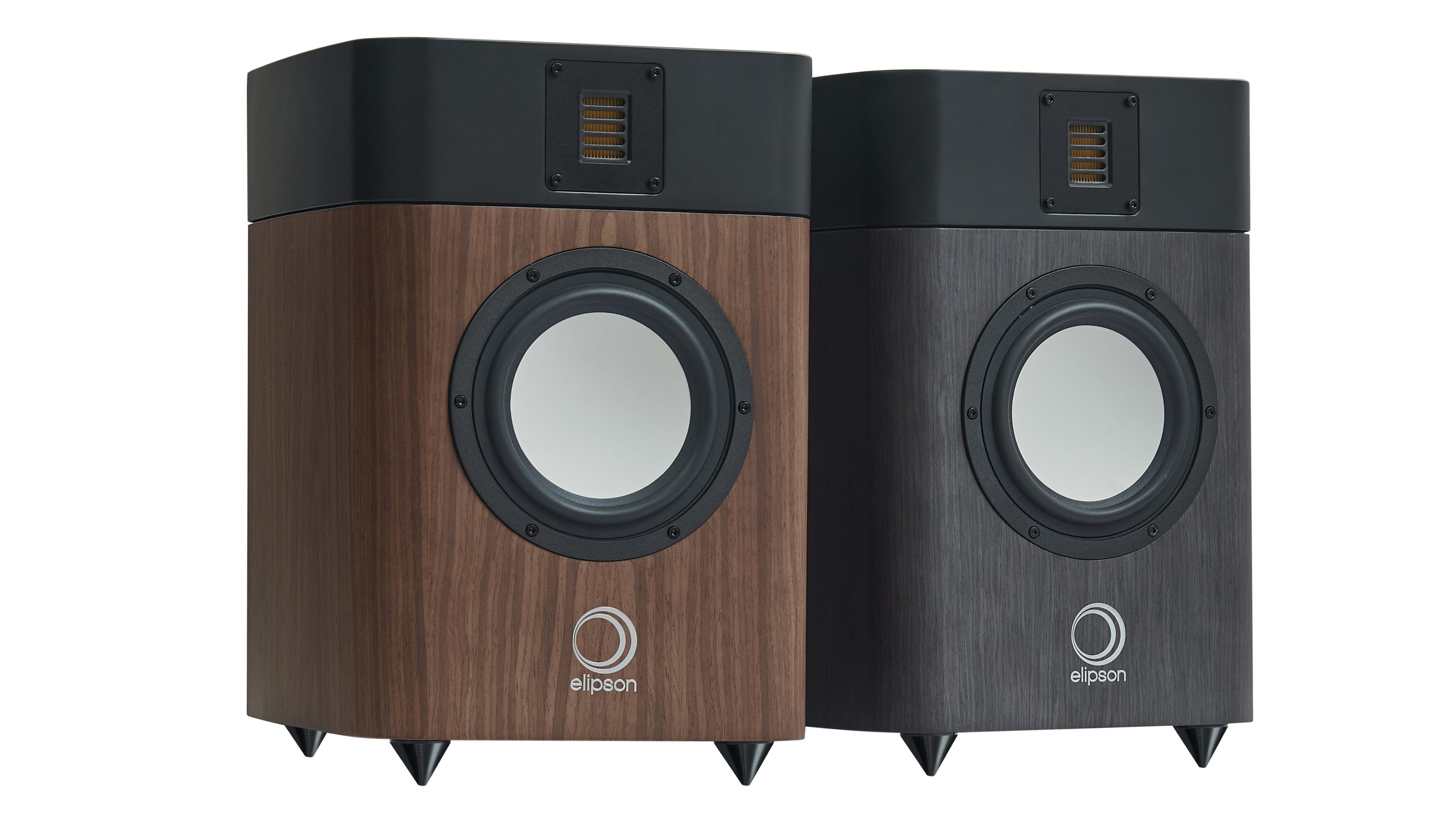 Comfortable reclining
Elipson Legacy 3210 are precise and colorless reproducers, but not cranky or over-analyzing. The overall sound is comfortable, without sharp edges – and a bit reclined. If you must criticize it for something, it would that there is a lack of bite when the music otherwise invites it.
The bass is pretty deep for a speaker of this size, but even though it goes far down in frequency, there are limits to how much weight the deep instruments can get. The giant drums on Zhao Cong and Hans Nielsen's "Moonlight on Spring River" can be heard more than felt.
Power is required
As was the case with the Dali Menuet SE, a lot of power has to be sent into the Legacy 3210 before any kind of sound comes out. But unlike the aforementioned, the Elipson speakers can provide a sensible sound pressure as long as the power is available. With 200 high-end watts in the back, the sound was dynamic. Even when all the drums were released on Peter Gabriel's "Rhythm of the Heat."
At a price that is above average, you can find many competitors to the Elipson Legacy 3210. Should it be in the same format, the Bowers & Wilkins 705 S2 and Buchardt Audio S400 are worth a check. The Legacy 3210 impresses with a sleek finish, and is even more neutral than both. On the other hand, it can be too pretty and withdrawn if there is rock on the menu.
Conclusion
The Elipson Legacy 3210 is a speaker that does not add or subtract anything. The reproduction is dry and uncolored, and the perspective beautiful. But it is not a speaker that invites to party and fun. In many such cases it may be too correct and controlled.
It requires a considerably sized amplifier to be brought to life, but with a couple of hundred watts in the back, it can nicely play up a medium-sized living room. The format is a bit intimidating, and it requires a couple of fairly large stands or, better, being placed on a low sideboard to fit in the living room. The finish is not only impeccable, but directly exclusive.