Geir Nordby
Published

2018-08-17 - 9:00 am
A technological marvel has become even better. Just as placement-friendly and user-friendly, and with an even more outrageous dynamism.
Like its more affordable siblings, the bass is tamer when played loudly.
Specifications
Type: Active, wireless compact loudspeaker
Drivers: 2 x 7" woofers, 5" +1" coaxial drivers
Max sound pressure: 108 dB (1 m)
Power amplifier capacity: 4,500 watt peak
Frequency response: 14 Hz – 27 kHz (+/-2dB)
Digital conversion: 24-bit/192kHz
Dimensions: 25.3 x 25.5 x 34.3 cm (W x H x D)
Weight: 11.4 kg
Devialet  Silver Phantom blew us away when we tested it in 2015. Not because it was the most user-friendly high-end product we had ever seen – which it was! What captivated us was the fact that it breached the boundaries of what we thought was possible. A small wireless loudspeaker that can fit in a bookshelf was able to fill the room with an extreme sound pressure and, moreover, with just as deep a bass as a pair of floor standing loudspeakers. With a peak effect of 3,500 watts, it blasted away with 105 decibels. A technological child prodigy, which in addition sounds particularly good.
It is super expensive, and even on sale is costs an arm and a leg for just for one speaker. Yes, because we are of course talking about a wireless multi-room speaker that can work alone in mono. But it is obviously more fun with a pair connected in stereo. You will be a lot poorer with a pair of Silver Phantom in the living room. But now, Silver has to abdicate from the throne, since the Gold Phantom has arrived. It has the same white missile shape with the exception that the silver side plate has been replaced by a gold one. The price has increased significantly per piece, so the price for a pair is quite hefty. And here we go all in, testing a stereo pair.
More of Everything
What do you get for the extra money? First of all, the power amplifier capacity has increased from 3,500 to 4,000 watts, and the maximum sound pressure from 105 to 108 decibels. It may not seem so much, but it means that the lower sound pressure can be rendered with even more control and dynamism.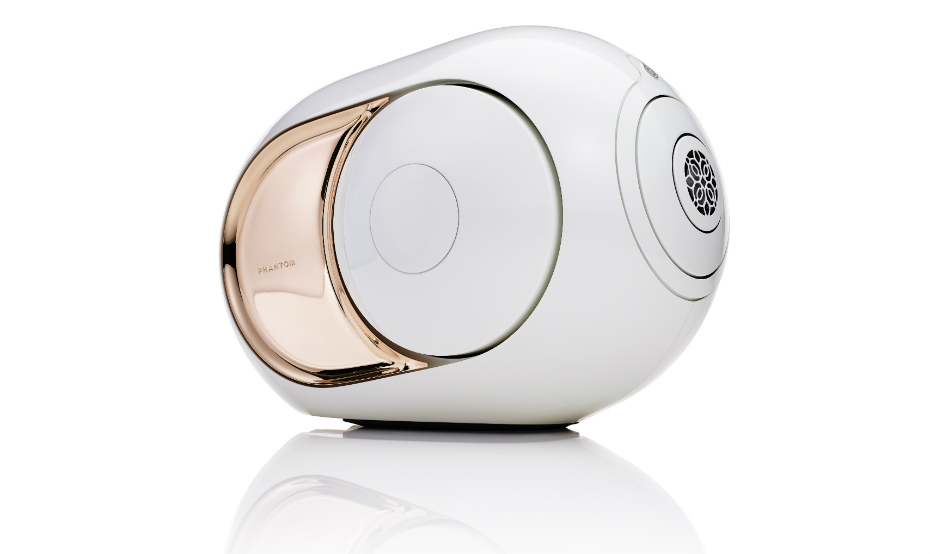 Silver Phantom went down to 16 Hz, deep enough that even some subs trembled in their trousers. At least on paper. The gold version has taken it a step further down to 14 Hz. Deeper than the ear can hear, and this provides more energy to render the audible bass range with lower distortion. Don't forget that we are dealing with a small speaker with an inner chassis volume of only 6 litres, 20 times less than your typical high-end floor standing speakers with similar deep bass performances.
The bass rendition is provided by two 7-inch aluminium woofers, which push out to each side in a push-push mode. This configuration reduces distortions that propagate in the cabinet. The throw is also high, around 3 cm for each driver, and even when playing loudly with a lot of bass, you can place your hands on the cabinet and almost not feel the vibration.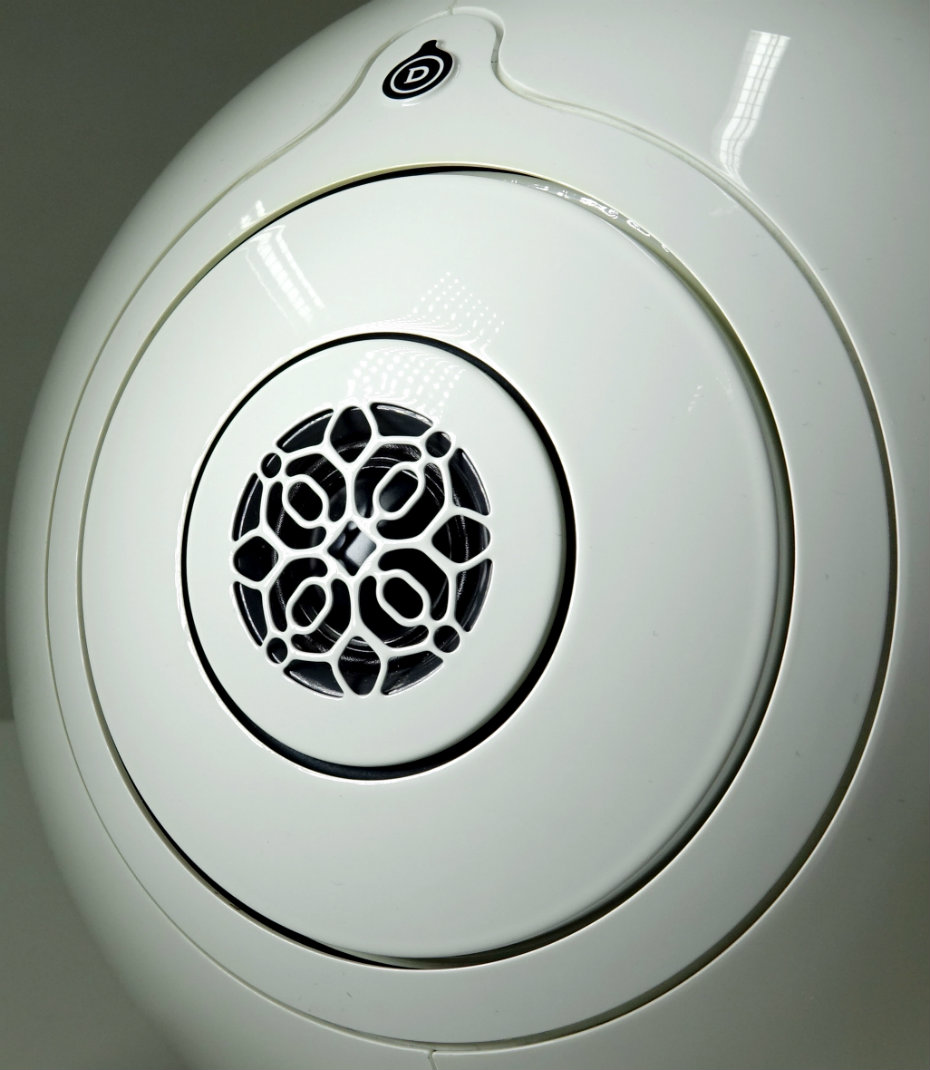 The missile shape on the cabinet is not a coincident. A round cabinet prevents upright bass waves and, moreover, treble tones that move across the surfaces of a square cabinet, whereupon they are transmitted in all directions as they hit the edges of the cabin. Also known as diffraction, which creates distortion and an inaccurate stereo perspective. In front of the cabinet sits a coaxial driver with the tweeter mounted in the centre of the mid-range driver. The tweeter on the Gold Phantom is made of Titanium, an upgrade from the aluminium dome on the Silver.
Better amplifier
Like the smaller siblings Phantom and the Silver Phantom, Gold uses a so-called hybrid amplifier between Class A and Class D, which Devialet calls ADH. This operates in Class A – the purest but also the least effective way of amplifying a signal – within normal volume, which in reality only needs a few watts. But when you need more power is required – as when playing very loudly, the amplifier switches briefly and concisely to the far more efficient Class D. The whole thing is controlled digitally, so that both the sub-woofers play in perfect synergy with each other.
"If it was not for the ADH amplifier, this construction would have been impossible," said Devialet's Marketing Manager, Thierry Massoubre, when he delivered the Silver Phantom at that time. "Otherwise one of the driver would always dominate the other. But here they are absolutely, perfectly controlled, in perfect symmetry."
The amplifier technology is further refined in the Gold model, and is called ADHV2. Where the siblings are quiet, the amplifier in Gold is silent as the grave. Try to put your ear to the tweeter, you will never hear anything.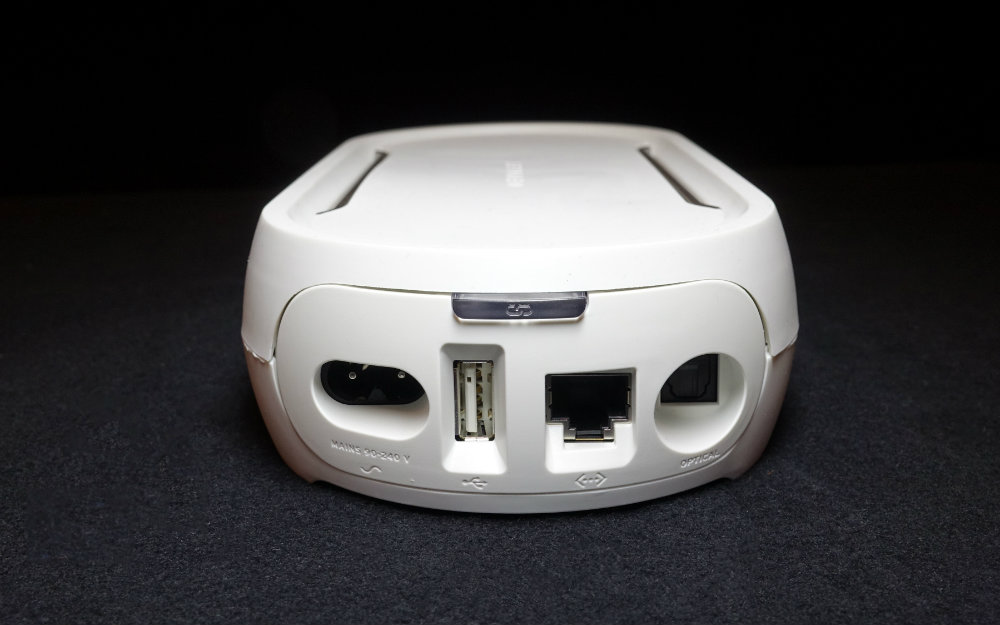 New digital converter
The amplifier isn't the only thing that's new. The entire digital section has been replaced. Where the more affordable Phantom models use a DAC from Texas Instruments (PCM1798), Devialet has developed its very own DAC for the Gold Phantom. This is now an integral component of the ADHV2 amplifier, and pushes the digital noise floor from -106 dB and down to -112 dB. It should be noted that there's hardly any microphone or instrument with a noise floor lower than -110 dB, which is around 18-bit resolution. Thus, Gold Phantom will in theory be able to reproduce the entire dynamic range on any studio recording.

See Thierry Massoubre explain Devialet Phantom's configuration. Here with the Silver Phantom, but it is the same for Gold.
Location and connection
Like its siblings, Gold Phantom is also very placement-friendly. They can stand on the TV-shelf, wall-mounted with brackets, or ideally placed on speaker stands slightly away from the wall and angled towards the place of listening, for the best possible stereo perspective.
The speakers should be connected on a network, in which case the main hub Dialog must first be connected to the home network using ethernet cable. This has not changed since last model. Everything is controlled with the app Spark on the mobile phone or tablet. This locates single Phantom speakers and you define which is left and right, or whether they should be in separate rooms, if you want multi-room.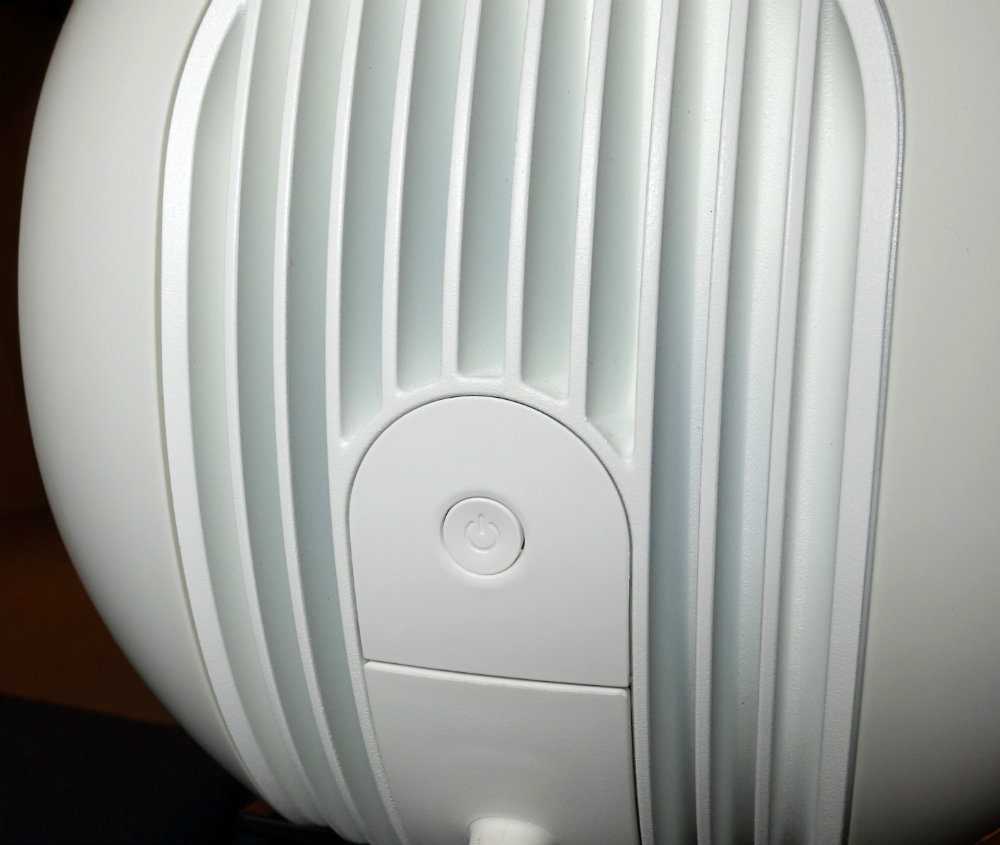 Connections and format support
Phantom supports Tidal, Spotify and Deezer. Other services can be connected via Bluetooth, which is finally included. For AirPlay, an AirPort Express or previous-generation Apple TV must be connected to the optical input on the Dialog.
Still as user friendly
The user experience is seamless as always, the app is still one of the most streamlined I know, and the Tidal feature is a dream. For my part, Devialet's app is second to none, not even Sonos, and that certainly says a lot.
The sound of gold
When it comes to sound rendition, the Gold version is still a notch better than Silver. Neil Young's Harvest Moon has an amazing tone of the finger-picking of the acoustic guitar, and the choir ladies sing clear as the day in the background. Neil's voice is as open and transparent as the way I remember hearing it. And even if this song is no test of bass of any kind, the bass guitar is steady as a rock, and the drum beat shines at the top. There's even more air and more shades in the Gold than I can remember in the Silver (I didn't get to compare them directly to each other).
However, the Kills' Doing it to Death from latest album Ash & Ice has a deeper and more rhythmic bass, and if you play it on what I consider to be "normal volume", it's all brilliantly controlled. The loudspeakers can also play insanely loud, even louder than the Silver Phantom. But like its weaker siblings, the bass flattens out in the Gold when the volume is increased. It becomes slimmer and flatter, and thus rendering a more clinical and cold soundscape.
In contrast, there is more warmth and fullness in the bass at high volume when playing on Audiovector QR3 powered by the Rotel RA-1592. A combo that is expensive, and thus comparable price-wise. Where the Devialet does not slack off is in the dynamics in the mid-range, which is as lively and playful as anything we've heard, and cleans up even the most messy soundscape. Devialet has something that you cannot get with passive speakers.
However, a small weakness our test subjects of Gold Phantom shows is that the stereo perspective is not as spot on as with the passive speaker pair by Audiovector. Could it be that the Dialog is unable to get the two wireless speakers to hit on target? That one of the loudspeakers has a delay of a microsecond? This was not something I noticed with the Silver Phantom, and if I go back to my notes from the time, I write that it had better stereo perspective than the digital and wireless Dynaudio Foxus 600 XD. But it's impossible to ignore the fact that the Gold Phantom does not have an equally defined centre of soundscape like the Audiovector QR3. Certainly not the pair we borrowed. It should be mentioned that this was the first time that the Frenchmen sent by Devialet had heard about this when they came to retrieve the speakers, so it might be just this pair. It wasn't a big deal, but at this price one should really expect perfection within this area.
Conclusion
With Gold Phantom, Devialet has pushed the boundaries, which the Silver Phantom had already pushed quite a lot, even further. Gold can play even louder, cleaner and more explosive, and get music to leap out of the speakers and turn it live in the living room! And there is genuine deep bass here!
You can use a single speaker in mono, or buy two and connect them in stereo. Then you can add a speaker in your bathroom, one in your bedroom and fill your house with Phantom speakers. It could then make sense to buy the more affordable model for the other areas, because the one that is simply called Phantom is actually also pretty tough with a 750 watt peak-effect and 99 dB maximum sound pressure.
The user-friendliness is great, everything is tip top, but be aware that the bass levels out when played loudly in order to protect the speakers, and we experienced that the stereo perspective was not 100 percent in the middle, probably due to a slight delay of about a millisecond on one of the loudspeakers.
Nevertheless, we are still impressed with Devialet's ingenuity and engineering, and Gold Phantom is doing what it can to push boundaries. Without having compared them directly, I wonder whether you actually can get more for your money by choosing the less expensive Silver Phantom.