Geir Nordby
Published

2021-03-22 - 11:00 am
Great speakers make great sound! Hard-hitting bass, while the sound is fine and balanced, also upwards in the tone range.
Finding an affordable amplifier, powerful enough to bring out the potential, might prove difficult.
Specifications
Type: 3-way bass reflex
Frequency range: 35 Hz – 36 kHz (-3 dB)
Sensitivity: 90.5 dB/4 ohms
Treble: 29 mm silk dome
Midrange: 7″ wood fiber
Bass: 9″ wood fiber
Dimensions and weight: 117.2 x 26 x 40.6 cm/37.1 kg
Finish: Black ash or dark walnut
Web: dali-speakers.com
At a time when large speakers increasingly have to give way to small, wireless boxes in the home, it is nice to see that there are still those who go against the flow. Danish Dali is among those who still think large speakers are the best, and last but not least is the largest model in the Oberon series, namely the Oberon 9. With two hefty 9-inches to thump loose in the bass!
As many manufacturers have cut out large, boxy speakers, Dali sees that they are gaining increasing market share in this area – which in recent times has almost become a niche. But as Lars Worre, chairman of Dali, says: "There are LOTS of people who think it's ok that good sound is a clearly visible part of a cool lifestyle with music and boys toys".
Dali has a history in this segment from many years ago, and Lars himself grew up in the business while it was still a major license manufacturer for Cerwin-Vega in the years 1983-1997. So that the DNA with a little more physical expression has probably stuck well there.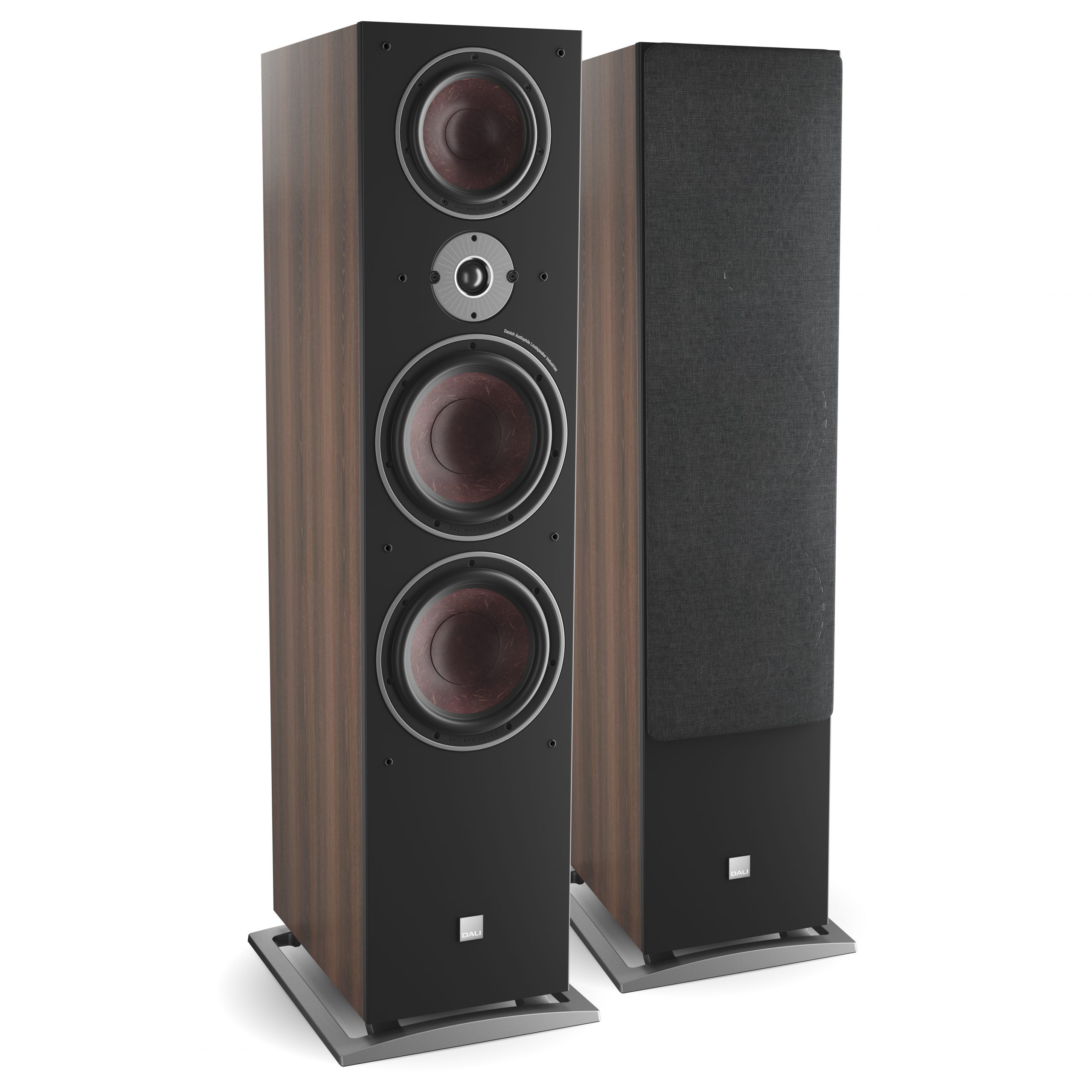 Bodybuilder in a tuxedo
With Oberon 9, Dali has wanted to make a muscular athlete, or – as Dali's CEO and chief engineer Lars Worre describes it – "a bodybuilder wearing a tuxedo". With that lies that you want a speaker that can play loud, hard and physical, but still founded in sober, musical qualities.
At just under GBP 1,500, the Oberon 9 should be considered a lavish speaker for those who do not accept anything halfway, but where you still stay within reasonable price limits. Here you do not have to be rich or get into big consumer debt to shop. Just make sure that such a large and physical speaker needs a proper amplifier. The selection of powerful but affordable amplifiers has shrunk a lot lately, and it is starting to be difficult to get below 20,000 kroner. But there are exceptions, such as the NAD C388.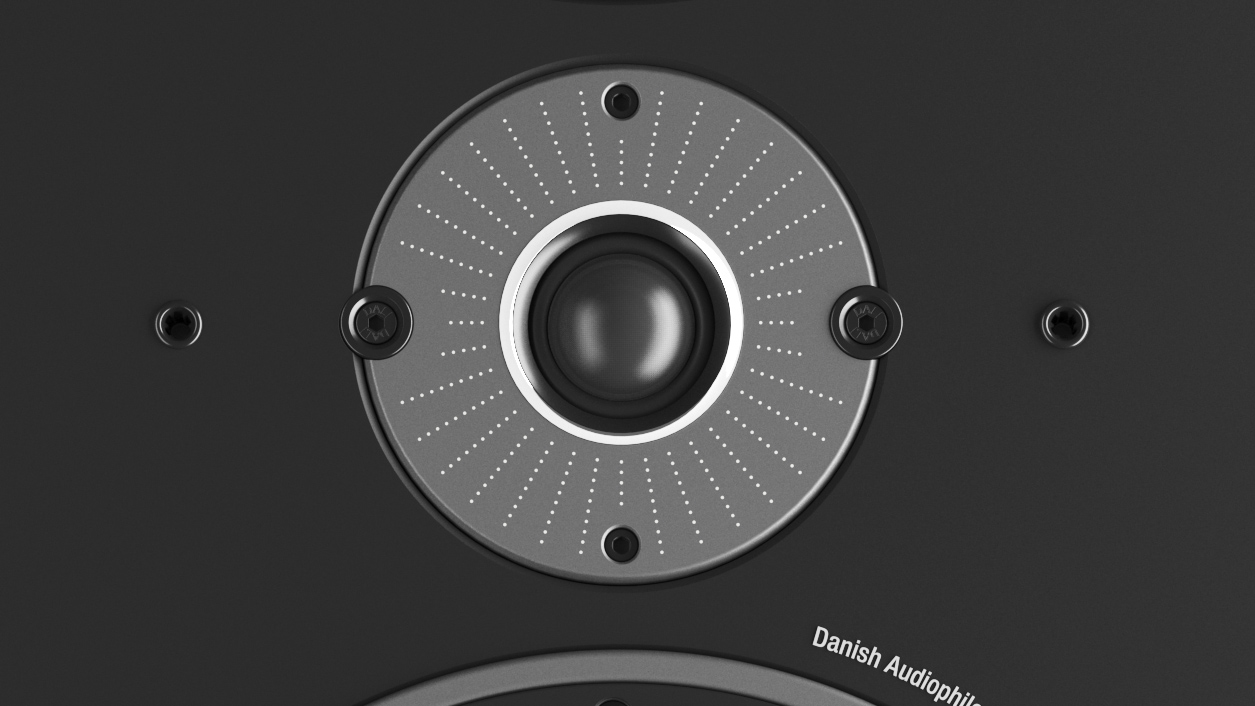 New magnet
The Oberon series is Dalis' most affordable speaker series to date, where they use the magnetic technology they call SMC in the woofer and midrange drivers. The letters stand for "soft magnetic compound", which we first saw and heard in the most expensive Epicon series. The material is similar to ceramic. First crushed into a powder, then baked in the oven – whereupon it hardens and has the property that it has magnetism, but at the same time hardly conducts electricity. This creates far less distortion of the electrical music signal in the magnetic system. Other speaker magnets usually use iron magnets, which are also very magnetic but also conduct current. SMC also has a more constant magnetic field at different frequencies, so that it does not vary as much with the music signal as iron does. The result is that Dalis SMC material has much less harmonic distortion than iron.
The Oberon series contains a simpler variant of the SMC material than the more expensive series, but we must believe that Dali retains the benefits to a large extent.
The woofers has a magnet in a ceramic material that provides lower distortion than iron. Photo: Dali
Three-way with wood fiber
The Oberon 9 is a three-way speaker, and in addition to the large 9-inch speakers, the speakers have a 7-inch midrange. This provides better dynamic conditions, as each speaker element has less work to do. The membrane material is wood fiber, which Dali believes is a nice combination of light and rigid, at the same time as the resonances that may occur will occur more naturally and ear-friendly, than from, for example, an aluminum membrane.
Large tweeter
The tweeter at the top is almost half an inch wider than most typical tweeters. This should enable it to handle a wider frequency range than a smaller dome.
When you also have a dedicated midrange driver to handle the frequencies between 780 and 3400 Hz, it gives each speaker element good working conditions, so that they can play really loud without distortion.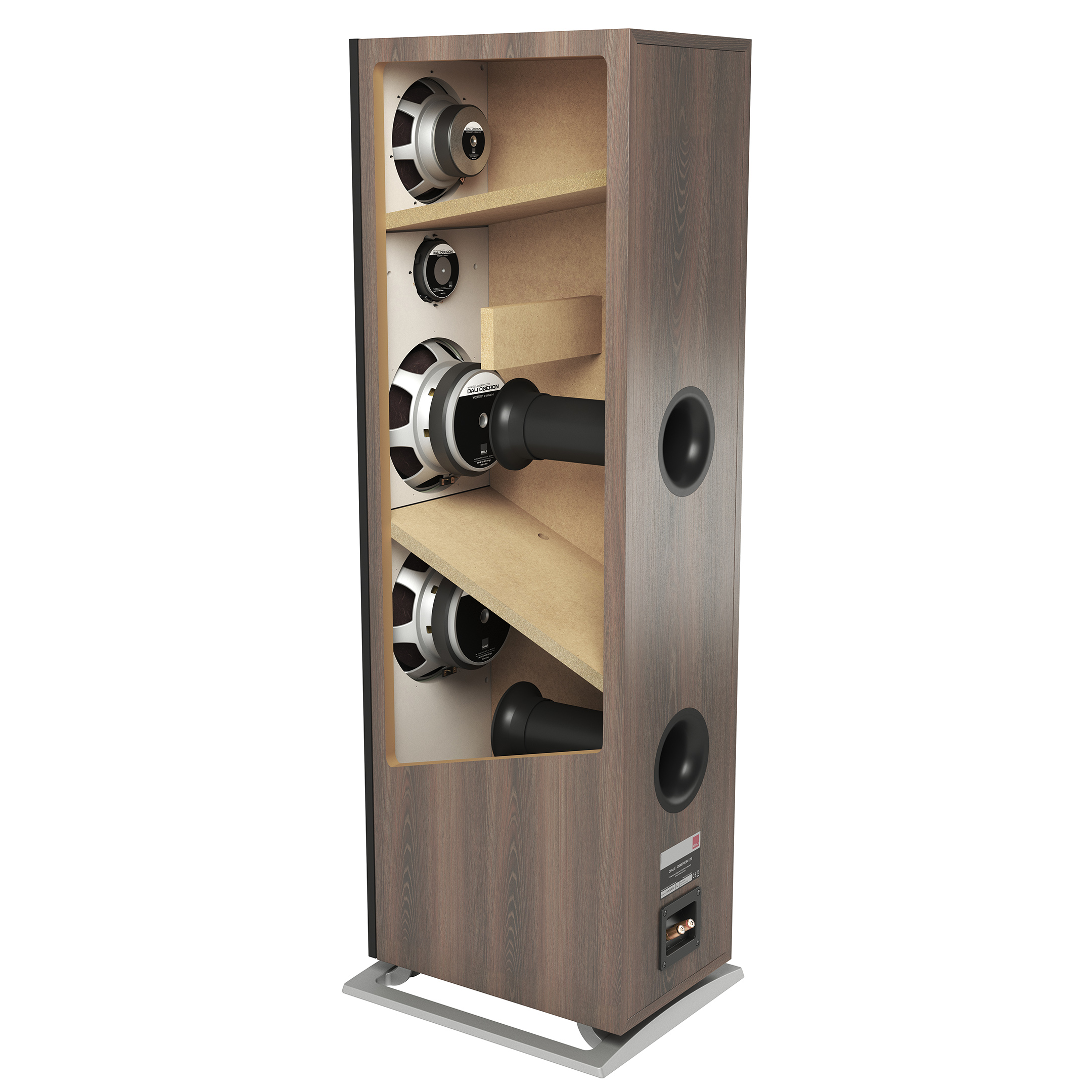 Spikes and grills
It comes with spikes that are recommended if your surface allows it. They are very small for such large speakers, but they do the job. If, on the other hand, you are afraid of scratching the floor, you can use the included rubber feet. The speakers stand on a solid aluminum base.
The grills that cover the elements are nice enough, but I would like magnetic fasteners so that you avoid the plug holes that are revealed when the grills are removed.
Placement
The larger the speakers, the harder they can be to place. Well, really, it's more important how deep they go in the bass, because it's the deepest bass frequencies that can be tricky. Oberon 9 does not actually go very deep, 35 Hz with a linearity of -3dB is actually quite standard among floor-standing speakers, even those that considerably smaller. This also makes the Oberon 9 work better even in smaller rooms, than they would do if they e.g. went to 20 Hz.
I still would not place the speakers right next to the back wall. The benefit from air. In our test room it worked fine with about 1 meter from the back wall, measured from the front plate. And about 70 cm to each side wall, measured from the center of the treble element. But all rooms are different, it's a matter of trying. And I suggest finding the the best location before you put on the spikes.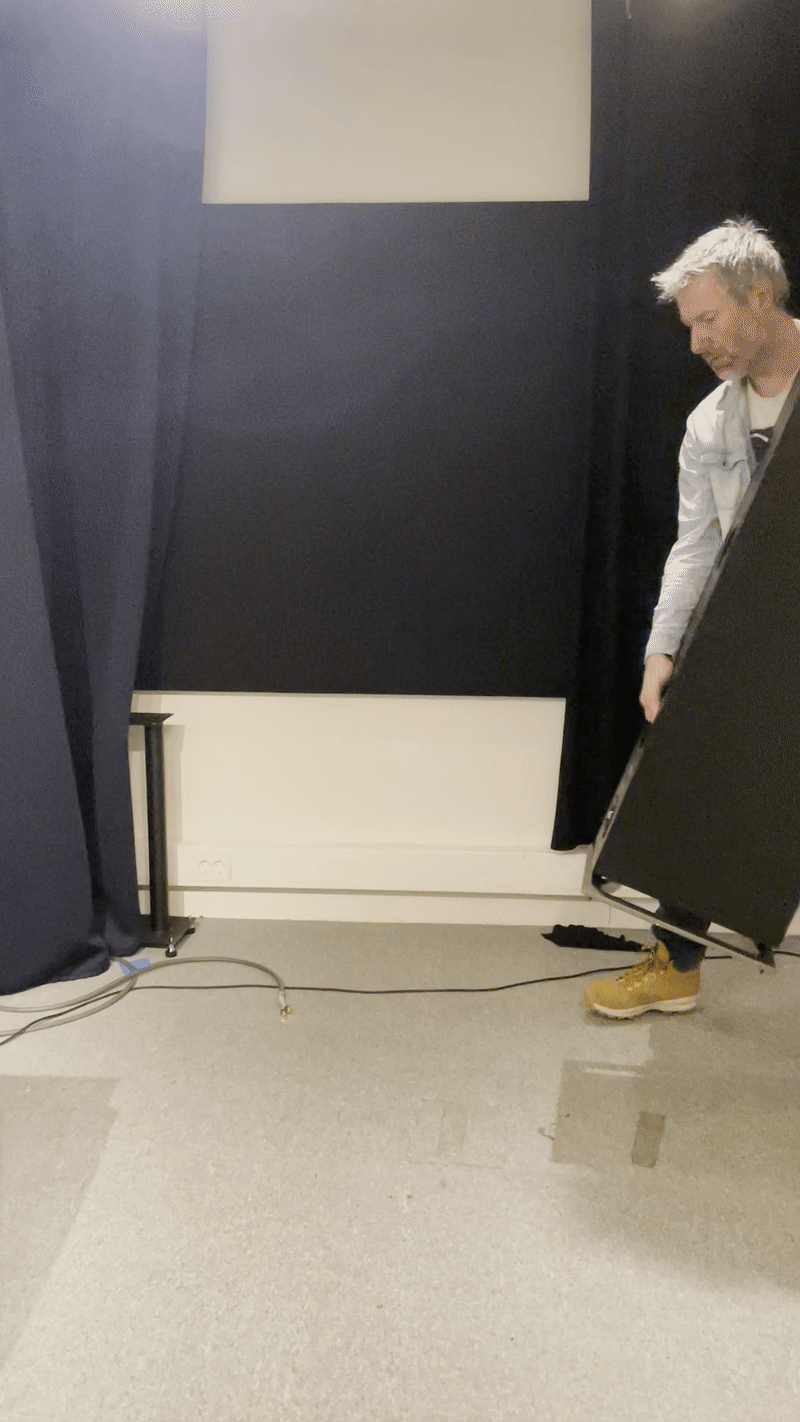 Sound with a punch!
These are speakers that are made to fill a large room with sound, or to play even louder and more physically in smaller rooms. In any case, you do not want a tangled amplifier for Oberon 9. Unfortunately, I do not have the mentioned NAD C388, which I guess is the perfect match, at hand. Instead, I use the Hegel H390, which for 50,000 kroner is actually far too expensive for these speakers, but which is a perfect match in terms of power and control, and which will bring out the potential in the speakers. You also get far with the H190, but if you want further down in price, I would go for the NAD C388.
With Billie Eilish and the song Therefore I Am, the stage is set for Party with a big P. With the volume wheel on the H390 turned up well, the bass tones at the bottom are large and physical. You know the rhythms well in the body, at the same time as Billie's low-pitched and consonant-focused voice tickles nicely behind the ear canal. Where typical party speakers often hit hard, but sound both sharp and undefined, the Dali speakers hold a good grip on the soundscape. The stereo perspective is presented solidly, and it is surprisingly neat sound you get here. I was afraid in advance that it would rumble too much in the cabinets, but it works surprisingly well. Also when playing lower, with acoustic music that places greater demands on quality.
The grand piano of Tori Amos on the song A Nightingale Sang in Berkeley Square from the TV series Good Omens, sounds great with a great background. At the same time, there is a light and free touch in the lighter keys, and Tori's voice has both thrust and air in it. The strings also come out well, and fill in the soundscape in a masterful way.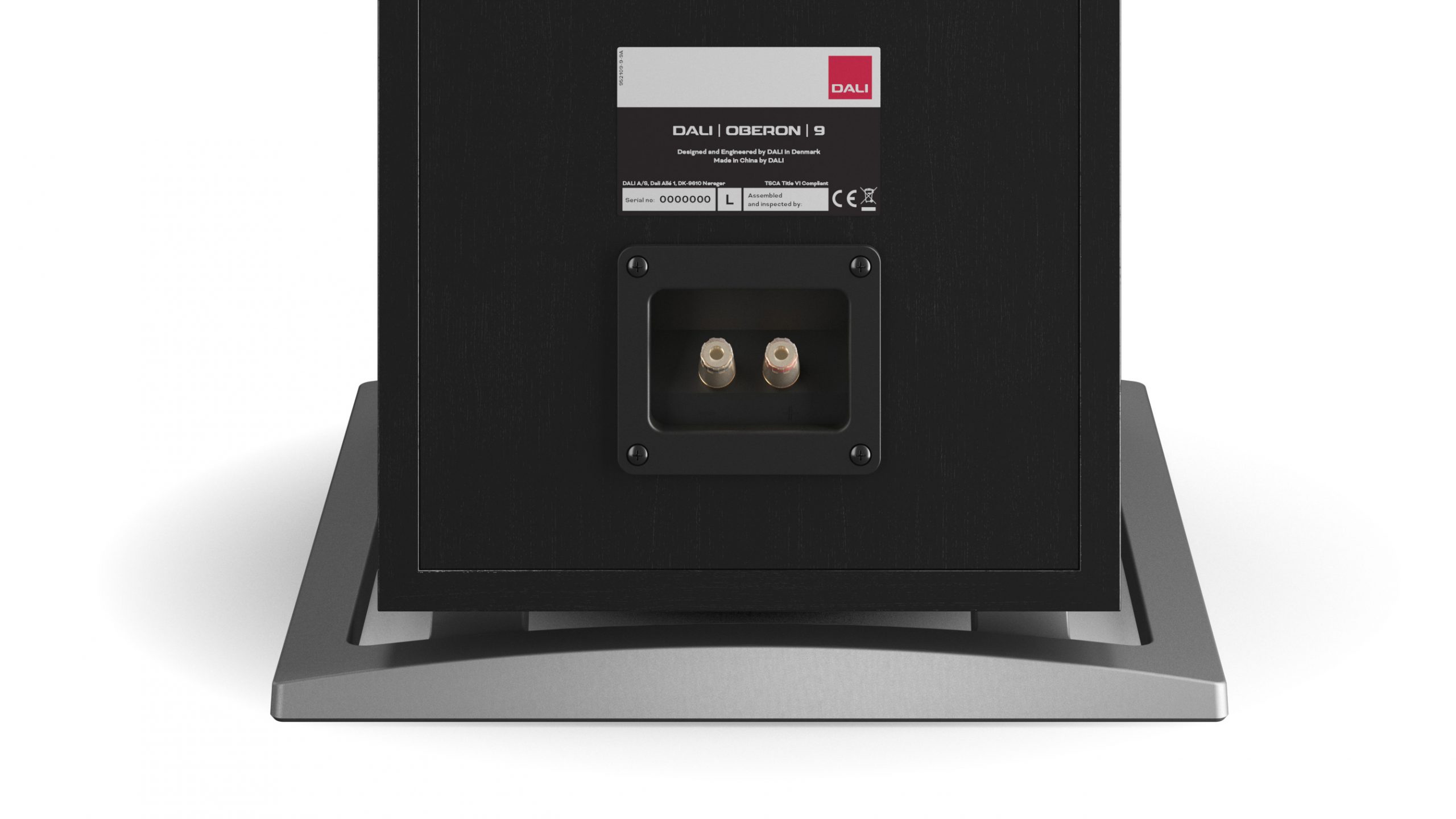 Slightly harsh?
There is of course a reason why there are very expensive speakers of this size, and when it comes to bringing out the smallest nuances in the soundscape, Oberon 9 paints with a slightly large brush. And sharper rock productions – of which there are very many – sound a bit flat and also on the verge of being harsh the top. This makes the details stand out, but if you are going to play loud with distorted guitars and hard cymbals, then I prefer some more nuanced speakers.
But it's a small price to pay, because these are really great all-round speakers, which work almost as well for background music during a dinner for two, as for driving half the neighborhood insane, when you want it.
Competitors?
Finding direct competitors to the Oberon 9 is becoming a bit difficult. Speakers in this price range have become so small and neat. Bowers & Wilkins 603 and Audiovector QR3 are more nuanced and "correct" speakers, but they can not be erased as Oberon 9. The same with Focal Aria 926. But at more moderate sound levels they all sound better than the Dali. But the comparison is unfair, because if you take a smaller speaker in the Dalis Opticon series, you get the same result.
Direct competitors to the Oberon 9 are, for example, the KEF Q950 and the Klipsch RP-8000F. Unfortunately, I have not heard these yet and can not comment, but Oberon 9 sounds more nuanced than KEF predecessor Q900.
Conclusion
The Dali Oberon 9 is almost everything you could want from a large speaker. It sounds balanced and good regardless of music style, it has dynamics and control in place – and it can thunder loose with an addictive bass pump whenever you want. Here there is full control; it is big, physical and delicious.
With its sensitivity of over 90 dB, it is no problem to play loud with most amplifiers, but to get the speakers to behave with good control, you still need quite powerful cases. Not less than 150 watts is my tip. It can be expensive, but it's worth it.