John Hvidlykke
Published

2020-08-26 - 8:00 pm
The sound is so incredibly big and beautiful that your jaw will inevitably drop. Nothing is missing here. And it looks like a million.
The size sets a limit for how loud and how deep you can play. Not suited for small amplifiers.
Specifications
Functional principle: 2-way bass reflex
Tweeter: 28 softdome
Bass / midrange: 4.5 "m. Wood fiber membrane
Impedance: 4 ohms
Sensitivity: 86 dB
Frequency range: 59 Hz – 25 kHz
Crossover frequency: 3000 Hz
Dimensions / weight: 25 x 15 x 23 cm / 4 kg
Colors: high-gloss varnish walnut veneer
Web: dali-speakers.com
Speakers are one of the most popular product groups on our site. But in the actual living rooms they usually live a little on grace. Here they are required to sound good, but preferably not be seen.
Dali Menuet SE should meet even the strictest size requirements. They are considerably smaller than shoeboxes, and they can easily be put on a shelf or hung on the wall. Although it would be a shame for the great little speakers.
Has survived all it's siblings
Menuet is among the most popular Dali speakers of all time. And at least one of the most tenacious, as it has survived two speaker series since its launch in 1994. The Menuet was originally part of the Mentor series. When Mentor went out of production, Menuet was adopted as a member of the Royal series, and now it stands on its own as the only living member of its family.
The small speaker has been particularly successful in the Japanese market, where homes are small and square meter prices are high. The Menuet SE was actually developed as a special luxury model for sale in Japan, but it can now also be bought in Scandinavia.
The finish is one of the most beautiful I have seen at this price: high-gloss lacquered veneer of wild walnut in a nice deep-brown colour.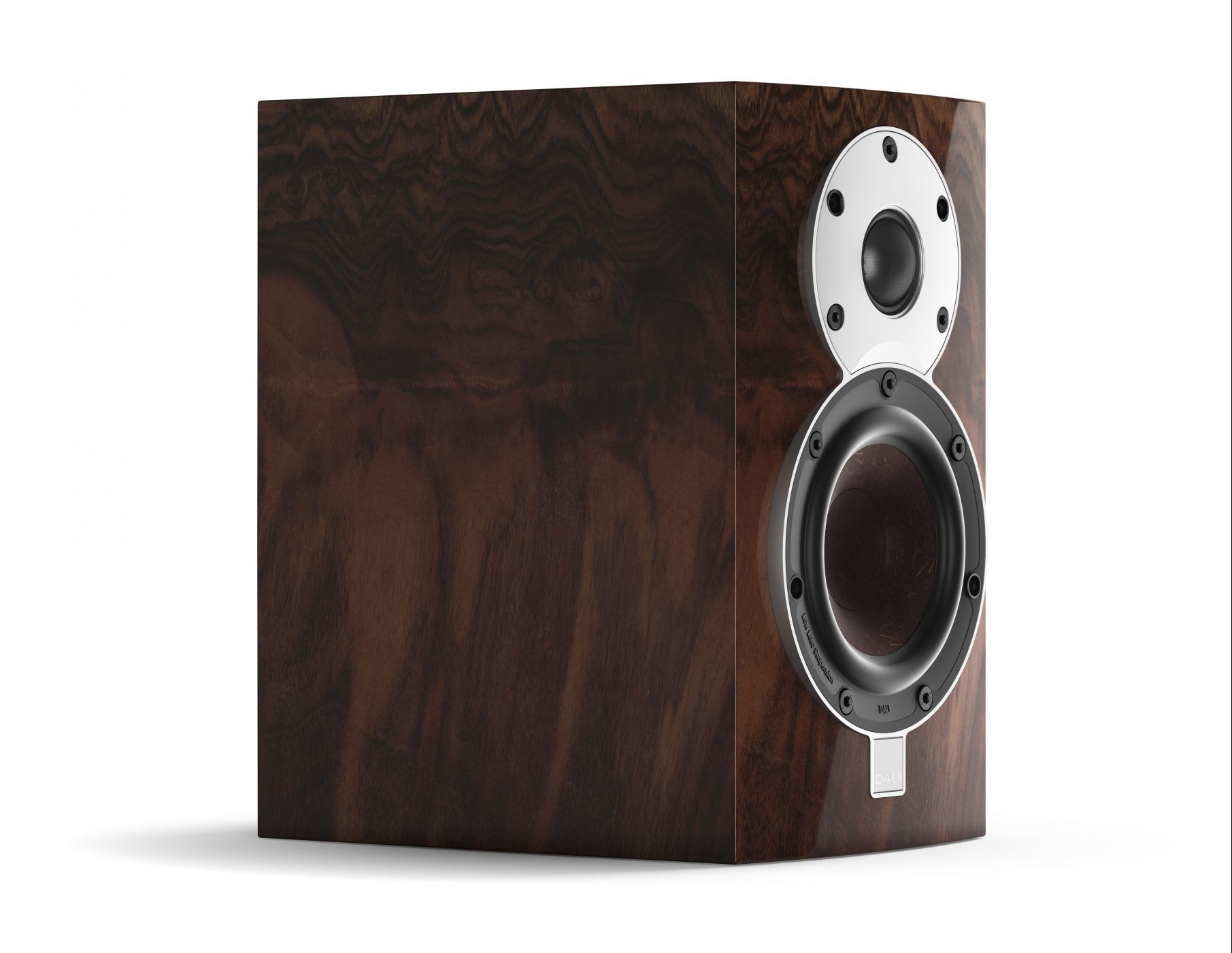 Exquisite details
This is a two-way construction, which is natural for its size. A 4.5 inch bass / midrange with Dali's wood fiber cone. As many as seven screws ensure that the small driver is held completely stable. It is an improved version of the device used in the regular Menuet, where the voice coil is now wound on a fiberglass mold instead of one made of aluminum. It should prevent magnetic compression.
The tweeter is the same 28 mm dome as in the standard version. On the other hand, a lot of time has been spent on the crossover filter, which has now got very expensive Mundorf capacitors, and is mounted on a magnetic shielding plate. These are details that you normally only encounter in high-end speakers.
On the back, a bass reflex port can faintly be seen behind the largest speaker terminals I have ever seen on such a small speaker. The formidable connections are borrowed from the high-end series Epicon, and in addition to impressing the skeptics, they can also tighten the grip on the banana coupling with a screw to become completely unshakable. A brass sign has the initials of the employee who has assembled the speakers and matched the veneer.
The menu SE can also be mounted on the wall (it can be nice for home cinema use), and it is not necessary to drill in the nice veneer, as two rubber plugs hide pre-drilled holes.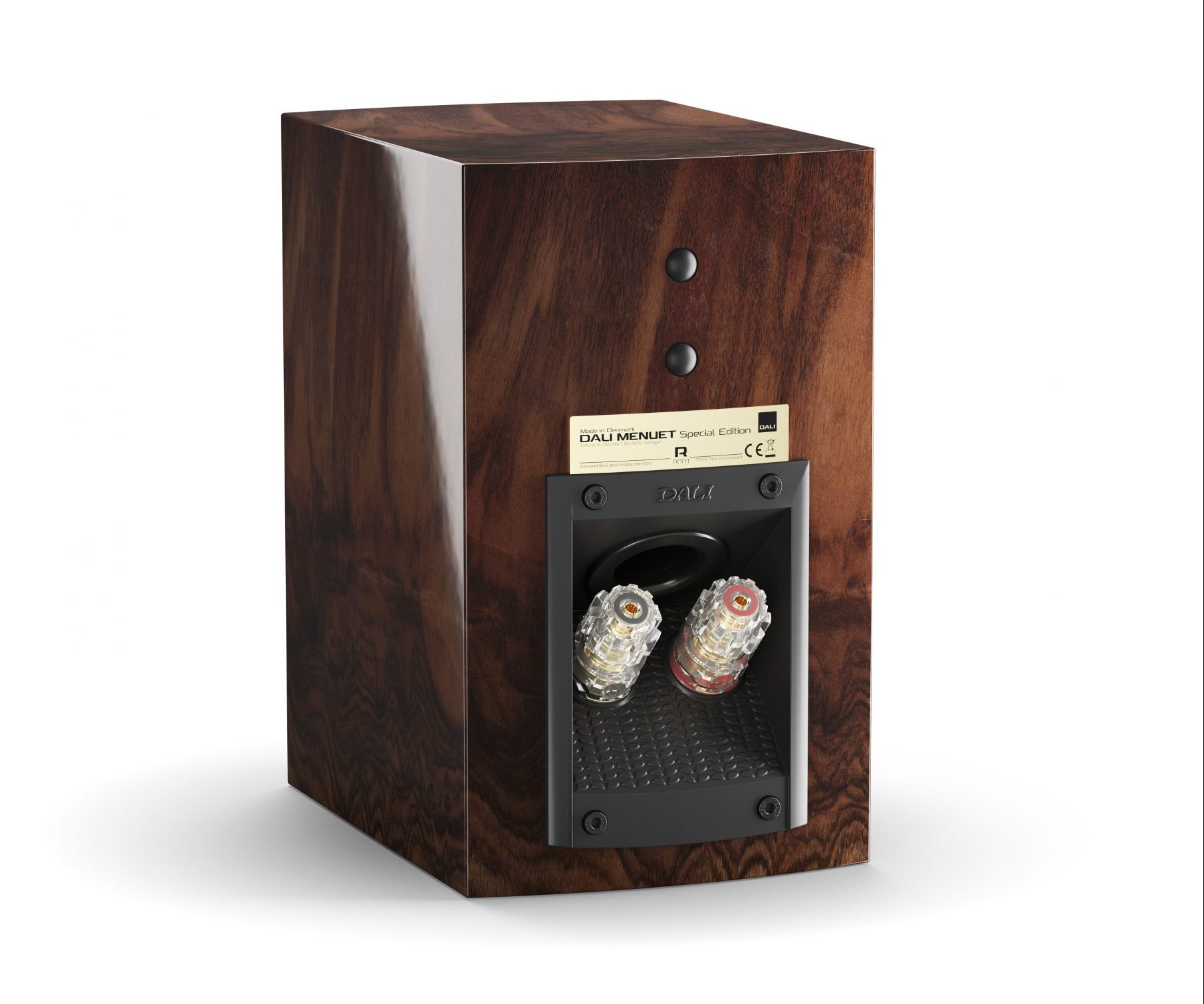 Effect is needed
Dali recommends amplifiers from 20 to 100 W. I even used a 2 x 180 W NAD M32, and would not be worried about pairing them with an even more powerful amplifier. In return, I would not consider connecting them to a 20 W amplifier. With a sensitivity of 86 dB, the Menuets are quite heavy to drive, so it does not get particularly loud. And a small amplifier that cuts the signal can kill a speaker much faster than a large amplifier plaing undistorted signals. The bigger amps is also more likely to handle them better.
I still tried to connect a nice 8 W Nelson Pass Zen class A amplifier. It normally sounds fantastic, but it was completely unable to control the speakers, and the result was tame and uninspiring.
It is tempting to put such a small speaker on the shelf, and it is also not directly forbidden, as long as you provide space around it so that the bass port can "breathe". Placing them close to the wall will even give a boost to the bass. But for the best stereo perspective, they should be placed on a stand (they barely managed to cover the top plate of my speaker stands), some distance from the wall and corners, and angled towards the listening position. We know it's unlikely to happen, but this is how you get the most out of them!
Sound quality
"Are only the two small ones playing ?!"
A hi-fi acquaintance who came by while the test was on, stared in disbelief at the tiny speakers that sat on mounts in front of my own. Yes. And there is also no subwoofer hidden in the corner.
Dali Menuet SE immediately punctures the notion that large speakers are needed for big sound. The stereo perspective extends several meters past the speakers and from floor to ceiling. And deep into the virtual room behind them.
The Menuets manage to a degree that is rare at this price to eliminate both themselves and the back wall, and open up to the concert hall, the jazz club or the recording studio's control room. When the recording and the other equipment allow it, they set a really convincing acoustic scene where there is space between the performers – and clear air between them. This is excellent at this price point!
Even more impressive is their ability to make the difference: to grow – or shrink – with the task. If the stage is large, as at "Fishing Junks at Sunset" from Concerts in China, the soundscape extends many meters backwards and upwards. More intimate recordings such as Hanne Boel's rendition of "The Ballad of Lucy Jordan" are in the living room.
And then there are most of your albums where the sound is not particularly impressive because it is just recorded and mixed like that. It is revealed mercilessly. At that point, the SE menu displays monitor qualities. Not unlike the legendary BBC mini-monitors LS3/5A.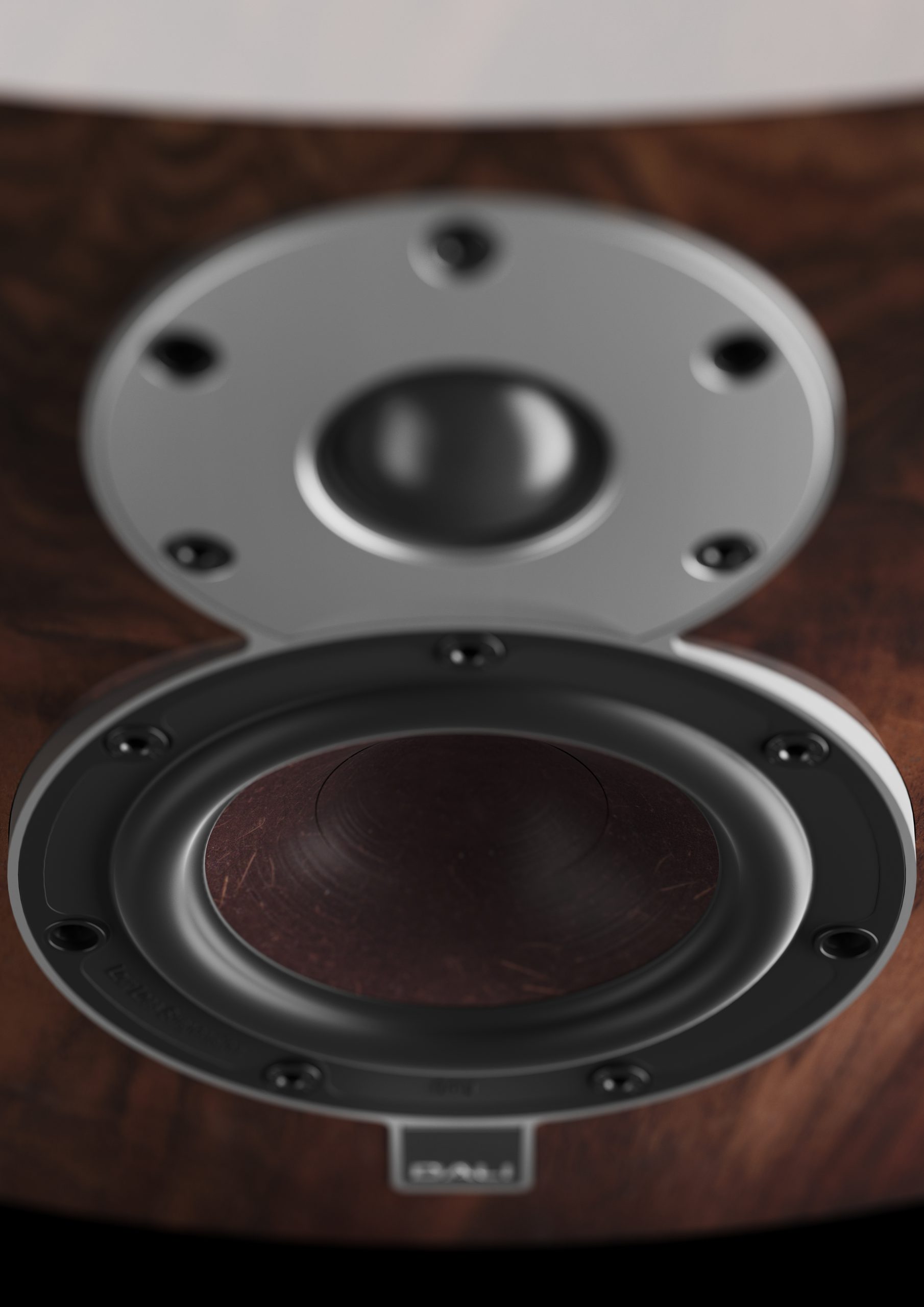 The bass is – considering the size – formidable. Many small passive speakers without electronic assistance at the bottom sound flimsy. But not here. You do not miss anything immediately, and the balance between the tonal areas is perfect.
Of course, they can not reproduce the deepest organ tones, and timpani beats and electronic rhythms do not set the floorboards into oscillations. On the other hand, in small rooms you will experience that the room works together with the speakers, more than going to war against them. A pair of large speakers can provoke room resonances that make listening a nuisance. While the Menuets, on the contrary, will benefit from a supplement in the 40-50 Hz range.
Best in small rooms
Dali Menuet SE is an inefficient speaker. The sensitivity of 86 dB means that the volume control must have a strong jerk above normal to reach a suitable volume. This not only means that a powerful amplifier is needed, but also sets a limit on how loud it can be in the end.
My listening room is barely 25 square meters large, and here the Menuets managed to fill the living room with a pleasant sound pressure. But only just. When I gave them difficult tasks, they lost their breath. The "Bandit Galopp" in the Telarc edition is a very dynamic piece that must be turned up to get the average level realistically high. It still sounded nice, and the feeling of space was great. But without the pressure that successful larger speakers can deliver.
There is no shortage of small passive speakers, but few deliver such high sound quality in such a compact and elegant format. In fact, most mini speakers are twice the size of the Dali Menuet SE. If size plays a crucial role, the KEF LS50 could be a possible alternative. Both have excellent stereo perspectives, but Menuet SE is a well-developed new edition. If a slightly larger enclosure is allowed, the Audiovector QR1 has more airiness and deeper bass.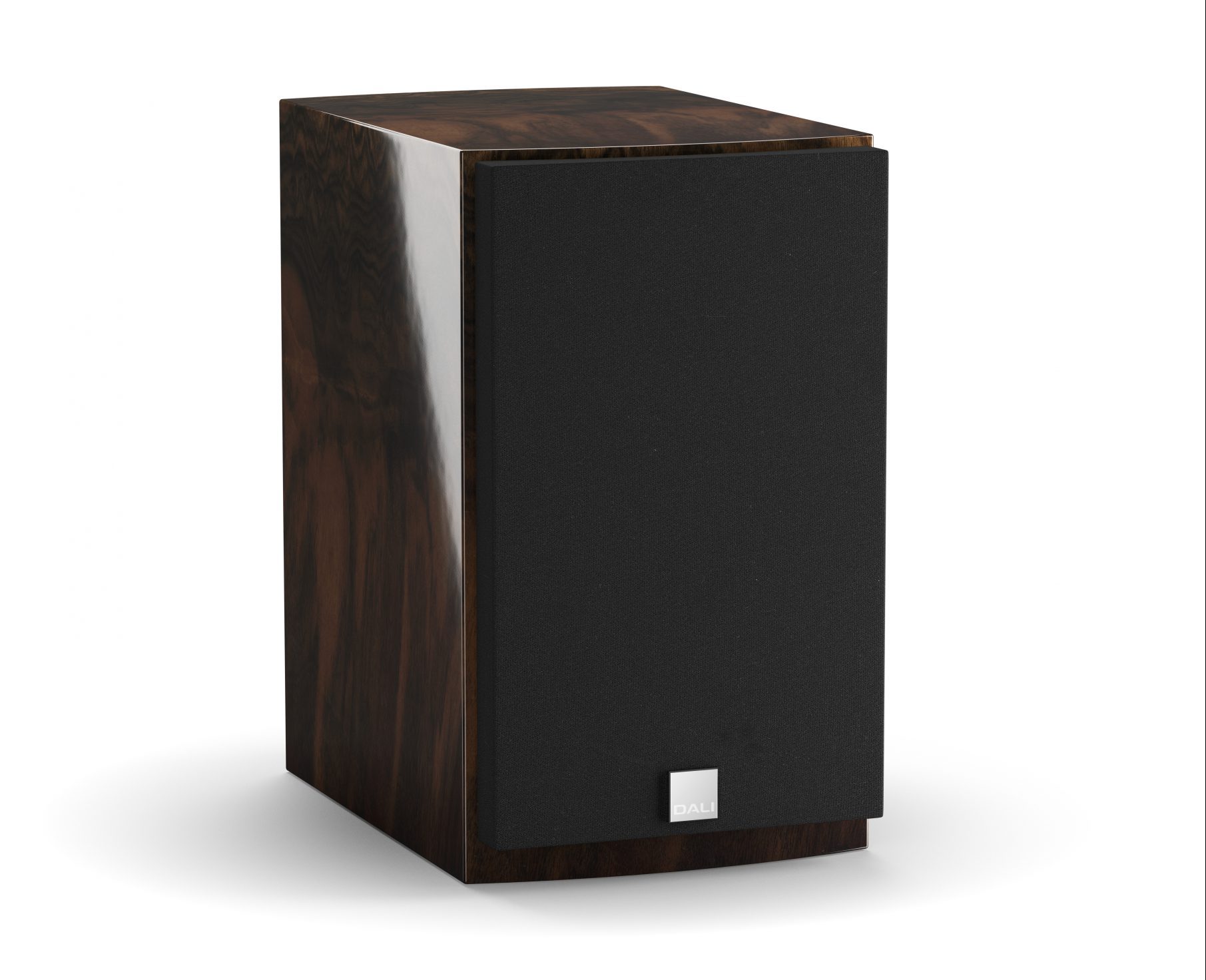 Conclusion
Dali Menuet SE is in every way a surprising speaker. Few constructions at the age of 26 can make such a convincing comeback, and even demonstrate new features. The strongest card is and will be the surprise. No one expects such a large and competent sound from such a ridiculously small speaker. Give it a sufficiently large amplifier and good placement and it will be damn hard to argue for what you really wanted with large floor-standing speakers!
Ok, they do not go deep into the bass, and they do not blow the roof of the house. But how often is there a real need for or space for it in the real world?