Geir Nordby
Published

2021-05-10 - 7:00 am
Great design, exclusive furniture. Open and nice sound.
The sound lacks dynamics and kicks. The price is high, whether it is speakers or chairs you are comparing with.
Specifications
Devline function
Leather or cloth
Built-in Bluetooth speakers
Foot with "return memory"
Footstool is optional
Web: conform.se
Do you want completely hidden sound, without having to resort to building speakers into the wall? How about just building them into the chair instead?
Swedish Conform specialises in exclusive chairs for home and office, and with MyPlace, they have also built in a pair of speakers with wireless Blueooth connection, directly in the headrest.
The chair is designed by Norwegian Jahn Aamodt, and is available in cloth or leather. We must say it is especially beautiful in brown leather.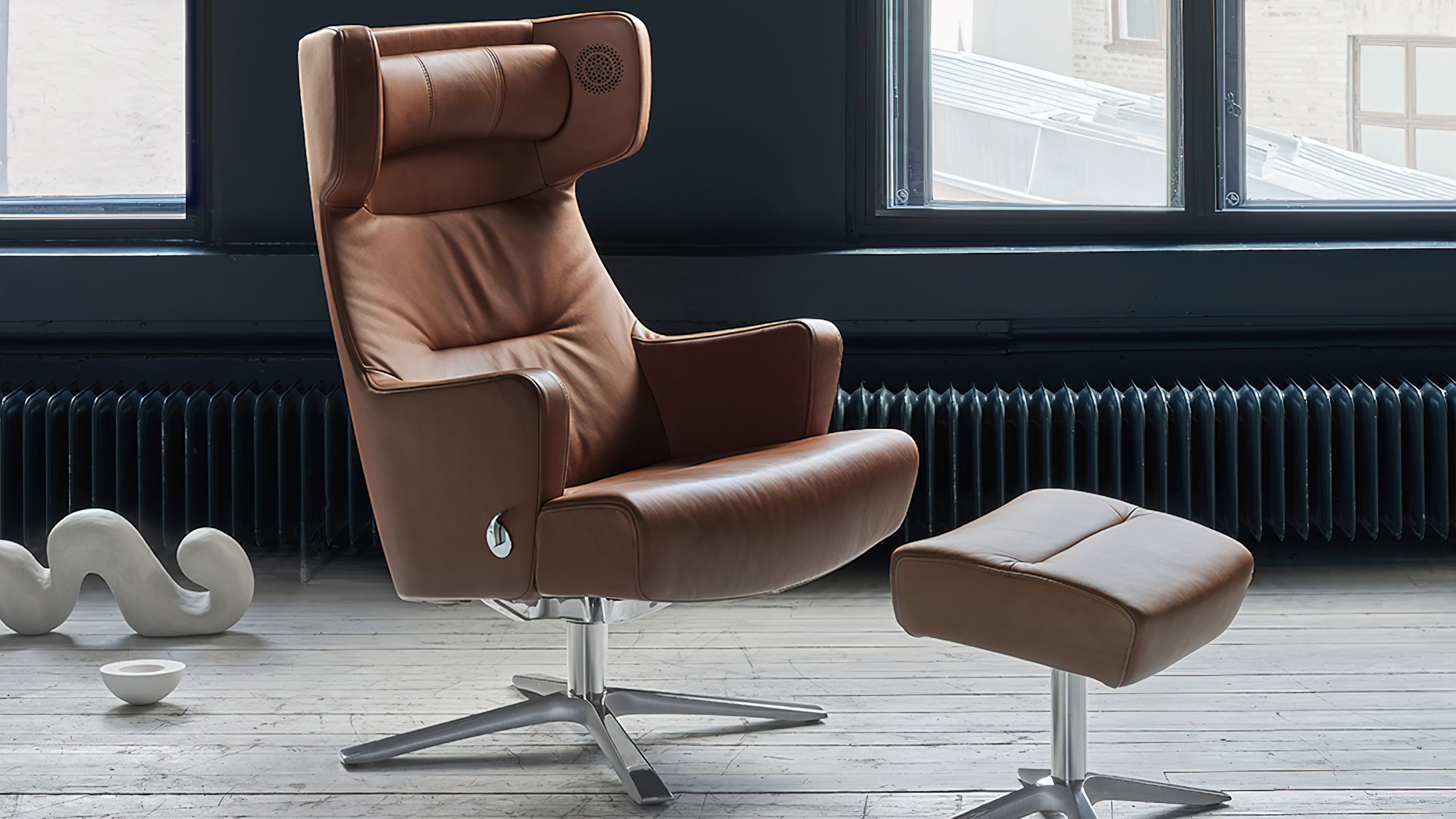 Exclusive
Yours truly have been able to borrow the leather chair to try, and it is clearly exclusive. It spins around as if it were floating in the loose air, obviously there are some decent ball bearings here. It can be reclined with a switch on the right side, and comfort is good even if the chair is on the rigid side.
The sound is made by the Swedish Orlo. The electronics are located on the back of the headrest, and here a power cable is connected to an included 15 watt USB-C charger. The cable is attached to the chair with a magnet, similar to Apple's MagSafe connectors.
The speaker is connected by turning the power button on and off and holding it down after the product is turned on. From here you will find Conform Sound by Orlo in the Bluetooth list and connect.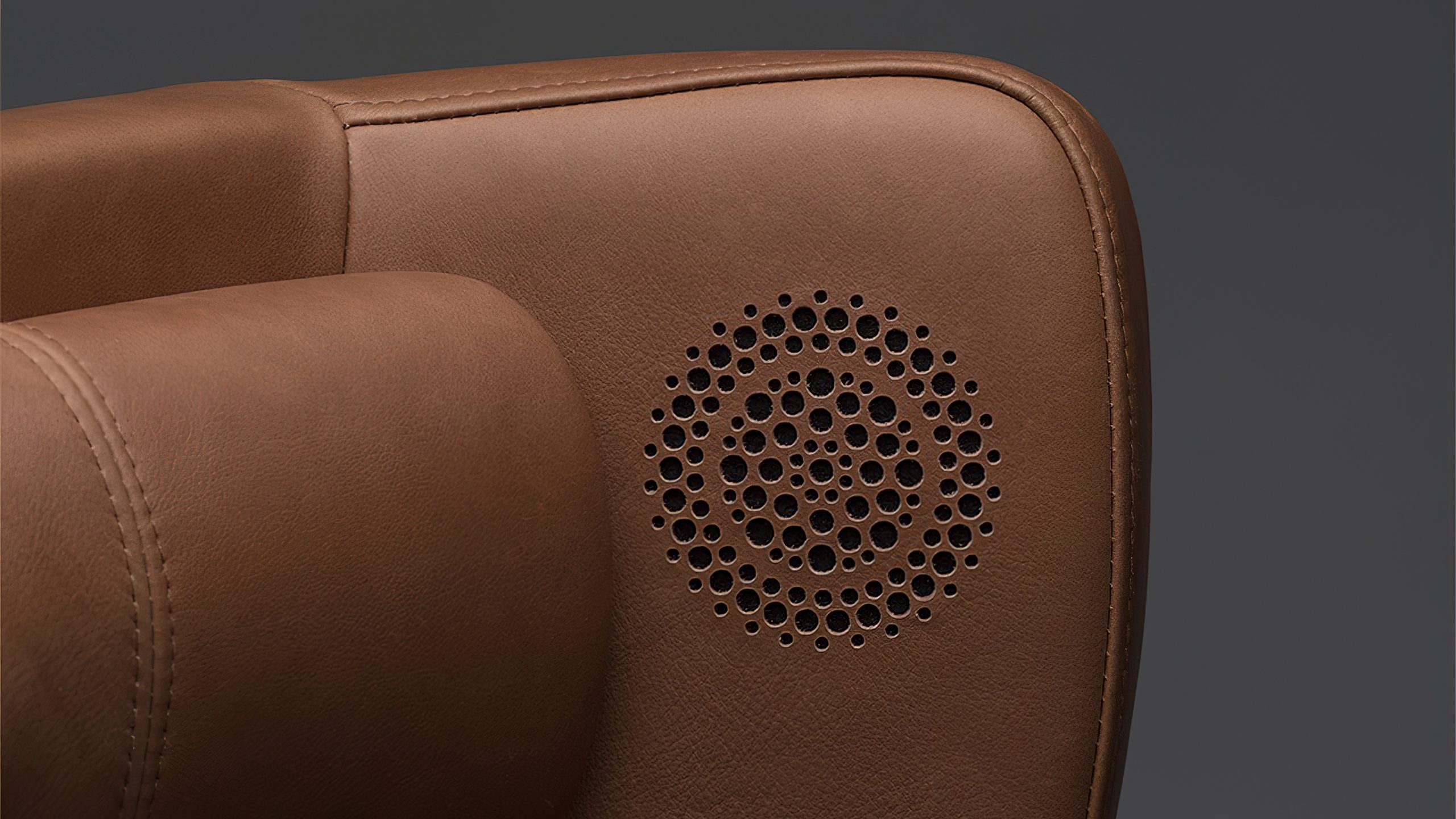 The sound of luxury?
The sound quality is good, actually better than expected. The music sounds airy and dissolved, the singing voices are clear, and the soundscape is surprisingly large. Larger than with headphones, and with the speakers placed so directly against the ears, you do not have to play loud to hear the whole soundscape.
It's by no means a bass monster, and I'm missing a bit of a weight in the lower region. Maybe they could mount a Buttkicker under their seat as well? Anyway, the sound is somewhat slim. But it sounds very nice and clean, and better than many headphones I have heard.
But: If you think such a speaker solution allows you to listen to music alone without bothering your peer, then think again. This leaks much more than a pair of open headphones. But it can certainly be a solution, if you want to listen to music at night without bothering people who are sleeping. But without wanting to wear a pair of headphones.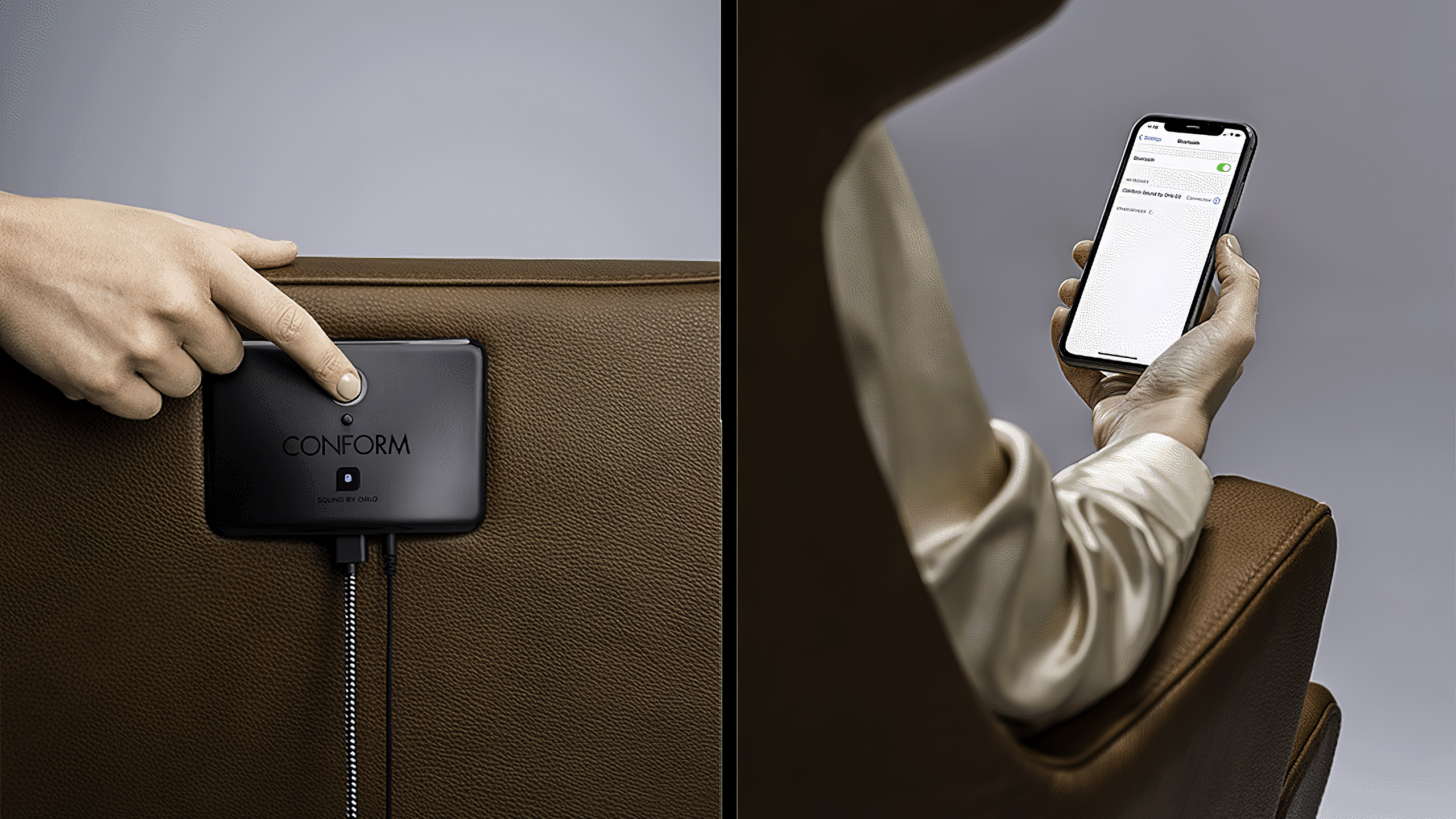 What about home theater?
Something, that I, unfortunately, had no opportunity to try, was using the speakers in the chair as rear channels in the home theater!
If you do not have room for rear speakers, you can connect a surround receiver to a pair of front speakers and maybe a center, and then draw a cord to the analog input on the back of the MyPlace chair! Then place the measuring microphone that comes with the receiver on the chair, and the receiver can calculate the delay, sound level and crossover frequency required to integrate the speakers seamlessly into the sound image.
Is Conform MyPlace worth the price?
A chair like MyPlace will never be worth the money as a piece of hi-fi equipment alone. And although the chair is fairly exclusive in itself, you are allowed to expect quite a lot more of luxury from a piece of furniture at that price. And paying quite a lot on top of that for the footstool!
Still, if this is your ideal vision of how to enly music at home, then we do not know of any alternatives. Admittedly, there are gaming chairs with built-in speakers, but that would be something quite different. After all, MyPlace is nice to look at – and comfortable to sit in.