Jonas Ekelund
Published

2019-08-22 - 8:23 am
Sturdy with a handy rubber strap. Microphone and voice assistants. Party mode and stereo pair.
No aux input, only wireless. Mediocre sound quality. Short battery life.
Specifications
Connections: Bluetooth
Battery: 6 hours
Features: speaker phone, voice assistant
Classification: IPX7 (waterproof)
Dimensions/weight: 9.9 x 9.9 x 3.5 cm / 290 grams
Website: bose.no
We previously tested the Bose Soundlink Mini II, which is a fantastic travel speaker. However, the Micro is a better speaker for the beach, as it is both waterproof and has a better price. It also feels very sturdy and well-built. The rubber strap on the back also makes it easy to attach to a backpack, a bicycle handlebar or a beach umbrella. It's easy to install using the Bose Connect app, which finds the speaker and keeps the software up-to-date.
The app can also be used for connecting Micro together with other compatible Bose speakers such as Soundlink Revolve or Soundlink Color II. They can either be run in stereo pair or in party mode. However, at present, you cannot adjust the sound if you have your own preferences. Thanks to the built-in microphone, it can both be used as a speakerphone and to provide voice commands to Apple's Siri or Google Assistant.
Oddly enough, the sound is far from the same class as the Mini. While the Mini plays clean and dynamic with an excellent bass, Micro sounds completely different. Obviously, with such a small speaker, you cannot obtain particularly deep bass, but even regularly deep bass sounds uncontrolled. However, Micro also lacks the clarity and separation of the instruments that Mini has. Water resistance has clearly resulted in Bose having to compromise. It sounds acceptable, but does not reach the same level as the best ones in the test.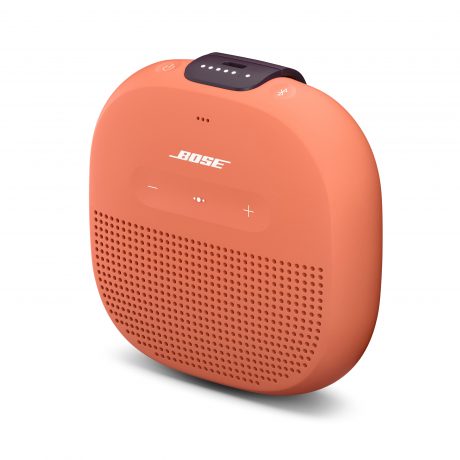 Conclusion
Soundlink Micro is Bose's more robust and cheaper alternative to the excellent Mini II. Thanks to a smart rubber strap, it's easy to attach to your backpack and bring along during the summer holidays. It's easy to install and use, thanks to the app, voice status and voice commands for the mobile phone. However, the sound is not as impressive as in the Mini, and is not at the same level as the top competitors in this price range. It is a compromise you might be able to live with.