If you like good sound but have a habit of camouflaging or concealing your speakers, maybe you should consider hi-fi products that are so gorgeous to look at they cry out to be displayed!
Danish Bang & Olufsen has a long tradition of making nontraditional hi-fi products with extraordinary build quality and a mouthwatering looks. With thoroughly accomplished technology and a sound that's good enough to satisfy the most discerning ears.
One example is the satellite-shaped wireless speaker, the Beoplay A9, which stands in a beautifully laid back manner on three legs and is both powerful and melodious.
According to product manager Mads Kogsgaard Hansen, the A9 is the inspiration for the brand new voice-controlled (and very expensive!) smart speaker, the Beosound Balance. I would never have guessed it; they look completely different! But there's a good explanation for that.
When you only have space on your bookshelf
the phone. "It doesn't look like a speaker, but then you realise it is. This has made it very popular. But lots of people lack the floor space. Perhaps they'd rather use the space for an armchair. Then it makes sense to have a speaker that can be placed on a bookshelf but without the usual compromises found in typical bookshelf speakers," he says.
And he has a point. I myself have been heard discouraging people from placing "bookshelf speakers" on bookshelves, because bass frequencies are amplified unwantedly and mask the midrange. Vocals and instruments appear coloured and what you hear lacks credibility.
But if you're going to place the speakers on floor stands, you'll still have problems. Suddenly, you haven't saved any space after all.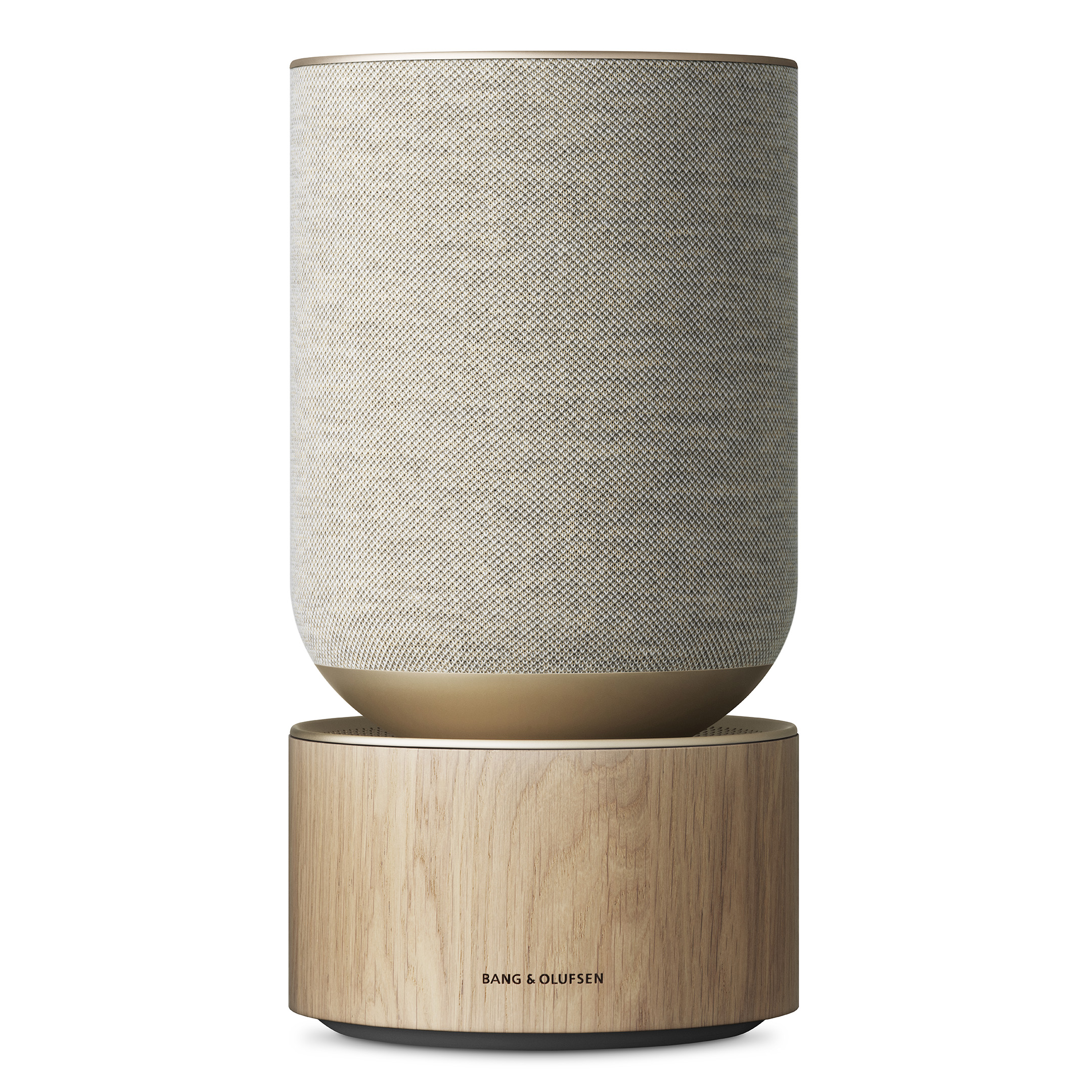 Uses the wall to its advantage
This is where the Beosound Balance comes in. A cylindrical and beautiful speaker. The one we tested had a base of natural oak, and a top cabinet wrapped with sand-coloured knitted textile, with a missile-shaped copper-coloured aluminium bottom. The two are separated by a concave, circular grill in the same coloured aluminium. The speaker also comes in all-black, but I've only seen the photos.
Taken as a whole, the speaker's design vocabulary fits perfectly into a modern interior and will help even the most ardent feng shui fanatic to regain balance with the universe. It only takes a brief glance at the speaker to realize that this costs money.
The rounded shape, nevertheless, has an audio purpose first and foremost. The speaker drivers are placed around the whole, seven of them to be precise: Four full-tone drivers are positioned symmetrically around, with the two smallest facing 130 degrees backwards and the two largest sloping forwards. A treble driver sits front and centre. You can choose to play music using 360 audio that plays the same in all directions (mono), but if you choose instead to play forwards then the speaker uses advanced processing to use the back wall to its advantage.
You can also play sideways to one of the sides, which may be an advantage if, for example, you have an open kitchen and want music when standing in the kitchen and cooking. Or another situation where you want to listen from a completely different angle than usual.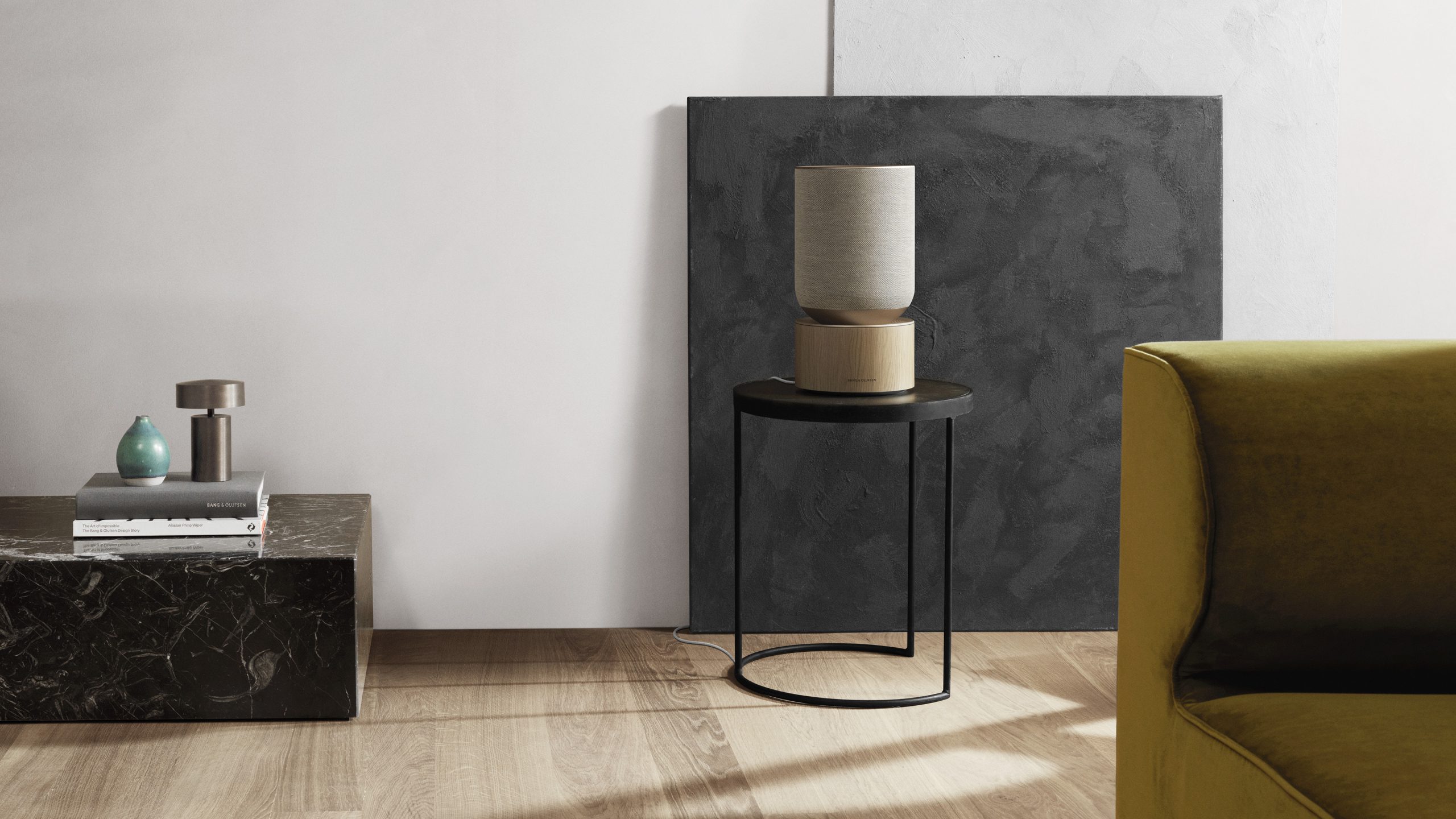 Phase shifting
Then the two rear drivers play in a phase-shifted (time-shifted) state, drawing up a large but diffuse soundscape that is reflected out again from the back wall. This gives a much larger soundscape than normal from a single speaker. The drivers aimed outwards reproduce the sound in the usual way and ensure that instruments and vocals are rendered clearly and distinctly. In this way, you get clear and distinct stereo sound, surrounded by diffuse acoustics. Hopefully, this fills the room in a completely different way than a solitary Sonos Play:5 or – for that matter – a B&W Formation Wedge can.
Two bass drivers
To add heft and power to the bass register there are two bass drivers that play in a push/push configuration; one sits in the wooden cabinet, while one is hidden behind the aluminium. With a maximum output of 200 watts for each bass driver (880W in total for the entire construction), this should provide more than enough power in the living room as well.
Connection
Connecting the Beosound Balance is simple. Switch on and download the Bang & Olufsen app to your phone. The app will then locate the speaker using Bluetooth and connect it to the desired wireless network. Alternatively, you can use an ethernet cable and, because the speaker has two such connectors, you don't have to use the output from the wall or router. The next product can be connected directly from the speaker.
The first time you set up the speaker, it initiates a simple room correction, where, using its built-in microphones, it hears whether the speaker is standing next to the wall or "out in the open air". Then it fixes the settings in accordance with that. In reality, this is about adapting the bass response, so it doesn't become exaggeratedly swollen when the speaker is standing next to the wall or on a bookshelf.
Okay, Google!
As we've mentioned, the Beosound Balance is smart so it has Google Assistant built in. Just open the Google Home app and add to include it in a Google smart home. Then you can chat to it as you would to any other Google speaker. It's just as smart – and just as stupid – as the Google Nest Mini and its clan. Ask about the weather, ask it to play music from Spotify, YouTube Music or the radio, or if you've connected your robotic vacuum cleaner, curtains or smart lighting to Google Home, you can control these with Beosound Balance as well. You can also try your hand at advanced voice commands which it quite likely doesn't understand as many of. Lots of fun for the whole family here!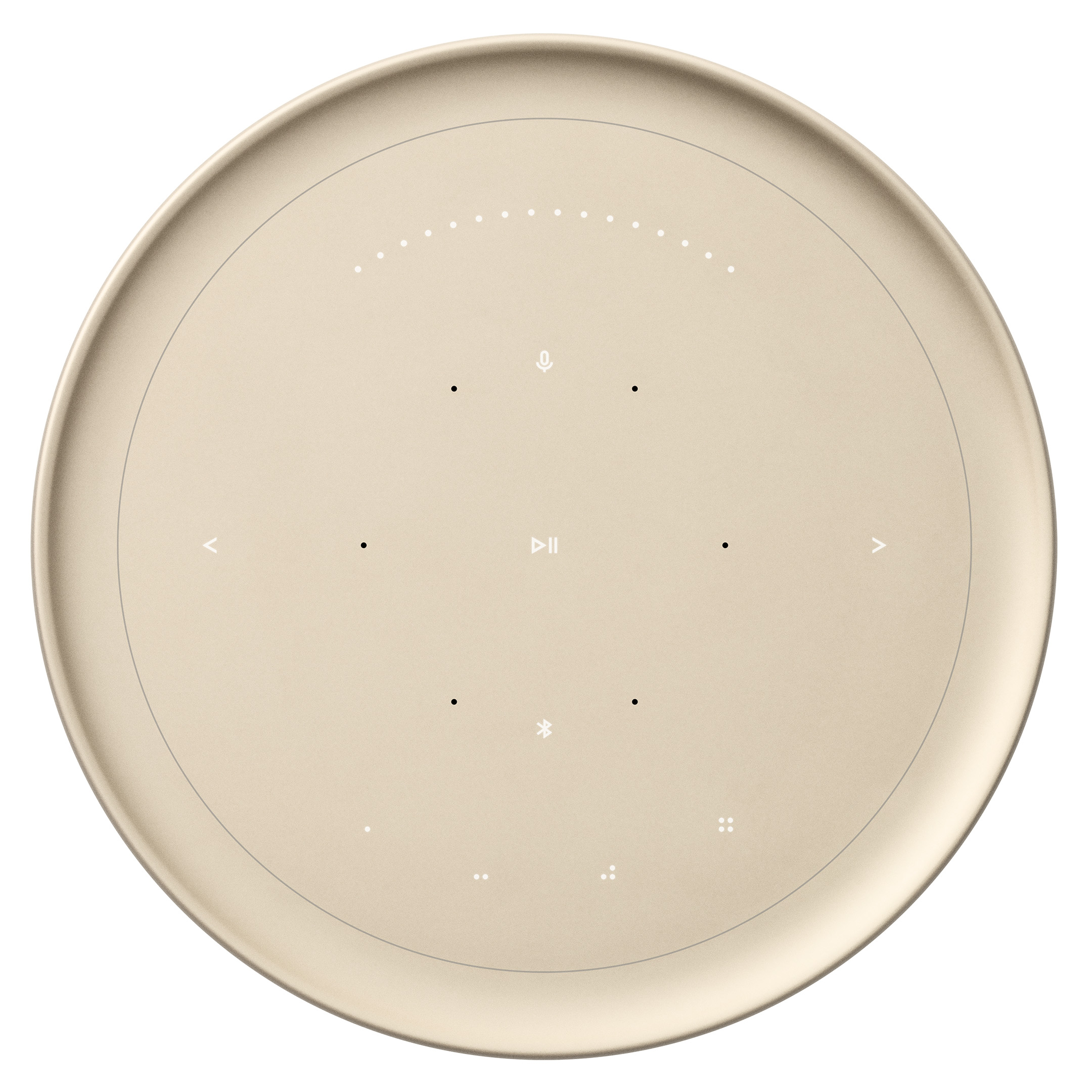 Touch pad on top
On top of the speaker there's a touch pad. Here you can adjust sound levels up and down if you don't want to use your phone. Do this by just sliding your finger along the edge of the top. You need to use a firm hand as a little pressure is required. You can also find play/pause.
There are four memory spaces for saving shortcut commands. Instead of numbers, these are illustrated with a given number of dots (1-4), inspired by braille. To save a command, hold a button until a sound is emitted and Google Assistant will ask which command you want to save. For example: "Play pop playlist on Spotify" or "What's the weather like today?".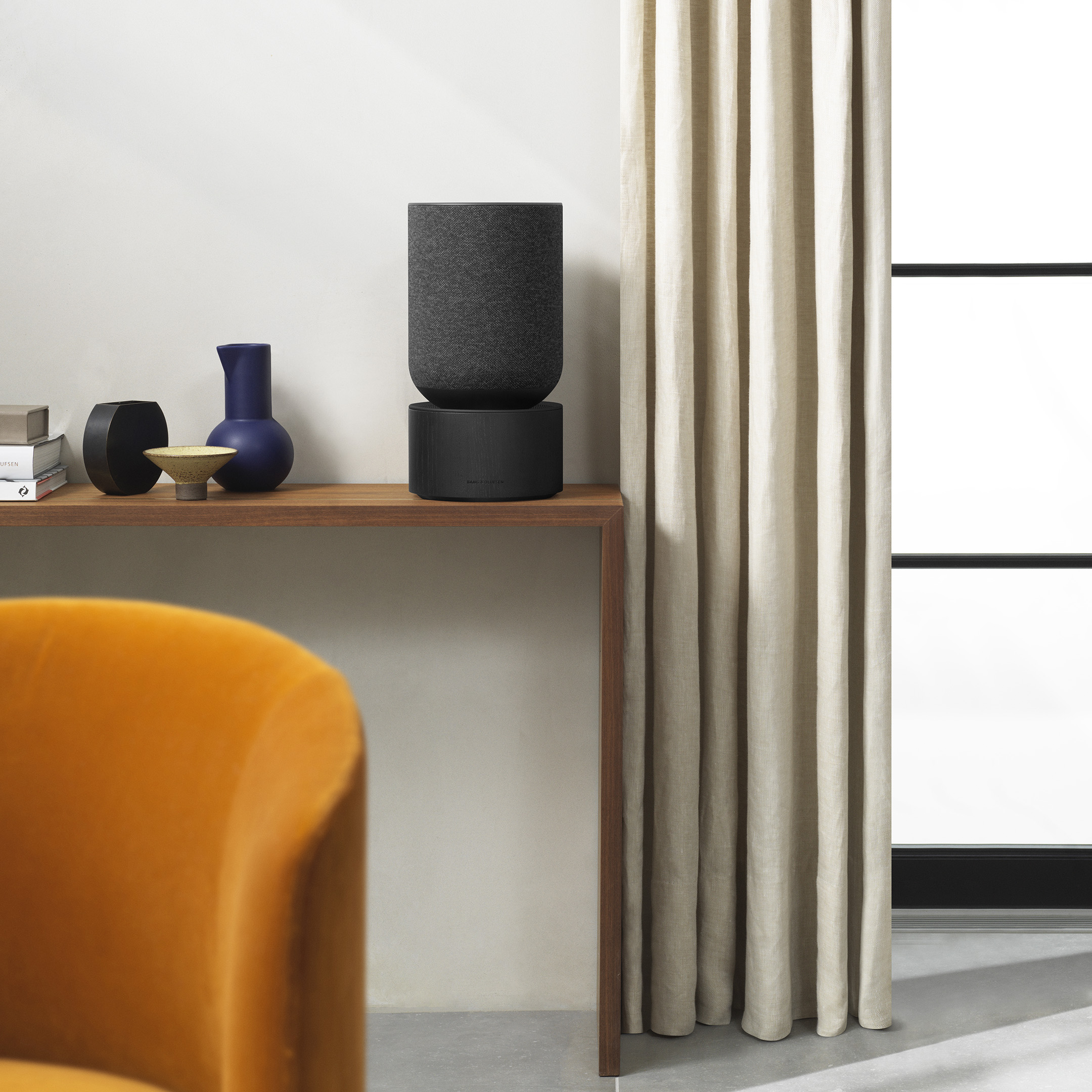 Play, maestro!
So how does this gadget sound? Well, out of the box, the speaker played on the Optimal audio setting and with a 360 degree spread and that was pretty good. No problematic frequencies or discolorations anywhere and it's clear that power is ample here. The bass emerges with good muscularity while also sounding airy and transparent.
But it becomes rather diffuse with a mono soundscape trying to fill the room. With vocals that withdraw too far into the music.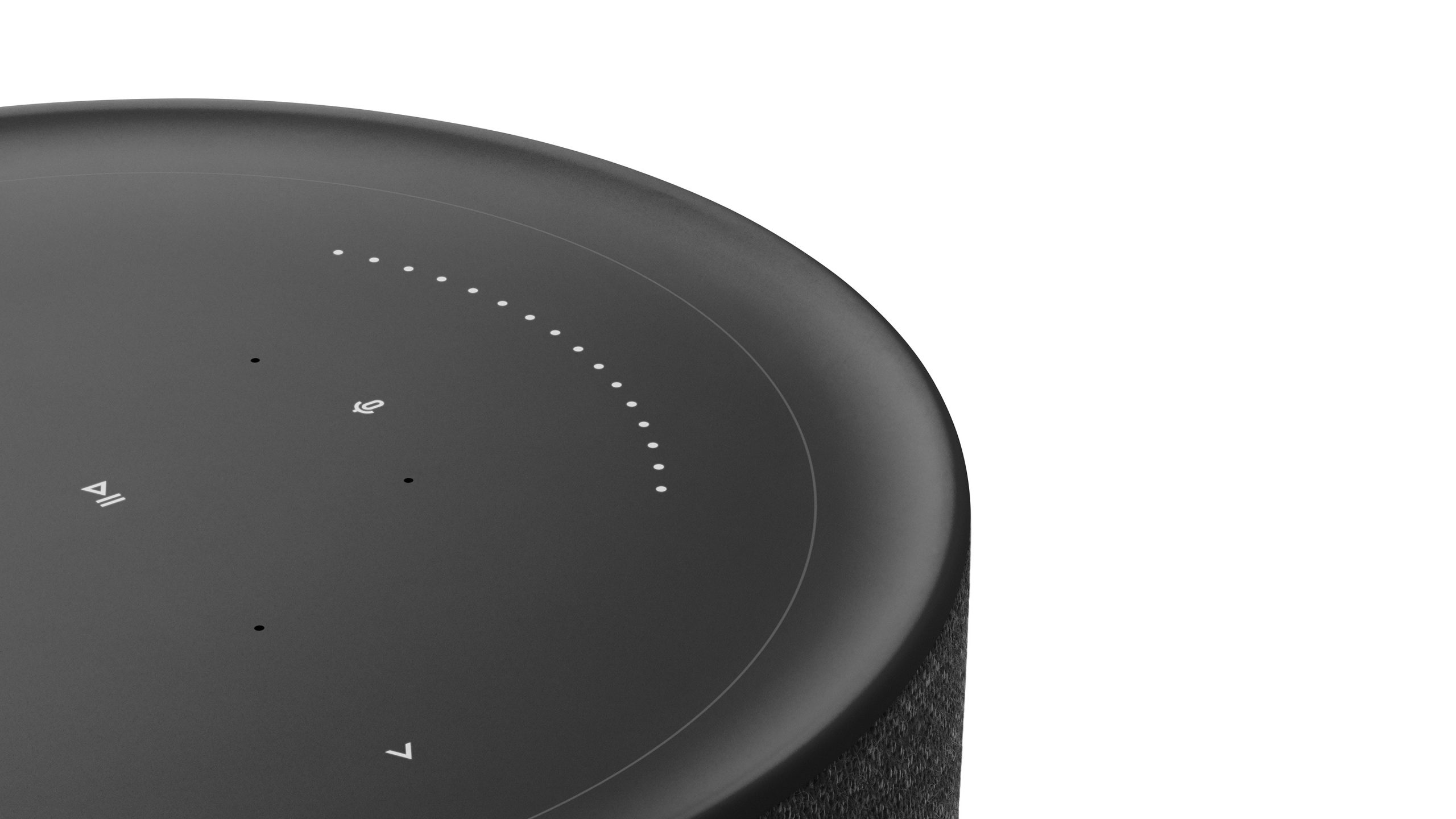 Fabulous in the "right" audio mode
Out with the app and select the Forward audio direction instead of 360. Remain in Optimal mode. And, oh my lord! The instrumental intro to Billie Eilish's James Bond ballad No Time To Die fills the living room in almost magical fashion, with a huge reverberation that I would never have thought could come from a single speaker. So this large soundscape must be artificial and will impact negatively when the vocals of Eilish come in?
But, no. She emerges from the middle, where she's supposed to. Right out in the room, hanging in the air. I play it pretty loudly, forgetting somewhat that the song builds up to a crescendo towards the end. Can the speaker handle it? Will the dynamics hold? Yes. Emphatically yes. Here there's plenty of power and the transparency and detailing in the soundscape is of a different calibre than more affordable wireless speakers. Including, in fact, the Bowers & Wilkins Formation Wedge.
Wedge, by comparison, is more flabby in the bass with more than a tinge of loudness factor. It also doesn't have the same dynamics and rendering in the vocal area and sounds more constrained overall than the Beosound Balance. Especially from a bookshelf, which is the natural place to put it.
The same holds true for classical music, with a heavy grand piano that spreads into the room without losing the force on the keystrokes. I must admit I didn't believe that Beosound Balance would outclass Wedge by such a large margin.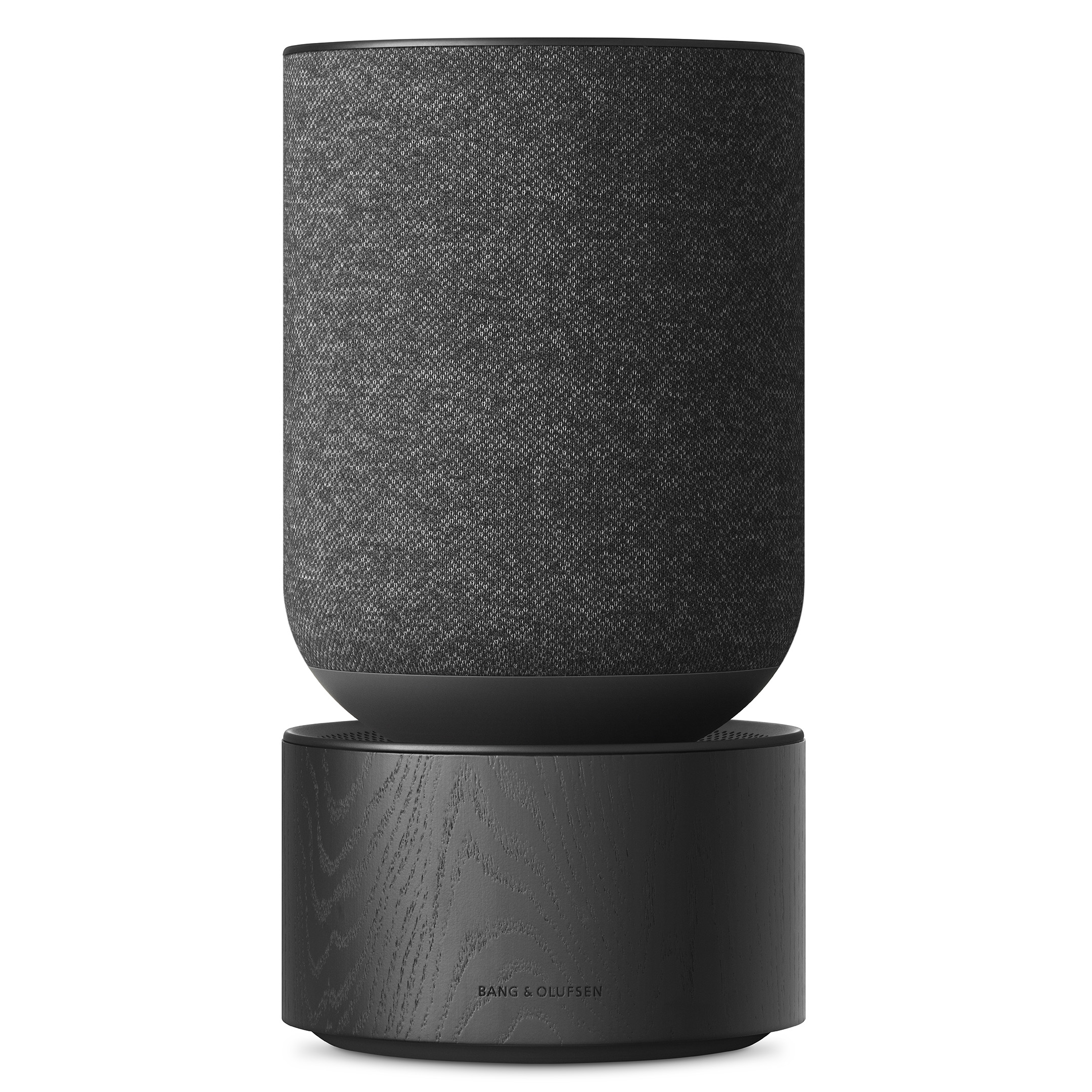 Rock music
The exception is rock music. When the twisted guitars kick in on Green Day's Father of All… and I pump up the volume, the bass goes too flat and lifeless, compared to which B&W's Formation Wedge has significantly more give in the bass drum. But this is artificial, because this music is actually mixed as flat as it sounds on the B&O. Well, at least, almost. Because when you drag it too far, the DSP in the Beosound Balance will hold back the bass drivers so that it sounds flat. Here, the B&W speaker has an advantage as it stays full-bodied at higher decibel levels. I'd probably rather have the Wedge if I only listened to rock and metal.
Audio settings
There are other sound modes such as Lounge (dark timbre), Speech (brighter and sharper) and Party (more bass), but Optimal with forward-facing sound is the one I always ended up with. In addition, there is tone control (Equalizer) where I found it's good to dampen the tweeter a notch and increase the bass accordingly.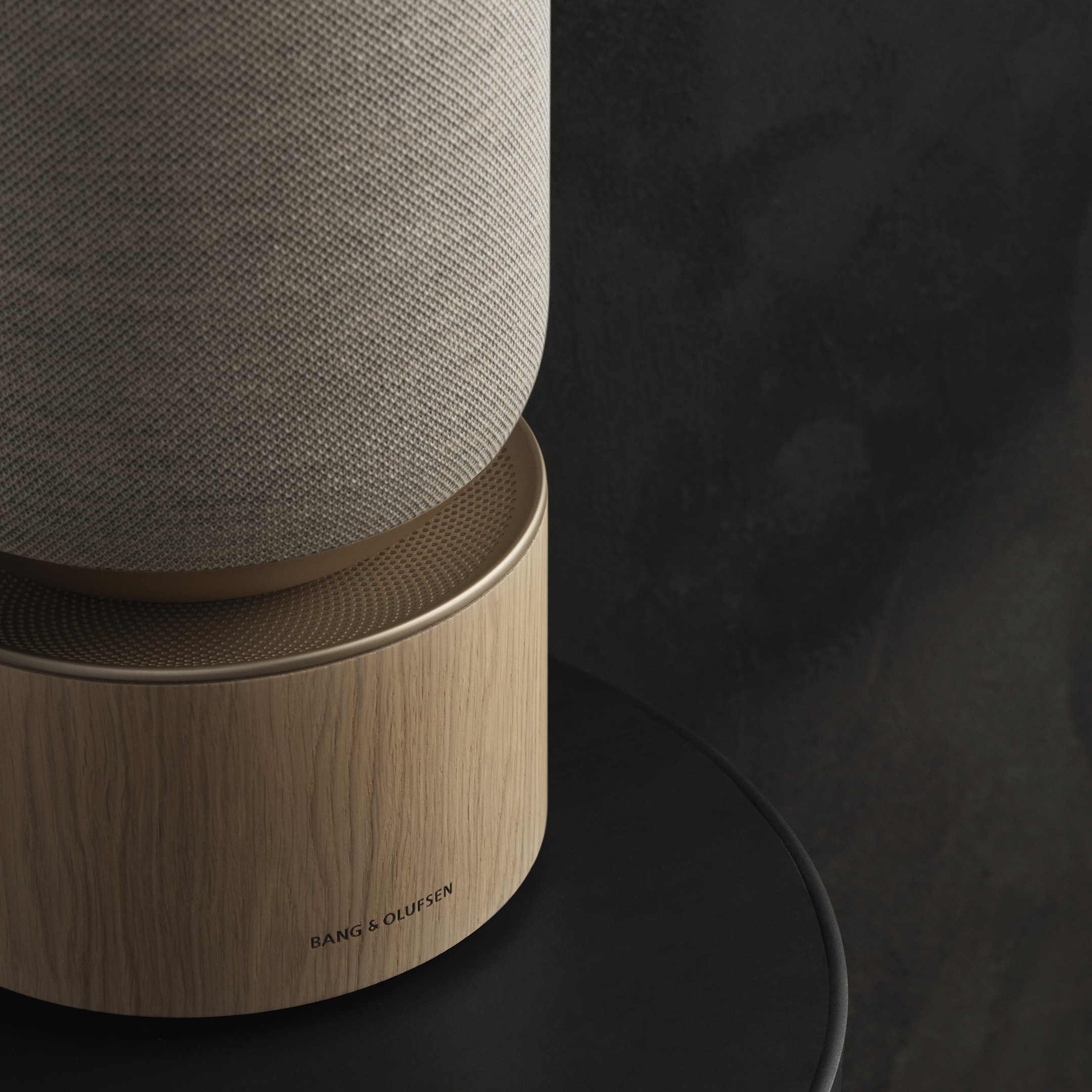 Then there's a "sound wheel", with a dot in the middle that you can guide anywhere along a two-dimensional plane. In the past, it was very difficult to know what Light, Energetic, Warm and Relaxed actually meant but in the latest version of the app it is easier to see what provides high or low bass or treble and the stages between them. If I were to change something here, it would be a little touch toward Warm, but only a little. And not after I've already muted the tweet and pulled up the bass in the Equalizer.
Worth the price?
Whether Beosound Balance is worth the money or not boils down to how much extra you're willing to pay for the gorgeous finish and appearance. And whether you want one or more speakers.
Formation Wedge also looks great, at half the price. But you can't buy two Wedges to connect them in stereo, whereas you can with the Beosound Balance.
Nevertheless. If you want to have two stereo wireless speakers and have 4,000 euro to spend on it, I'd rather go for a pair of B&W Formation Duos. Easy. Two Beosound Balances in stereo become too expensive compared to what they provide. However, I've never heard a single speaker with such a large soundscape as Beosound Balance. So if you want a speaker in your living room that is both an awesome vision that oozes quality and first class design and which sounds impressively large, transparent and powerful to boot, then I would definitely consider Beosound Balance. You don't need to add a sound source or amplifier, so the overall price isn't that crazy.
If you want multi-room playing with lots of speakers, you could actually buy cheap Google Nest speakers for the rest of the home and enjoy this high-end speaker in the living room. Rather than having a single large Sonos in one room and small Sonos speakers scattered around other rooms. You might get more from having majestic sound in one room and poor sound in others than having perfectly decent sound in every room. And end up paying the same.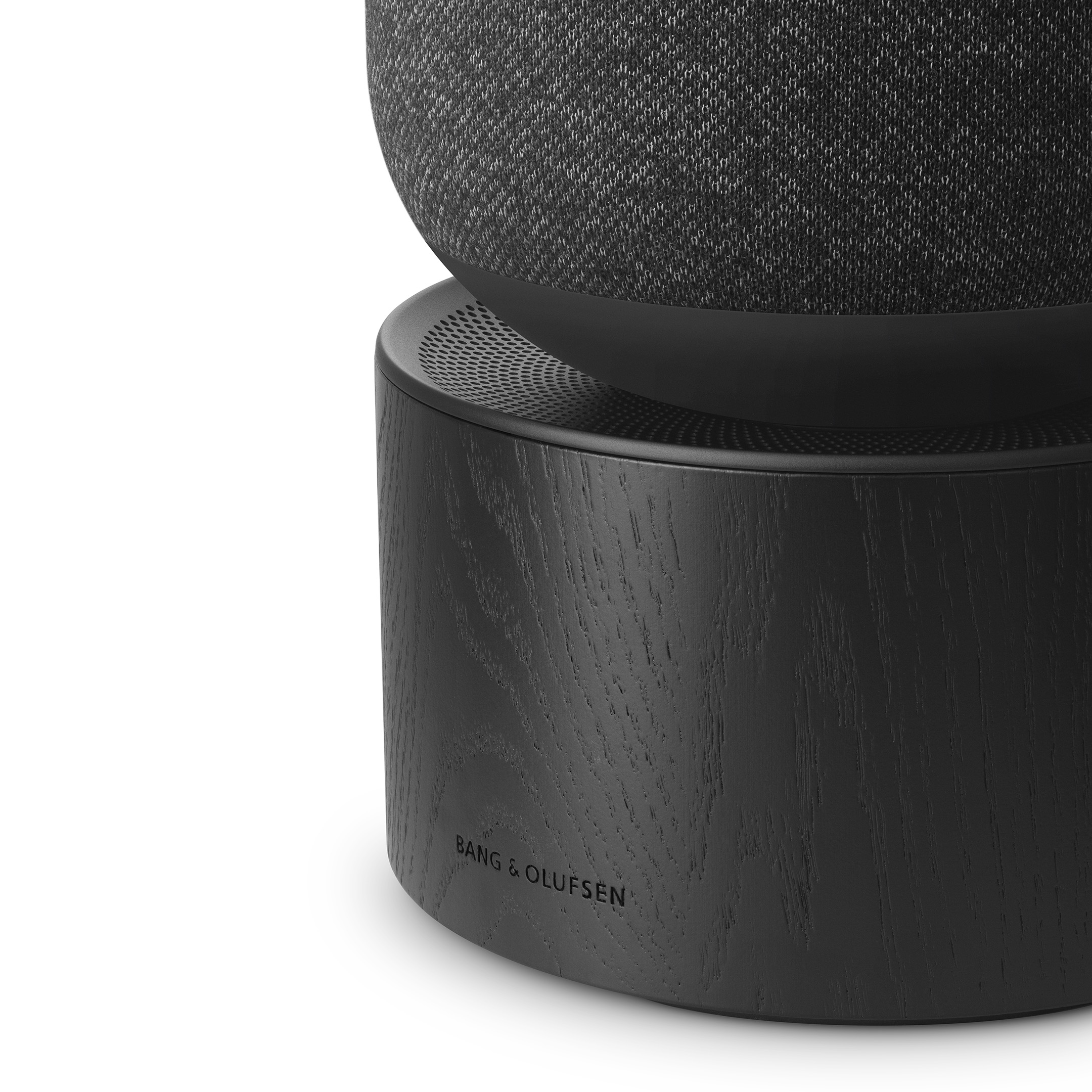 Conclusion
Bang & Olufsen Beosound Balance is a wireless and smart speaker that at first glance seems too expensive. We shouldn't underestimate the importance of a beautiful exterior, but the suspicion lingers that one might have paid through the nose for this. If this B&O factor doubles the price relative to what the product is really worth, then it'd crazy to recommend it.
Luckily, the speaker sounds so good that it justifies the price tag. It's so much better than its more affordable competitors, thanks in part to the smart sound processing that provides a huge soundscape without becoming artificial. Instruments and vocals sound clear as day, and the sound is plenty powerful. I'm not going to contend that you get the design for free. It costs. Clearly. But if the speaker attracts you, you should definitely give it a listen and then make up your own mind.
In any case, the woman of this house fell in love at first sight. And I could definitely live with it myself too.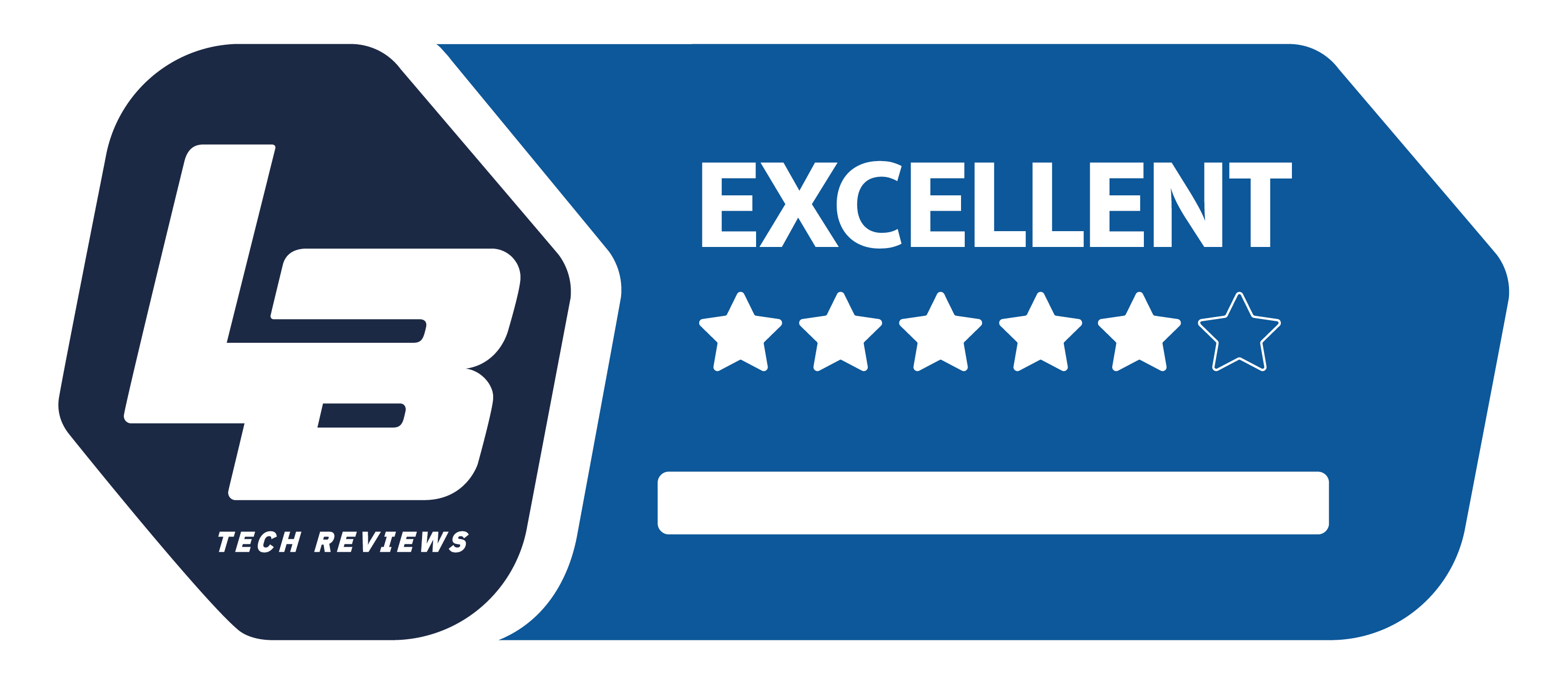 Bang & Olufsen Beosound Balance
High End
We think
The beautiful sound is surpassed only by an astoundingly large soundscape. And looks you would almost kill for. Always nice with built-in Google Assistant!
The bass tends to get thin and the soundscape flat when playing (very) loudly. Sounds a little cold and clinical for rock music. Two speakers in stereo becomes way too expensive.