A musical hand grenade
Wonderboom takes care of the party at the beach, in the shower and at the pool party.
Les innledning:

9 Travel speakers
Positive
Can be paired for greater sound. Long range. Good volume and sound quality.
Negative
No app for party mode. Two speakers do not imply stereo sound. No microphone.
Ultimate Ears has performed well in many of our previous tests. For example, the UE Megaboom was test winner at last year's test of more expensive travel speakers. We have also tested Wonderboom separately, but how does it perform compared to the competition? We like the rounded format and the string that fits on the soap shelf in the shower. It can handle it because it is well protected against the elements. Since last year, several new colour options along with two fun patterns have appeared.
The control is simple with large, clear buttons. A button is also used to connect two Wonderbooms, but no stereo sound is given. Unfortunately, the Boom app isn't supported, so you can't use it to hook up a bunch of speakers. Logitech claims it's easier. We think it's sad. It lacks a microphone, so you can't use it for phone calls, or to get voice assistants. However, it promises a range of 30 metres, which is good.
The most important is how it sounds, and Wonderboom provides just as much fun as the look suggests. It plays louder than you might think, and delivers deep bass. But that's not the only thing that impresses us. You also gets a clean mid range with a clear and well-defined sound. Moreover, the treble is clear, without harsh edges. Thanks to the omnidirectional sound, it's well suited for a group of friends at the beach with everyone hearing the music equally good.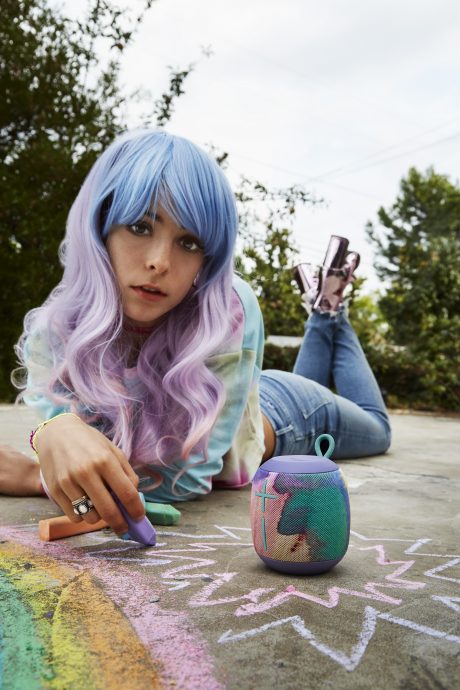 Conclusion
Ultimate Ears Wonderboom is an excellent, small Bluetooth speaker with many qualities and few issues. It has a neat design, is waterproof, plays both loudly and deeply, and has a great price. The only thing it really lacks is the ability to hook up in a stereo combination. Aside from that it's a fantastic, well-sounding, little speaker, that you can bring along wherever it is needed. It is built to take a beating, and continues to play even if it's pouring.
Connections: Bluetooth
Battery: 10 hours
Features: party mode
Classification: IP67 (dustproof/waterproof)
Dimensions/weight: 10 x 9 x 9 cm / 425 grams
Website: ultimateears.com
Pris: 1000 kr
9 Travel speakers
Also in this test
Powerful and it floats
Barricade XL is a party speaker with adequate bass, which floats if it falls into the water.
Read more

Difficult and boring
Getting the right sound is tricky, and unfortunately the disadvantages also outweigh the advantages.
Read more

A practical beauty
Libratone Too is easy to carry, nice to show off, and it sounds very good.
Read more

Bass heavy party speakers
Perhaps Flip means that this bass heavy party speaker is giving the competitors the finger?
Read more

Sober, but afraid of water
Touring XS is better suited indoors than by the pool, especially as it is also a bit low-key.
Read more
Updated and well-sounding
A former best buy has corrected all the errors and is now best in its class.
Read more
Long lasting armoured speaker
Stryde is a sturdy speaker packed with features, but the sound isn't great.
Read more
Convenient and easy to use
Very easy to use and bring along to the beach, but you have to compromise on sound.
Read more

Also check out