Jonas Ekelund
Published

2018-08-22 - 8:24 am
Good volume. Engaging sound. Can charge mobile phones. Sturdy and floats in the water.
Extremely dominant bass. Risk of resonance. On the bigger side for trips.
Specifications
Connections: 3.5 mm, Bluetooth 4.1
Battery: 10 hours
Features: speaker phone, party mode
Classification: IPX7 (waterproof)
Dimensions/weight: 17 x 10 x 9 cm / 866 grams
Website: turascandinavia.com
Skullcandy has previously been known for their colourful headphones. Just over a year ago, they launched a speaker series called Barricade, where the XL naturally is the largest. It is also the largest and heaviest speaker in the test, so if you want a very portable speaker, you should perhaps go down a size. It features a rubberised exterior and speaker grills in metal, so it feels really sturdy. Not only is it waterproof, it actually floats too!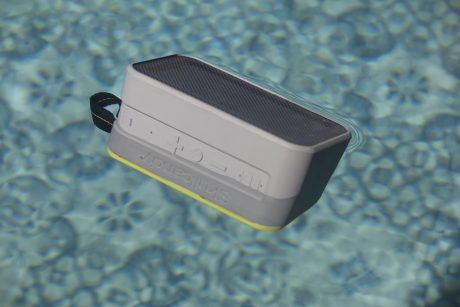 Large buttons at the top control the playback, and along the edges you find a few, smaller, more obscure buttons. They appear to be used for connecting two Barricades together for party mode as well as to switch between two Bluetooth sources. Behind a hatch, there is not only an Aux input and charging port, but also a USB port for charging a mobile phone. A microphone is available for phone calls but unfortunately not for voice assistants. However, status messages are provided with a voice from the speaker.
Barricade is a very bass heavy speaker. This is of course an advantage for outdoor parties where the bass otherwise easily disappears. And it certainly makes pop, rock and electronic music more refined. But when it gets the table to vibrate, it's a little too excessive. And if you turn up the volume, there is resonance in the chassis. It is not a good choice for more refined music. Not only because of the bass, but also because it sounds a bit two-dimensional and enclosed.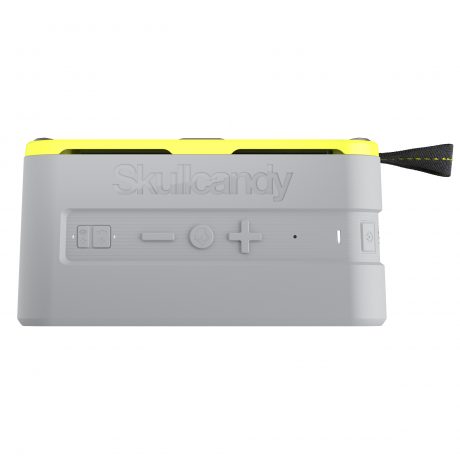 Conclusion
Barricade XL is no dumb choice if you are looking for a speaker that can be heard at a beach party and has a bass that gets the dance going. Especially since it not only withstands water, but actually floats, in case it falls down from the edge of a pier. You can also connect two speakers for even greater audio. If the battery on your mobile phone dies, it can be recharged from the speaker. On the other hand, it's a bit cumbersome to bring along on a trip, and the sound is not refined enough for slower music.
Also in this test
Libratone Too
A practical beauty
Libratone Too is easy to carry, nice to show off, and it sounds very good.
Convenient size. Excellent app. Can be paired. Very good sound quality.
Not completely waterproof. Impractical touch control. Omnidirectional audio is not always appropriate.
JBL Flip 4
Bass heavy party speakers
Perhaps Flip means that this bass heavy party speaker is giving the competitors the finger?
Can be stereo connected or operated in party modes. Sturdy and durable. Unusually powerful bass.
No possibilities of fine tuning the sound. The sound lacks finesse for more finely tuned music.
Philips BT7900
Difficult and boring
Getting the right sound is tricky, and unfortunately the disadvantages also outweigh the advantages.
Very smart carrying strap/charger cable. Supports fast charging.
Hard to find a volume that sounds good for everything. A slightly dull design. No app.
Ultimate Ears UE Wonderboom
A musical hand grenade
Wonderboom takes care of the party at the beach, in the shower and at the pool party.
Can be paired for greater sound. Long range. Good volume and sound quality.
No app for party mode. Two speakers do not imply stereo sound. No microphone.
Bose Soundlink Micro
Convenient and easy to use
Very easy to use and bring along to the beach, but you have to compromise on sound.
Sturdy with a handy rubber strap. Microphone and voice assistants. Party mode and stereo pair.
No aux input, only wireless. Mediocre sound quality. Short battery life.
Braven Stryde
Long lasting armoured speaker
Stryde is a sturdy speaker packed with features, but the sound isn't great.
Very long battery life. Can recharge mobile phones. Good mobile app. Sturdy and practical.
Requires a special charger. Excessive bass that gives resonance. Average sound quality.
Denon Envaya Mini DSB-150BT
Updated and well-sounding
A former best buy has corrected all the errors and is now best in its class.
Nice looking for a waterproof speaker. Can be connected in a stereo pair. Excellent sound quality.
No app for audio settings. The buttons are tricky to use.
Geneva Sound Touring XS
Sober, but afraid of water
Touring XS is better suited indoors than by the pool, especially as it is also a bit low-key.
Very sober leather design in pretty colours. Excellent battery life. Easy handling.
No dust or water protection. No features whatsoever. Problematic bass.