Jonas Ekelund
Published

2018-08-22 - 8:21 am
Nice looking for a waterproof speaker. Can be connected in a stereo pair. Excellent sound quality.
No app for audio settings. The buttons are tricky to use.
Specifications
Connections: 3.5 mm, BT 4.1 aptX
Battery: 11 hours
Features: stereo pairing, voice assistant
Classification: IP67 (dust and waterproof)
Dimensions/weight: 18.7 x 6.3 x 6.5 cm / 541 grams
Website: hifiklubben.no
Two years ago we tested the Envaya Mini in a similar test of travel speakers, and we concluded that it was the best buy. Here comes the sequel, confusingly enough with the same name. So it is important to keep track of the product designation. One of the shortcomings of this was the water protection, but it is now upgraded to waterproof. This cannot be seen by the pretty cloth-like chassis, but by the rubber-coated sides, making sure that water does not leak in through the buttons.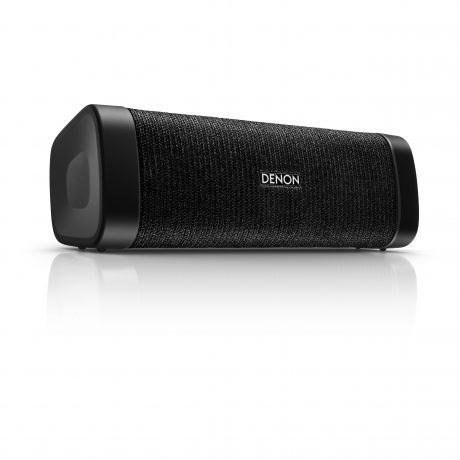 Albeit large, the buttons are poorly marked, making them a little difficult to locate. If you have two Envaya of the same model, you can pair them together as a stereo pair by simply pressing two buttons. Unfortunately, there is no app for such features or for customising the sound. The microphone allows you to use it as a speakerphone, as well as for voice assistants such as Apple's Siri and Google Assistant. Although this is not mentioned any further.
The previous model already sounded really good, and Denon has now gone a step further. When you try acoustic live music, you get a wonderful sense of presence, and even a bit of stereo perspective. Jazz music has fine clarity and separation. Pop music sounds compelling with an appropriate bass rendition. Of course, there is no deep bass in this size, but it cuts more than pushing the speaker to the physically impossible.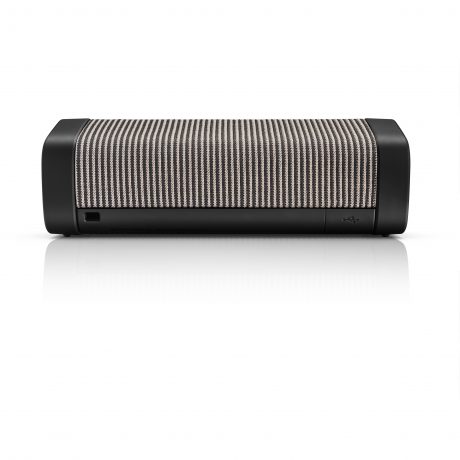 Conclusion
Denon follows up last year's best buy with an updated model with the same name. Keep track of the model designation. The few complaints we had back then have now been improved. The water protection is upgraded to waterproof. Despite this, it has a finer cloth-like chassis. It can also play at a higher volume without affecting the sound. But above all, it sounds exceptionally good, and handles everything from electronic dance music to acoustic live concerts.
Also in this test
Libratone Too
A practical beauty
Libratone Too is easy to carry, nice to show off, and it sounds very good.
Convenient size. Excellent app. Can be paired. Very good sound quality.
Not completely waterproof. Impractical touch control. Omnidirectional audio is not always appropriate.
JBL Flip 4
Bass heavy party speakers
Perhaps Flip means that this bass heavy party speaker is giving the competitors the finger?
Can be stereo connected or operated in party modes. Sturdy and durable. Unusually powerful bass.
No possibilities of fine tuning the sound. The sound lacks finesse for more finely tuned music.
Philips BT7900
Difficult and boring
Getting the right sound is tricky, and unfortunately the disadvantages also outweigh the advantages.
Very smart carrying strap/charger cable. Supports fast charging.
Hard to find a volume that sounds good for everything. A slightly dull design. No app.
Ultimate Ears UE Wonderboom
A musical hand grenade
Wonderboom takes care of the party at the beach, in the shower and at the pool party.
Can be paired for greater sound. Long range. Good volume and sound quality.
No app for party mode. Two speakers do not imply stereo sound. No microphone.
Skullcandy Barricade XL
Powerful and it floats
Barricade XL is a party speaker with adequate bass, which floats if it falls into the water.
Good volume. Engaging sound. Can charge mobile phones. Sturdy and floats in the water.
Extremely dominant bass. Risk of resonance. On the bigger side for trips.
Bose Soundlink Micro
Convenient and easy to use
Very easy to use and bring along to the beach, but you have to compromise on sound.
Sturdy with a handy rubber strap. Microphone and voice assistants. Party mode and stereo pair.
No aux input, only wireless. Mediocre sound quality. Short battery life.
Braven Stryde
Long lasting armoured speaker
Stryde is a sturdy speaker packed with features, but the sound isn't great.
Very long battery life. Can recharge mobile phones. Good mobile app. Sturdy and practical.
Requires a special charger. Excessive bass that gives resonance. Average sound quality.
Geneva Sound Touring XS
Sober, but afraid of water
Touring XS is better suited indoors than by the pool, especially as it is also a bit low-key.
Very sober leather design in pretty colours. Excellent battery life. Easy handling.
No dust or water protection. No features whatsoever. Problematic bass.