Jonas Ekelund
Published

2018-08-16 - 1:08 pm
Waterproof according to IPX7. Really cool light effects. Can be run as a stereo pair or in party mode.
Inadequate audio resources for outdoor parties. The bass is too weak for electronic dance music.
Specifications
Output: 20 watt
Drivers: 3 x 40 mm
Audio sources: Aux, Bluetooth 4.2
Battery life: 12 hours
Dimensions/Weight: 22 x 9 x 9 cm/960 g
Website: jbl.com
We have previously tested JBL's portable speakers with good results. Just as the practical JBL Charge 3 and the loud JBL Extreme, not to mention the power house JBL Boombox. Pulse 3 is as large as the small Charge, but JBL has covered most of the speaker with light panels instead of speaker drivers. It feels well-built, albeit not as rugged as the speakers with metal grills. However, there is no need to worry about rain showers or losing it in the pool, because it is waterproof according to IPX7. This means that the charging port and auxiliary input are hidden behind a rubber hatch.
Next to them are the buttons for controlling playback, pausing, and starting music, as well as choosing lighting effects. You can also use the JBL Connect app to choose between the seven light animations or create your own. The light show is really cool and impressive, but it falls very short of lighting up the whole room like Sony and Philips. It's more like a cosy lava lamp. The app is also used to stereo connect two speakers, or connect up to 100 compatible JBL speakers in the party mode. The app also allows one to choose to have the play button activate the phone's voice assistant, as the speaker also has a microphone to be used as a speakerphone.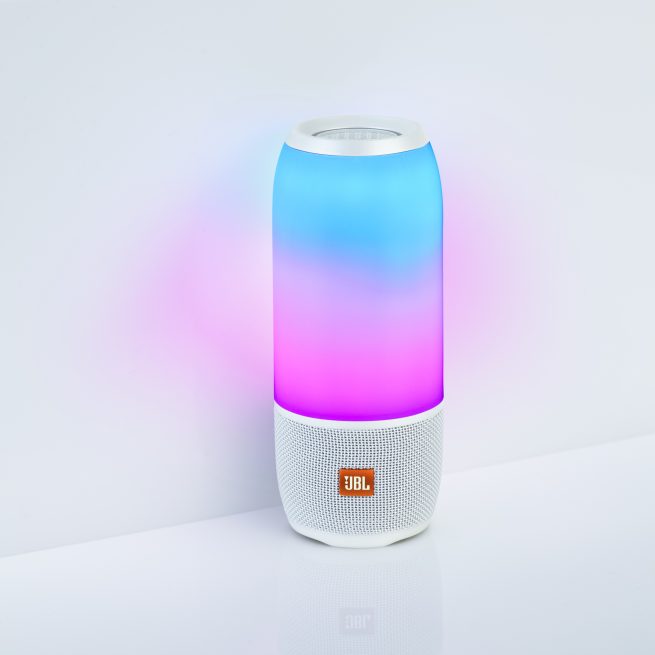 Sound pressure and bass
A problem with Pulse 3 is that, despite being almost as big as Charge, on the whole it does not have the same sound resources. This is because JBL had to use smaller speaker drivers, and place them at the bottom, instead of using all of the space to pump out sound. This is therefore not the speaker that will create any euphoria on the dancefloor. Instead, it is something that creates a pleasant mood at a house party. However, the same solution with subwoofers at both ends has been continued. It does provide a deeper bass than would otherwise be possible, but there is no particular kick to it. In addition to that, the treble feels fuzzy. Not ideal for EDM.
Conclusion
The JBL Pulse 3 is a cool and practical speaker in itself. But is it a party speaker? If so, it had better be a very small house party. The speaker drivers are simply too small to enable you to turn up the volume to the max, and the bass is too small to make your feet tap. The reason is that most of the speaker is filled with light panels that have given it its name. The light show is certainly festive, but it doesn't light up the room like a disco. It is more like a cosy lava lamp to gather around at a house party and mosey to the beat. Or place it by the pool at a barbecue party, since it is waterproof.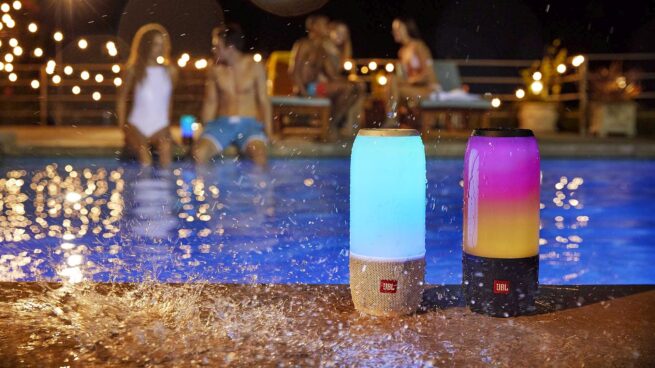 Also in this test
Soundboks 2
It actually goes to 11
It is a festival speaker above all others, with crazy sound levels with a battery life for the whole weekend.
Thundering bass and intense acoustic pressure. Very robust. Outstanding battery life.
The battery could be more protected. Expensive.
Sony MHC-V71D
Now we are talking party
Sony is king of the party with deafening volume, heavy bass and the best light effects.
Full app control. Impressive light show.
Requires caution when transporting. Overwhelming number of buttons.
Philips NTX400
Is there a party or what?
Many sound sources, festively flashing lights and great sound pressure at a reasonable price.
Many music sources. Fairly easy handling. Great sound resources and powerful bass.
No mobile phone app. The light show is a little monotonous. The NX Bass mode lasts only a short time.
Panasonic SC-UA4
Get the house party going
Good sound pressure and compact design, but unnecessary carrying handles as it does not have battery power.
Many audio sources including CD. Powerful sound with good bass. Compact format.
No app for iOS. Missing battery power. Lamps with only a fixed blue light.
iDance AC/DC TNT-3
Rock In ­Peace
Short battery time and surprisingly kind sound will make the rock n' roll party end quickly.
Surprisingly well-built and easy to transport. No major errors in the sound quality.
Too short a battery life for outdoor parties. Missing volume resources and pressure in the bass.