Mikael Hansen
Published

2018-08-16 - 11:17 am
The bass is surprisingly rich and warm, and the speakers never sound sharp or brash.
Sounds more cautious and laid back than what we are accustomed to from SA, which normally makes very energetic and dynamic speakers.
Specifications
Type: Two-way active bookshelf 2 x 50 W
Wireless: Bluetooth 4.0 A2DP aptX AAC
Connections: Aux RCA, Phono (MM), 2 optical
Sensitivity: N/A
Frequency response: 55 Hz – 25 kHz (+/- 3 dB)
Dimensions/weight: 14 x 28 x 21 cm / 7.5 kg
Colours: Matte black or white
Other: Subwoofer output, Adaptive Bass, remote control
Website: swsg.no
SA, or System Audio as we also know, are known for their slim but energetic speakers. The most affordable Saxo series has once again impressed us, with its sparkling dynamics and high fun factor, combined with excellent hi-fi qualities.
Saxo 3 Active succeeds Saxo 1 Active. Upgrades include the so-called adaptive bass feature, which – when activated – adapts the bass to how loud one plays. In practice, it provides fuller sound at low sound levels. In addition, the turntable input is finally in place.
The Bluetooth connection supports better audio with aptX (Android) and AAC (iOS), and if you enable the Autosense feature, the speakers can detect when your phone is in the room, and automatically connect with Bluetooth.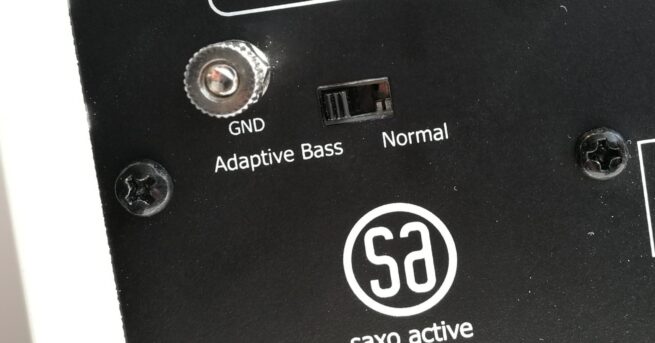 Sound
While the Klipsch R-14PM sounds very energetic, but with a somewhat slim bass, the SA Saxo 3 Active is almost the other way around. It has a very full bass rendition, which gives bass instruments a larger foundation and also adds more depth to the sound. Eminem's rap classic Without Me sounds as if the bass drum has increased in size, and whereas the vocal tends to have a slightly nasal sound with the Klipsch, it is more restrained with SA.
There is a round, fine sound in the piano in the Jazz song What's New by Mathias Eick and Elvira Nikolaisen. There is no criticism to be made about the amplitude of the bass. Thus, the adaptive bass rendering is redundant, as there is more than enough fullness in the bass already – even at low volume.
Where it is somewhat lacking is in the upper part of the frequency range. The trumpet sounds a little dark, and Elvira Nikolaisen's voice is not quite open enough. There's more focus down in the chest-voice area, and the keystrokes in the piano are not snappy enough.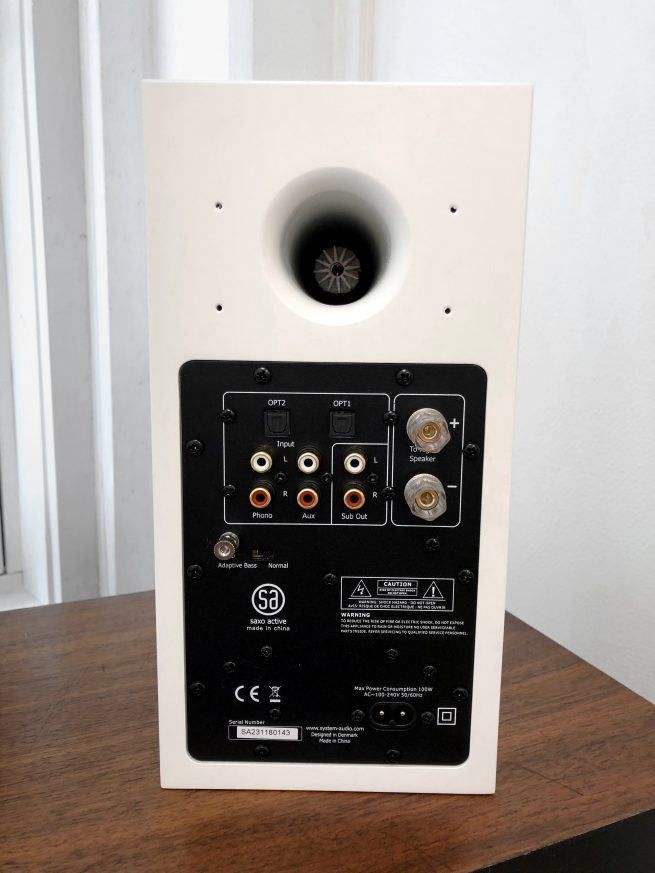 Conclusion
SA Saxo 3 Active sounds large and lush, with good fullness in the bass. It sounds fine and well-controlled. What we miss is more aggression from the midrange and above. It tends toward being a little cautious; moreover, there is a little too much focus in the bass area compared to the midrange. If one places the speakers in a bookcase, there is even more bass, so these will thrive best on stands.
The speakers do what is expected of a wireless speaker in that price range, but it takes a little more to really grab us. We are looking forward to testing its big brother Saxo 7 Active!
Also in this test
Argon Alto 5 Active
A total bargain of a price
The cheapest speakers of the test are certainly nothing to scorn at. Argon Active 5 actually plays impressively well!
The Argon speakers have a distinct, airy and rich sound, which can certainly be compared to far more expensive competitors.
The speaker cable must be purchased separately.
Triangle Elara LN01A
Lively and practical
Triangle's wireless speaker is a well constructed and a viable option in this price range.
Compact and nice sounding all-round speakers with a lot of connections and good usability.
No USB input, a lousy remote control and relatively high priced.
Klipsch R-14PM
Small powder keg
It does not depend on the size: These dynamic toddlers from Klipsch knockout in the biggest challenges!
The Klipsch speakers create a massive, wonderful and detailed soundscape
Cheap cabinet finish. If you want proper deep bass, you need to pair it with a separate subwoofer.
Ruark MR1 Mk2
Slender charmer
The Ruark speakers are both small and versatile, but will come to the most important things shortly.
Sleek design and trustworthy quality with good user-friendliness, relatively rich and warm sound considering size.
No USB or turntable input, some grey sound and anaemic dynamics with limited ability to engage.