Mikael Hansen
Published

2018-08-16 - 11:15 am
Sleek design and trustworthy quality with good user-friendliness, relatively rich and warm sound considering size.
No USB or turntable input, some grey sound and anaemic dynamics with limited ability to engage.
Specifications
Type: Bi-directional active bookcase 2 x 20 W
Wireless: Bluetooth 4.0 A2DP aptX
Connections: Aux Analog, optical, sub output
Sensitivity/ohm: 88 dB/4 ohm
Frequency response: 42 Hz – 30 kHz ± 3 dB
Dimensions/Weight: 17 x 13 x 13.5 cm / 3.5 kg
Colours: Walnut-veneer or matte light grey
Other: Subwoofer output, Remote control
Website: mono.no
They look better than most speakers in this class. With the slightly rounded sides of the cabinet, the details of the light metal, the elaborate fabric facade, the control dial at the top, and the possibility for proper wood veneer, the Ruark speakers are almost in a class of their own for wireless speakers in stereo. They can even be used with a battery pack, if one needs them to be portable. Because they are small enough for that. They are actually so small that they can easily fit virtually anywhere.
The speakers are also incredibly easy to use. The accompanying remote control is nothing to brag about, but with Bluetooth and a rotate-and-click dial at the top, nothing stands in the way of using the Ruark speakers, even for those with fumble-fingers. They have an analog and an optical audio input, so you are ensured good TV sound, and output for the subwoofer. But no turntable input.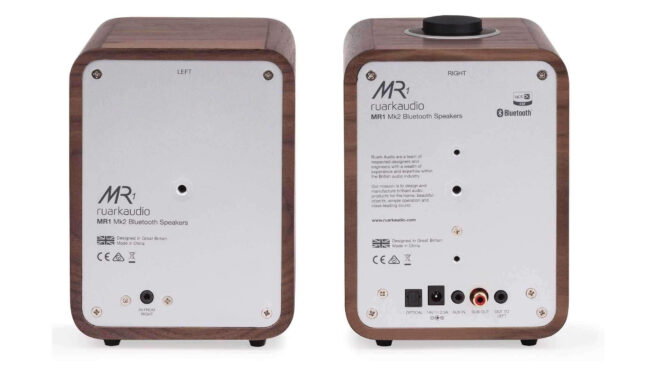 Sound
As one can see, they are not large, and are therefore suitable on the desk, on the windowsill as well as on the bookshelf. Taking size into consideration, the sound is full and nice. There is naturally not much of either bass or dynamism here, and they don't play very loudly. Unfortunately, the sound does not particularly enchant us. The midrange is grey and lifeless, and on the classical track the choir simply sounds mushy. The music loses a bit of both the foundation and the sound depth when one switches from e.g. the small System Audio Saxo 5 Active to these, which cost the same.
But everything is relative and if one sits close enough, the sound from the Ruark MR1 Mk2 is better defined. Unfortunately, they are unable to fill the living room properly. The Eminem track sounds anaemic, and the woofer struggles to release enough of the bass in the recording to allow us to be convinced.
Conclusion
The small Ruark speakers sound good enough, but are obviously best suited in smaller rooms and sound better when you have them in front of you on a desk. The physical constraints are noticeable in the bass and the volume. They play neither very loudly nor in a tough manner.
As an additional speaker pair they are nice enough, especially if one doesn't have much room, but it's not hard to find better sound for the same price. If you can live with slightly larger speakers.
Also in this test
Argon Alto 5 Active
A total bargain of a price
The cheapest speakers of the test are certainly nothing to scorn at. Argon Active 5 actually plays impressively well!
The Argon speakers have a distinct, airy and rich sound, which can certainly be compared to far more expensive competitors.
The speaker cable must be purchased separately.
Triangle Elara LN01A
Lively and practical
Triangle's wireless speaker is a well constructed and a viable option in this price range.
Compact and nice sounding all-round speakers with a lot of connections and good usability.
No USB input, a lousy remote control and relatively high priced.
Klipsch R-14PM
Small powder keg
It does not depend on the size: These dynamic toddlers from Klipsch knockout in the biggest challenges!
The Klipsch speakers create a massive, wonderful and detailed soundscape
Cheap cabinet finish. If you want proper deep bass, you need to pair it with a separate subwoofer.
SA saxo 3 active
Sounds fine, but...
SA has fine-tuned its Saxo series, and Saxo 3 Active has received a turntable input.
The bass is surprisingly rich and warm, and the speakers never sound sharp or brash.
Sounds more cautious and laid back than what we are accustomed to from SA, which normally makes very energetic and dynamic speakers.