Geir Nordby
Published

2021-03-31 - 6:00 am
With a little adjustment, the sound is quite engaging, with a rich bass that does not dominate too much.
Slow charging. The speaker requires sound tuning to sound good.
Specifications
Connections: Bluetooth 5.0 (SBC, AAC, LDAC)
Output power: Not specified
Features: Mobile app, stereo pairing, party mode, radiator basses
Robustness: IP67 (dust and waterproof)
Battery: 10-12 hours (USB-C)
Dimensions/weight: 21.8 x 7.6 (diameter) cm/580g
Web: sony.co.uk
The Sony SRS-XB23 is a speaker in a handy, portable format. It is large enough to get some volume and bass, at the same time the narrow cylinder shape fits well in the hand. A string sits on top, to hang it on a peg or rod. The speaker is completely dustproof, and is waterproof down to 1 meter deep for 30 minutes.
Features and usability
The speaker has a panel with buttons on the back, so you do not need to have your mobile phone in front at all times to operate it. Here you can start and pause the music, answer calls (it has a built-in microphone for phone calls) and set the volume. The speaker can be paired with another in a stereo pair, or pair two or more speakers in party mode. In the latter case all speakers play both left and right channel. These features are also available with buttons on the back.
The speaker charges with USB-C, but it does not support fast charging and is only guaranteed for up to 1.5 A (7.5 W). Charging then takes 4 (!) Hours, and you then get 10-12 hours of battery life. In other words, you should get through a day of normal use, but if you are away for a weekend, you should make sure to bring a charging cable.
Sound quality
Connecting the SRS-XB23 is joyfully easy, as expected, but the sound straight out of the box is not equally joyful. Flat and lifeless, almost without bass. All you have to do is download the Sony Music Center app and activate Extra Bass. Then the sound becomes much fuller. A little in excess actually, then it's nice with a 3-band tone control that allows us to mute the bass with two notches and increase the treble one notch. With that adjustment the music gets a rich enough bass, at the same time as sounding clear enough on voices and acoustic instruments.
You still do not completely get rid of the colouring in the bass, for example on the ballad One Minute You're Here where where the resonances from Springsteen's acoustic guitar mask the chest sound register of the vocal. Details simply get lost.
The speaker can play quite loud, but the sound becomes a bit thin and flat when you go loud. If you are willing to settle for at bigger size, the big brother XB33 gives even better sound for the money.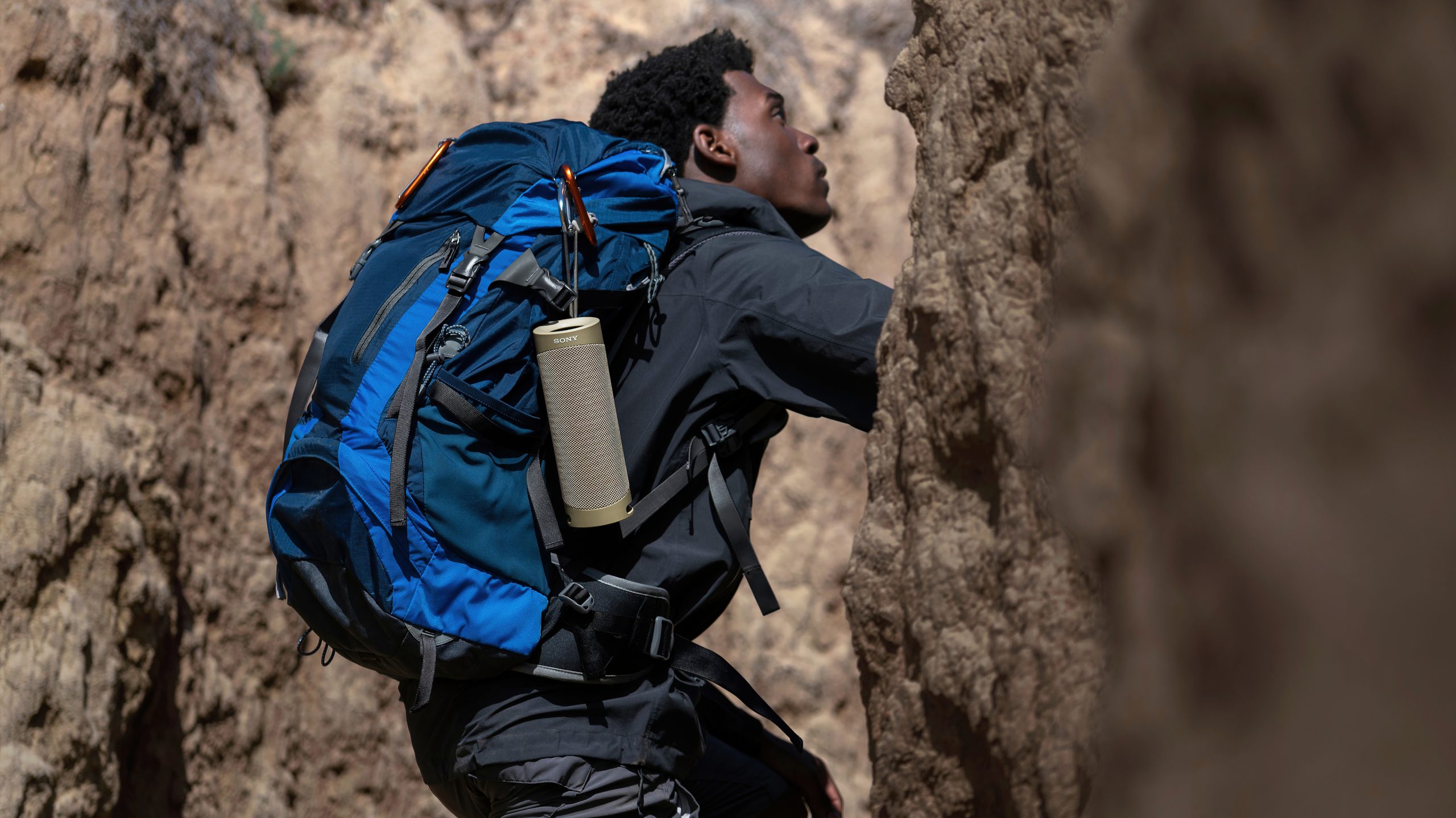 Sony SRS-XB23: Conclusion
The Sony SRS-XB23 is a perfectly decent speaker, that is easy to use and can sound quite full and nice after a little sound adjustment. But right out of the box it sounds too flat, and it also gets a little tame when you raise the sound level. But the biggest problem is that it takes forever to charge and also has only mediocre battery life.
SRS-XB23 is a good buy.
Also in this test
JBL Charge 5
Party on the trip
JBL Charge 5 plays loud and powerful, and is the one you want to take with you on a ride.
Powerful sound, good battery life, several can be connected.
Slightly sharp treble, no sound settings in the app.
Marshall Emberton
It looks tougher than it sounds
The unmistakable Marshall design will appeal to many rock lovers. But the sound of Emberton is rather tame.
Rough and tough sound, robustly built, a look that appeals to rock lovers.
Thin midrange.
JBL Link Portable
Both smart and portable
JBL Link Portable is a portable speaker in a practical format. Google Assistant is built-in for smart home management.
Combines portable use with Google Assistant for convenient smart home management. The sound is balanced and straightforward, and the charging plate is practical.
We miss dynamics and control, it gets pretty tame. Does not support fast charging.
Sony SRS-XB33
The best portable
The Sony SRS-XB33 is, in short, the best wireless travel speaker in its class.
Impressively full and good sound. Good battery life, several can be connected.
The sound may need adjustment before it sounds at its best. Pretty slow charging.