Geir Nordby
Published

2021-03-31 - 6:00 am
Rough and tough sound, robustly built, a look that appeals to rock lovers.
Specifications
Connections: Bluetooth 5.0 (SBC)
Output power: 20W
Features: Battery indicator, radiator bass
Robustness: IPX7 (waterproof)
Battery: 20 hours (USB-C)
Dimensions/weight: 16 x 7.6 x 6.8 cm/700g
Web: marshallheadphones.com
Emberton is the smallest portable speaker from Marshall, and looks like a rather shrunk down guitar amp. A look many rock lovers will be familiar with, and one that almost require a beer nearby …
Despite very compact dimensions, the weight is as much as 700 grams, which is 120 grams heavier than the physically larger Sony's SRS-XB23. The speaker is completely waterproof with IPX7 certification, but be careful in sandstorms (!) As it is not stated to be dustproof.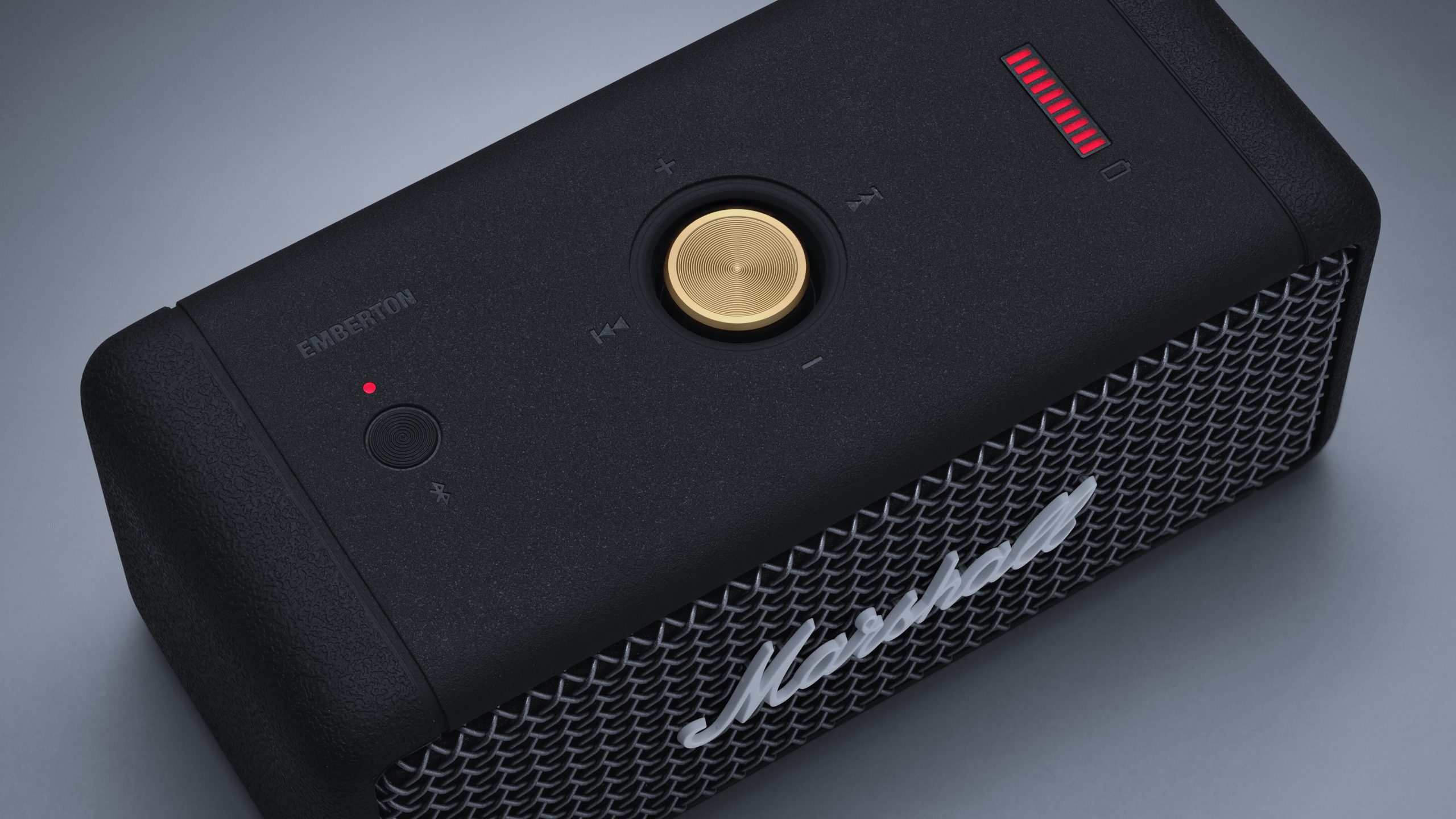 Features and usability
Emberton connects to the mobile phone as follows: Turn on with the on/off button, do not release, but hold it down until the speaker enters pairing mode. A brass-colored button on the top sets both the sound level up and down, and switch between songs. At the top right is a battery indicator that shows how much power you have left.
The battery life is stated at a full 20 hours, and the speaker supports 5 volts and up to 3 amps, which gives 5 hours of playing time after 20 minutes of charging. A full charge, on the other hand, takes 3 hours.
There is no app and thus no sound settings, you have to take what you get. If you do not have an EQ function in the music player (eg Spotify).
Sound quality
Marshall Emberton has a pretty tough sound signature, with a lot of impact in the upper midrange. This makes electric guitars bite off extra, and you get a good touch of rock 'n' roll. The midrange, on the other hand, is a bit thin, as you can quickly hear in the voice of Tim Scott McConnel in the Leonard Cohen-inspired The Man I Am (known from the Exit series). The words are clear, but the emotional register that is conveyed from the chest sound area does not come out well enough. There is also a coloring in the upper bass that takes some focus, and it becomes extra clear when the midrange is so slim.
The treble, on the other hand, performs well, and the guitar solo on Take the Power Back by Rage Against the Machine sounds rough and tough. But hardcore rock like this needs the midrange to bind the sound together. It gets a little too flimsy, with too much energy in the cymbals and too little substance otherwise. But all in all, completely approved.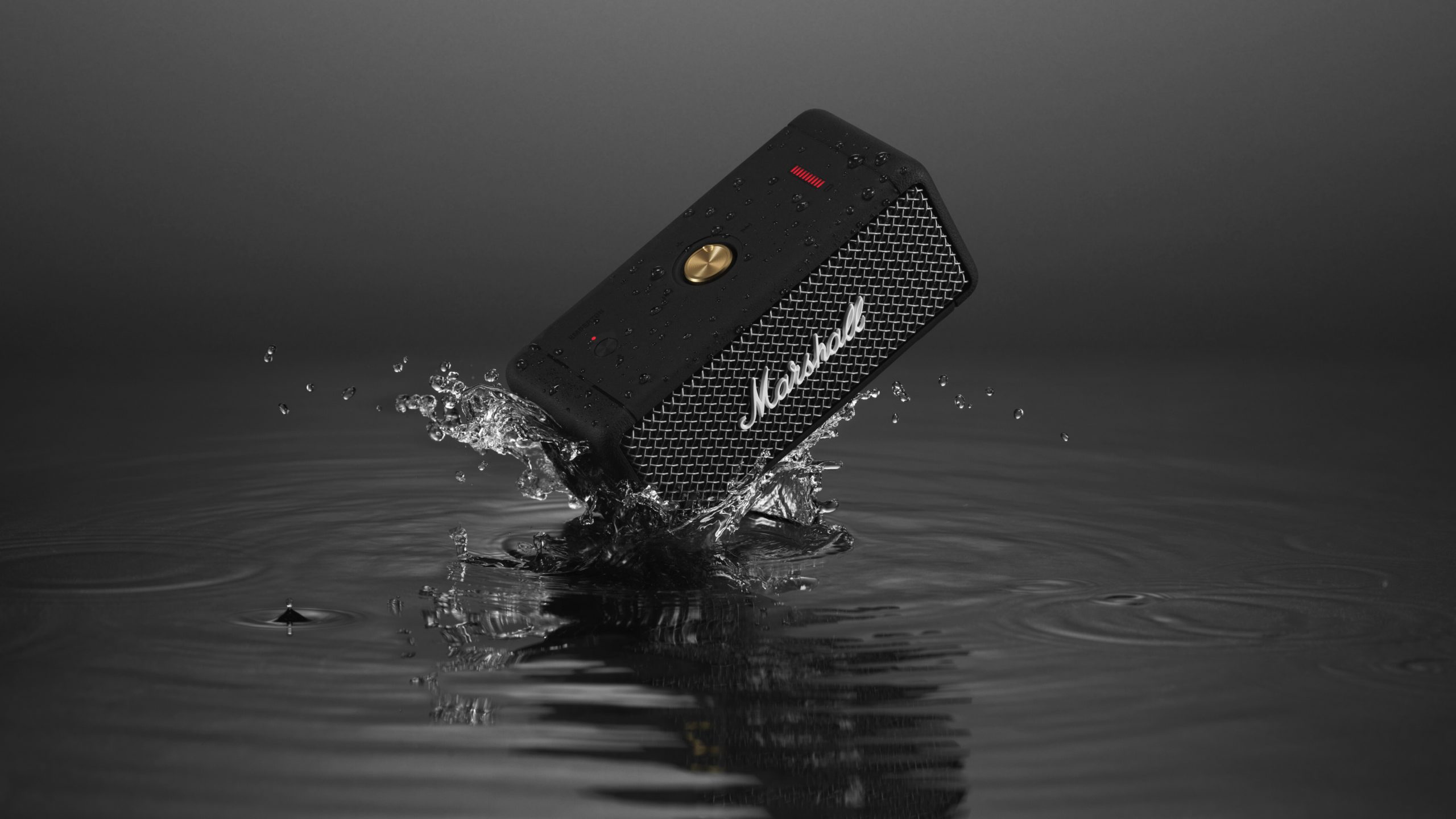 Marshall Emberton: Conclusion
Marshall Emberton looks like a downsized guitar amp, a look that will probably appeal to many rock lovers. It has a long battery life, and a trustworthy weight – and it is of course waterproof.
In terms of sound, it has a "rock" sound signature, with a rough and tough sound. Guitar solos bite nicely. But the midrange is slightly thin, and the bass sounds a bit coloured. Here, Marshall should have had an app with EQ settings, so you could set the sound you wanted.
Do not get me wrong, the sound is good enough, and we can well understand that many want this speaker. Not least because of the tough look and good quality feel. But a test winner, it is not.
Also in this test
JBL Charge 5
Party on the trip
JBL Charge 5 plays loud and powerful, and is the one you want to take with you on a ride.
Powerful sound, good battery life, several can be connected.
Slightly sharp treble, no sound settings in the app.
JBL Link Portable
Both smart and portable
JBL Link Portable is a portable speaker in a practical format. Google Assistant is built-in for smart home management.
Combines portable use with Google Assistant for convenient smart home management. The sound is balanced and straightforward, and the charging plate is practical.
We miss dynamics and control, it gets pretty tame. Does not support fast charging.
Sony SRS-XB33
The best portable
The Sony SRS-XB33 is, in short, the best wireless travel speaker in its class.
Impressively full and good sound. Good battery life, several can be connected.
The sound may need adjustment before it sounds at its best. Pretty slow charging.
Sony SRS-XB23
Good sound in a handy format
The cylindrical SRS-XB23 is smaller and more convenient than its big brothers. But it lacks a bit of sound.
With a little adjustment, the sound is quite engaging, with a rich bass that does not dominate too much.
Slow charging. The speaker requires sound tuning to sound good.