Geir Nordby
Published

2021-03-31 - 6:00 am
Powerful sound, good battery life, several can be connected.
Slightly sharp treble, no sound settings in the app.
Specifications
Connections: Bluetooth 5.0 (SBC)
Output power: 30 + 10W
Features: App control, stereo pairing, party mode, powerbank function
Robustness: IP67 (waterproof and dustproof)
Battery: 20 hours (USB-C)
Dimensions/weight: 22.3 x 9.7 x 9.4 cm/960g
Web: jbl.com
The smallest travel speakers have too flat a sound for them to be particularly engaging. My experience is that you have to get up to the size of JBL Charge 5 before the fun begins.
The previous Charge models have worked perfectly for their purpose, and JBL knows how to squeeze out rhythm and dynamics from a compact format. In its fifth generation, the JBL has put in an extra amplifier, so the woofer gets its own 30-watt, while the treble is powered by 10 watts. Where Charge 4 had Bluetooth 4.2, Charge 5 got 5.1, which means a theoretically more stable wireless connection, in addition to the connection using less power.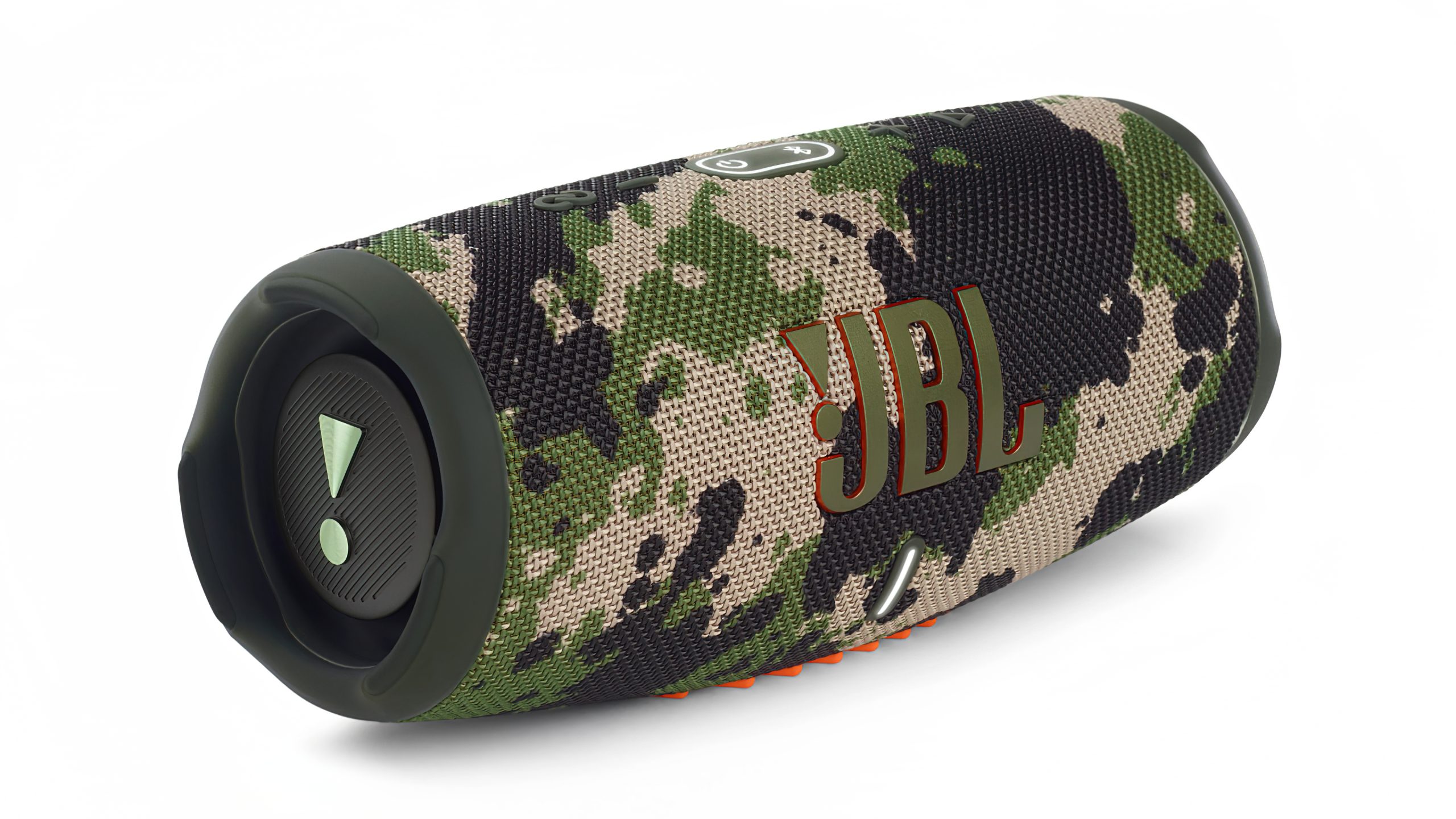 Features and usability
Nevertheless, the stated battery life is the same as that of its predecessor, 20 hours. Charge 5 charges with USB-C, and supports 5V/3A charging, ie 15 watts. Still, it takes four hours to fully charge, which is quite long.
Charge 5 also has a USB power socket and can act as an emergency charger for the phone. Then with 5V / 2A.
With the JBL Portable app, two Charge 5 can be connected in stereo or linked together in party mode. But there are no sound settings, so if you are not happy with the sound, there is little you can do about it. If not then your music player has built-in EQ. For example, Spotify has this, but not Tidal.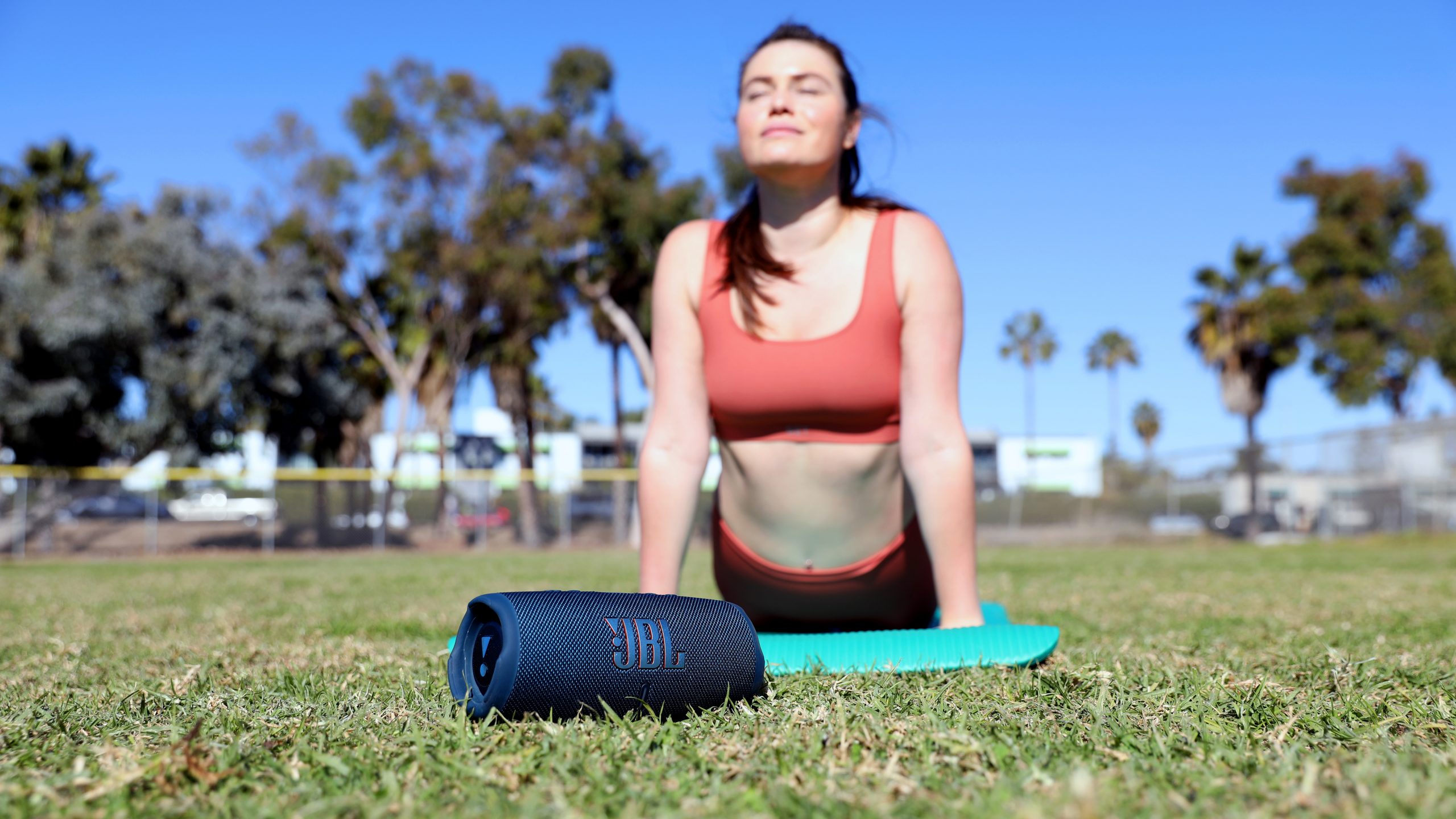 Sound quality
Charge 5 sounds really tough, with louder sound than the competition. The bass is pumping, it sounds tough, and the speaker can play loud. If you are going to have a party in the woods but can't bear to carry a huge boombox with you, this is definitely the speaker for you.
Electronic pop music sounds tough, so does rock. In fact, this is a much better rocker than Marshall Emberton, that pales in comparison. Here you get a much heavier impression of the bass drum, and I actually think guitars also sound tougher here.
Like the Marshall Emberton, the JBL Charge 5 also has a slightly sharp treble. Women's vocals sound somewhat offensive, I would like to have the opportunity to mute the treble a bit in the app. But as mentioned, there is no tone control here. Hopefully this comes in an update.
JBL Charge 5: Conclusion
JBL Charge 5 is among the toughest in its class, with juicy bass rhythms and an ability to play louder and with better dynamics than most. It has a long battery life, is easy to use, and it does a lot right. If you want to connect several people in a group to cover a larger area with sound, then you can.
The treble is a bit sharp, so we miss the EQ setting in the app. Please include this in a future update, JBL!
Also in this test
Marshall Emberton
It looks tougher than it sounds
The unmistakable Marshall design will appeal to many rock lovers. But the sound of Emberton is rather tame.
Rough and tough sound, robustly built, a look that appeals to rock lovers.
Thin midrange.
JBL Link Portable
Both smart and portable
JBL Link Portable is a portable speaker in a practical format. Google Assistant is built-in for smart home management.
Combines portable use with Google Assistant for convenient smart home management. The sound is balanced and straightforward, and the charging plate is practical.
We miss dynamics and control, it gets pretty tame. Does not support fast charging.
Sony SRS-XB33
The best portable
The Sony SRS-XB33 is, in short, the best wireless travel speaker in its class.
Impressively full and good sound. Good battery life, several can be connected.
The sound may need adjustment before it sounds at its best. Pretty slow charging.
Sony SRS-XB23
Good sound in a handy format
The cylindrical SRS-XB23 is smaller and more convenient than its big brothers. But it lacks a bit of sound.
With a little adjustment, the sound is quite engaging, with a rich bass that does not dominate too much.
Slow charging. The speaker requires sound tuning to sound good.