John Hvidlykke
Published

2021-07-04 - 7:00 am
Advanced effects can be made. Can be easily extended. The idea of luminous "wood panels" is smart.
It does not look like wood very much, the build quality is poor and the app is downright hopeless. The integration with Google only works when you are lucky.
Specifications
Type: Modular LED light panel
Colors: White shades (1500-4000 K)
Brightness: 22 lumens per panel
Wireless: Wi-Fi 2.4 GHz
Control: App (iOS / Android), control panel, touch
Integration: Apple HomeKit, Google Assistant, Amazon Alexa, Thread
Energy consumption per panel: 2 W
Power supply: 42 W
The package includes: 7 light panels, control panel, power supply
Dimensions and weight: 23 x 23 x 1 cm (hexagonal) / 208 g
Web: nanoleaf.me
Lighting in the smart home is more than just light bulbs that can be turned on and off with an app. It is also about play and fascination. At that point, Chinese-Canadian Nanoleaf scores high with its smart light panels that can form vibrant light sculptures on the wall. We have previously tested the Nanoleaf Aurora, which had a high disco factor. However, this is something completely different.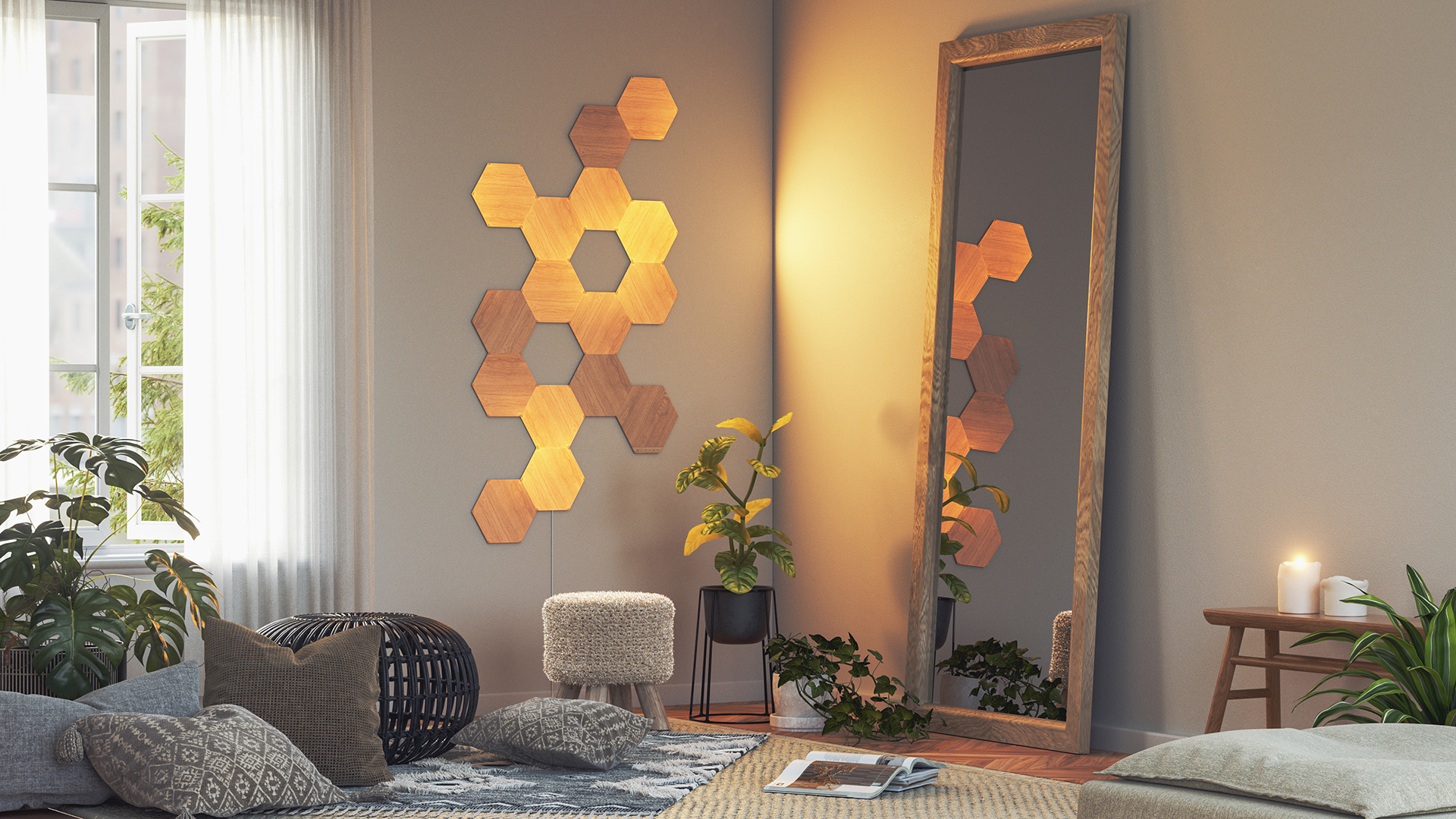 Nanoleaf Elements is a new panel system that is probably aimed at people who do not want to turn the living room wall into a disco light show. The hexagonal light panels have a surface that looks like light oak, so they form a kind of sculpture when the light is off.
The wood finish is not very convincing, but a group of them on the wall is still relatively discreet and does not signal "teenage room" as much the other models from Nanoleaf.
The panels measure 20 cm in width (or 23 cm from tip to tip). The light comes from LEDs along the edges that can shine through the plastic panel. Since the edges can be illuminated independently of each other, quite advanced light performances (scenes) can be made.
The elements panels are inspired by nature, and the light scenes have names taken from nature – such as Ember, Fireflies and Calming Waterfall. Since the panels themselves are golden in color, light effects can only be made in more or less warm shades of white light. And it will never be completely chalk white. If you connect RGB panels from other series with Elements, they will automatically follow the same color scale.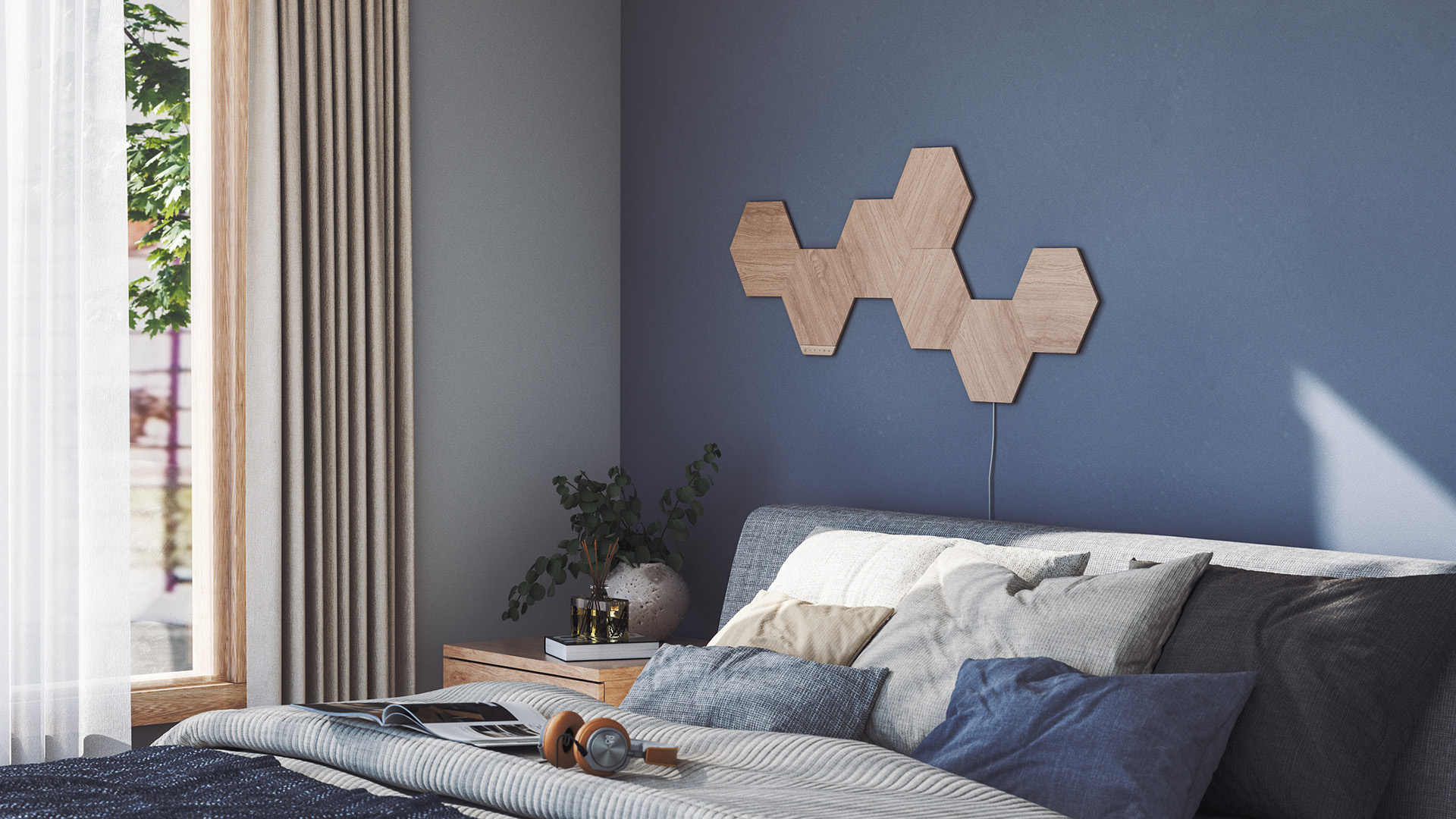 Only on slippery walls
The setup seems immediately simple, but is more cumbersome in practice. The modules have adhesive foam tape on the back, but the wall must be completely flat and smooth for the tape to hold the modules firmly. Wooden walls, sawdust wallpaper or coarse woven glass fabric are no-go.
Each module is provided with bushings on all sides (so there are six bushings on each of the hexagonal and three on the triangular), which can be used to link them with other modules. This is done with small loose contact PCBs that are clicked onto the side where the two meet.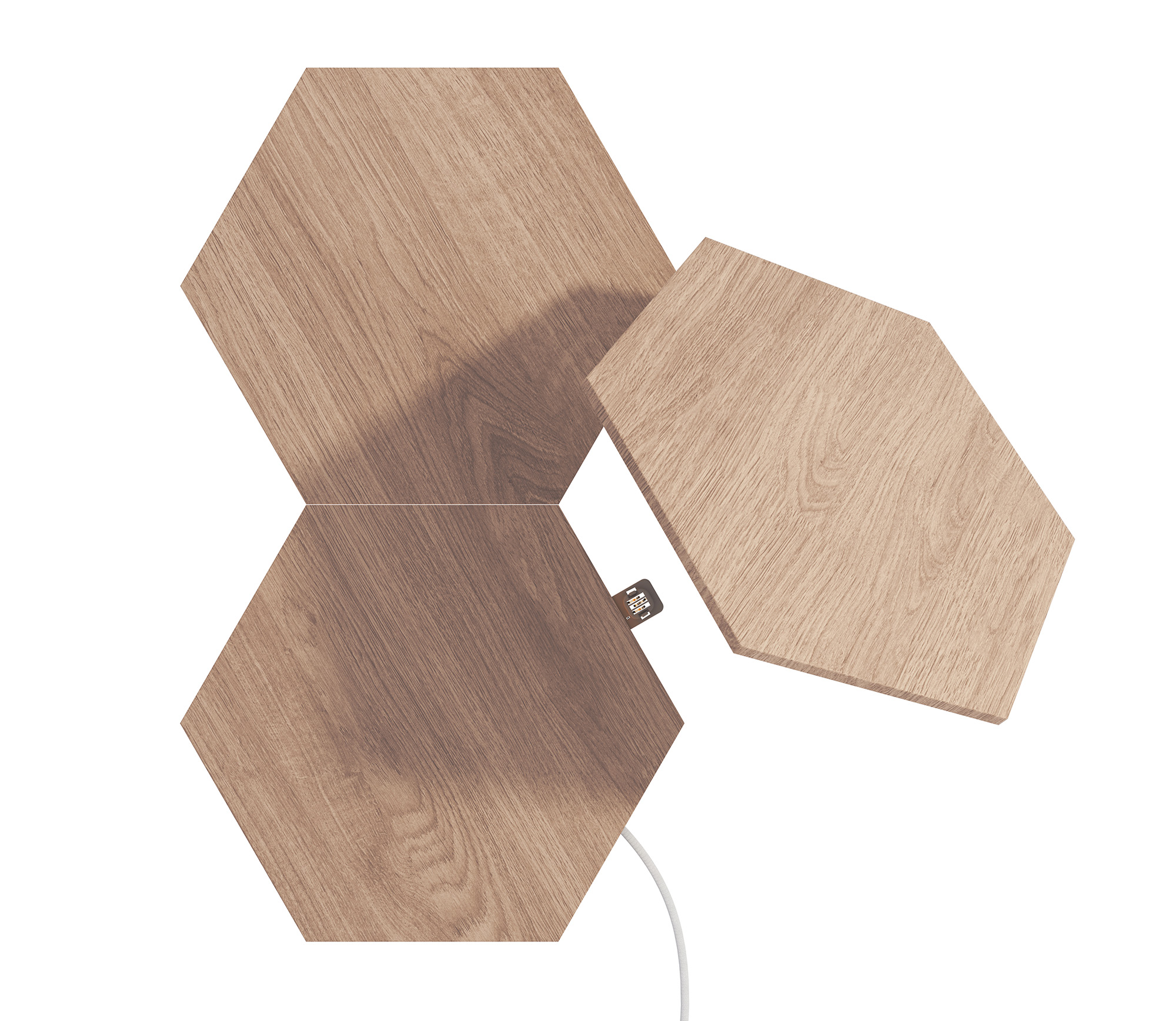 It is well thought out, but the contacts sit pretty loose and the whole sculpture easily becomes somewhat wobbly. It helps to put the modules together on several sides, but this can rarely be done, as there are only just enough connectors in the package.
We have tested an Elements starter kit with seven panels, control panel and power supply. You can also buy expansion packs with three panels. We also got some examples of other modules in the package to be able to try to combine the modules across series. It is a rather cleverly thought-out system, and one can build light sculptures as far as wall space, wallet and power supply reach. As for the latter, the power supply can pull up to 22 Elements modules.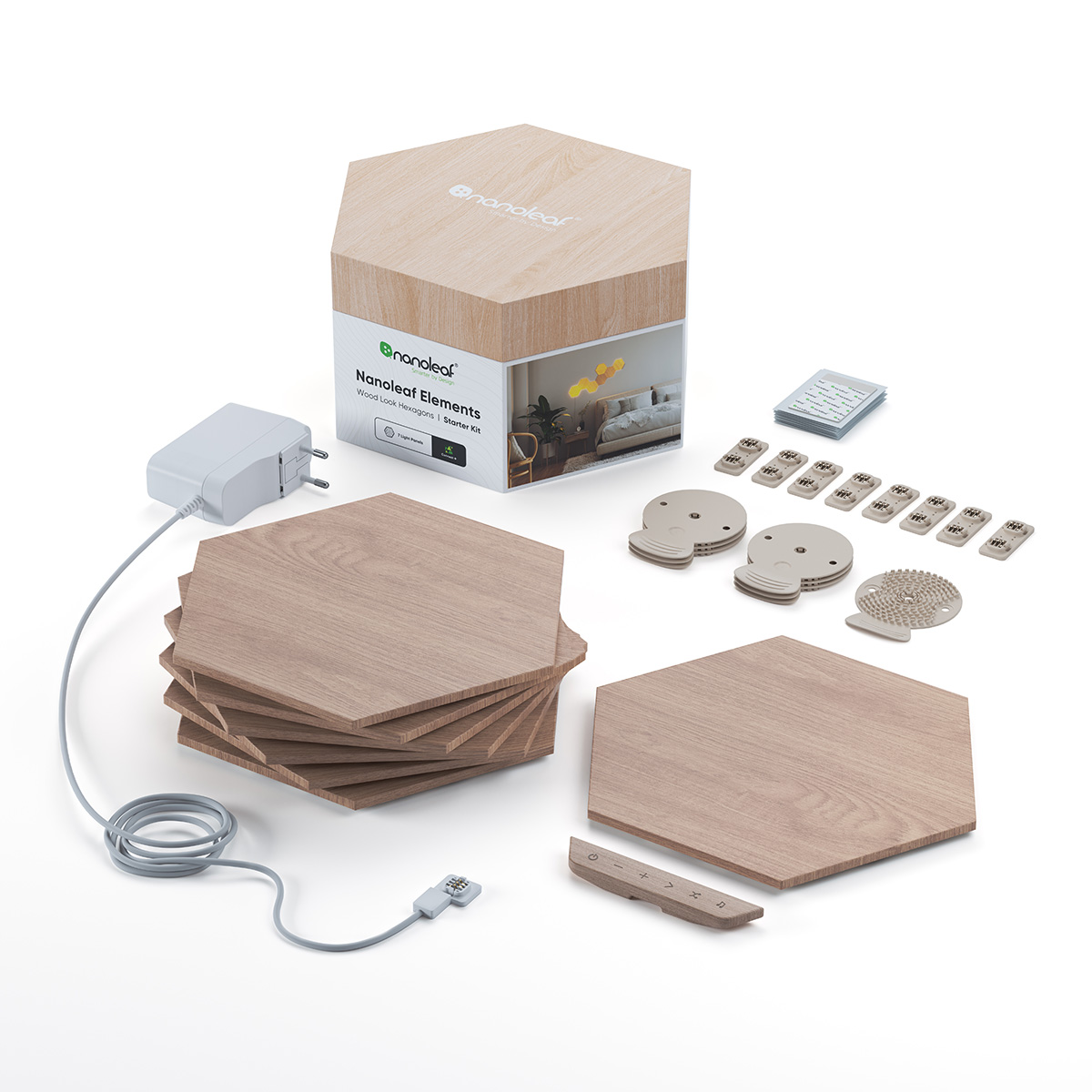 Dico lights
Nanoleaf has some features that go beyond most competitors. Light that responds to sound we have seen from both Philips Hue and Ledvance, but the Nanoleaf panels makes up advanced animations in time with the music. You can choose between a variety of music animations and free-running animations. And you can make your own in the app. But then only in shades of white.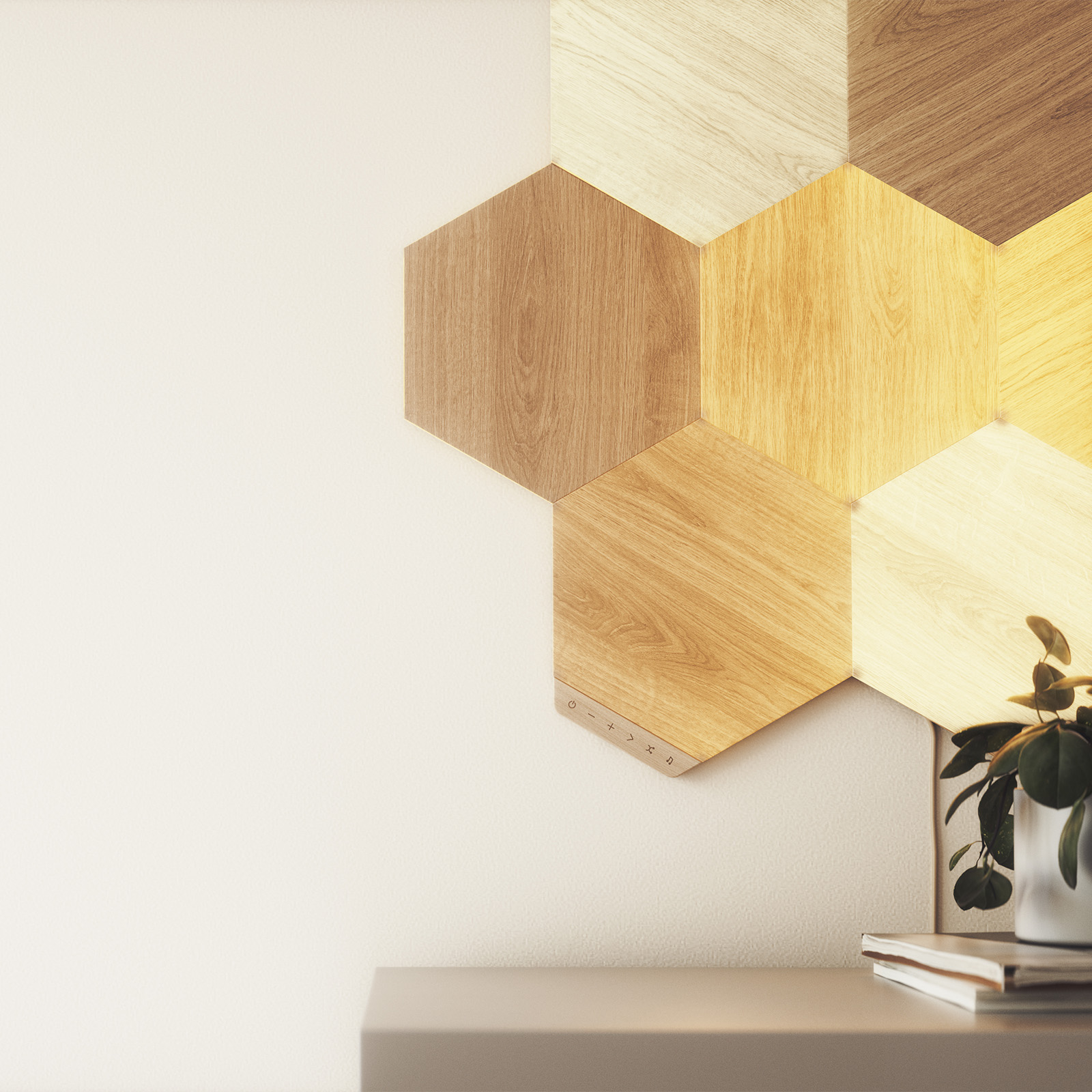 Touch sensitive
A small remote control is included with the Elements kit, so you can control the most basic functions directly. But the best part is that all the panels are also touch sensitive. When you put your hand on the light panels, they react and light up. And you can also turn the lights up and down or change programs by rubbing them with your hand. What the different gestures should do is set in the app.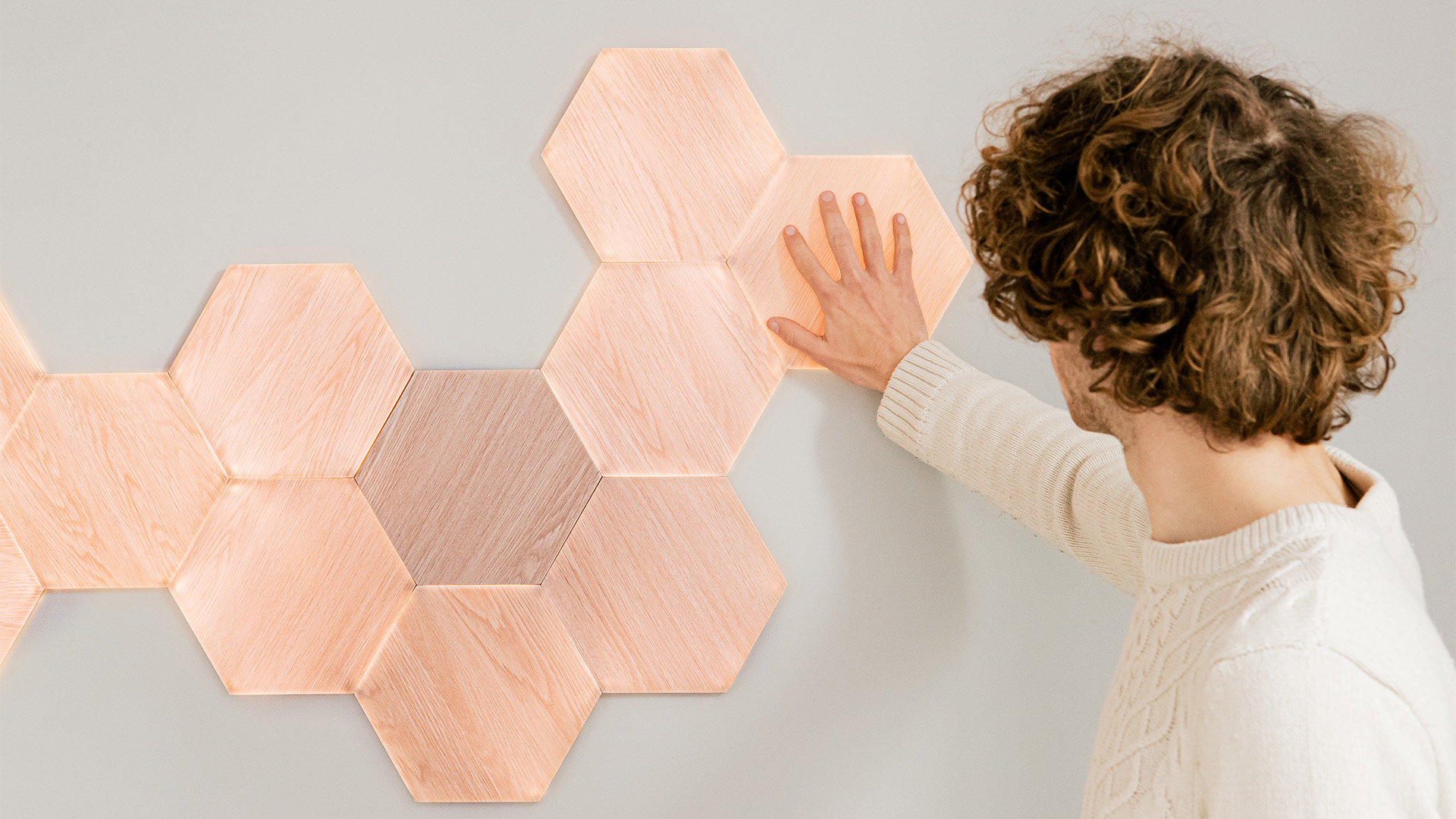 Which brings us to the downside: the app. Over the years, I have seen and tried a lot of mobile apps for test products. But never any that was as frustrating as Nanoleafs!
It starts badly with the installation. The package includes a guide with QR codes for installing the app from the Apple App Store and Google Play, respectively. But the code (at least the one for Android) does not lead to Google Play, but instead opens Nanoleaf's Hong Kong-based website. From there you can switch to a "local" version for Europe. However, the site does not allow you to create a user account. Only to buy goods.
Frustrating installation
With the app manually downloaded from Google Play, it was possible – after some attempts – to connect to the house's Wi-Fi. Both the Elements and the Essentials Lightstrip LED strip caused problems during installation, but not the same problems.
Since all the devices were on Wi-Fi after more than an hour of hassle, I thought the anguish was over. But no. The app firstly has a user interface that is so illogically and inconsistently implemented that it must have been programmed by a first-year computer science student who was absent during all the teaching hours that dealt with user interface design.
There is no logic or consequence in the way the functions are laid out in the user interface. And it does not get any better that the panels often do not respond. Or the app reports that they are not present, but they respond anyway. Sometimes.
Once you have finally guessed the use of the app and memorized how to find the individual features, you can try to integrate the Nanoleaf Elements panels in Google Home, so that they can be managed on an equal footing with other smart- devices and in particular light sources. But it's honestly more fun to hit your thumb deliberately with a hammer!
After dozens of attempts to pair the Nanoleaf account with Google Home without success, we finally managed to get the LED strip inserted in the Home so that it could be controlled with Google Assistant. What made it succeed in the end is as inexplicable as what until then made it not succeed. And the Elements panels were never recognized – despite being on the same account.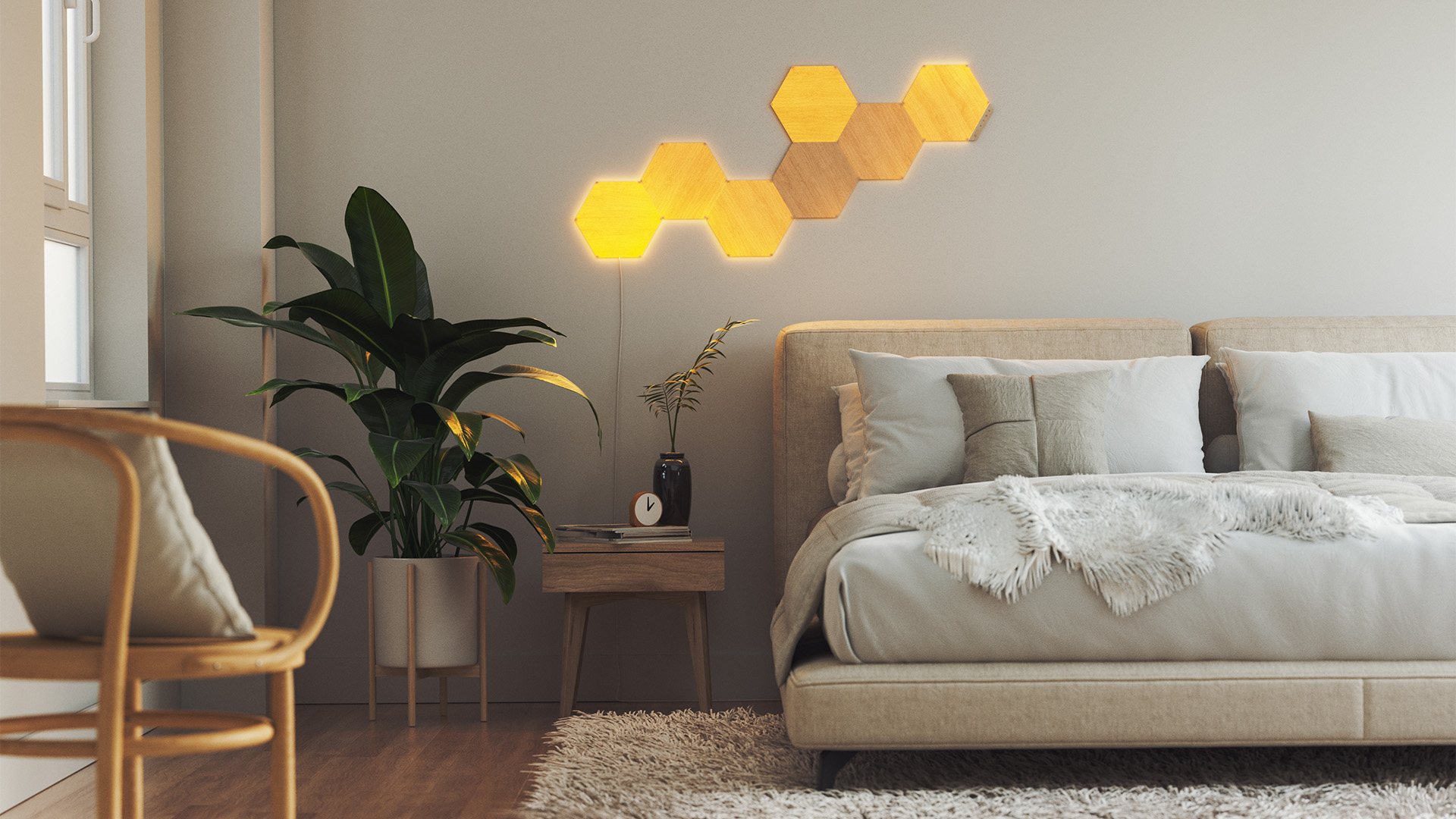 Competitors
When it comes to smart light sources, Philips Hue is the name that almost everyone knows. Nanoleaf is a bit cheaper and with its animations and touch sensitivity features that neither Hue nor Ledvance can match. But it does not help much when integration fails so spectacularly.
Conclusion
Nanoleaf Elements looks like a refreshing breath in the decor of the smart home, but there is a long way from idea to practice. The quality is plastic-like and the control is unstable, bordering on random. The integration with Google Home must be lucky to make it work, and it does not get any better that the app disregards any rule of user interface design. This is simply not good enough for a product in this price range.
The reason that the verdict was not even lower is due to the fact that the music control actually works well and that the modular construction is a smart idea.