Peter Gotschalk
Published

2020-10-04 - 9:00 pm
Unique functional design provides unprecedented flexibility. Adapts automatically to most situations and can also be controlled manually. And then it can shine for 60 years!
Does not have built-in Wi-Fi. Does not work with other smart home devices or ecosystems either. Costs the tip of a jet fighter.
Specifications
Type: Lighting (15.8 W LED bulb)
Wireless: Bluetooth 4.0
Works with: iOS, Android
Light: 2700-6500 kelvin, 1120 lumens
Dimensions and weight: 703 x 190 x 527 mm / 4.1 kg
Other: 181,000 hours life
Dyson? Aren't those the ones with the bag- and cordless vacuum cleaners and the smart Airblade hand dryers that you often bump into in public toilets?
Yes, that's right, but Dyson has also thrown itself into other product types, and the British company – which insists on always doing things differently (and better) than the competition – has now cut a completely unique smart lamp, which we literally sense has had standing on the desk in the test room.
Dyson Lightcycle Morph, as the intelligent table lamp is called, is almost half a meter high and made of light, millimeter-thin aluminum polycarbonate. A perforated cylinder protrudes from a heavy round base, and just below the middle of the rod you will find a USB-C connector, which you e.g. can use to charge his smartphone. At the top of the cylinder there is a multi-segmented arm, which can be rotated 360 degrees, while also the lamp head itself can be rotated so that the light points to the wall or ceiling.
The coolest trick, though, is when the arm is folded so that the LED light shines down through the lamp's vertical, perforated cylinder, creating a soft glow that fills the room with diffused, ubiquitous light.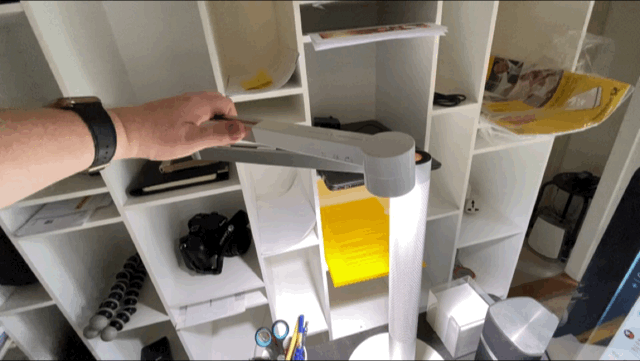 Hidden in the arm is Dyson's so-called Heat Pipe technology. This is a passive heat conductor in copper filled with water, which removes heat from the LED bulbs and creates an uninterrupted, energy-free cooling cycle that maintains the quality of light for up to 60 years without weakening over time.
Can adapt to the environment – and you!
The lamp can be operated via a few buttons on the upper arm, but it is only if you download Dyson's app that you really enjoy your (expensive) investment.
Dyson Lightcycle Morph has a total of six LED bulbs (three hot and three cold), which simulate the light's natural color temperature from 2700 to 6500 kelvin. The lamp's circus trick is such that the light can be set automatically, depending on where you are on the globe, just as the brightness can also be based on how old you are.
As Dyson himself says, a 65-year-old has e.g. need four times as much light as a 20-year-old, and when you also choose to geobase the light, both light intensity and color temperature are adapted to the natural light at the time and place in question.
All of the above can only be activated via the app, and this is also where you have the option to manually set the Dyson Lightcycle Morph. It can also be set to light in various pre-installed modes – including Boost mode that provides an extremely bright light for 20 minutes, if you e.g. paints role-playing characters or solder electronics.
A built-in motion sensor makes sure to turn on the lamp when approaching it while turning it off if there has been no movement in the vicinity for the past five minutes.
It's all very smart – even though it can be difficult with the naked eye to distinguish between the light of the lamp when you tell it that you are in Frederiksværk and then in Cape Town in South Africa, which otherwise should have a completely different type of light at this time of year.
We also had a hard time seeing the difference in brightness, even though in the app we changed the user age, so we pretended to be anything from 16 to 80 years old!
Flexible and functional
Nevertheless, the Dyson Lightcycle Morph is the most flexible form of smart lighting we have ever tried. The light can also be set 100 percent manually, just as a built-in light sensor adjusts the light automatically if the ambient light suddenly changes, so that the brightness around the user is maintained.
And then the design of the lamp itself helps to give the user plenty of options. Thus, the Dyson Lightcycle Morph can be used both as an ordinary office lamp, as a cozy light and as a spotlight, just as the lamp can also be set to wake you up in the morning and much more.
However, everything is controlled via Bluetooth, so partly the lamp can not be connected to the home's other smart devices via the wireless local network, and partly neither Google Assistant nor Siri / Apple HomeKit is supported. And that's a bit of a stretch in the bill for a product that otherwise offers so much innovative technology and, incidentally, costs the tip of a jet fighter.
Dyson Lightcycle Morph: Conclusion
For good reason, we have not been able to test whether the LED bulbs in the Dyson Lightcycle Morph really last for 60 years, but it is certain and proven that this lamp is not built to be thrown away. This is top-class design and build quality, as well as material selection from the top shelf.
In addition, the Dyson Lightcycle Morph can be adapted to a multitude of different use needs, at the same time as it contains functions for e.g. awakening, bedtime and also theft protection.
If you are looking for the smartest design lamp on the market, you can not miss the Dyson Lightcycle Morph. Conversely, if you are looking for smart lighting that you want to integrate into your existing smart-home solution, Dyson's lamp is unfortunately out of the question.