Jonas Ekelund
Published

2020-08-18 - 2:00 pm
Practical job functions. Lightning fast connection. Fantastic screen. Really good cameras.
The battery could have been bigger and charged faster.
Specifications
Operating system: Android 10
Screen: 6.9 inches 120 Hz Dynamic AMOLED 1440 x 3088 (496 ppi)
Processor: 2.73 / 2.5 / 2.0 GHz octacore Exynos 990
Memory / Storage: 12 GB / 256-512 GB + 1 TB micro SD
Cameras: 108 Mp f / 1.8 + 12 Mp f / 2.2 ultrawide + 12 Mp f / 3.0 5x zoom
Selfie camera: 10 Mp f / 2.2 26 mm
Communication: 5G, Wifi 6, BT 5.0 aptX, NFC, USB 3.2
Dimensions / weight: 165 x 77 x 8.1 mm, 208 grams
Battery: 4,500 mAh, 25W charge, QI wireless fast charging
Web: samsung.com
While the Galaxy S20 was launched in February, the rest of Samsung's mobile products came as an avalanche in August. Along with the Tab S7 tablet, Galaxy Watch 3 and the Buds Live wireless plugs came this year's monster phone Samsung Galaxy Note 20. This is the business model with unique features for productivity, which really no competitors have succeeded in imitating. It comes in both a normal model and an Ultra model. The price difference is as much as 20-25%, so for once it is not just the screen size and battery that separate them.
https://youtu.be/0h4_sJbnRsI
| | | |
| --- | --- | --- |
|   | Galaxy Note 20 | Galaxy Note 20 Ultra |
| Screen | 6,7" 1080 x 2400 60 Hz | 6,9" 1440 x 3088 120 Hz |
| Memory/Storage | 8 GB / 256 GB | 12 GB / 256-512 GB + SD |
| Camera | 64 Mp / 3x hybrid zoom | 108 Mp / 5x optical zoom |
| Battery | 4300 mAh | 4500 mAh |
| Weight | 192 grams | 208 grams |
The Ultra has a rounded screen with significantly higher resolution and better image quality, and better protection. It has more memory, is available with larger storage space, and can be expanded with a memory card. Ultra has a higher resolution main camera with better image quality, and a really good optical zoom, while the regular Note 20 barely has any zoom at all. The battery and weight, on the other hand, do not make much difference.
Appearance and construction
One of our objections to the Galaxy S20 Ultra was that it looked dull with its uninspired design and a grayscale of colors to choose from. Oddly enough, it is instead on the Note 20 the design excels. It has a screen that is curved around the edge in the old Edge way, and a more distinct camera module that does not apologize for being large. In addition to the signature color bronze, the standard Note 20 is available in green or gray, while the Ultra model is available in black or white.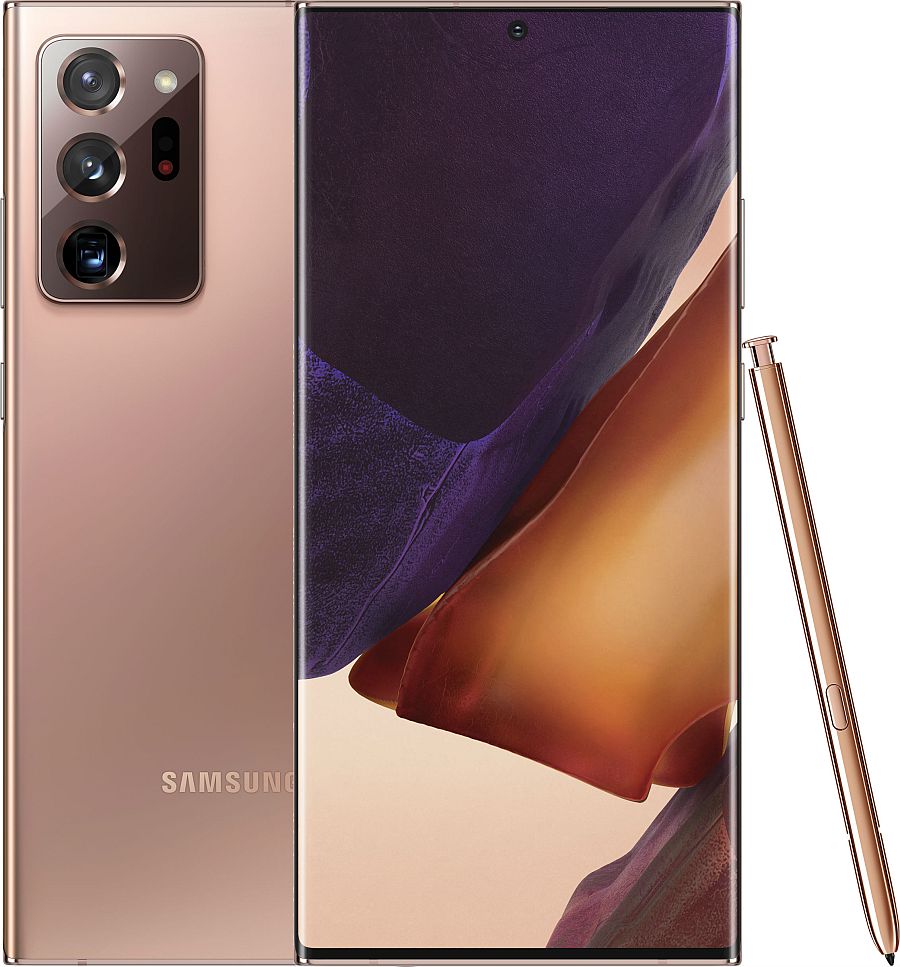 The screen is protected by the new Gorilla Glass 7 "Victus", which for the first time in a long time provides better protection against scratches. Previous generations have concentrated on protection against cracked glass, which explains why complaints about scratched screens have not diminished over the years. Despite open speakers, ports and not least the pen, the Galaxy Note 20 is actually protected against dust and water according to IP68. That is, it can withstand 30 minutes at a depth of 1.5 meters.
Screen
As mentioned earlier, the Ultra model has an Edge screen that goes around the edge on the sides, while the screen on regular Note 20 is flat, like the Galaxy S20. The screen has an almost unnecessarily high resolution, with a pixel density of almost 500 ppi, where most phones settle for a fully sufficient 400. Normally, the screen is still run in more sensible FHD + resolution, and you have to force it to use the WQHD + resolution. If nothing else, this should be appreciated by those who use the mobile for VR. Does anyone still use Google Cardboard?
Samsung calls the Ultra model's screen "Dynamic AMOLED", unlike regular Note 20 which has a Super AMOLED Plus. That is marketing lingo for the screen to dynamically change between 60 and 120 Hz refresh rate. The only thing you can set is to turn off the function, and always run 60 Hz. Just like on the Galaxy S20, you can still not combine the highest resolution and highest refresh rate. As we have become accustomed to, Samsung's OLED screens are of excellent quality. The brightness has now been increased to 1500 nits, which gives the HDR+ label meaning, and is a boost for movie watching. The colors are a bit vibrant, but you can easily change to a more natural color reproduction.
Camera
For once, we were not particularly happy with the cameras in the Galaxy S20 Ultra. Some software bugs have been fixed, but the question is whether the hardware issues are fixed in Note 20? Although the Galaxy Note 20 Ultra has similar cameras, there are differences. Samsung have kept the standard high-resolution lens, which uses pixel binning for better light sensitivity. On the other hand, they have dropped the depth sensor and replaced it with a proper laser autofocus. The ultra-wide angle is the same. The telephoto lens has got a little more optical zoom, less fake zoom, lower resolution and better light sensitivity. More info about the possibilites of the camera can be found here.
That the pictures are excellent in good conditions is so obvious that we can skip it and go straight to the problem areas. The camera can now focus in low light so that you get sharp images, and even the white balance is fixed. It seems to be a general fix, because even under normal conditions the auto mode works more reliably.
The HDR mode, which is activated on images with both light and shadow, gives better results, which probably has to do with the software, because the Galaxy S20 now gets similar results. The increased optical zoom is welcome, and although the Note 20 also has the exaggerated "space zoom" that gives blurry images, it is not as extreme as on the S20.
Sound
The speaker at the bottom is significantly better than the tinny mobile speakers we are often exposed to when people on public transport think that everyone wants to listen to their music. This one actually sounds really good. The only thing we could have wished for was an equally good speaker at the other end, because now the stereo image is a bit unbalanced. Interestingly, the phone supports playing audio to two Bluetooth devices at the same time, so you immediately get better stereo sound.
For the videographer, it is interesting to know that in Pro mode you can choose whether the microphone should record sound from all directions, in front of or behind the camera. You can even connect a USB microphone, or via Bluetooth. If, for example, you use Galaxy Buds Live as a microphone, you can get a really good commentary track for the video recording with minimal sound from the surroundings.
In use
What really sets the Note apart from the Galaxy S are the productivity features and of course the pen. As long as you have the Ultra model, the S-Pen now has a significantly shorter delay, which makes it feel significantly more natural to write on the screen. But the pen has even been given several gesture functions, which means that you can use it as a remote control to control presentations – or why not as a remote shutter release on the camera?
The Notes app has become significantly more useful now that you can import Acrobat files and make notes directly on them. You can even add voice comments that are synced to what is displayed on the screen. It will also be possible to sync Samsung Notes with Microsoft OneNote and Outlook on your computer.
Unfortunately, this service will not be launched until November, so we have not had the opportunity to test it ourselves.
Samsung and Microsoft are also working hard to integrate Galaxy phones with Windows. You can already get a taste through the "Link to Windows" button in the context menu. The idea is that in principle you should be able to run Android apps from your phone as if they were Windows applications. Until then, we can use Samsung Dex, which has now become significantly more wireless, and can be used both on the PC and on TVs that support Miracast.
https://youtu.be/OMsylV9JmeQ
A footnote is that the Note 20 is the first Android mobile with UWB (Ultra WideBand), a technology that premiered on the iPhone 11. This technology can locate other devices with great accuracy, and transfer large amounts of data efficiently. It's the preferred technology in the new "Google Nearby Share", the successor to Android Beam, which will be the equivalent of Apple's AirDrop. The technology also offers great opportunities in smart homes, or as a key, as it can ignore devices you do not trust.
Galaxy Note 20 will also be the premiere unit for Microsoft's gaming service, where you can play Xbox games directly on your mobile. By downloading the Xbox Game Pass app and having a Game Pass Ultimate subscription, you can stream the games to the screen. According to Samsung, they have an extra fast connection to Microsoft's servers, so that it will work to play wirelessly without "lag". The service will be launched on September 15, so we have only been given a demonstration.
Performance
The Galaxy Note 20 has the same Samsung Exynos processor as the Galaxy S20, so it's no surprise that the performance is basically identical. The benchmark tests show that it's around 25 percent faster than its predecessor Note 10. On the other hand, it does not quite reach the fastest Snapdragon processors used by competitors, and ends up 10-15 percent behind. When it comes to 5G performance, however, it is at the top. Like the Galaxy S20, the top speed is about 20 percent higher than average Android phones.
The battery has definitely gotten a bit bigger since last year. But it is not much larger than in regular Note 20, which has fewer features and thus should be more power efficient. And less(!) than in the Galaxy S20 Ultra. The battery life is thus only average, or as Samsung puts it: "lasts all day". For some reason, the fast charge is only 25 watts, compared to 45 watts on the Galaxy S20 Ultra. However, it supports faster wireless charging, and also "reverse wireless charging", so that you can, for example, charge your Galaxy Buds on the back of the phone.
Conclusion
Galaxy Note 20 Ultra is just as it should be – the very best Samsung can deliver in a mobile. The big screen is a dream, the sound is good, it has lightning fast connection and excellent performance. The collaboration functions are more refined than ever, the pen is becoming more and more natural to use, and the integration with your computer is on its way to a new level. Samsung has even fixed the cameras from the Galaxy S20 so that they are now top class. Compared to the S20 Ultra, the Note 20 is not even expensive! Without anything significant to complain about, we'll slap on our highest recommendation!