Peter Gotschalk
Published

2020-01-01 - 1:41 pm
Excellent and enormous screen, sleek and rugged design, excellent sound, perhaps the world's best mobile camera with lots of cool video features, high performance and long battery life. And, of course, the S Pen.
Does not come in a version with 1 terabyte built-in storage. Very slick and the reverse almost collects greasy fingerprints. Some S Pen Air gestures are hard to master.
Specifications
Operating system: Android 9 Pie
Screen: 6.8″ Dynamic AMOLED, WQHD+ (3040 x 1440), 498 PPI
Processor: 2.7 + 2.4 + 1.9 GHz 7 nm Exynos 9825 octa-core
Memory: 12 GB RAM / 256 GB storage (+ microSD up to 1 TB)
Cameras: 16 MP f/2.2 (123°) + 12 MP 2PD AF f/1.5 & f/2.4 OIS (77°) + 12 MP f/2.1 OIS (45°) + ToF VGA (primary) / 10 MP f/2.2 (front)
Wireless: 4G/LTE Cat 20, 802.11a/b/g/n/ac/ax, Bluetooth 5.0, NFC, GPS, GLONASS, Galileo
Dimensions and weight: 162.3 x 77.2 x 7.9 mm / 196 g
Battery: 4300 mAh, 25 W Super Fast Charging
Web: samsung.com/uk/
Samsung really needs a success. Sales of the company's top model for 2019, the Samsung Galaxy S10, have been somewhat disappointing and earlier this year the South Korean electronics giant was forced to indefinitely postpone the launch of the firm's foldable smartphone, the Samsung Galaxy Fold, because of serious technical issue with the screen.
So now the South Koreans are staking all on the Samsung Galaxy Note 10 and Galaxy Note 10 Plus, the latest additions to the popular Galaxy Note series. The larger smartphones with bundled S Pen have indeed been a great success for Samsung ever since the launch of the first Samsung Galaxy Note back in 2011 (if we disregard the unfortunate case of the Galaxy Note 7, which had an unhappy tendency to self-immolate).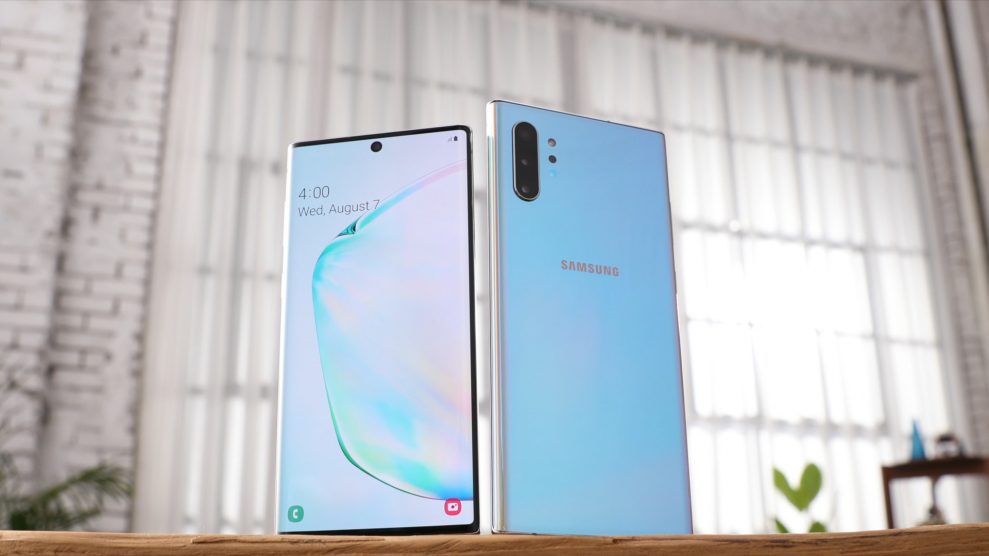 The Galaxy Note 10 and the Galaxy Note 10+ have most things in common, but there are also some differences.
First of all the screen, which on the Note 10 is 6.3 inches, while the Note 10+ comes with a monster of a screen with a full 6.8 inches. In addition, the large Galaxy Note 10+ has a higher resolution of 3040 x 1440 pixels (498 ppi), while the smaller Galaxy Note 10 has to settle for 2280 x 1080 pixels (401 PPI).
However, although the smaller Note 10 has a screen area similar to the screen of the Galaxy Note 8, in length, width and thickness it is smaller than the Samsung Galaxy S10. And lighter too.
This also means, unfortunately, that the 3500 mAh battery is a bit smaller on the Galaxy Note 10 than on the Galaxy S10, which came with a 4100 mAh battery. The Galaxy Note 10+ is in turn equipped with a battery with a full 4300 mAh, though it also needs more power to operate the large screen, and both smartphones can be charged from 0 to 100 percent in 65 minutes using Super Fast Charging.
Both models have to manage without the 3.5 mm mini-jack for headphones. According to Samsung, this has made room for 100 mAh of extra battery capacity.
Other differences between the two new Note models include: the Note 10 comes with 8 gigabytes of RAM and 256 gigabytes of storage, while the larger Galaxy Note 10+ with 12 gigabytes also has more RAM and comes in a version with 512 gigabytes of storage.
There was no room in the series for a version with 1 terabyte of storage. However, the Galaxy Note 10+ can be expanded with a microSD card up to 1 terabyte, giving a total of 1.5 TB of storage to play around with, if you start with the largest model.
The Note series of mobile phones with huge screens and stylus pen is a category that Samsung invented and largely dominates. For those of you who use a smartphone intensively for work, the Galaxy Note offers a range of business-relevant features that are not found on any other smartphone.
Globally, the South Koreans have also sold several million of them while almost ten million units of its predecessor, the Samsung Galaxy Note 9, flew off the shelves. There is no doubt that Samsung hopes to sell even more of the follow-up Galaxy Note 10 and Galaxy Note 10+.
Of the two Note 10 versions, the Note 10+ is of course the largest and most powerful. Even though it was the second largest Samsung Galaxy Note 10+ (with 256 gigabyte built-in storage; the model is also available in a more expensive version with 512 gigabytes) that landed on our test bench, there are very few differences between Note 10 and Note 10+. So you can certainly use the results of this test of the Note 10+ to guide you,
All four lenses sit on the back of the Samsung Galaxy Note 10+, including a Time-of-Flight lens to measure depth. (Photo: Samsung)
Appearance and construction
The reason we didn't get the very large version of the Note 10+ with 512 gigabytes of storage for testing from Samsung was because the South Korean company itself is very excited about its brand new colour named Aura Glow, which is only available on the Note 10 and Note 10+ versions with 256 gigabyte storage. Aura Glow is very reminiscent of Aurora, which Huawei introduced with the P30 Pro, and offers equally flashy colour play between different blue hues and deeper violet on the back when you tilt your phone against the light.
Both front and back are made of Corning Gorilla Glass 6 and even though the screen is as close to edgeless as it's possible for a screen to be nowadays and the Samsung Galaxy Note 10+ is thus lighter and more slender than any previous Note model, the Note 10+ gives an impression of robustness and durability. The phone, however, is extremely smooth and its beautiful reverse side collects greasy fingerprints the way others collect stamps. So keep your polishing cloth at the ready, unless you just choose to buy a cover for your new Galaxy Note.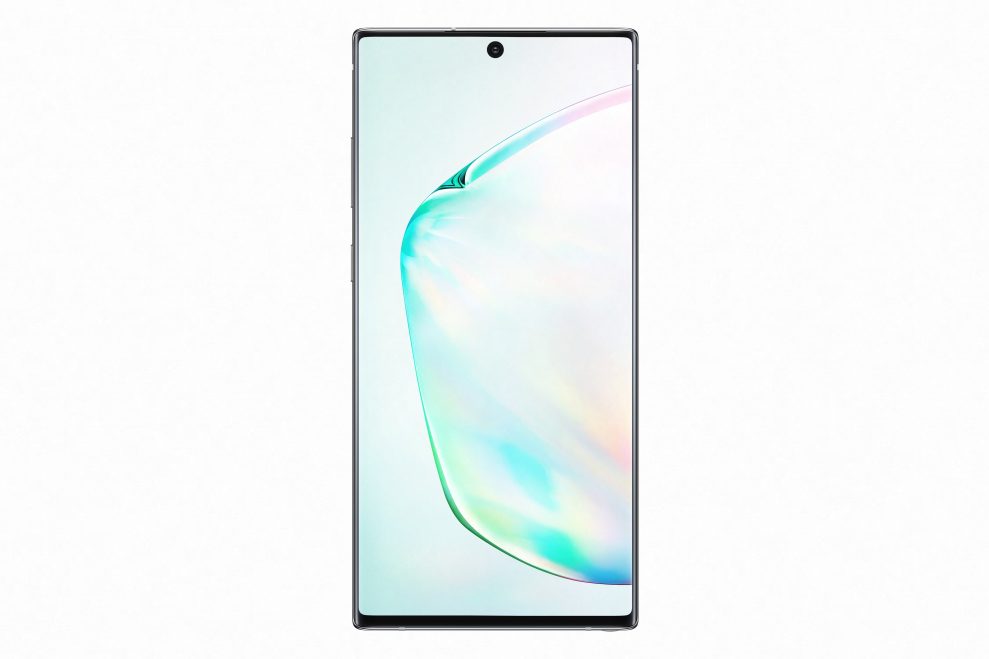 Screen and sound
With a screen diagonal of 6.8 inches and a resolution of 3040 x 1440 pixels (499 ppi), the Note 10+ at the time of writing is the largest screen on any flagship model (at least from the major manufacturers) and in my opinion only the OnePlus 7 Proand Samsung Galaxy S10 offer marginally better screen quality.
There is the same Dynamic AMOLED display in the Samsung Galaxy Note 10+ as in the Samsung Galaxy S10. As mentioned, the screen basically covers the entire front (with the selfie camera stored in a punched aperture at the very top of the screen while the fingerprint reader is also placed in the screen) and with its HDR10+ certification, the Note 10+ offers an impressively dynamic colour range. This is especially noticeable if you're watching supported video content on Netflix or YouTube, while the 1200 nits brightness (indoors, outside you have to "make do" with 800 nits) ensures a nice contrast and makes the screen readable even in pretty bright sunlight.
As for sound quality, the Samsung Galaxy Note 10+ offers a significant improvement over the Galaxy S10. Samsung has banished the physical headphone jack to accommodate 100 mAh of extra battery capacity so if you use headphones, connection is done via Bluetooth. However, when we tested the sound with a set of True Wireless Libratone Track Air+, the soundscape was dynamic and powerful in all frequency ranges.
Speech quality is fine, but truly impressive are the built-in stereo speakers that deliver a powerful sound experience. On this point, only the OnePlus 7 Pro is better.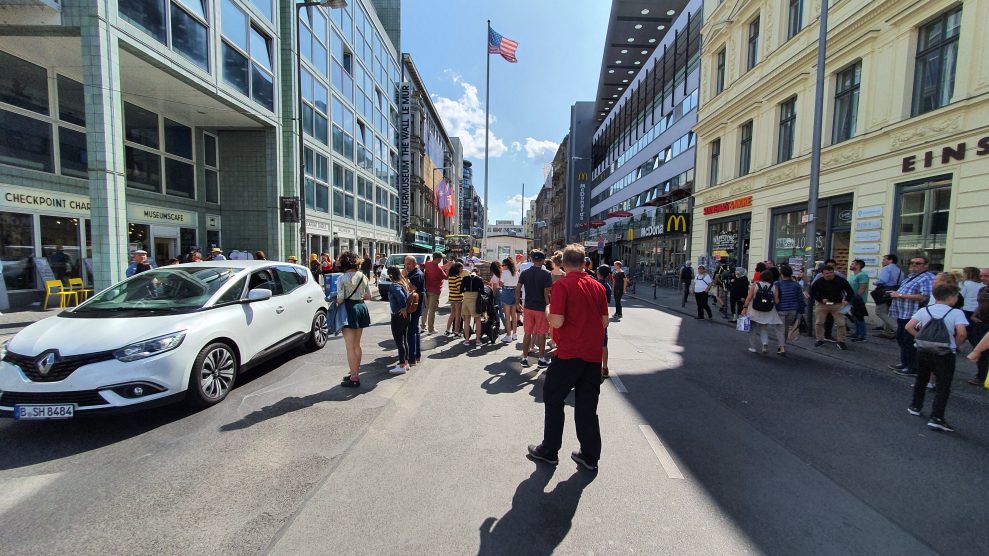 Camera
As a starting point, both Note models share exactly the same camera as the Samsung Galaxy S10 – however, with the difference that the Galaxy Note 10+ also comes with a fourth Depth Vision Time-of-Flight lens to measure depth. The other three lenses are a true ultra wide angle, a normal wide angle and a 52 mm telephoto lens. This is a good combination of focal lengths that are practical to use for everyday photography.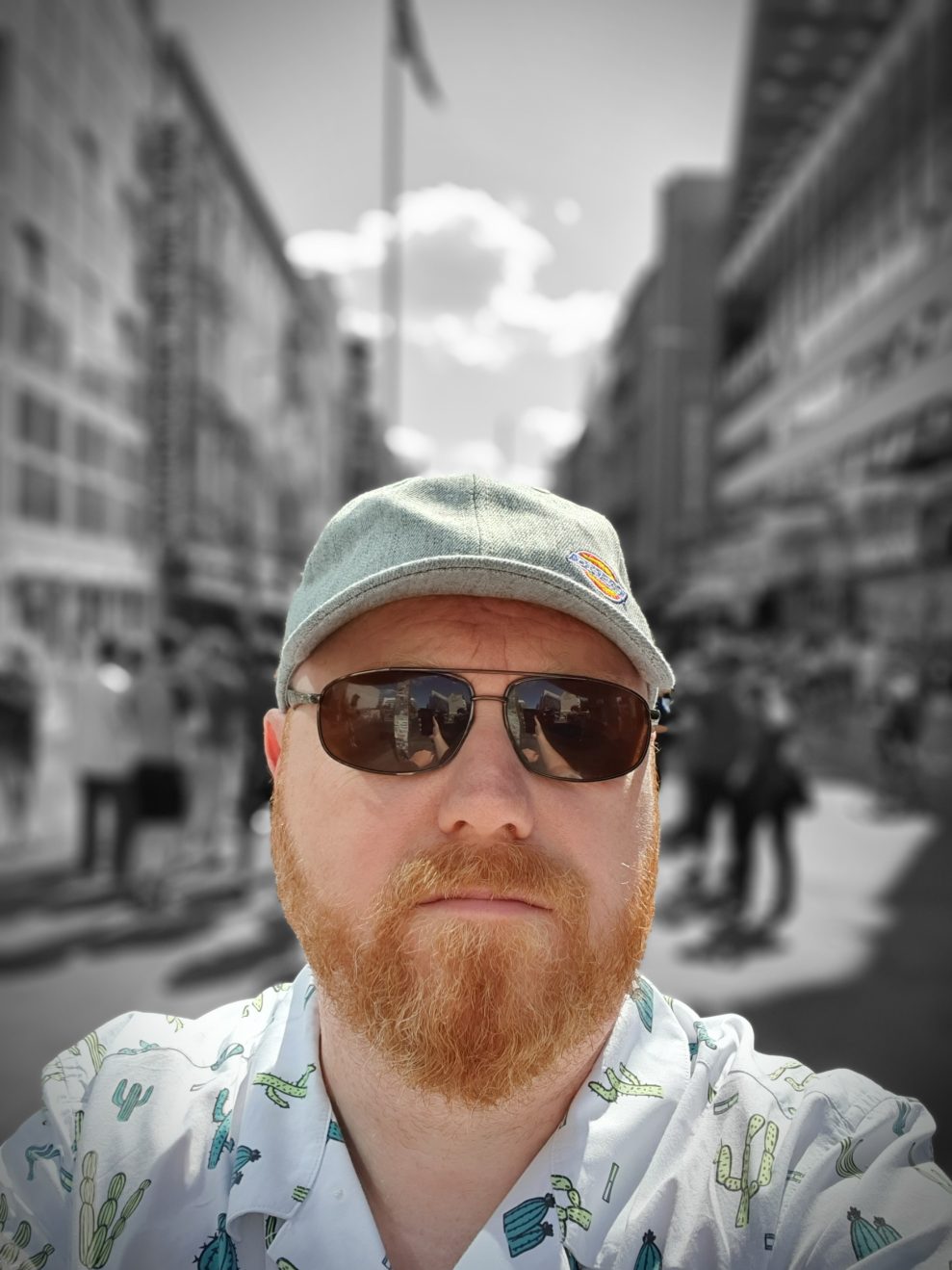 The camera app has a range of photo and video settings and in automatic mode the user interface is fairly uncluttered, offering a choice of focal length, filter and automatic help. In manual mode, you can, as expected, adjust ISO, focal points, white balance and exposure compensation. But you can also adjust contrast and saturation as well as switch manually between apertures f/1.5 and f/2.4.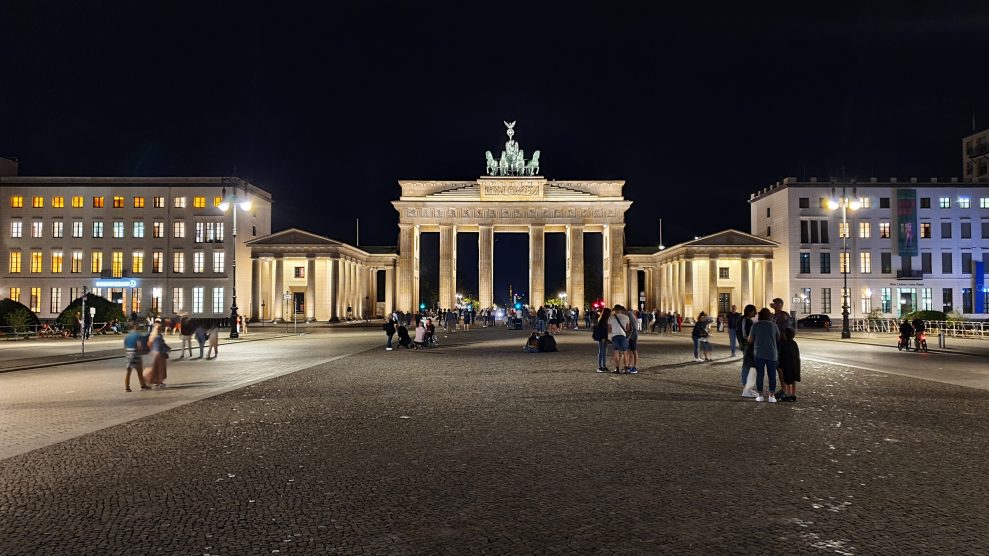 So it is genuinely pleasurable to take photos with the Galaxy Note 10+. Under normal conditions, automation does well with exposure, correct white balance and fine colours.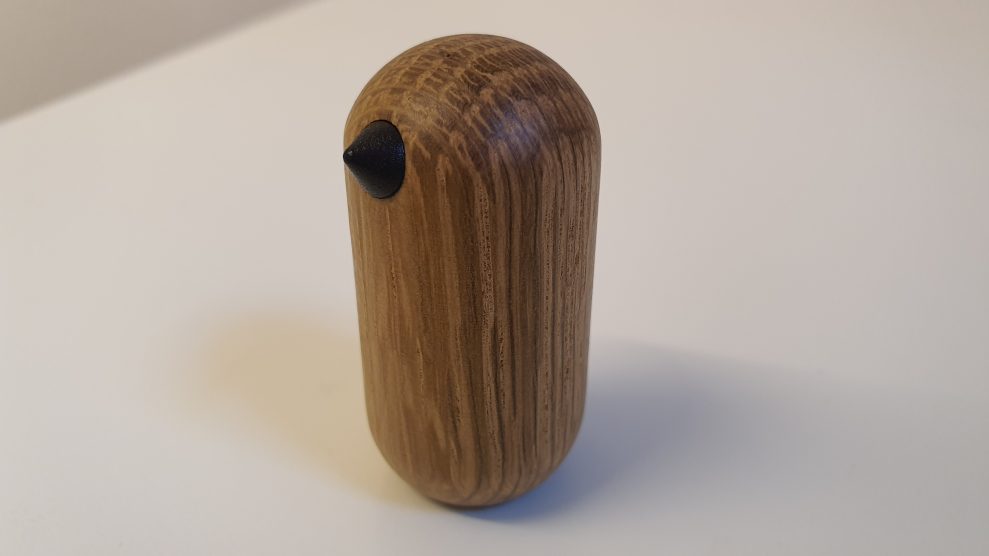 Compared to the Galaxy S10, the video element has been upgraded. With Live Focus Video, for instance, which is marketing language for video footage with bokeh effect (blurred background), and with Zoom-In Mic, which allows you to zoom in on a specific audio source when recording video. Once the camera has identified the audio source, not only will the image subject be sharply in focus even the sound will be amplified while background noise is muted.
Both work quite brilliantly and, along with a few other more playful features like AR Doodle, the Samsung Galaxy Note 10+ offers an overall camera package that gives the Huawei P30 Pro a run for its money. In many ways, the Galaxy Note 10+ is simply the best camera phone on the market.
Performance and features
First off, Samsung deserves a standing ovation for having moved ALL the buttons over to the left side of the Note 10+. No more tapping on several buttons at once, triggering the phone to take a screenshot just because you squeezed a little too hard.
Next, we're also jubilant that Samsung has made it possible for the user to choose which functions the small side button should have by using a single or a double tap (the large button controls volume, among other things). For example, using a double tap, the button can be programmed to open the camera quickly while keeping the button pressed can either switch the phone off or turn on Bixby, Samsung's voice-controlled digital assistant.
If we look at performance, there's also reason to celebrate. Big games like Asphalt 9 run smoothly – not least because of Game Booster, which, in the style of Fnatic mode on the OnePlus 7 Pro, enhances the gaming experience and optimizes both CPU, GPU and RAM to perform optimally.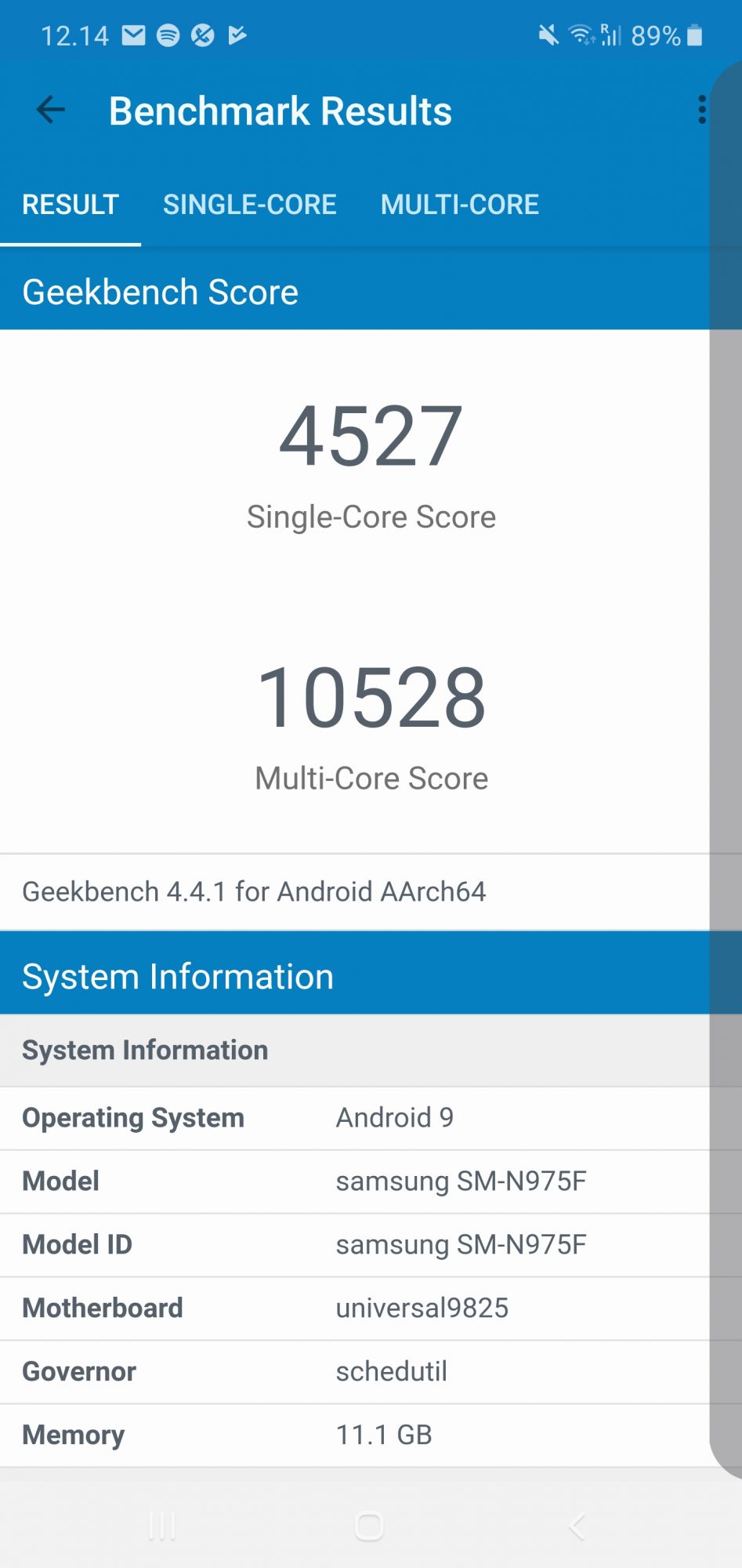 On the whole, the Samsung Galaxy Note 10+ is one of the fastest smartphones in the world right now. In our benchmark tests, it performs at the level of other top models like the aforementioned OnePlus 7 Pro, Sony Xperia 1 and Samsung's own Galaxy S10+.
Removing the headphones jack has certainly yielded results. In any case, the larger battery means that Samsung Note 10+ holds power longer than most of its closest competitors. And when the phone finally does need to be charged, the Galaxy Note 10+ comes with a 25 watt "Super Fast" charger that can charge the phone from 0 to 100 percent in about 65 minutes, while with a 45 watt charger (which can be purchased as an extra), the phone can charge up to 80 percent in just half an hour.
The Galaxy Note 10+ also supports wireless charging, of course, and like the Galaxy S10 and Huawei P30 Pro, the Note 10+ can be used to wirelessly charge other devices such as smartphones, smart watches or earbuds – as long as they support the QI standard.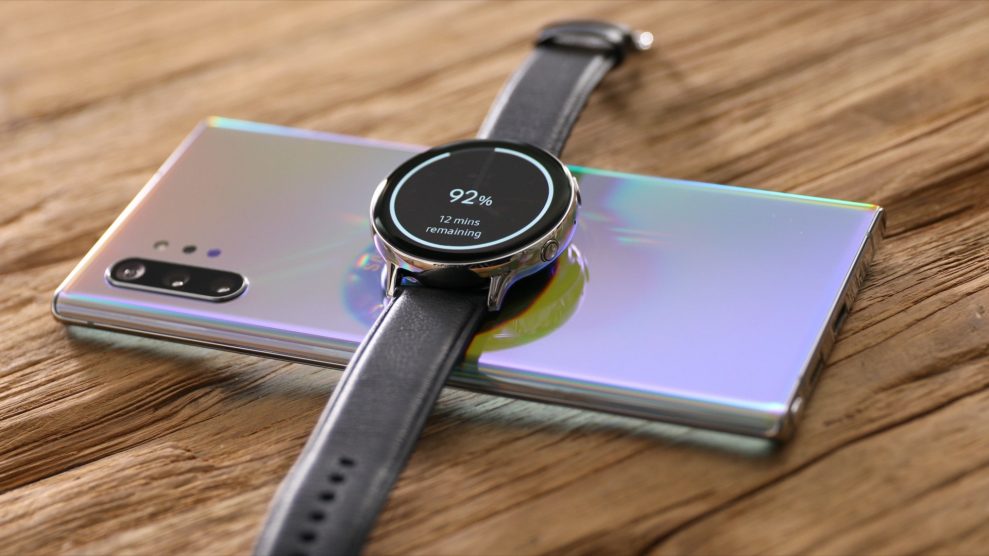 S Pen
Of course, you can't write about a Galaxy Note mobile without mentioning the S Pen, which has been overhauled for the Note 10+ and given a raft of new and improved features.
In particular, the pen now has built-in Bluetooth so you can operate various apps remotely using only the S Pen, something that Samsung calls Air Gestures. It works together with the camera app, for example, allowing you to use the pen as a shutter release, change camera mode, zoom in and out etc. You will need to practice the more advanced movements to master them, but the whole is well thought out and clearly usable.
The same applies to the improved handwriting recognition that allows you to make handwritten notes in Samsung Notes which are then recognized and converted into digital text. I have probably the world's ugliest and most illegible handwriting yet the Note 10+ succeeded in recognising all my scrawls every time, after which I could export the text to Word or PDF format. Now that is smart.
Conclusion
The Samsung Galaxy Note 10+ isn't for everyone. Many users will find it too large (although it has shrunk compared to previous Note versions) and many won't have any use for the S Pen.
But at the end of the day, the Galaxy Note 10+ is currently the best smartphone you can buy. It's slim, lightweight and well-designed with a huge screen, excellent sound, the world's best smartphone camera and a performance that can measure up to, and on individual points even surpass, all other top models on the market. And it even exists in a slightly smaller and cheaper version that gives you almost the same benefits as the larger model.
If Samsung doesn't enjoy a resounding success with the Galaxy Note 10+, there's simply no justice in the world.