Lasse Svendsen
Published

2020-08-31 - 11:54 am
Superb richness of detail, beautifully focused midrange and good dynamic contrast.
Slimmer bass than the competition.
Specifications
Weight: 5 g
Recommended pin pressure: 2 g
Output voltage: 0.35 mV
Recommended resistance: 100 ohms
Elasticity: 35×10-6 / duvet
Channel balance: 1.5 dB
Channel separation: 27 dB
Frequency response: 15 – 50,000 Hz
Grinding: Elliptical
Needle arm: Aluminum
Vertical tracking angle: 23 degrees
Pickup housing: Light metal / plastic
Coil material: Copper
Magnetic material: Neodymium
Replaceable pin: No.
Web: bergsala.com
The silver-gray cartridge from Audio-Technica is in a price range where Moving Magnet cartridges are more common. Since this is a Moving Coil cartridge, it has two disadvantages compared to an MM cartridge. The entire cartridge must be replaced when the pin is worn out. The pin cannot be replaced. And it delivers low 0.35 mV, which means you need a phono input for MC.
It is also not among the easiest to assemble. It is not difficult, but requires extreme caution. The supplied screws can not be screwed into threads in the cartridge, but must be threaded through and fastened with round nuts. Then the pin protection must be removed, so care is a virtue here. The cartridge belongs to Audio-Technica's affordable motorcycle series, which we have good experience with, and is much better built than usual in this price range.
The weight is moderate 5 grams and it fits well with a wide range of turntables. The pin pressure should be 2 grams. The coils are wound in high quality oxygen-free copper, and that leads us to the sound quality.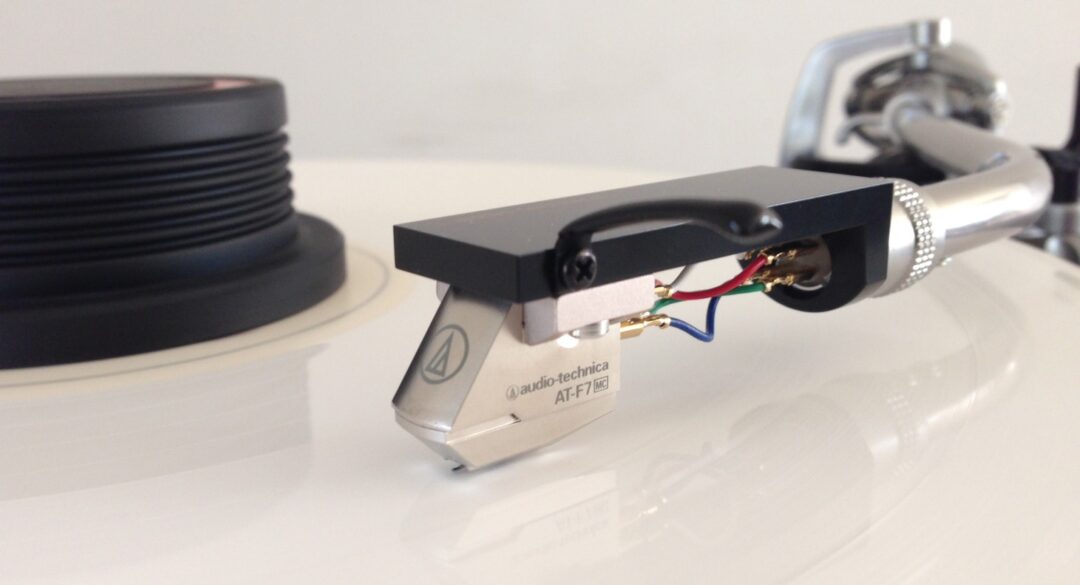 Focused and open
Tight, defined, open and detailed. Briefly described. This cartridge will definitely give new life to the record collection, and delight especially those who love the small nuances of the music. For example. in classical, opera and jazz.
It brings more details out of the vinyl, with a clearer focus than any of the other four in this test, but the bass is slimmer and not as full-bodied here. It is noticeable on Bob Dylan's Oh Mercy where the rhythm in The Man in The Long Black Coat, does not get the same drive here. The bass is deep enough, and well defined, it just lacks a little fullness.
It is also noticeable on the piano sound at Radka Toneff's Fairytales, where the felt hammers' touches of the strings are clearly defined, but where the lowest octave sounds a little more withdrawn. Vocals, acoustic instruments and strings, sound phenomenally well focused.
This is a cartridge with sparkling dynamics, sharp focus and beautiful midrange sound. But before you think that it is perfect for death metal, you should rather choose this for music that thrives to a greater extent with a clear focus on details, nuances and microdynamics.
Conclusion
Audio-Technica AT-F7 is a good choice for those who want to get more nuances out of the discs. It tracks excellently, is quiet and dynamic, and a good choice in the price range. At least for those who are not interested in forward-leaning bass and shy away from a sharp focus on details. Perhaps the best in class on vocals in particular, and acoustic in general.
Also in this test
Ortofon MC Quintet Red
The balance artist
Ortofon MC Quintet Red is the obvious choice for those who want a neutral sound image.
Balanced sound image with almost completely neutral sound. Easy to assemble.
The dynamics do not sparkle, and the sounds lack a little depth.
Sumiko Olympia
Affordable multi-artist
Sumiko Olympia is an affordable all-rounder that will clearly be experienced as an upgrade for many.
Rhythmic and dynamic sound with rich sound.
Slightly muted detail and relaxed treble.
Denon DL-103
Classic sound from Denon
The Denon DL-103 is worth every penny and almost perfect as an all-round cartridge.
Open sound image with sparkling dynamics and sharp focus.
Loses some of the definition in the treble.
Grado Gold 1
Rocks your record collection
Grado Gold 1 is an obvious choice for those who want a colorful sound image with more impact.
Full-bodied sound and potent bass reproduction.
Lack of resolution, dynamic contrast.