John Hvidlykke
Published

2019-05-28 - 10:43 am
Powerful sound. Can operate most speakers. All the inputs you need.
Difficult wireless setup, not very stable with Tidal HiFi.
Specifications
Output power: 150 W (4 ohms), class D
Inputs: line in (stereo RCA), aux (3.5 mm stereo minijack), optical digital (Toslink), Ethernet
Wireless: Wifi (802.11c), Bluetooth, DTS Play-Fi, Amazon Alexa
Outputs: speakers (stereo screw / banana terminals), subwoofer out (RCA), line out (stereo RCA), headphone (3.5
mm stereo minijack)
Digital resolution: 192 kHz / 24-bit
Dimensions / weight: 23.1 x 8.2 x 22.4 cm (WxHxD) / 2.2 kg
Web: svsound.com
American SVS is primarily known for its subwoofers, which quite literally deliver impact for the money in the home theater. However, the company also makes equipment for stereo use. Prime Wireless Soundbase is a compact integrated amplifier with all analog and digital inputs. It's a little bigger than Sonos and Bluesound, but still not bigger than a box of chocolates that could have been used as a hostess gift for someone you only know superficially.
Unlike the best other ultra-compact amplifiers, SVS has physical controls on the front. Two knobs for input selection and volume / playback, respectively. A display shows the setting.
On the back you will find two pairs of analog line inputs (RCA and minijack), subwoofer output, a pair of unregulated RCA output connectors, and a pair of cheap but solid banana / screw connectors for speakers. There is also input and output to wired network, but no turntable input (RIAA).
SVS is not trying to take on the multi-room competition with Sonos on its own, but has used DTS Play-Fi. It's an excellent decision, and via the Play-Fi app you get access to a long list of streaming services, including Spotify and Tidal.
The wireless setup is quite simple, and happens via the app, but even though the system was almost right next to the router, it still required a number of attempts before it succeeded in getting Soundbase to cooperate with the network and install the update. In general, Soundbase never became really good friends with the wireless network. Playing via Spotify Connect went well, but lossless playback via Tidal HiFi suffered many interruptions.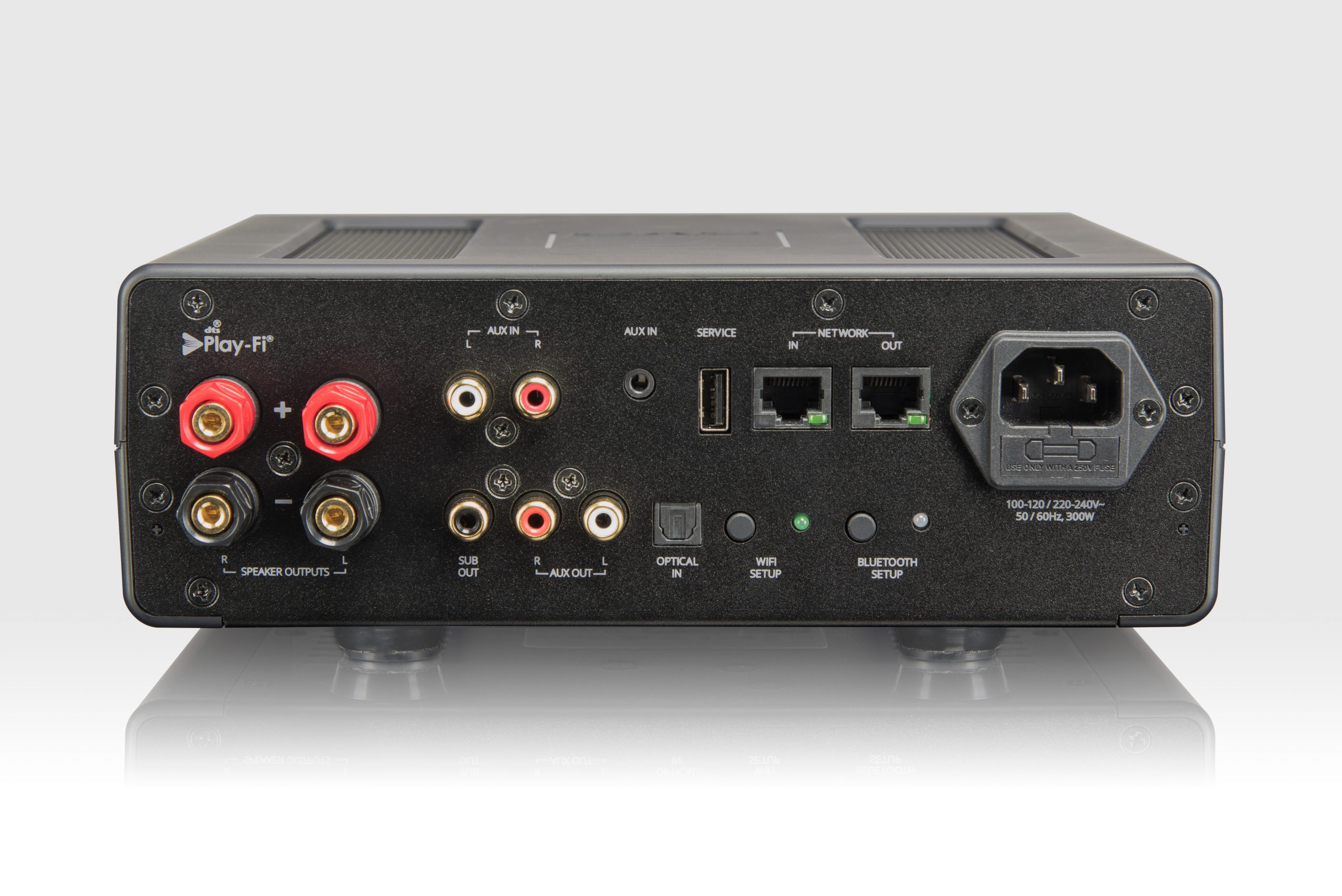 Sound quality
SVS delivers acoustically up to its reputation. The little Soundbase does everything it can to make me forget the size – and succeed. Neither in terms of power nor nuances does it lag behind adult stereo amplifiers in the same price range.
It delivers a close and direct sound image that suits rhythmic music. Feist's When I Was a Young Girl is right in front of the living room, and her feet rock automatically. But there is still plenty of room behind the speakers. The choir voices on Koyaanisqatsi are beautifully placed in the room, at the same time as the organ gets the weight in the bass that it should have. Also on speakers that are not super easy to operate.
Conclusion
SVS Prime Wireless Soundbase is a nice ultra-compact power amplifier that can be hidden away in the shelf, but it is also pretty enough to stand out. In terms of sound, it gives Bluesound and Sonos a fight to the door and further in, but is overtaken by them on streaming and multi-room by virtue of a better functioning software. If you are ready to put a full-fledged amplifier on the bookshelf, you also get even more for your money at both NAD and Onkyo.